Anglo American Outlines Futures Plans
---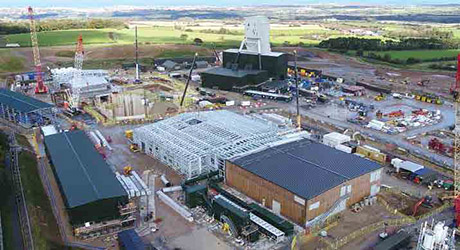 The Woodsmith project in England (above) will be Anglo American's next major greenfield project.
(Photo: Anglo American)

During early December, Anglo American plc provided an update on its performance during 2022 and capital expenditure and production guidance for the next three financial years.

"This year has seen us focus on our immediate priorities of safety and restoring normal operational disciplines given the pandemic-related disruptions of the last few years," Duncan Wanblad, CEO of Anglo American, said. "In 2022, these have been added to by geopolitically led economic volatility, and extreme weather and other localized disruptions at our operations.

"As we have built operational momentum in the second half, we have also moderated our near-term production growth plans with a clear priority to deliver a stable platform from which to build strengthened and repeatable performance," Wanblad said. "This allows us to invest in increased ore reserve flexibility and systematically implement our P101 best practice program of equipment and process performance. We have also taken the opportunity to re-phase certain of our growth investments to ensure optimal sequencing for long-term value creation in the current high inflationary and dynamic external environment.

"Our unwavering focus is on driving safe, consistent performance across our operations, delivering value-adding growth, and progressing towards our full suite of sustainability ambitions — including our 2040 carbon-neutral operations commitment."

Anglo American offered the following updates:

2022
• Production down by 3%: Quellaveco copper ramp-up and strong diamond production, offset by ore grades in Chile and lower production from Kumba and PGMs;
• Unit costs up 16%: above CPI inflation and some production decreases;
• Capex of $5.7 billion: lower due to supply chain disruptions, people availability and FX;
• Year-end working capital build of $2 billion to $2.5 billion, subject to pricing: in ventories expected to partially unwind in 2023.

2023
• Production expected to increase by 5% as Quellaveco ramps up;
• Unit costs expected to increase by 3%: inflation expected to moderate; and the benefit of Quellaveco;
• Capex forecast of $6 - 6.5 billion, including$ 800 million for Woodsmith;
• Expected review of Woodsmith year-end carrying value for accounting purposes.

2024
• Production expected to increase by 5%: led by copper, iron ore and steelmaking coal;
• Capex forecast of $5.5 - 6 billion.

2025
• Production expected to be in line with 2024; • Capex forecast of $5 - 5.5 billion.

"We have set up Anglo American as a resilient business through the cycle, both through the quality of the portfolio and our balanced approach to capital allocation," said Stephen Pearce, finance director for Anglo American. "That balance supports investment in business improvement and value accretive growth.

"At Woodsmith, our next major greenfield project after Quellaveco, we have approved $800 million of capex for 2023, focused on shaft sinking and other critical infrastructure as part of our phased approach," Pearce said. "We are improving the project's configuration to ensure we realize the full commercial value over the expected multi-decade asset life. This will extend the development schedule and the capital budget, compared to what was anticipated prior to our ownership. Looking ahead, we are even more positive today about the prospects for Woodsmith and its potential to become a high-margin, major contributor to our diversified product portfolio given the outstanding nature of the resource and the premium pricing upside we expect to realize for Ploy4, the highly effective, low carbon fertiliser we will produce."

Duncan Wanblad concluded: "Our mid-year commissioning and ramp-up of our new Quellaveco copper operation in Peru is testament to the determination of the entire team through the considerable adversity of pandemic disruption. Quellaveco alone increases our global production base by 10% and is the cornerstone of our margin-enhancing growth potential of 25% over the next decade, with further optionality beyond, focused on our future-enabling metals and minerals, from copper to crop nutrients. We are sequencing options appropriately, based on capital efficiency and returns, cognisant of balancing the current macro uncertainties with the compelling longer-term supply and demand dynamics.
---
As featured in Womp 2023 Vol 01 - www.womp-int.com