Panama Orders the Suspension of Cobre Panamá
---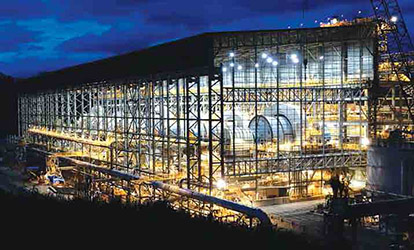 The Panamanian government rejects a proposed $375 million per year plan. (Photo: First Quantum)

Panama President Laurentino Cortizo ordered Minera Panamá, S.A. (MPSA), a subsidiary of First Quantum Minerals Ltd. (FQM), to cease operations at the Cobre Panama copper mine for failing to reach a beneficial agreement for both parties. The government, for its part, said that the Canadian company did not fulfill its commitment to the Panamanian people.

Formal discussions between FQM, MPSA and the Panamanian Government resumed on December 26, 2022, regarding the long-term future of the Cobre Panamá mine. The talks continued through the holiday break. FQM said it remains committed to seeking a mutually beneficial agreement as soon as possible.

"We appreciate the Government of Panamá's constructive engagement this week. The preferred option for both sides is to achieve a balanced agreement that will benefit all parties for many years to come. We have ambitious plans for Cobre Panamá and strongly believe that an agreement would pave the way for additional investment in Panamá and its people," said FQM CEO Tristan Pascall.

MPSA received formal notification from the National Directorate of Mineral Resources of the Ministry of Commerce and Industries (MICI) on December 21, 2022, of a resolution requiring MPSA to submit a plan within 10 working days of such notification to suspend commercial operations at Cobre Panamá and put the mine under "care and maintenance." MPSA is working through a number of steps to respond to the resolution, of which impact and timing are uncertain, and in order to address the complex practicalities of reducing operations of the size and scale of Cobre Panamá.

The parties failed to agree on a $375 million per year tax and royalty scheme that FQM submitted. The mining company wanted to hedge against falling copper prices. With social security contributions from MPSA and its employees, and other payments for permits, water and municipalities, FQM said Cobre Panamá and its employees would contribute more than $500 million each year in revenues to the government at current copper prices.

The MPSA contract was renewed in 2017 and remains in legal standing for a period until 2037. Since 1997, the mine was developed with invested capital of more than $10 billion and has been in operation since 2019. The mine represents the largest private investment in that country and provides thousands of direct and indirect jobs.

First Quantum said it continues to do everything possible to support the Cobre Panamá workforce and protect its investment in the mine. MPSA has initiated precautionary legal measures in the Panamanian courts and through arbitration under the existing concession contract. FQM has also notified the Government of its intent to initiate international arbitration under the Canada- Panamá Free Trade Agreement.
---
As featured in Womp 2023 Vol 01 - www.womp-int.com