Software for Successful Mines
We explore the latest software releases across mine design, planning and scheduling

By Carly Leonida, European Editor
---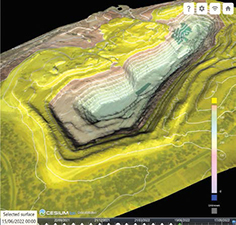 Coming in 2023, Maptek Geospatial Manager serves as a
centralized interface to upload, compute as-built progress
and download the latest mine measurement scans.
(Image: Maptek)

Today, some of the biggest challenges in open pit mine design revolve around the need for accurate yet speedy decision making fueled by increased production demands and the need to keep pace with the operational tempo. Mining engineers are looking for tools that enable them to consider or respond to opportunities in the mine planning process. Data enables better decisions but, as data capabilities grow, so too do the challenges that engineering and management teams must grapple with to ensure data is transformed into value, rather than becoming a bottleneck or a source of 'paralysis by analysis.'

The ever-growing size and complexity of datasets and the desire to incorporate all available data effectively, as well as transitioning from paper to digital processes are also concerns. Jesse Oldham, Global Product Strategy Manager at Maptek, told E&MJ: "One of the key focuses for us at Maptek is to shorten the time between data acquisition and value creation for customers. This means helping miners with more effective ways to acquire data, improve management and access to data, as well as solutions to efficiently process and analyze the data.

"Solutions downstream from data acquisition and management processes are also evolving to exploit data more effectively by harnessing technology such as machine learning and AI. This automated approach helps to minimize the manual effort by engineers and geologists who are tasked with transforming acquired data into models and plans."

New Features for Vulcan
Maptek's latest Vulcan Stratigraphic Open Pit design tools are the final stage in ensuring a real time, interactive approach to stratigraphic pit design, with the pit changing dynamically as parameters are updated in setup panels. The 'stratigraphic' component refers to users' ability to incorporate existing modelling (as grids or triangulations) directly into the design in addition to bench levels. It also automates the ability to start the base of the pit on a preferred horizon floor.

A new Vulcan Integrated Stratigraphic Planning menu workflow takes the output directly from geological modelling
and makes it available for pit or highwall creation. (Image: Maptek)

In addition to being suitable for dynamic dump design, the new option works well with open strings representing strip or block-based highwall profiles. The ability to insert ramp(s) into the design and interactively control the start, end and switchback locations enhances the positioning of access routes into the pit design. Once a preferred design has been created, users can take a 'snapshot' and save it as a layer and/or triangulation for later use.

A new Vulcan Integrated Stratigraphic Planning menu workflow takes the output directly from geological modelling and makes it available for pit or highwall creation. This then directly feeds into pit splitter functionality, resulting in fully attributed solids based on the pit/strip/ block/bench/horizon which are ready for reserve reporting, direct use in Maptek scheduling products or tailored export to third party schedulers.

"Vulcan Strategic Designer, within the Automated Pit Designer suite of tools, enables rapid generation and analysis of phase selections, allowing users to quickly interrogate open pit design choices to streamline mining and maximize returns," said Oldham. "This targets one of the designer's pain points — the ability to test non-final designs against economic and other parameters." Strategic Designer analyses multiple phase selections while considering physical limitations, such as minimum mining width, practical constraints and geotechnical parameters all while comparing critical values from the block model in one place. In this way, users can quickly interrogate open pit design options to maximize returns and streamline mining.
A screenshot from the Micromine Origin & Beyond 2023 release. (Image: Micromine)

The suite also has new tools to create a more detailed design incorporating ramp planning and design. These provide rapid and dynamic means to iterate on ramp positions and parameters as well as other pit parameters. Once the pit is engineered it can be divided into mining units using Vulcan Mining Block Generation or Integrated Stratigraphic Planning options before being used to generate smart schedules quickly and effectively. Maptek customers can work in a unified interactive environment that covers mine planning flow and integration, and BlastLogic (for drill and blast planning) can assist with design execution. Oldham told E&MJ: "With Vulcan's Automated Pit Designer implementations, the rapid generation of pit designs for scenario evaluations has decreased the duration and the scenarios can be quickly submitted to the cloud for analysis in Maptek Evolution."

As data access and confidence are vital in mine design, Maptek continues to iterate on Vulcan Data Manager for file revision management and control. "We are also expanding our data solutions across all Maptek products to ensure access to a single source of truth, ensure greater interoperability and provide secure access across devices," said Oldham. "The development roadmap includes a suite of web and cloud-based services that help in the automation and optimization processes associated with open pit design, and across the geological modelling and mine planning spectrum. Deploying these solutions to customers in new ways streamlines access, reduces the hardware burden, and provides connectivity with data and workflows across a range of platforms and devices."

Upcoming changes to Maptek Mining Block Generation tools will simplify the process to produce minable solids for use downstream in planning and scheduling. This targets customers' need for interoperable functionality and allows them to test scenarios on the desktop before committing designs to production and scheduling. The new Maptek Geospatial Manager is scheduled for release in early 2023. This serves as a centralized interface to upload, compute as-built progress and download the latest mine measurement scans. When surveyors collect data, it generates hundreds of surface files. Each surface file represents a snapshot of part of the mine at a particular time. GeoSpatial Manager amalgamates them into an overarching view of surfaces of an entire site.

Datamine Adds New Features to StudioOP
The considerations for strategic and tactical mine design are evolving rapidly. Environmental, social and governance (ESG) priorities, as well as a continued focus on both resource and capital optimization, call for greater balance in final designs. These parameters can be conflicting and are not easily solved, or accounted for, through optimization processes alone, leading to subjective balancing by the design engineer.

The ability of mine design software to further enable rapid scenario generation and evaluation enables the mine engineer to explore the intricacies of how these key considerations for the designer interplay, especially where in possible conflict. If the designer can generate intricate executable design scenarios and quickly see and interpret the changes though rapid evaluation, that allows them to better understand the levers they have to pull to make the best possible decisions. Datamine's StudioOP application features Automated Pit Design and Automated Surface Road toolsets. The company describes this as "a powerful design toolset that features rapid scenario and design evaluation capabilities."
According to RPMGlobal, the recent release of XPAC Solutions is the most significant in the past few years.
(Image: RPMGlobal)

Jonathan Graham, General Manager, Australia, told E&MJ: "Our design software, Studio OP, is used in hundreds of mines globally. The release of our dynamic design capability, nearly five years ago in its first iteration, offered a step change in the approach to the design task. What was previously a completely manual activity was replaced with automation, achieved by allowing the user to set a number of key rules such as bench height, berm width, berm tapering, geotechnical zones for slope angle compliance, dynamic haul road design and more. Setting up these rules creates a template which then completely automates the process of pit design at the click of a button. Rapid design iterations are possible with the use of saving scenarios so different design strategies can quickly be compared."

Further functionality additions to the Automated Pit feature are high on Datamine's list of priorities as the team works with clients to refine and add features through constant feedback. Additionally, fundamental re-evaluation of waste storage area design, focusing on a closure-constrained design paradigm, is another top priority, making the focus on compliance from the outset. StudioOP version 2.12 has also been just released. This incorporates advancements to geotechnical wall definition, greatly strengthened scenario design options and improvements to the flexibility of surface road generation. These updates reinforce existing key capabilities of the auto design toolset to ensure geotechnical compliance and rapid option generation, further supporting ESG and safety through design.

Micromine Unveils 2023 Releases
Maptek's not the only software developer that's been busy. At its annual global event, 'Micromine Momentum: Rock, People, Software' held on October 27, 2022, Micromine showcased various 2023 updates and releases. Micromine Beyond provides one environment to streamline every aspect of underground and surface optimization, mine design and surveying. Users can plan, design, visualize, analyze and generate reports at speed using the combined power of a modern CAD engine, structured data management, and extensive design tools. The mine design suite is used to solve common and complex challenges and reconcile as-mined developments across all mineral commodities. Enhanced visualization with powerful 3D GIS capabilities offers superior attribute and metadata handling.

The latest Beyond release includes speed and performance improvements — open pits can be optimized faster with a 25% typical speed improvement and new analysis tools. A better blast design experience is also available with interactive tools for visualization and manipulation, as well as greater control over data outputs and greater flexibility in locating blast-rounds with placement no longer restricted to centerline strings. Micromine said users can now generate more realistic blast solids and design outputs using tools for automated placement and manipulation of ring designs. Block model attributes and blast consumables are also now reportable, allowing every detail to be incorporated into production schedules.

Hexagon Updates MinePlan
Moving into planning, Hexagon's HxGN MinePlan Release 3 2022 brings new features to the software's engineering and geosciences suites, as well as 'quality-of-life changes' to MinePlan 3D. Engineering offers software packages to improve mine efficiency and decision making by applying timely and accurate data to minimize the variance between plan and execution. MinePlan Project Evaluator has added flexibility in the Best Worst schedule analysis feature. Hexagon said the release enables users to specify which grade items to target; mineral content and the destination recoveries will be applied based on routing results. This feature offers better schedule resolution and improves confidence in scheduling decisions.

MinePlan Activity Scheduler's new Merge feature enables users to combine a series of selected activities into one user defined activity. This is useful when trying to meet routing targets. Users can now slice, sequence, route and then easily recombine activities if the equipment advancement direction needs to be changed. Subsequently, short-range planners can create alternative scheduling solutions much faster.

The Geosciences suite has been made even faster, empowering geologists to store, manage, and analyze drillhole data so that they can spend more time performing geological interpretation of deposits and generating accurate block models. Processing times of MinePlan Drillhole Manager's drillhole and blasthole data have been reduced across all applications accessing drillhole data. This means less time waiting for computations, and more time spent being productive.

In the Logic workflow tool, users can now filter drillhole data by geometry objects in commonly used procedures, including compositing, coding, and interpolation, resulting in improved runtimes; testing benchmarks of the new release performed more than 10 times faster than previous runtimes in some instances. Several highly requested features have also been added to Hexagon's GeoLogic implicit modelling solution. This includes subdomains, which can now be modeled for intrusion events in the GeoLogic timeline, providing improved ability to model complex multi-phase intrusive deposits.

Finally, there have been improvements to overall compatibility with outside models and file types. The Model Importer is up to 10 times faster when importing third-party block models. There's also increased compatibility for AutoCAD 2018, allowing for more reliable retention of DXF file properties when converting to an MSR file.

Minemax Scheduler 7.3.3 Released
In scheduling, Minemax released Scheduler 7.3.3 with custom visualization in September 2022. This version includes various functionality enhancements for strategic mine planners. "Version 7.3.3 includes a range of new features that our customers have been asking for, "Minemax CEO, Joe Kraft, said in the press release. "We look forward to how the expanded functionality in importing, navigation, control, and exporting will deliver greater efficiencies in each of their planning processes."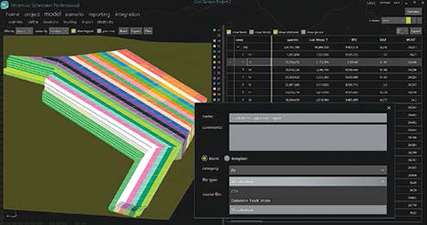 Minemax released Scheduler 7.3.3 with custom visualization in September 2022. (Image: Minemax)

Highlights include Custom Pit Bench Visualization Importing, a feature which allows mine planners without standard block model datasets to display the geometry of their mining locations in 3D. This is particularly helpful to coal mine planners as it enables the import of designed strip layouts to view the reserve and schedule. The new Capex Instance report table allows planners to quickly see the period-based timing and instancing of capital options exercised as a result of the schedule optimization. In Multi-Unit System Support for Haulage, mine planners can now define speed bins using either km/h or miles/h with a drop-down selector in the configuration for each truck type. Then, when defining haulage string files to import into a project, mine planners can also choose between meters, yards, and feet systems.

The batch optimizer utility allows planners to optionally enable email status notifications, which will send them a status summary email upon the completion of a batch, and upon the event of a failure during optimization. In order to support those with the requirement to launch optimizations from outside of the software, project scenarios can now be optimized, and configured reports exported using the Windows Command Prompt or PowerShell. New options give strategic mine planners more power for cancelling or stopping optimizations in progress, while keeping or discarding previous window solutions.

Carlson Mining 2023 Release
The 2023 release of Carlson Software's eponymous solution for mine design and planning, Carlson Mining, has a focus on greater transparency and control. CAD-based software modules enable modeling, analyzing, and planning capability. Carlson Mining 2023 is available on AutoCAD 2023 and IntelliCAD 11.0. The new release includes an improved interface and user experience with simplified dialog box navigation. Carlson Mining 2023 includes the software modules: Surface Mining, Underground Mining, and Geology.

The 2023 release focuses on user-requested features and improvements. This includes several additions to Block Modeling features and commands. A block model represents a shape within an orebody. They are used to assign unique values, estimate amounts and quality of resources, and are used to evaluate and generate reports. Carlson Mining provides improved Block Model importation which now supports user-defined block sizes and will divide subblocked models to specific size. Another addition in Block Modeling is the Spreadsheet Preview which enables users to preview an imported Block Model. There is also an added option to scale Block Models in the 3D Viewer. The Block Model Statistics report now includes block dimensions and average block elevations.

There are newly added commands to import and edit interval data for mineral drillholes. Users can now hide legacy menu options and commands to minimize their workspace. The general features updates for Carlson 2023 include improved interaction between Rollover Tooltips and the Drawing Inspector display. The Drawing Inspector dialog box additionally allows for multiple changes at a time. All dialog boxes feature streamlined uniformity and consistency for simple navigation. The release is part of the overall Carlson 2023 Office Software release with additional modules like Survey, Civil, Hydrology, GIS, CADnet, Construction, and Point Cloud.

Carlson Celebrates 40 Years
In related news, Carlson Software will be celebrating its 40 year anniversary at the company's 2023 Carlson User Conference being held on May 2-4, 2023, in Maysville, Kentucky, USA. Carlson's annual User Conference provides the opportunity for those using and interested in using Carlson Software solutions to learn about the new attributes. This year the event will feature an opening night performance by KC and the Sunshine Band followed by two days of expert and professionally instructed sessions. The second night will feature an evening banquet with musical performance by Wilson Fairchild. Carlson began in 1983 when its founder and president Bruce Carlson launched the first software package — Carlson Survey. The company has since evolved to provide software and precision technology solutions for numerous markets.
---
As featured in Womp 2022 Vol 11 - www.womp-int.com