bauma's Back
A roundup of key product launches and showcases for the mining sector.

By Carly Leonida, European Editor
---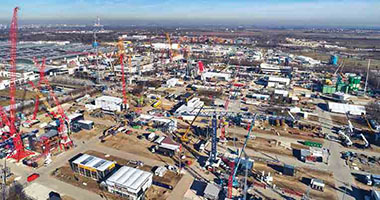 With 200,000 m2 of hall space and 414,000 m2 of outdoor grounds, bauma is the world's
largest trade fair. (Photo: Messe München)

"You can't imagine how much I've been looking forward to meeting you all in person again after two years of lockdown and travel restrictions," outgoing chairman and CEO of Messe München GmbH, Klaus Dittrich, the told the assembled press at the bauma 2022 Media Dialogue event in June. Held 2-3 months prior to the main event at the Messe München showground in Munich, Germany, the bauma Media Dialogue provides publications with a sneak peek of the machines, services and innovations that will be presented at the show from October 24-30, 2022.

bauma is the world's largest trade fair. Even with seven days to peruse the 200,000 m2 of hall space and 414,000 m2 of outdoor grounds, it's impossible to see all 3,000 exhibitors. Attendees, especially those looking to make purchases, should arrive with a plan. Sustainable mining is one of five key themes for bauma's 2022 iteration. Visitors can expect new zero-emissions equipment for mining, along with autonomous technologies, green mineral processing solutions, digitally enabled services, and more.

To help you make the most of your visit, or stay informed if you can't attend, E&MJ has collated some key exhibits, presented below in alphabetical order.

ABB
A trusted partner to the mining industry globally, ABB will present its industry- specific portfolio at Booth 413 in Hall C2. Mining technology experts will take visitors on a journey across grinding, motors, drives, electrification, conveying, material handling, automotive wiring harness protection and traction. In line with the exhibition's main themes, ABB continues to deliver seamlessly integrated electrification, automation and digital solutions, products and services from mine to port. ABB will showcase its digital portfolio, including ABB Ability MineOptimize solutions and the ABB Ability eMine suite of electrification and digital systems designed to accelerate the decarbonization of the mining sector. eMine comprises the pilot ABB Ability eMine FastCharge, which is set to become the world's fastest and only fully automated charging system for haul trucks, offering up to 600 kW of power. It also includes the ABB Ability eMine Trolley System, a technology that can reduce diesel consumption by up to 90%. Also designed and manufactured by ABB, the Harnessflex Specialist Conduit Systems includes flexible conduit systems and connector interfaces, protecting critical electrical and electronic wiring assemblies on automotive machinery from mechanical abrasion, liquid ingress, dust and salts.

Bell Equipment
At stand C6.303 articulated dump truck (ADT) specialist, Bell Equipment, will show its second generation two-axle ADT, the Bell B45E 4x4, and a new narrow version Bell B30E. The B45E 4x4 (41 metric tons; 25 m3) is aimed at small to medium-sized quarry operations or for use in overburden removal. The high power to weight ratio keeps cycles times low in difficult weather conditions and extends production times. The new narrow B30E with its adapted body, including a tailgate, measures in a 2,998 mm in width. While this version was primarily developed to circumvent transport regulations, its optimized geometry means it could also find applications in underground mines. The maximum permissible speed is 50 km/h and the hightorque Mercedes Benz six-cylinder engine (max. 1,450 Nm) with the Allison xFE sixspeed automatic 3400 ORS ensure excellent traction. The automatic retarder function also ensures safe downhill operation on ramps, and keeps fuel consumption within tight limits even on longer journeys.
Klaus Dittrich, CEO of Messe München, welcomes press to the Media Dialogue event in
June 2022. (Photo: Messe München)

BEUMER Group
In May 2022, BEUMER Group announced its acquisition of The FAM Group, a supplier of conveyor systems and loading technology for the mining industry. The deal concluded on June 9, and BEUMER will be discussing its extended capabilities at booth B2.413. The FAM Group is headquartered in Magdeburg, Germany. It plans, designs and manufactures turnkey plants and systems for mining, extracting, loading and storing minerals, raw materials and goods. "In addition to expanding the BEUMER Group's portfolio, FAM's know-how and global positioning also complement BEUMER's competence in the project planning of plants. FAM brings not only planning and engineering, but the entire value chain to the BEUMER Group, including aftersales service," the company said in the press release announcing the closure. BEUMER is no stranger to acquisitions, and representatives told E&MJ that the integration process is now well underway. The company has seen an uptick in requests for feasibility studies since the acquisition and it plans to retain the FAM brand, which has a strong reputation, for the foreseeable future. The company hopes to release details soon on its enhanced capabilities in big data handling and predictive maintenance following the integration.

Bosch Rexroth
At stand A5.326, Bosch Rexroth will present new motors, assistance functions for excavators, wheel loaders and telehandlers as well as advanced sensor systems and intuitive operating devices. Bosch has a new platform for electrifying high-voltage mobile equipment called eLION. This includes a range of electric motor-generators, inverters and accessories as well as tailored gearboxes, hydraulics and software, all developed specially for off-highway applications. The electric 700 V eLION motor-generators cover a nominal power range from 20 to 200 kW (peak power up to 400 kW) and deliver nominal torques up to 1,050 Nm (maximum torque up to 2,400 Nm). They are available in four sizes with different lengths and winding configurations and, depending on the design, in a fast or standard- speed version. Over 80 configurations are possible, which means maximum design freedom for manufacturers when electrifying existing and new vehicle architectures.

Continental
At booth C5.403, Continental will show its expanded NightViu range of premium lighting for the off-highway sector, including mining. Other highlights include the new LD Master and LS Traction tires for construction and mining. The LD has a reinforced carcass, extra sidewall protection and extra deep treads to help it perform in tough environments. It comes equipped with sensors that interface with the ContiConnect tire management system. ContiConnect version 2.0 with advanced features will also debut at the show. A digital twin can now be created for every tire a fleet has to ensure optimal performance. In February 2022, Continental launched a 2D radar-based monitoring system for conveyors belts called Conti Load Sense. This can be used in various industries, including mining and will be showcased at bauma, along with the new ContiPlus app which provides smart monitoring and management capabilities for the complete conveyor system. SiteIQ solution (a finalist for the bauma innovation award) integrates information from ContiTech and ContiPlus with data from other OEM condition-based monitoring solutions into one platform. This makes it simple for sites to manage their entire material handling fleet effectively. SiteIQ is already in use at an aggregates business in the USA and Continental is looking to extend its use into Europe.

ESCO
ESCO's Nemisys lip and GET systems are now available for all mining buckets and some of these will be on display at booth A6.137. Draglines, face shovels, mining hoes, plate lip excavators, cable shovels and wheel loaders can now benefit from the Nemisys system. ESCO will also introduce its new ProFill dragline buckets built using proprietary cast alloy construction. All Pro- Fill buckets are built to deliver superior productivity and durability under tough digging conditions. ProFill Delta buckets provide increased productivity and cost savings with the added benefit of reduced rigging complexity. Eliminating the lower spreader bar and associated components reduces rigging weight by up to 15%. The ESCO ToolTek System for installing and removing GETs will also be present. This was developed in a collaboration with key mining customers. The Weir Group (of which ESCO is a part) has also now completed its acquisition of Motion Metrics, a leading developer of AI and machine vision technology for mining equipment, and the team will be on hand at the ESCO booth to discuss the Belt Metrics, Truck Metrics and new Porta Metrics solutions.

Komatsu
Komatsu's 4,550 m2 stand in hall C6, plus outside space at booth FM713/1, will include a mix of 27 new and well-known machines. For mining, a highlight is the PC4000-11 electric drive excavator. Key features include a new 45° access system which gives operation and maintenance personnel easier and safer access to the machine. Three new emergency exits ensure the highest safety standards. The KOMTRAX Plus system upgrade for the PC4000-11 provides real-time information about the operating status of the machine. KOMTRAX Plus handles machine performance data in the operator's cabin for speedy insights. As well as this, a new simplified electrical system is now standard. A further highlight is the improved machine control capabilities based on a redundant CAN-Bus system in combination with a Komatsu controller. The tailor- made controller, which works together with the Komatsu hydraulic pumps and the engine, provides optimum performance and reliability. KomVision offers a 360° bird's eye view for safer machine operation. A monitor in the operator's cabin shows the full view of the machine and its surroundings. The operator is additionally able to select one of the cameras for a detailed view of a required area by way of a 10-in. touch panel.

Liebherr
Liebherr has more than 70 exhibits in its outdoor grounds which cover an area over 14,000 m2 (booths 809-810 / 812-813). Liebherr Mining will unveil a new mid-size class hydraulic excavator — the R 9600. This is the second Generation 8 machine within the Liebherr Mining portfolio. The model was launched in 2021, and the unit displayed at bauma is a pre-series version. Testing is underway with commercial production scheduled for early 2024. The 336-ton (305 metric tons) T 274 mining truck will also be on display, equipped with Liebherr's Trolley Assist System. This system uses an overhead pantograph to connect the electric-drive system to a mine site's electrical network, powered by the customer's energy source of choice. 56 Liebherr trucks fitted with the Trolley Assist System are currently in operation across three mine sites. A wide range of options are available for the T 274 and, in addition to trolley- assist technology, Liebherr will present its next generation of interoperable machine automation solutions. For trucks, Liebherr will also show its Crusher Guidance System, and autonomous haulage solutions. For mining excavators, technologies on show include the Truck Loading Assistant, Performance Monitoring and Application Severity analytic products, Liebherr Power Efficiency, and the Bucket Filling Assistant which offers the first step towards excavator automation.
An impression of Liebherr's bauma 2022 booth. (Image: Liebherr

Hermann Paus Maschinenfabrik GmbH
At FM.713/9, Paus will show some of its latest mining-class machines, including the PMKM 8030 dump truck equipped with some new digital features. This is designed for the underground mining industry. Paus said the compact design, high payload capacity and state-of-theart components, enable high productivity, short cycle times, and easy maintenance. It's sister machine, the PMKM 8010, is a narrower version that's well suited to navigating narrow drifts and tunnels machine. With payload of 35,274 lb (16,000 kg), the machine is equipped with an 8 m3 dump box. The next-generation PScale 8-T scaler will also be on show. This offers new safety features including three-point safety belts, brake test button, hill start assistance and a pressurized cabin. The cabin is equipped with safety glass window and front rock guards. The LED lighting gives the operator excellent visibility, and a range of remote-control options can be easily retrofitted.

SEW-Eurodrive GmbH & Co
At A3.213, SEW Eurodrive will introduce its Industrial gear units to go program. Standard drives from the X..e and P series can now leave the plant in just five working days. Gear units that require design adaptations are ready for shipping within 15 working days, as are special output shafts. Helical and bevel-helical gear units from the X..e series in sizes up to 175 kNm and planetary gear units from the P series up to 360 kNm (without any adaptations) can be ready for dispatch in five working days. In particularly urgent cases — for example when a system is down — replacements can be dispatched within one working day. The 'to go' program covers customized gear units, too, with flexible implementation of modifications such as special output shafts in 15 working days. The company will also launch a premium lubricant for gear units that is made from sustainable biomass. GearFluid Poly 220 E1 is the first CO2-reduced gear unit lubricant on the market to be made from sustainable biomass. As the base oil is manufactured without using fossil raw materials, the CO2 emission at the end of the lifecycle of GearFluid Poly is 84 percent lower than in the case of conventional polyglycol oils.

Volvo Penta Central Europe GmbH
While its purpose-built electric driveline will take center stage at booth A4.526, Volvo Penta will use its presence at bauma to focus on the role of its diesel engines in the construction and mining industries, as well as the company's transformation into new sustainable technologies. The company will provide an overview of how its current portfolio of ultra-effi- cient D5 to D16 diesel engines — and Stage V models in particular — has resulted in technological advances and market share gains that support its transformation journey. As one of Volvo Penta's most popular engines for mining and construction applications, the new D16 received the 2021 Engine of the Year award. This was largely in recognition of its increased output (796 hp / 585 kW) which was achieved at the same time as an up to 10% reduction in fuel consumption. By incorporating water-cooled charged air, its dual-stage turbo delivers high performance right across the operational range, enabling maximum torque to be produced at both low and high engine speeds. "In the short-term, the focus is still very much on internal combustion engines, and we will continue our development work in this area to stay competitive," said Morgan Blomgren, Director Strategy & Business Development. "Our engines are already able to run on HVO and biodiesel, and to further support our transformation journey to zero-emission solutions, we are also looking into powering them with CNG, biogas and hydrogen, as well as the use of hybridization — all of which are likely transitioning solutions for those markets that cannot yet support fully electric solutions."

Wirtgen GmbH
bauma 2022 will see the premiere of Wirtgen's 280 SM(i) surface miner FS.1011. The high-performance surface miner is designed for the reliable and selective extraction of primary resources by direct loading, sidecasting or cut-to-ground. Raw materials are extracted and crushed in situ in a single operation — without drilling and blasting, and with minimal environmental impact. The 280 SM(i) is an all-rounder and can be used in most rock hardnesses and applications. The 2,750 mm cutting drum unit with a cutting depth of up to 650 mm is adaptable to each application. Wear-resistant toolholder systems ensure optimal pick utilization and minimal downtime. The soft rock cutting drum unit is designed especially for high material flows in soft rocks. In contrast, the hard rock cutting drum unit ensures maximum durability and long life in hard rocks. Wirtgen said the innovative operator's cabin allows the operator to exploit the full potential of the machine and maximize productivity.
---
As featured in Womp 2022 Vol 09 - www.womp-int.com