The Future Fleet Forecast
The latest trends in truck-shovel mining goals

By Carly Leonida, European Editor
---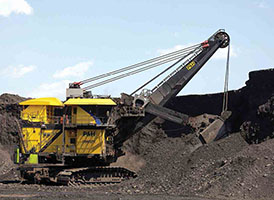 Mines that operate electric equipment like electric rope shovels are
already on the path of reduced carbon emissions, making their
public decarbonization commitments more achievable.
(Photo: Komatsu)

Sustainability and the renewable energy transition, mining 4.0, artificial intelligence, and autonomy are just a few of the myriad trends that have been influencing truck-shovel mining in recent years. The industry has experienced a dramatic shift towards digitalization autonomous haulage and machine intelligence systems.

"Most, if not all, major open-pit miners are experiencing declining ore grades and/or higher strip ratios, leaving larger equipment to move more material at the lowest cost per ton," Rich Peters, Product Director, Shovels at Komatsu, explained: "Additionally, most also have carbon-neutrality commitments, resulting in fleet selections driven by equipment sustainability initiatives and future upgradability. "Mines that operate electric equipment, like rope shovels or electric-drive trucks, are already on the path to reduced carbon emissions, making their public commitments to this more achievable," added Peters. "Mine sites are also strategically reviewing their mine plans to implement sustainable infrastructure that supports larger equipment."

Komatsu, Keeping a Close Eye on Fuel
For the majority of mines, operating costs (particularly around fuel) are increasing and this, combined with decarbonization targets is driving fuel and thus engine choices. Peters explained: "From an equipment point of view, Komatsu's P&H rope shovels are electrically powered, and Komatsu electric-drive trucks can be upgraded to reduce diesel requirements with a trolley installation. Additionally, optimizing the fleet through dispatch systems reduces the amount of equipment required on a given shift, resulting in reduced fuel consumption and emissions."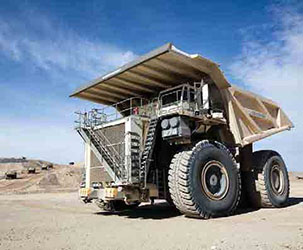 A wide range of options are available for the new T 274, including the
Liebherr Trolley Assist System. (Photo: Liebherr)

George Mavros, Product Manager for Surface Mining Load and Haul, with Komatsu's Mining Technology Solutions Group, agreed. "Fuel consumption is one of the biggest costs in mining operations. Optimizing fuel utilization is a solution we offer through our DISPATCH Fleet Management System (FMS) by making optimal travel assignments and keeping the idle time of the equipment to a minimum. DISPATCH will also recommend that equipment can be parked if the same production can be achieved with fewer operating units. In addition, through our fueling module, the system will send equipment for fueling only when needed, maximizing the fuel utilization and minimizing unnecessary traveling to fueling stations."

Komatsu's upcoming Refuel app, which the company is aiming to introduce in 2023, will provide visualization of fleet fueling schedules based on data calculations, enabling users to prepare and adjust their operating plan accordingly.

"The industry-wide commitment to reduce greenhouse gas emissions (GHG) is leading to increased interest in electrification of load and haul activities," said Lucas Van Latum, Principal Advisor for Strategy at Komatsu's Mining Technology Solutions Group. "This will have a major impact on what mining fleets will look like in the next couple of decades and on how mines will be operating them. It'll be fascinating to see how this will evolve as the technology matures and electrical infrastructure in and around mines is developed to deliver and manage the electrical energy required to fully replace diesel."

Liebherr Looks to Electric
The Liebherr Group has over 30 years of experience in electric drive machines for earthmoving, material handling and mining applications. The company has a number of proven solutions to help customers decrease their operating costs, including the Liebherr Trolley Assist System which is available as an option on its entire mining truck range, inclusive of the T 274, which was introduced at MINExpo in 2021.

The Liebherr Trolley Assist System uses a pantograph to connect truck electric-drive systems to the mine's electrical network. It offers increased truck fleet productivity, or reduction in fleet size, while maintaining yearly production when compared with standard trucks. A significant reduction of diesel fuel consumption is also made possible with a reduction of the truck fleet CO2 emissions. However, this depends on the percentage of renewable energy content in the grid supplied power.

Liebherr recently announced Liebherr Power Efficiency which reduces the fuel consumption of excavators while maintaining optimal machine productivity and performance. It's also starting to integrate the Liebherr D98 series engine into its mining equipment. The D98 series offers low fuel consumption and consequent emission reductions. It's also compatible for use with sustainably produced hydrotreated vegetable oil (HVO) fuel which can significantly reduce CO2 emissions.

The first mining units to be equipped with the D98 form part of an agreement with BHP; Liebherr is integrating the engines into BHP's existing fleet of R 9600 excavators at South Flank mine in Western Australia. The integration follows intensive factory and field validations on the D98 engine series which included a two-year validation study at BHP's Jimblebar mine where the Liebherr D9812 successfully powered an R 9400 for 20,000 hours. The new engines will be supported locally by Liebherr-Australia. The first D9812 repowered R 9600 is scheduled to be operational by Q1 2023, with the remaining repowers over 2023 and into 2024.

Looking even further ahead, Liebherr signed an agreement in June with Fortescue Metals Group for the development and supply of mining haul trucks integrating zero-emission power system technologies from Fortescue Future Industries and Williams Advanced Engineering. The phased supply of T 264 haul trucks will commence following a two-year joint development period enabling the integration of Fortescue's proprietary-owned battery electric and fuel cell electric power system, into Liebherr's proprietaryowned base truck.

The partnership will also assist the future evolution of Liebherr's 'Mining Zero Emission Program.' The first step in the program was to electrify Liebherr's mining product range and the second is to offer complete fossil fuel free mining equipment loading, hauling and dozing by 2030. The focus is on modularization to allow the integration of energy-type agnostic power trains including alternative fuel combustion engines, battery and fuel cells, and Liebherr's partnership with Fortescue is a key component of this program.

BHP Upgrades Escondida's Fleet
Caterpillar's latest truck, which is soon to be officially announced, is the latest generation, 214t class, 789. Caterpillar said the model boasts one of the highest horsepower ratings in its class, and hauls 10% more payload and is 5% faster on grade than its predecessor, the 789 D.

Fuel consumption is up to 9% less, the engine life has been extended by 12%, which reduces costs, and the new transmission offers smoother shifting and efficiency improvements that reduce cycle times. There are also service updates, including the modular HVAC system that can be removed and replaced quickly, and connectivity is expanded with fully integrated Cat electronics. E&MJ was also a given an exclusive preview of the new Integrated Technology Package (ITP) and Operator Assist Technology Package (OATP) which will be available on Caterpillar electric rope shovels starting in 2023.

The ITP future-proofs these machines by integrating Cat electronics and providing the platform to support technology expansion. It also provides seamless integration of Cat MineStar technologies that help track, monitor and manage the rope shovel. This package has six standard technologies: Machine Health, Vibration Monitoring, Cat Electronics, Payload Management, Bearing Temperature Monitor and Cycle Segmentation. The enhancements support higher productivity, improved reliability and increased security. The technology upgrade also provides a gateway for seamless integration of Cat MineStar Solutions, a suite of operational technologies that help track, monitor, and manage rope shovels.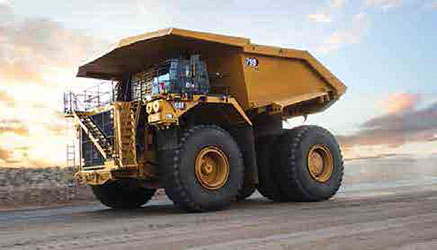 Over the next 10 years, BHP, Caterpillar and Finning will be replacing the entire haul truck fleet at the
Escondida copper mine in Chile with Cat 798 AC haul trucks with a payload up to 372 mt (410 tons).
(Photo: Caterpillar)

The OATP will be available as an optional upgrade for new and existing 7495 Rope and HydraCrowd shovels and 7495HF Rope and HydraCrowd shovels. The software is comprised of multiple features that reduce or eliminate the occurrence of poor digging practices which can negatively impact machine availability while maintaining the designed performance of the machine. The upgrade is designed to produce more consistent production, a predictable maintenance schedule, improved cost per ton and extended component life. It also increases uptime by minimizing machine self-collisions that cause fatigue and impact issues that lead to machine damage.

As this article went to press, BHP, Caterpillar and Finning International made a joint announcement that, together, they will be replacing BHP's entire haul truck fleet at the Escondida copper mine in Chile. This is part of a strategic equipment renewal process developed by Escondida, and the first trucks are expected to arrive in the second half of 2023. The remaining trucks will be delivered over the next 10 years as the three companies work to replace one the 160-unit strong fleet; one of the largest worldwide.

The new Caterpillar 798 AC electric drive trucks will feature technology that delivers significant improvements in material-moving capacity, efficiency, reliability, and safety and generate a positive impact in key initiatives for the future, such as decarbonization, diversity and inclusion, autonomous technologies, and the development of local capabilities.

The agreement allows Escondida to accelerate its autonomy plans by transitioning the fleet to include technology that enables autonomous operation. The agreement also sets forth a technological path that helps BHP meet its decarbonization goals through the progressive implementation of zero-emission trucks.

SmithCo's Side Dump Solution
Fleets comprised of smaller, more nimble trucks and shovels offer various benefits in some of the challenging open-pit environments that mines, both current and future, now face, and a number of miners are conducting trials to assess their viability. SmithCo offers a range of side dump trailers that can be paired with on-road trucks to provide an economic and innovative haulage solution for instances where traditional rigid frame trucks are less efficient.

"Our trailers excel on long, flat hauls, with distances greater than 5 km," sales manager, Duane Myears explained to E&MJ. "On these types of hauls, rigid frame trucks would be relatively slow, they would consume large amounts of fuel and their tires would heat up, reducing their life expectancy. "We're seeing more and more mines located a long way from processing plants, ports or manufacturing facilities. Satellite pits are a good example; a lot of mines are looking to chase extensions to existing orebodies, but the distances involved can make it uneconomic to move ore from those pits to the processing facility using rigid frame haulers. That's where our trailers can offer a solution."

Rather than replacing rigid haulers, on-road trucks equipped with side dump trailers are designed to supplement them in specific areas of operations. One of the many benefits of this approach (and with fleets of smaller off-road trucks and articulated dumpers too) is that the upfront capital cost of the equipment is a fraction of the cost of large mining trucks, as are the operating costs, particularly fuel consumption, repairs and maintenance. With large fleets of smaller trucks, it's also easier to build redundancy into the system — if a unit goes down, there's likely to be another that can quickly take its place.
SmithCo displayed its first mining side-dump trailer with a fully dedicated hydraulic suspension
system at MINExpo 2021.

The wider installed base of equipment across the globe means that it's also easier to find maintenance technicians and operators who are familiar working on these types of machines. Tire costs are significantly reduced and easier to source, and the level of autonomy (and range of solutions) available for on-road or smaller off-road trucks is much further advanced than for mining specific equipment.

One of SmithCo's largest mining clients is Baffinland Iron Mines. The company runs 64 units at its operation in Baffin Island in Canada. These have been in place since the mine began commercial operation in 2014, and the fleet has grown steadily since then. "They've been doing well," said Myears proudly. "It's a very challenging environment with temperatures down to -80°F in winter. The trailers run on a continuous basis 365 days a year."

SmithCo trailers are custom designed for each site, taking into account factors such as the material density, desired production capacity, the fleet size and models, availability, haul distances, road profile, elevation, climate etc.

"For mines that need to get the very best return on their investment over time, it's important to maximize the tons per mile cost," said Myears. "Our team will run calculations based on the above parameters, and more, so that we can optimally size the trailer suspension, tires, the truck and the box. We've also partnered with some professionals who can make recommendations about the speed and weight of the haul given the road elevation, gradient, sharpness of turns etc. to bring down the ton cost per mile."

SmithCo is currently working with electric vehicle providers to create trailers that are compatible with these vehicles given their current haulage capabilities and distances. Again, battery technology for heavy on-road vehicles is far advanced of that available today for mining trucks. In many cases, the latter has been developed but has yet to be proven and widely adopted. Fleets of smaller BEVs could provide a near-term alternative for mining companies that need to decarbonize their operations faster.

Hexagon Delivers on 'The Power of One'
Trends such as the shift towards smaller equipment, autonomous haulage and alternative energy sources aren't just affecting truck and shovel development and selection, but fleet management too. Fleet Management Systems (FMS) play an important role in managing the environmental impact of fleets through optimizing energy consumption and emissions.

Sean Perry, Vice President for Mine- Operate at Hexagon's Mining division, explained: "Fleet management relies upon a web of mobile sensors collecting data. Ensuring this data is accurate, reliable, and timely is most important, and overlaying it with quality business intelligence is vital for companies to make decisions. "Current energy (diesel) costs and fluctuating commodity prices will continue to drive operations to become cleaner and more efficient. Our fleet optimization algorithm continues to be a key tool in driving this. We recently undertook AI-based research into factors affecting fuel usage in load and haul, and are assessing whether we can incorporate these into our optimization algorithm too."

By seamlessly sharing data between its mining products (fleet management, safety, and planning) Hexagon's Power of One platform provides users with context and situational awareness to existing data. As an extension to this capability, the company is also building a business intelligence and analytics layer that provides mining customers with real-time decision-making support.

HxGN MineOperate OP Pro is the first package built entirely on the Power of One platform. With it, Hexagon aims to be the first mining technology provider with an integrated platform for fleet management and safety. "The latest release integrates Hexagon's Reverse Assist product (HxGN Mine- Operate Reverse Assist) with the OP Pro platform," explained Perry. "Our next release will integrate our HxGN Mine- Protect Operator Alertness System."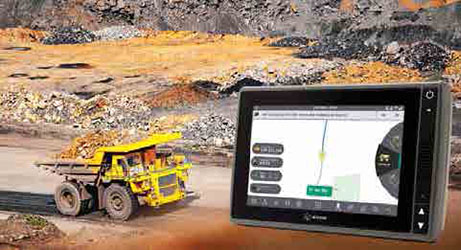 HxGN MineOperate OP Pro is the first package built entirely on the Power of One platform. With it, Hexagon
aims to be the first mining technology provider with an integrated platform for fleet management and safety.
(Image: Hexagon)

Other features in the pipeline include a new auxiliary equipment user experience incorporating task management control, greater integration with Hexagon MinePlan, MineMeasure and MineProtect, asset health tools, and the aforementioned business intelligence and analytics layer. Hexagon's Mining division is currently rolling out MineOperate OP Pro across various sites owned by PT Antareja Mahada Makmur, one of Indonesia's largest mining contractors. The five-year deal was announced in March 2022 and will see 176 units of OP Pro implemented across multiple sites.

At MINExpo 2021, Hexagon also announced an agreement with Liebherr; Hexagon technology, including its autonomous mission management system, will now be used in the mine automation options offered by Liebherr to customers. The autonomous mission management system orchestrates autonomous fleet and unmanned mine traffic movements throughout mines for optimized haulage. Perry added: "Autonomous trucks are now commonplace, but costs are still prohibitive for Tier 2 miners or brownfield sites. There is an opportunity for independent autonomous solution providers to retrofit existing and mixed fleets. Single hardware platforms that run multiple applications will allow the flexibility that these companies need. Feeding sensor data to a single business intelligence layer will allow mining companies to make decisions, not just based on production, but on operator safety, compliance and environmental impact in a single product. This will drive mines of the future."

Wenco Maintains Focus on Open Standards
Since 1983, Wenco has been providing solutions to help its customers minimize waste in the form of idle time and fuel usage via its dispatching, shift change, and fueling algorithms. Its most recent developments seek to provide value by targeting mining challenges that relate to orebody knowledge, geometry, and accessibility — challenges that are becoming increasingly solvable by emerging technologies, such as automation of smaller vehicles, vehicle electrification, and post-blast digital measurements.

Chief Technology Officer, Paul Sikora, explained: "Our open autonomy strategy is designed to facilitate new entrants in this space by reducing the barriers to entry while allowing them to focus on their core competency of automation. The customer can select new technologies that are integrated into their existing FMS and operational infrastructure. While larger haul trucks have their place in certain environments where switching to smaller vehicles presents operational challenges, many miners are looking to smaller haul trucks for a variety of reasons, including electrification, ability to service longer haul distances, lower maintenance costs, and improved productivity enabled by automation.

"Haul truck autonomy is currently dominant in markets where labor is expensive. But increasingly, we are seeing mining companies across all regions ask to plan trials with open autonomy platforms and drive-by-wire enabled vehicles." In addition to autonomy and the use of smaller truck models, Sikora also tipped increasing orebody knowledge as a key driver of innovation in fleet management. The more operators use advanced technologies to understand, load by load, which ore types make up their payloads, the more they can integrate that knowledge with dispatch decisions. "By increasing orebody knowledge in real-time, we are increasing our ability to help mines selectively mine a deposit and ensure the right load goes to the right location, increasing efficiency of equipment in terms of time, fuel consumed, and investment," he told E&MJ.

Wenco is also developing a new stockpiling module for its FMS to provide information on what material is residing where within a given stockpile. This work is designed to support different modes of operation which includes the need to have more detailed ROM pile compositions in instances where autonomous fleets are deployed in rehandle circuits at grade sensitive operations. "This is all part of our larger material movement automation strategy that focuses on orebody knowledge, automation, and connecting data across the value chain," Sikora explained. A recent project with ERDi TestLab helped prove the value of integrated systems by allowing data to flow throughout the mining value chain, resulting in a highly automated operations management solutions across the mine, processing plant, rail, port, and shipping operations. Wenco said this is a world first Industry 4.0 interoperability standards based, multi-product, multi-vendor, out of the box solution in open pit mining, and empowers the right individual with the information required to make the right decision at the right time.

Sikora summed up Wenco's response to evolving trends through its partnership with Hitachi and other major ecosystem partners: "We're working with our parent company, Hitachi Construction Machinery and the broader Hitachi organization to achieve the stated netZERO initiative," he said. "This includes expansions to existing trolley systems and release of BEVs. HCM will achieve these strategic objectives through collaboration with ABB and Hitachi Energy."

Learn More at Haulage & Loading 2023
Of course, all of the above trends will be reflected in the program for E&MJ's Haulage & Loading (H&L) event which will be held April 2-5, 2023 at the El Conquistador Resort in Tucson, Arizona, US. Prof. Tim Joseph of JPI Canada is helping to compile the lineup. "Folks are going to come to the conference seeking answers they can take back to their mines and action immediately," he explained. "So, the program will provide the maximum focused practical information to field practitioners, whether superintendents, procurement folks or mine managers." He continued: "This will be a 'useful' conference, featuring speakers who have experienced the issues that attendees continue to face, and are willing to share what worked for them and their operations. H&L 2023 will highlight advances that save energy, reduce emissions and costs while still ensuring productivity for both equipment assets and mines as a whole. Improvements in consumables (tires and tools), wear resistance and blast quality will also be discussed. "At the end of the day, if mining companies don't keep up with the latest developments, they will be lost in cost and in the crowd; something that pinches when margins are tight."
---
As featured in Womp 2022 Vol 09 - www.womp-int.com