Going for Gold
Innovations that are boosting gold recovery and green credentials

By Carly Leonida, European Editor
---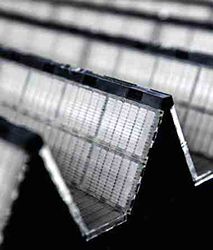 Derrick Corp's Trilogy screen technology turns a
defined two-dimensional screening area into an
interactive 3D space. (Photo: Derrick Corp)

Gold processing plants are operating in an increasingly challenging environment with regards to energy, labor and environmental, social and governance (ESG) considerations. The average grades of new deposits are also declining, and so optimizing operations over a range of sometimes competing objectives can be tricky.

There is no simple answer to these challenges, many of which are site specific. But harnessing the most advanced technologies and employing trained personnel to operate and maintain plants are important components in getting the most from a deposit while meeting stringent economic and ESG measures. Kenneth de Graaf, Global Product Line Manager for downstream gold recovery products at FLSmidth, and a keynote presenter at AusIMM's recent Gold Plant of the Future Symposium, shared some insights with E&MJ.

"The basics have always been increased metal production while consuming less resources," de Graaf explained. "The gold processing industry has an advantage over many base metal mines in that many of the technologies available today to improve operations and increase sustainability have been proven at the scale for most gold processing plants. "For example, the technology for tailings filtration at gold processing scales already exists and has been demonstrated by FLSmidth. In tailings management, efficient use of water resources and improving ESG considerations, particularly at the permitting stages for gold mines, is important and tailings filtration versus wet tailings dams has many advantages."

FLSmidth recently demonstrated this in a low-risk, low-cost case study at an Australian mine. It was found that by upgrading the thickener feed systems, water recycling was optimized to reduce the amount of water going to the tailings dam by 11% which, for that site, removed a production bottleneck and reduced water consumption.

Reliable Information, Reliable Partners
"In a gold processing plant, if you don't have accurate information on how much gold is entering and leaving the plant through various process streams then you won't know whether your plant is operating efficiently or if it is optimized," de Graaf told E&MJ.

"It's not enough to know how efficiently the plant is recovering the gold product — it's also important to know which deleterious elements the plant may be processing and releasing into the tailings. It's also important for the tailings management team to know if desliming of tailings is meeting particle size specifications for the tailings storage facility (TSF). All of these require accurate sample collection and analyses."

Often, the largest errors in analyzing any process stream containing solids (dry or slurry) occur in the initial collection of a sample and the subsequent sample preparation steps, including crushing, splitting and pulverizing, rather than in the actual analysis through fire assay or inductively coupled plasma mass spectrometry (ICP).

de Graaf explained that properly selected and installed automated sampling systems which adhere to Pierre Gy's Theory of Sampling are imperatives for unbiased accurate sample collection. "It's impossible for a human to consistently collect unbiased samples from the large process flow streams seen in modern gold processing plants," he said. "Once the samples are collected, consistent sample preparation is essential for maintaining the representativeness of any sample. Automated sample collection and preparation laboratories deliver consistently reliable samples which, in turn, provides reliable data for assessing plant performance and optimization strategies."

For remote gold processing plants, the supply of critical technologies and support from vendors that have a proven track record in remote projects should be another selection criterion. FLSmidth was recently awarded supply of the full equipment and processing flowsheet, including ore leaching, for Sabina Gold & Silver Corp.'s first mine in the Back River Gold District of Nunavut, Canada. According to Bruce McLeod, President and CEO of Sabina, FLSmidth's track record for providing equipment and support to remote projects was a key component in the decision to work with the vendor.

"The gold processing plant of the future should improve overall ESG outcomes by reducing water wastage, energy consumption and emissions," added de Graaf. "FLSmidth has its 'Mission Zero' initiative with the goal to deliver solutions in mining processes to manage zero-emissions by 2030. It's an ambitious goal that we have proudly committed to, and it requires a paradigm shift in collaboration, innovation and adoption of new technologies in the mining industry."

Balancing Risk With Innovation
Daniel Kappes, President and CEO of metallurgical services firm, Kappes Cassiday & Associates (KCA), joined the conversation. While KCA is based in the United States, traditionally 70% of its business has been outside of the U.S. However, in recent years, this trend has flipped and, today, approximately 70% of the company's projects are based in the U.S. and Canada.

"I would say that the industry is cautiously active at the moment," Kappes said. "With the emphasis on caution. We're seeing a lot of mining companies conducting studies in gold, but not many committing to building new projects, and those that do get approved tend to be in jurisdictions that are politically less risky. The technical risk involved hasn't changed much, but the geopolitical risks in many regions have increased. Since it takes 7-10 years to develop mining projects, companies are delaying projects, particularly in less developed countries, until they can see more long-term stability."

According to Kappes, the mining industry is also becoming more bureaucratic and corporate project managers are prone to cloning gold plants. Since each orebody has its own unique characteristics and deposits are getting geologically more complex, this can lead to costly design mistakes. The tendency to not innovate on the plant level makes it necessary to develop bigger projects which benefit from a long start-up time. Small and medium sized projects are being discovered but not developed, and these have become an exciting resource for smaller companies.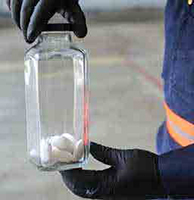 Most gold mines rely on sodium cyanide to
extract metal from ore, making it the one
chemical these operations must have to function.
(Photo: Cyanco)

KCA has a 35-person laboratory dedicated to flowsheet design, and a 25-person engineering department which provides flowsheets and engineering studies, and full engineering, procurement, construction management (EPCM) services through construction and start-up in gold as well as other commodities. "KCA leaves geology, geotechnical, environmental and social disciplines to others, but we often coordinate the input from these into the studies which we produce," Kappes explained.

He added that the team has seen demand for more in-depth metallurgical testing for gold projects in recent years. This is partly related to the nature of gold deposits which tend to require more analytical work than metals such as copper, but also due to declining ore grades — it's much harder to give an accurate assessment of recovery through assaying alone when percentages are so low. "On the mining side, GPS networks are now allowing for well-controlled drilling and blasting, good truck control and generally more efficient operation," Kappes explained. "In heap leach plants, the introduction of high-pressure grinding rolls (HPGRs) is a major improvement for treating ores which need fine crushing. For process plants in general, there has been a cost reduction due to significant improvements in pump design. These improvements have resulted in a gradual lowering of ore grades, so that heap leaches now target ores averaging 0.5 grams of gold per ton (g/t), with cut-off grades of 0.25g/t, which is near the limit of reliable assaying."

KCA agrees with de Graaf that sampling and assaying are real challenges as head grades decrease. To address this issue, KCA recently started marketing a rotating sample splitter with six 200 liter drums, to address the issue of how to handle large sample splits from production crushers.

The aforementioned trend towards geopolitical risk that is encouraging gold miners to explore mainly in low-risk jurisdictions has also seen many companies turning to existing assets to extend their reserves. This, combined with high metals prices, has meant that KCA and many of its peers have seen an uptick in brownfield projects recently.

"A large part of our business is providing services and equipment to projects which are growing in size due to the ability to process lower grade material," Kappes told E&MJ. "We are also working on several projects which are being reactivated because of higher gold prices, after several years of shutdown."

Building on Tried and Tested Technologies
The team at screening specialist, Derrick Corp., have also noticed a tendency for operators to 'play it safe' when it comes to new plant designs. New product application specialist, Alex Nicosia explained: "One of the biggest challenges in gold processing today is the status quo. In this context, it's the ideology of 'good enough.' As a gold plant is commissioned, there are very few processes or equipment implementations that deviate from the original design, despite projected technological or process advancements."

The culture of the status quo is often synonymous with risk; more specifically, risk-aversion due to the lens a project failure is viewed through. "If an entire industry could view risk as a positive or, at the very least, a necessary evil, then gold processing could advance past the point of projected earnings and operate comfortably in the space of projected value," Nicosia added. Of course, this burden is not laid solely on the operators. Technology providers should rightfully bear some of the responsibility of education and alleviating anxiety that revolves around risk by providing proof that any 'failure' will be rectified by the vendor rather than the operator.

"Derrick prides itself on taking ownership of new technology despite the outcome and remaining present for company champions," said Nicosia. "If we can change the status quo then the opportunities are limitless. Agriculture is a great example of this; the adoption of technological advancements in agriculture have compounded year over year as equipment has become more automated and accessible. Why shouldn't the same apply to gold mining?"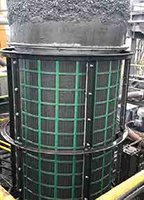 Particle-sized based sorting by design
improves gold recovery. Derrick's
G-Vault technology is shown here.
(Photo: Derrick Corp)

Particle-sized based sorting by design improves gold recovery; the more a company can advance its technology in a very limited footprint, the better the recovery. Derrick has made a name for itself by providing a urethane screen surface that pushes the boundaries of maximum open area, which leads to increased throughput and maintaining an accurate cut point. With these improvements come efficiency increases, safety improvements, reduced maintenance and decreased carbon loss.

"Improving environmental and social performance fortunately come complimentary of increased recovery and efficiency," Nicosia told E&MJ. "With increased efficiency — operators are working smarter, not harder. This reduces energy consumption and mines can take advantage of this by processing materials that would otherwise be lost to a tailings pond."

Derrick's newest innovation is the Trilogy screen technology. This turns a defined two-dimensional screening area into an interactive 3D space (from a particle's standpoint). By adding this third plane, the available screening area increases exponentially, within the same footprint. Furthermore, the modularity of the technology has expanded the product offering beyond typical vibrating applications. The addition of the G-Vault to the Derrick portfolio is another example of this. Historically, Derrick provided vibrating screens to the industry — the G-Vault, is a submerged, stationary interstage screen that outperforms traditional options due to its design and increased open area.

Nicosia said: "Through the Trilogy initiative, we transitioned our screening surface from a flat thermoset urethane screen to a thermoplastic three-dimensional urethane screen. The screen surface is combined with a robust support structure that can be joined together easily. This modularity gives us the ability to increase screening area in the same footprint."

Trilogy screens feature tapered openings which highlight their non-blinding characteristics, the ability to withstand higher material temperatures and increased capacity. Trilogy's extended service life and high open area, also lead to increased gold recovery.

Derrick and KCA also recently gave a joint paper in which they presented the combination of very fine Derrick screens and the KCA Carbon Converter for processing fines to show a significant increase in overall gold recovery from carbon- in-leach (CIL) plants.

Securing Cyanide Supplies
Most gold mines rely on sodium cyanide to extract metal from ore, making it the one chemical these operations must have to function. Cyanco is the world's largest sodium cyanide supplier. The company manufactures and delivers sodium cyanide globally in both solid briquettes and in a ~30% liquid solution, and also provides advanced technical services, application tools and training services for gold miners.

Chief Operating Officer, Michele Duttlinger, joined E&MJ to discuss current supply challenges and opportunities. "In terms of obstacles, the issues that were originally brought about by the COVID-19 pandemic have evolved into ongoing supply chain challenges," she explained. "Miners and suppliers are all feeling the crunch from widespread freight delays, product shortages and the rising cost of raw materials. Cyanco alleviates these potential shortages through diversification of its shipping partners and raw material manufacturers. We have 12 shipping providers on staff and 11 raw material suppliers for the three major components. We expect to see these supply chain disruptions and capacity issues continue into the foreseeable future."

To manage risk and build resiliency in the face of strained supply (a key differentiator for tier 1 and tier 1+ suppliers), Cyanco has developed a business intelligence system capable of tracking every shipment in real time. The performance of every product carrier and shipper, and the cyanide consumption requirements of each customer are monitored to assure reliable and secure delivery.

"We've never had a customer run out of sodium cyanide, despite driver shortages, severe weather events and freight issues creating significant headwinds in the global supply chain," said Duttlinger. "We maintain delivery performance through a very intentional investment strategy to digitize our operations and logistics, and to be world-class with our business intelligence capabilities. This has enabled the sophisticated forecasting and supply chain management necessary to navigate the unique set of variables affecting the mining industry today. One example of this is Cyanco's tank monitoring systems, which ensure that customer sodium cyanide levels never get low."

Alternative Lixiviants
In March of 2021, Cyanco entered into a strategic alliance with Cycladex, Inc., a developer of an alternative lixiviant for rapid gold and silver recovery. The technology is especially suited to treating refractory ores. "Approximately 22% of the world's current gold reserves are encapsulated in refractory ores, and the alternative Cycladex extraction technology is a perfect solution for liberating gold from these difficult-to-treat ores," Duttlinger explained. "With historical mine-sites, abandoned tailings are largely comprised of refractory ores, which were untreatable given the technology available at the time. The tailings that remain at these sites still contain large amounts of gold and silver, alongside other persistent materials. The Cycladex technology makes it possible to take out the heavy metals, wash the ore, extract the gold, and recycle the remainder of the crushed ore by turning it into building materials such as bricks, roofing tiles and paving stones."

With this sustainable method, mines can drastically reduce operating and CAPEX costs by 30%-50% on certain types of ore and tailings, while achieving significant environmental benefits. Certain mines can also lower their water usage, improve recovery times and reduce their operational carbon footprint. Utilizing this process also means that everything is recycled, so instead of ending up with waste (i.e., tailing dams), the end result benefits communities by providing sustainable construction materials for critical building and infrastructure projects. The partnership has expanded Cyanco's current set of offerings aimed at enabling its mining customers to safely and efficiently recover precious metals from ore. Cycladex, in turn, has benefited from Cyanco's expanded infrastructure and customer base, enabling it to grow its presence in the precious metal mining industry.

"The world is pivoting to a Circular Economy," said Duttlinger. "In this, we'll see a much stronger focus on decarbonization, the preservation of natural resources and sustainable operating practices. Many of the technical innovations required to power the Circular Economy — semiconductors, touchscreens and next generation electronics — will require access to gold, silver and copper for their conductive properties, and the extraction of silver and gold requires a reliable and safe supply of sodium cyanide for lixiviation."

Realizing Data's Potential in CIL/CIP
Most gold mining operations already monitor and record their relevant process data. However, in many cases this data is not used to optimize process performance. CyPlus, a regional leader in cyanides with a strong offering in technology services, is positioning itself as an innovative solution provider through its new Cy4Cast service platform.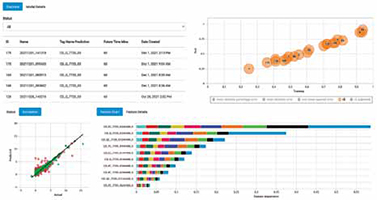 A view from the new Cy4Cast dashboard. (Image: CyPlus)

"CyPlus is always looking for innovations which can help mining operations to become more efficient and environmentally friendly in gold processing," Dr. Jürgen Steiger, Head of PL Solution Provider at CyPlus, told E&MJ. "In 2018, we ran a project to evaluate the pain points of mining operations and where CyPlus could contribute. We identified the leaching process as an area where improvements could be made to the process conditions, especially when ore feed varies. We built Cy4Cast as a cloud-based platform that allows historic and real-time data analytics, modelling, and real-time predictions of gold recovery in flotation and CIL and carbon-in-pulp (CIP) process circuits. We also use Cy4Cast internally to monitor our plant performance, especially with a focus on energy consumption."

Cy4Cast assists customers in the selection of suitable operating parameters for CIL/CIP circuits and analyses plant energy consumption. It is a cloud-based consulting service and analytics platform for machine learning-based modelling, prediction and optimization of the leaching circuit. Cy4Cast projects for leaching circuits consist of three steps. First, the historic process data is used to model the circuit and clarify if the available data is sufficient to describe the historic performance. Using that model and data, an estimation is calculated as to how much additional gold could be recovered with the improved conditions the model recommends. "This provides an understanding if and where additional investments are needed and what value they can bring to the operation," explained Steiger.

In the second step, the model is connected to real-time data from the leach circuit to verify the predictions and recommendations. The last step is the implementation of the model as a continuous recommendation and prediction service. "We have developed Cy4Cast for gold mines with flotation and CIL/CIP processes who need to increase gold recovery, decrease operating costs and/or minimize variability in their leaching processes," added Steiger. "Through continuous monitoring of the process circuits, Cy4Cast delivers improved process parameters and recommendations, and identifies root causes for variability, which is unique. This information is delivered through tailored solutions and 24/7 real-time feedback fitting the customer's needs." The Cy4Cast service will be available in Q3 2022.

Bettering Bio-oxidation
From a bio-oxidation standpoint, challenges in gold recovery include cycle times in operations with limited space for heap leach pads (leach rate), incomplete oxidation of sulphur intermediates (increasing reagent consumption), and poor-quality water (toxins and salinity).

Tom Clark, Head of Biohydrometallurgy, at biomining specialist, Cemvita Factory explained: "We have opportunities to enhance oxidation rates, decrease pad times and possibly decrease land use. It's also possible to increase the tolerance of leaching microorganisms to various microbial toxins and the salinity of process water and produce alternate biogenic gold complexing agents."

Cemvita's goal is to assist conventional mining processes in (bio) optimization to increase revenue, while at the same time lowering operation's carbon footprint and increasing their environmental sustainability. "Previously, adaptation of microbial populations was accomplished largely by adjusting conditions to force evolution of species involved in the bio-oxidation process," said Clark. "The ability to adapt the biology to operational conditions was limited. Synthetic biology now allows the tailoring of microorganisms to a degree and with a specificity that was unimaginable just a few years ago. Imagine: shorter pad times due to better sulphide-oxidation kinetics, microbes with a tolerance to poor water quality, or heap leach feeds that are currently not amenable to classic bio-oxidation. And, although currently aspirational, imagine new biogenic gold complexation agents as alternatives to cyanide, reducing mining's environmental footprint."

Cemvita is working on a number of technological innovations related to sulphidic ores and concentrates which are at various stages of development. "Biological oxidation helps to secure future gold supplies by converting resources to economically viable ore reserves," concluded Clark.
---
As featured in Womp 2022 Vol 08 - www.womp-int.com