Taking a Closer Look at IPCC
In-pit crushing and conveying systems offer improved flexibility to meet site requirements

By Russell A. Carter, Contributing Editor
---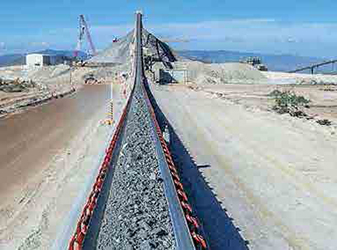 Conveyor systems offer higher safety, efficiency and environmental friendliness
when compared with truck haulage. According to one industry expert, IPCC system
investment costs can often be recovered in less than 3 years while providing longer
equipment life than a truck fleet. (Photo: Superior Industries))

The financial figures emerging from the Q2 2022 results released by major mining companies paint a mixed picture of the industry: Depending on what metal or mineral a company mines, profits are up – in some cases, from three to five times higher than the corresponding period last year (Teck, for example) – or down more than a quarter (Rio Tinto) or even a third (Fortescue Metals); annual operating cost increases are in the range of 10%-15%; and companies are strongly signaling their intent to reduce maintenance costs, increase productivity and implement digital technologies.

Numbers like those, and the aura of market uncertainty suffusing the industry, can lead to a conclusion that miners might just maintain business as usual and conserve capital – but they're actually planning on spending more: The top-ranked mining companies ratcheted up their capital spending budgets to an estimated $70.4 billion in total this year, a level the industry hasn't seen since 2014. Although exact figures aren't available, it's reasonable to attribute a significant portion of these capital-spending increases to the "inflationary pressures" noted by almost every reporting company that are pushing up project development and operational costs.

Against the backdrop of the ESG commitments, cost trends and volatile-market burdens currently carried by mining companies, In-Pit Crushing and Conveying (IPCC) appears to be a concept tailor-made to solve or ease at least a few of these issues.

Overcoming the Obstacles
By itself, IPCC is essentially hydrocarbon emissions-free, less labor intensive and more energy efficient than conventional truck haulage, and recent technological improvements in conveyor design and components offer enhancement of IPCC system flexibility to accommodate various mine layouts – a perceived limitation that has inhibited industry enthusiasm for the concept, along with its higher capital costs compared with conventional haulage – as well as providing the capability to function dependably in extreme conditions.

But when used in combination with green-powered truck fleets for short-route haulage to an in-pit mobile or semi-mobile crusher, newer IPCC systems offer the potential to eliminate a formidable stumbling block by allowing mines the option to keep their truck-haulage operational plans intact, yet still contribute to a company's decarbonization efforts. Industry experts also point out that good advance planning and proper project management can temper the traditionally higher initial cost of an IPCC system.

As Branislav (Branco) Lalik, FLSmidth Minerals' global product line manager for Continuous Surface Mining, explained in a blog post earlier this year, belt conveyors are much more energy efficient than trucks. "The ratio of moved material to total moved weight for a 360-ton truck is almost 1:3," he wrote, "which means that the percentage of material moved is less than 40% on one round trip. An average overland conveyor with around 10,000 tph throughput and 1,000 m length at belt speed 5 m/s makes up for more than 80% of material moved at a ratio of 1:1.2 of moved material to total moved weight without empty trips."

Despite typically being more expensive upfront than truck fleets, the total cost of operation (TCO) for IPCC systems is usually favorable, said Lalik. A large reduction in Opex through signifi- cantly lower manpower requirements, maintenance and fuel costs, coupled with high availability qualifies IPCC systems as a smart investment in the long term, often with a payback period of less than three years. IPCC systems also have a much longer life span than truck and shovel fleets, requiring fewer investments over their lifetime and, as a result, are more suitable for long-life projects.

One of the major selling points of IPCC systems is their ability to reduce operational emissions, which fits perfectly with the industry's current goals. As BHP's Chief Development Officer, Johan van Jaarsveld, explained during the company's 2020 climate change briefing, BHP's future capital allocation plans going forward would include considerations for solar power installation, alternative material movement technologies such as overland conveyors and in-pit crushing and conveying, and trolley assist to displace diesel fuel usage for haul trucks. A recent BHP-related announcement could bolter industry interest in emission-reducing, conveyor-centric approaches such as IPCC even further. China's Wuxi Boton Belt Co. announced the world's first carbon neutral conveyor belts for delivery to BHP's Spence copper mine in Chile in August as part of an exclusive pilot project between the two companies. The two companies jointly developed this pilot project, under which the conveyor belts were verified by SGS, a leading testing, inspection and certification company, as meeting the requirements of PAS 2060:2014, a specification for the demonstration of carbon neutrality.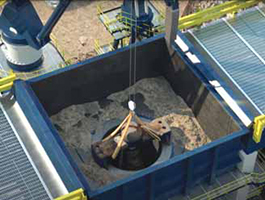 FLSmidth Minerals' top service (TS) gyratory crushers, allow access
for faster, safer removal of the eccentric assembly, bushings and
hydraulic piston through the top of the crusher.

The scope of the pilot project was for Wuxi Boton, as the incumbent contractor for BHP's operations at both Minerals Australia and Minerals America, to select the conveyor belts to be ordered by BHP and identify how to offset the estimated greenhouse gas (GHG) emissions associated with the production of those conveyor belts using carbon offsets prior to delivery. BHP Group Procurement Officer James Agar said, "The partnership with Wuxi Boton has been invaluable in helping BHP verify the feasibility of using high-quality carbon offsets to GHG emissions in our supply chain and grow the potential demand for supplying 'traced,' 'low carbon,' or 'carbon neutral' products amongst our suppliers."

Product and design improvements that benefit conveyor performance in general can also apply to IPCC systems in terms of specific advantages. Thyssenkrupp, for example, says its Rail-Running Conveyors overcome many of the inherent maintenance, belt speed and curvability limitations of conventional trough and pipe conveyors. At the head and tail ends of the conveyor, the configuration is the same as for a conventional conveyor. But between the head and tail, the belt is carried on wheeled carts. A host of idler-related maintenance problems are eliminated by this approach, according to the company.

The belt remains the tension member, with the carts carried along by their interface with the belt. The wheel-on-rail transport mode lowers friction and therefore belt tension, allowing for lighter belts, smaller drives, and much tighter vertical and horizontal curves. Because the wheeled carts circulate past the head and tail ends of the conveyor, automated inspection eliminates the need for daily inspections along the length of the conveyor. Two crusher-product introductions in 2020, from FLSmidth and Metso Outotec, respectively, also offer new features that fit directly into IPCC applications. The TSUV Gyratory Crusher – the latest in the FLS product line that began with the original TS model – is digitally enabled, giving operators more control over operations and availability and, according to FLSmidth, offers the capability for users to make fine adjustments to wear compensation, track equipment trends and quickly detect crusher obstructions can result in increased uptime, optimum equipment life and significantly reduced risk of unplanned downtime.

The TS range allows service and maintenance to be carried out from above. The eccentric assembly, bushings and hydraulic piston are easily accessible and removed through the top of the crusher. FLSmidth regards this design as being much safer than bottom service crushers, along with increases the speed and simplicity of maintenance work, reducing costs and boosting availability. The TSUV model provides an increase in power handling capabilities that the company said allows mines to process more material as ore yields decline. Although the crusher footprint has only nominally increased, its maximum power rating is now 1,500 kW.

Metso's Foresight crushing stations, also introduced in 2020, are equipped with smart automation technology including Metso Metrics, VisioRock, level sensors and crusher variable- frequency drive (VFD). These features, according to the company, enable optimized crusher speeds along with production levels up to 6,000 t/h. Metso recently signed an agreement with Chilean copper producer Codelco to design and supply a Foresight semi-mobile primary gyratory (SMPG) crushing plant for Codelco's Radomiro Tomic operation. The unit is equipped with a Superior MKIII 60-110 primary gyratory crusher, apron feeder discharge and dust collection.

Steps to Project Success
Technological advantages alone can't guarantee that IPCC systems are appropriate for every project. These are typically big-ticket, complex systems that require careful analysis and informed input for success. FLSmidth's Branco Lalik noted that certain key performance indicators have traditionally been applied to help to evaluate the economic feasibility of a full IPCC system in a given mine and support the early decision-making process. One of the key questions is "What is the right haulage balance to optimize Opex?"

Continuous systems, according to Lalik, can become viable at distances of 2-4 km or more between truck-haulage loading and dump points, and an expected mine life of 10 years and throughput of 2,000–3,000 tph should be the minimum when seriously considering IPCC on a larger scale for primary crushed material. The all-electric nature of IPCC configurations lends itself to the higher levels of automation and data collection that the industry is currently seeking but, to paraphrase a familiar saying, "with great data comes great responsibility" for ensuring that a company can fully realize the anticipated benefits. Martin Boulton, vice president, mining technology at EPCM company Worley, told E&MJ: "Automation continues to remain a puzzle unless miners develop horizons that plan the practical application across their assets. Technologies like IPCC will help miners meet their decarbonization commitments. However, sustainable mining is complex – no individual technology can solve the challenge. To focus solely on the benefits of the equipment and disregard the mine demands is a short-term solution to a long-term challenge. If miners are to meet sustainability goals, they need flexibility, collaboration, and a holistic approach to implementing new technology that starts at the mine plan."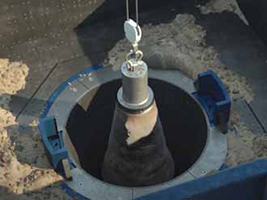 FLSmidth Minerals' top service (TS) gyratory crusher.

He mentioned that Worley recently acquired Western Australia- based Minera Mining Technologies, a technical solutions provider to the mining industry. "Minera's mining, geological and technical consultants work with mine owners to automate and decarbonize by determining the best-fit technology solutions and strategies for their assets. The combination provides enhanced front-end solutions covering automation, fleet decarbonization and electrification, and operational benefits realization," he explained.

Snowden Optiro, an Australian mining advisory, training and software firm that has completed some 40 IPCC studies worldwide, also advisescl that the benefits of IPCC come with an upfront capital investment and an ongoing operating cost associated with both the IPCC system and changes required to the mine plan. However, the potential benefits can be appealing, in Snowden's experience, as typical results include:
• Cash cost reduction of between $0.18/mt and $1/mt. • Best Net Present Cost (NPC) improvement – $800 million (@9% discount).
• Typical truck savings from 20% to 60% of fleet.
• Typical reduction in manning – averages 6.5 persons per truck saved.
• Typical reduction in ancillary equipment – 30%.
• Reduction in infrastructure costs associated with workshops.
• Overall capital for long life mines is either near neutral or in favor of IPCC when truck replacements are considered.
• Reduction in on-site carbon emissions by up to 50% depending on power source.

Typically, owners of large projects optimize purely on net present value, said Alan Langridge, regional director, technology and expert solutions, APAC, at Worley. This means choosing a project that gives economies of scale; with low operating costs that result in the greatest long term economic award. But there are drawbacks – and viable alternatives – to this approach when IPCC is being considered.

"Large-scale complex ventures can take many years to develop, even longer to achieve payback and usually involve signifi- cant upfront capital expenditure," explained Langridge. "While these projects provide big capital returns, the patience needed to get to that point translates into higher risk, especially when ore bodies are complex or difficult to assess from the surface. Some ore bodies are big enough to warrant a project seeking to maximize net present value, but they often come with significant development challenges. That's why we need an option between developing a mega project with all the associated risk and leaving the product in the ground.

"There's growing recognition that a staged approach can facilitate earlier cash flow from operations, reduce risk and still achieve good financial returns based on a lower cost of entry. A mine that's initially developed with the minimum viable features can be a big success, but it needs different thinking. It needs us to think small. By thinking small and minimizing a starter project, we can reduce initial costs, de-risk the project – and still enable a pathway to build a bigger mine in the future," said Langridge. "Miners are no longer racing to get the highest overall return or the absolute maximum net present value. Or at least not right away. They're looking for an outcome that's acceptable from a corporate, social, financial and operational perspective."

As the mine face moves, a relocatable IPCC system can move with it, advises Nicholas Russell, principal mechanical engineer at Worley. He recently explained the advantages of this approach in an online article at Worley's web site. "In this case, trucks powered by renewables can complete short distances to a crusher, which is moved periodically, with conveyors used for the rest of the journey to the processing plant," said Russell. "This option provides the energy efficiency and cost-effectiveness of conveyors while benefiting from the flexibility of a truck system."

This flexibility is especially useful for miners establishing sites with minimum viable capital, according to Russell. "Miners can start with a small truck fleet and minimum fixed plant, and then relocate the crusher and conveyor as and when required," said Russell. "This is a key advantage because it helps achieve project-specific goals through different mine sequences to enhance an operation's sustainability."
---
As featured in Womp 2022 Vol 08 - www.womp-int.com