Ford Signs Multiple Agreements With Miners for Raw Materials
---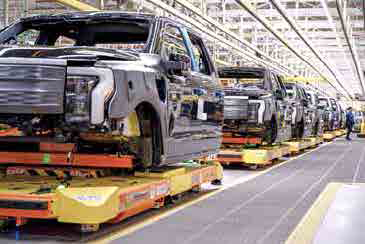 Ford F150 Lightnings roll off the assembly line at the Rouge Electric Vehicle Center.

Several miners signed agreements with the Ford Motor Co. for battery- grade minerals and low-carbon metals. Ford signed a non-binding memorandum of understanding (MOU) with Rio Tinto to develop more sustainable and secure supply chains. The company also signed a binding offtake supply agreement with ioneer Ltd, an emerging lithium–boron supplier, to supply lithium carbonate from its Rhyolite Ridge project in Nevada. It signed a non-binding MOU with Compass Minerals to explore providing battery-grade lithium from its lithium brine solar evaporation facility in Ogden, Utah.

Ford will explore becoming the foundation customer for Rio Tinto's Rincon lithium project in Argentina. Rio Tinto is currently progressing detailed planning to bring Rincon into production. The companies will also work together to strengthen the supply of low-carbon aluminum for use in Ford vehicles, including metals produced using the zero carbon ELYSIS smelting technology and from Rio Tinto's hydro-powered operations in Canada. The MOU builds on Ford's relationship with Rio Tinto as a primary aluminum source for its iconic F-150, the world's first all-aluminum body pick-up truck.

Under the ioneer agreement, Rhyolite Ridge will deliver 7,000 metric tons per year (mt/y) of lithium carbonate to Ford over a 5-year term, starting in 2025. Ford intends to use lithium carbonate to produce batteries for use in Ford electric vehicles through BlueOval SK, the Ford-SK On battery manufacturing joint venture. ioneer is expected to produce an average of approximately 20,600 mt/y of lithium carbonate/hydroxide along with approximately 174,400 mt/y of boric acid over the Rhyolite Ridge's 26- year life. The dual production of lithium and boric acid allows ioneer to not only produce lithium in the U.S., but to do so at the bottom of the global cost curve.

"We look forward to developing this new relationship with ioneer," said Lisa Drake, Ford Model e vice president, EV Industrialization. "Helping unlock lithium in the U.S. will help us support localized production of battery cells going forward and, ultimately, support our efforts to deliver EVs for millions of customers."

Compass Minerals and Ford will work together to create a two-phase arrangement that secures a significant quantity of its lithium carbonate production for Ford starting in 2025. Compass recently announced an expected commercial production capacity of 30,000 to 40,000 mt/y of lithium carbonate equivalent (LCE) for the project, with an initial phase-one capacity of approximately 10,000 mt/y LCE coming online by 2025.
---
As featured in Womp 2022 Vol 08 - www.womp-int.com