Managing a Digital Ecosystem for Mining
New tools offer mines ways to collect and analyze useful data

By Steve Fiscor, Editor-in-Chief
---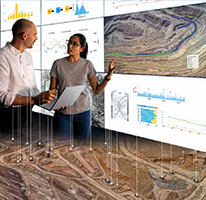 The Intellimine Synergy open-technology platform
enables interoperability between mining systems,
technologies and equipment.
(Photo: Modular Mining)

Although not well-defined, people grasp the term digital ecosystem because of its affiliation with nature. A digital ecosystem could be something as simple as monitoring the sensors on a network of pumps to determine how they interact while they operate. It could also be as complex as the mining engineer's imagination, like the central control rooms from a dozen major mines around the world interacting with each other and the corporate headquarters. Like its natural counterpart, a digital ecosystem adapts and is scalable and sustainable.

Over the years, E&MJ has published numerous articles that document the growing amounts of data and how mining companies are collecting it and benefiting from it. Now holistic approaches are being developed that use artificial intelligence (AI) and machine learning to quickly sift through the data and process it in near real time. It gives the mine or plant manager an idea of what's in the crusher and how it was delivered.

These buzzwords mean nothing unless the mines can capitalize on their use by reducing risk, providing a safer place to work, or mining and processing ore more cost effectively. Often the best way to do that is to show the trends visually through a dashboard or a user interface. Once people make that connection and see the benefits, its use will quickly spread throughout an organization and the digital ecosystem grows.

Putting Useful Data to Work
The concept of a digital ecosystem has been evolving rapidly over the years, explained Andrew Crose, vice president-autonomous operations for Hexagon's Mining division. He has worked with the Internet of Things (IoT) and digital fields for mining for the last 15 years. "It originally started with connectivity between databases and then grew into application programming interfaces (APIs) between databases to create distributed, adaptive and frequently open systems where data, digital systems and IoT devices come together as an ecosystem or community of data," Crose said. "Some people would even place humans in the digital ecosystem. They do create a lot of digital data. Whether it's IoT devices, humans keying information or the scanning of barcodes, we are generating an interconnected ecosystem of data from the edge where the data is collected to how it's shared across the ecosystem."

Similar to a natural ecosystem that adapts to imbalances, the digital ecosystem will grow with data and its use, Crose explained. "As the data becomes more useful, people will subscribe to it and it will be used for a variety of purposes," Crose said. "With artificial intelligence becoming more prominent, data will have much more usefulness." Hexagon helps mining companies manage everything from geological databases, drillhole samples, and the statistical analysis to create a geological model of the orebody, all the way up to the real-time, load-and-haul products like fleet management.

"There is connectivity between all that data," Crose said. "The geological model, which describes the orebody, allows the pit planning software to break it up into pushbacks. The system then breaks that up into the individual shift assignments, executes those shift assignments, and then reconciles it so the mine knows what remains of that geological model. It really is a digital ecosystem from the original drillhole samples, all the way through what was just placed in the crusher to reconcile what's left of that orebody." Hexagon also has safety tools that protect against collisions and monitor operators. Many of the safety tools, like collision avoidance, started as a standalone safety features, Crose explained. "They created data, but the data was only connected on board the machines, and it was not connected to central databases," Crose said. "Then about eight years ago, we started bringing this data back into databases for analysis and now we can do really clever things.

"For example, if the operator login is enabled on the fleet management system, the system would know the state of fatigue among its operators," Crose said. "The mine is also gathering telematics information. The system knows which trucks are loaded or empty. It knows if it's going up or down the grade. It can monitor the speed from the collision avoidance system. The system presents a more holistic digital knowledge of what's actually happening in that cab in real time. Historically, the mine learns that the unloaded, long-haul return trip to the shovel in the middle of the night presents the greatest safety concern due to fatigue." All of that data is generated from isolated point systems pulled together into an ecosystem to paint a holistic picture of what's actually happening.

Crose said the situation is constantly improving and said there will be challenges adapting buzzwords into an actionable programs. "AI sounds cool in the boardroom, but using it to predict collisions or failures will require much more work," Crose said. "Today's AI tools require the intervention of a subject matter expert. Two events may appear as correlated in the data, but they may not have the same causation or their causation might not be relationally the same. The subject matter experts are still needed to unravel data and to set up the problem that is being analyzed."

"There are issues with openness of systems that we need to overcome to make the digital ecosystem stronger," Crose said. "There are also issues with data privacy, which must be addressed because digital ecosystems involve humans. Operators need to see the system as one that will make them safer and their lives easier, while also ensuring that their rights and privacy are not infringed upon. "Data security is a serious concern," Crose said. "This is a challenge in many industries, because it's a challenge for the technology industry. Look at the number of security patch updates for a smart phone in the last two months. These are coming from companies that have signifi- cantly more people worried about this."

Looking at the digital ecosystem from the opposite direction, Crose suggests transparency to educate the industry. "We need to seriously consider sharing some of this data as an industry, especially safety data," Crose said. "Is safety data proprietary? Is that something we should hold on to as a mining company or is that something that we need to start sharing so that we can make the entire industry safer? Maybe we find a way to share data anonymously while mitigating privacy and security risks and avoiding potential litigation." Crose said some of the work that Hexagon is doing today is truly revolutionary and he gets excited when they discover new ways to make mines safer, more cost-effective, and environmentally sustainable.

Solving Complex Data Issues
Neil Ferreira, director of product strategy at Modular Mining, agreed with the natural ecosystem comparison to the digital ecosystems. "At a mine site, independent departments carry out tasks by using specific skill sets," Ferreira said. "But, it's their interdependence — working together — that has the greatest impact on production. In essence, an ecosystem is interoperability. When multiple departments, systems, technologies and applications work together for the same goal, more insights are unlocked and powerful opportunities for improvement emerge."

Modular Mining, which is a Komatsu technology brand, understands that when production solutions and systems are designed for interoperability, it's easier for individual stakeholders to see how they can influence each other's success, Ferreira said. This has implications for a mine site's most important daily production questions, including: Is everyone safe? Are machines and people where they should be, doing what they should be doing? Is everything going according to plan and, if not, how far off goal are we, why, and what's the best path to getting back on track?

That's why Modular Mining developed its Intellimine Synergy open-technology platform, which enables interoperability between mining systems, technologies and equipment, Ferreira explained. To answer those important daily production questions, Synergy can house a suite of brand agnostic solutions that will collaborate and create value together for customers. He said Modular Mining has re-envisioned the way it develops its own technologies, as well as how third-party companies can develop their technologies within Synergy, for rapid innovation of new solutions and collaboration.

"The No. 1 thing mine operators are struggling with is the quality and the fi- delity of their data," Ferreira said. "They are often juggling different data solutions from multiple vendors, which means managing their data in silos. This leads to a lot of frustration around trying to make software solutions interoperable. Being able to connect the dots and get really good data out of their systems is very challenging — and very important." Synergy overcomes this challenge by being the ecosystem where any technology built on the platform or plugged into the platform can securely access, share and analyze critical data to enable collaboration and transform optimization for a mine site, Ferreira explained. "To achieve true interoperability, this means setting brands aside so that equipment and technologies can interact regardless of where they were manufactured," Ferreira said. "It also means finding a solution for two more critical elements: deployment and data handling."

Modular Mining has taken a modularized approach to solution deployment, developing options that can best fit a particular workflow. Mine operators can use and add solutions as they need them, building toward a full complement of solutions adapted to their specific situations. If traditional on-premises deployment no longer works, a site can consider cloud and application versions instead. For instance, MineCare 3 health monitoring was recently deployed on the cloud. DISPATCH, MineCare and many other solutions have multiple modules that will be offered on the Intellimine Synergy platform as applications.

Ferreira said managing information in silos can lead to endless versions of documents, confusion and diluted data. "Standardizing data protocols is essential," Ferreira said. "Intellimine Synergy provides a single source of truth for data so it can be used with confidence, accessed easily and available to the right parties at the right time." Two supporting auxiliary technologies that make it possible for the Synergy platform to achieve interoperable systems are Application Programming Interface (API) solutions and Software Development Kits (SDKs). Modular Mining has an extensive list of API solutions that can synergize the exchange of information and make data available to approved stakeholders, Ferreira said. "As barriers between different departments, technologies and brands are broken down, data can be consolidated — giving a mine site a rich trove of actionable insights," Ferreira said. "Because Synergy is designed to allow third parties to build on the platform with the help of SDKs, it gives customers more access to digital tools that are suited to their specific mine site setup, further helping to break down barriers."

"All these intentional technology builds and features add up to real benefits for people running mines," Ferreira said. "From safety monitoring and asset health to long-term planning and data analysis, Intellimine Synergy is designed to deliver actionable information. And it's a critical building block for predicative analysis, artificial intelligence and other tools to advance the industry. The essence of the ecosystem is to connect systems in real time, Ferreira said. "And by extension, the people and teams who use other systems will benefit from the platforms' efficiency and data fi- delity. Today's technology enables you to securely share data fluidly and accurately, and then analyze that data into actionable steps to help your bottom line."

Making a Digital Transformation
Skycatch CEO and Founder Chris Sanz sees a digital transformation taking place in the industry as more mines adapt workflows to more data gathered more frequently. Skycatch provides aerial data capture automation, processing, visualization and analysis tools. "We offer end-to-end solutions for digitizing a mine site," Sanz said. "We specialize in scalability. We have automated data processing that allows faster, scalable and repeatable outputs. "With what we do as far as drones capturing data on a more frequent basis, we see the positive impacts of overall awareness of what's actually happening in the field on a near real-time basis," Sanz said. "They know right away if anything has changed that would impact their operation or the exploration processes." Traditionally, this information would have been acquired from engineers or surveyors physically walking the mine or laser scanners. "These methods introduce risk," Sanz said. "The object is to reduce the number of in-pit interactions with humans by collecting the data with drones.

"Our vision is to give our customers near real-time awareness with everything that they are monitoring like slopes, roadways, tailings storage facilities (TSFs), etc.," Sanz said. "The problem is that, as you collect more and more data more quickly, humans have a throughput limitation, so we extract the information for them, using machine learning and AI. The data is then presented through a dashboard where they can see everything in a single place." TSFs have become more of a liability for mining companies and many mines are using IoT sensor data from the dams to be more proactive. "This work requires centimeter level accuracy and not all drone technology can achieve that, but we can," Sanz said. "We have also automated the process of spot detection. If a mine has 1,000 spots its checking on a 200-km2 TSF, it can do that in an automated way, and revisit spots of concern and compare them to the previous imagery." Sanz sees a day when mines will use more advanced sensors to detect seepage from the dam.

Mines use Skycatch for bench monitoring. "Mines want to make sure the benches are not changing, especially if we're restarting a mine," Sanz said. "Miners need to keep a close eye on the bench at existing operations to make sure they're not actively changing. We fly very close to the highwalls in an automated way. We achieve close to sub one to sub three centimeter level accuracy. We can do comparisons to see if the ground has moved." Skycatch has an Edge device that allows engineers to see results from the field quickly. "It's very common for surveyors to perform a scan with other drone technology, come back to the office and realize that the data is no good," Sanz said. "We have an Edge device that converts to a base station. It can be used as a rover and for processing data in the field. A low-density processing feature allows users to quickly see the information and determine all the data is processed correctly before they head to the office for the high density output."

The Edge device is synched with the Skycatch Vision Engine (SVE) to generate the high-density point cloud and the high-fidelity point mesh. "We're famous for having the highest fidelity point cloud meshes," Sanz said. "Geologists love it because they can zoom in and feel like they're right there in the pit creating their geological models. Geotechs also love it because it's consistently accurate, and they can make changes on the fly." The mines are using the system to evaluate the cut before they move the shovel to the next face. "In the past, that would take three to four days to scan it and compare it to the plan," Sanz said. "We're able to do that in 30 to 40 minutes." Sanz said he is also seeing more mines use the system to evaluate blast fragmentation.

Even though the name might be new, Skycatch has been developing this tech for a long time. They worked with Komatsu to generate high precision in a repeatable fashion and released the technology for use at thousands of construction sites through the company's Smart Construction initiative. In 2019, Teck Resources tested it at the Red Dog mine. Located in Alaska about 100 miles north of the Arctic Circle, it's a very demanding environment with tectonic movements, darkness, snowstorms, etc., but it worked right out of the box, Sanz said. "This went from a two- to three-year program on one site to fully deployed throughout the company in less than a year," Sanz said.

Some of the biggest gains with mining companies is the reduced amount of open-pit interactions, Sanz explained. With one mining company, Sanz said in one year they were able to reduce open-pit interactions by 15,000 to 20,000 across all their mines. "They projected $60 million of savings in three years," Sanz said. "Saving money is great, but the mining companies are more interested in safety and reducing the need to send geologists into the pit during production." Skycatch will soon roll out a new inspection layer. The drones can quickly scan equipment during shift change, looking for anything out of the ordinary like oil leakage, tire damage, etc. Sanz said its part of their pipeline of future projects designed to integrate more solutions for mining operations.
---
As featured in Womp 2022 Vol 02 - www.womp-int.com