South32 Completes PFS for Taylor Deposit
---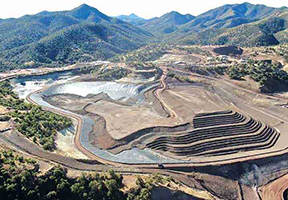 South32 voluntarily remediated this legacy tailings storage facility on
its property in Arizona.

South32 Ltd. recently completed a prefeasibility study (PFS) for the Taylor Deposit, which is the first development option for the Australian company's Hermosa project located in the Patagonia Mountains, about 80 kilometers (km) southeast of Tucson, Arizona. The Taylor PFS envisions a multidecade operation, establishing Hermosa as a globally significant producer of metals critical to a low carbon future, delivering attractive returns over multiple stages. An initial development case demonstrates a sustainable, highly productive zinc-leadsilver underground mine and conventional process plant, in the first quartile of the industry cost curve.

The Taylor Deposit will progress to a feasibility study, including work streams designed to unlock additional value by optimizing operating and capital costs, extending the life of the resource and further assessing options identified to target a carbon-neutral operation. Completion of the feasibility study and a final investment decision to construct Taylor are expected in mid-2023.

Separately, a scoping study for the neighboring Clark Deposit has confirmed the potential for a separate, integrated underground mining operation producing battery- grade manganese, as well as zinc and silver. South32 said Clark has the potential to underpin a second development stage at Hermosa, with future studies to consider the opportunity to integrate its development with Taylor, potentially unlocking further operating and capital efficiencies.

While exploration drilling to date has been focused on the Taylor and Clark deposits, South32 has continued to complete surface geophysics, soil sampling and other exploration programs across the Hermosa land package. This work has resulted in the definition of a highly prospective corridor including Taylor and Clark as well as the Peake and Flux exploration targets, which will be prioritized for drill testing in 2022. To date, 13 drill holes have been completed at Peake.

"The Taylor Deposit provides an important first development option for our Hermosa Project," South32 CEO Graham Kerr said. "Completing the PFS is an important milestone that demonstrates its potential to be a globally-significant and sustainable producer of base and precious metals. Beyond Taylor, Clark offers the potential to realize further value from our investment in Hermosa."

The Taylor Deposit is a large, carbonate replacement massive sulphide deposit, which extends to a depth of approximately 1,200 meters (m) over an approximate strike length of 2,500 m and width of 1,900 m. The mineral resource estimate for the Taylor Deposit is 138 million metric tons (mt), averaging 3.82% zinc, 4.25% lead and 81 grams/mt silver. The deposit remains open at depth and laterally.

The mine design contemplated in the PFS is a dual-shaft access mine, which prioritizes higher-grade mineralization early in the mine's life. The mining method is longhole open stoping, with the geometry of the orebody enabling the operation of multiple concurrent mining areas. This supports an assumption of an initial 22-year resource life with high mining productivity. Ramp up to nameplate capacity of up to 4.3 million mt/y is expected to be achieved in a single stage. The process design applies a conventional sulphide ore flotation circuit producing separate zinc and lead concentrates with substantial silver credits.
---
As featured in Womp 2022 Vol 02 - www.womp-int.com