Oyu Tolgoi, Rio Tinto Reach Agreement to Begin Underground Operations
---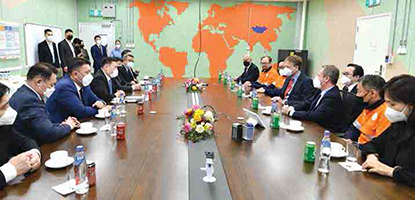 Rio Tinto President Jakob Stausholm (red tie on the right) discusses future mine plans with officials from
the Mongolian government at Oyu Tolgoi's headquarters.

Rio Tinto, Turquoise Hill Resources (TRQ) and the Government of Mongolia have reached an agreement that will move the Oyu Tolgoi (OT) project forward. The OT Board, comprised of representatives of Rio Tinto, TRQ and Erdenes Oyu Tolgoi (EOT), which is wholly owned by the Government of Mongolia, unanimously approved commencement of underground operations. This step unlocks the most valuable part of the mine and is expected to begin in the coming days, with first sustainable production expected in the first half of 2023, according to the companies.

"The commencement of Oyu Tolgoi underground mining operations demonstrates to the world that Mongolia can work together with investors in a sustainable manner and become a trusted partner," Mongolia Prime Minister Luvsannamsrain Oyun-Erdene said. TRQ will waive the $2.4 billion EOT carry account loan in full, comprising the amount of common share investments in OT LLC funded by TRQ on behalf of EOT to build the project to date, plus accrued interest.

The Parliament of Mongolia has approved a resolution that resolves the outstanding issues that have been the subject of negotiations with the government over the last two years. "We would like to thank the Government of Mongolia for their commitment to working productively with Rio Tinto and TRQ to reach this crucial agreement that will see one of the world's largest copper growth projects move forward and firmly establish Mongolia as a global investment destination," Rio Tinto Chief Executive Jakob Stausholm said. "This agreement represents a reset of our relationship and resolves historical issues between the OT project partners."

Parliament required certain measures be completed for the resolution to be implemented. These included waiving the carry account loan; cooperation with EOT; measures to monitor underground development financing mechanisms and enhance ESG matters; approve the Electricity Supply Agreement; and establish a funding structure that does not incur additional loan financing prior to sustainable production for Panel 0. Rio Tinto said it continues to work with the government on the formal termination of the Oyu Tolgoi Mine Development and Financing Plan (UDP) and resolution of the outstanding OT LLC tax arbitration.

Until sustainable underground production is achieved, OT will be funded by cash on hand and rescheduling of existing debt repayments, together with a prepaid copper concentrate sales agreement with TRQ. The capital forecast for the project is $6.925 billion, including $175 million of known COVID-19 impacts to the end of 2021. Remaining underground capital expenditure is approximately $1.8 billion, according to Rio Tinto.

The Electricity Supply Agreement will provide OT with a long-term source of power from the Mongolian grid. Rio Tinto said it will work with the government to support long-term renewable energy generation in support of the grid. The Government of Mongolia and OT are in discussions with the Inner Mongolia Power International Cooperation Co. (IMPIC) for an extension of current power import arrangements beyond the current agreement of July 2023.

By 2030, OT is expected to be the fourth-largest copper mine in the world, according to Rio Tinto. It is a complex, greenfield project comprising an underground block cave mine and copper concentrator as well as an open-pit mine, which has been successfully operating for almost 10 years. Since 2010, OT has spent a total of $13.4 billion in-country, including $3.6 billion of taxes, fees and other payments to the state budget.

OT is expected to produce around 500,000 metric tons (mt) of copper per year on average from 2028 to 2036 from the open pit and underground mines, and an average of around 350,000 mt for a further five years, compared to 163,000 mt in 2021.
---
As featured in Womp 2022 Vol 02 - www.womp-int.com