Shovel Service Suppliers Help Cut Costs, CO2
Maintenance service and telemetry offerings help miners increase uptime, the life of undercarriages and other components, and the support of investors

By Jesse Morton, Technical Writer
---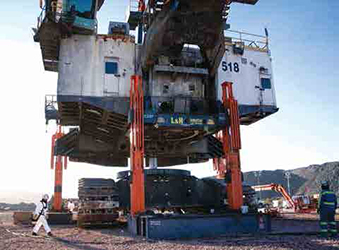 L&H Industrial has a 1,270-mt-capacity hydraulic lift system for undecking electric
rope shovels and suspending them up to 10 ft above the ground.
(Photo: L&H Industrial)

A benefit common to the more popular shovel service and telemetry offerings on the market is reduced unplanned maintenance. Another common benefit is the capability to better deal with the unexpected when it happens. Both speak to the need for optimal uptime. With almost everything else at the mine being downstream of the shovels, uptime translates to profits. And for the growing number of miners who now claim loftier principles than the profit motive, the offerings spotlighted below can also, either directly or indirectly, help a mine achieve some sustainable development goals. In other words, they can help a miner appease its most conscientious and vocal stakeholder, the investors.

Experience Defeats the Unexpected
L&H Industrial said with decades of experience, a global footprint and supply chain, and top-tier staff, it is adept at fielding the biggest challenge common to shovel maintenance and repair work: the unexpected. For example, in Q1 2021, L&H Industrial had just launched a major overhaul on a P&H 4100A electric rope shovel at a site in southern Arizona, USA, when the unexpected happened.

"The project consisted of L&H supplying a complete swing system, meaning the ring gear, roller circle assembly, and upper and lower roller tracks," said Tyler Thomas, product line director, L&H Industrial. The company would also supply the center gudgeon and swing shaft assemblies. The job required "completely separating the machine so that the swing system could be accessed to remove and replace with the new components." The company had been quoted saying the project would span 28 days. "It was relayed to L&H from the customer that the completion date was very important, and 'if we said 28 days it better be 28 days,'" said Marley Ziegler, field service manager. Shortly after the ink dried on the contract, "the customer notified us that they had found a major crack in one of the crawler frames," he said. "The customer sent photos for review, and L&H, as a team, suggested to the mine that it would be best to remove the crawler frame to get the best possible repair of the crack," Ziegler said. "After the repair was made, it would likely be necessary to mill the mounting surfaces on the frame."

The miner signed off on the repair but requested completion within the originally quoted timeframe. "Now, added to the original scope of work was another major project that would need to be completed concurrently," he said. "L&H adjusted to accommodate, and increased manpower and equipment to the project to make sure that we could maintain the timeline that was originally presented to the customer."

Work progressed. The machine was tore down, equipment removed and an inspection of the major structural components completed. "It was found that the machine was in worse condition than originally expected, and that the allotted time for crack repair was not going to be enough with the manpower on hand," Ziegler said. "Additional resources were supplied to make sure that the original timeline could still be maintained," he said. "So, with the original scope of work plus, now, the side frame repair, which did include the machining work, plus 130 ft of structural crack repair, it was going to be a stretch to complete the project on time."

Or, rather, it would have been a stretch for anyone else to complete it on time. "Between the men on the ground and the in-house coordination team, the project was completed 100% successful, coming in on time without any safety incidents," Ziegler said. "L&H is very fortunate in the fact that we have the caliber of technicians and equipment it takes to pull something like this off," he said. "The customer was very satisfied, and the machine has been running since without issue." While the unexpected is the norm for the line of work, the details differ at every site. "We have done many of these jobs over the years; however, no two jobs are exactly the same," Ziegler said. The company offers three basic services that are often adopted together. It has a field services offering, an engineering offering, and a manufacturing and repair offering.

The company makes parts and components that are basically upgrades compared to the originals. "We support these components with a highly skilled field service team of welders, mechanics and machinists," Thomas said. "L&H Industrial's ability to offer a comprehensive solution to mines across the globe on shovel rebuilds is quite unique in the sense that very few providers can design, manufacture, repair and service the components and assemblies on the machines," he said. "Our customers not only want a high-quality designed component, they also want the same quality of service after the sale, and L&H can deliver that." "Most of our products outperform the average life the industry currently offers," Thomas said. "The total cost of ownership is often much less than other options and requires less rebuilds and repairs."

The offerings are ideally for customers seeking abiding partnerships, Thomas said. "We work well with customers who have the same core values as L&H," he said. "We work closely with our customers and partners to build the best possible machines across their fleets that will be reliable, safe and efficient, with knowledgeable support when and where they need it." The success of all such long-term relationships depends on honesty. "Our tagline is 'honestly better' and has a deep meaning to us," Thomas said. "One, it reflects our commitment and drive to always deliver, innovate and create honestly better solutions for the biggest machines on earth. And, two, it symbolizes our culture of doing the right thing, treating others fair, and always being a brand that will be honest and treat people honestly," he said. "This is something many companies across the world claim, but very few live up to this standard every day."

Telemetry for the Automation Path
Modular Mining, a Komatsu subsidiary, reported it is re-envisioning the Mine- Care System so it will continue to meet the advancing machine-health-monitoring needs of customers that are increasingly adopting automation and digitalization. "Stay tuned in 2022," said Luke Smith, product manager, global mining solutions, Modular Mining. Now part of the Komatsu technology ecosystem, the telemetry system was first released in 2000. Version 2.0 came out in 2010, and Version 3.0 was released in 2017.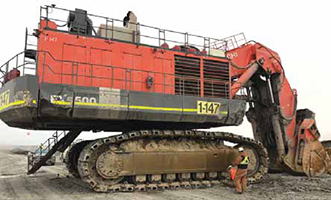 FLSmidth's shovel audits involve a deep-dive analysis on problem areas, followed
by consulting or coaching on best practices. (Photo: FLSmidth)

"Since introducing the MineCare System in 2000, we have continued to expand the system's capabilities to increase the value we provide to our users," Smith said. "With each major release, we have worked to advance the technology, simplify and streamline usability, reduce economic barriers to entry, and improve the overall user experience," he said. "Throughout the MineCare System evolution, we have focused on delivering the right data, at the right time, to the right decision maker." Those decision makers typically fall into two camps, maintenance technicians and data analysts.

Without the right data at the right time, the technicians lose time from "performing troubleshooting, a lack of knowledge about the problem at hand, or traveling between the equipment and the maintenance shop," Smith said. "The data analysts, often long-time reliability engineers, lose time sorting through gigabytes of raw sensor data, trying to identify the cause of component failures and working to determine how problems might be discovered before failures occur." After a "shift in mindset," both can benefit from MineCare, he said. "Once the MineCare System is in place, both the techs and the analysts are able to see how the system can help them do their jobs more efficiently and effectively," Smith said. "It also becomes clear that the system's proactive problem mitigation capabilities can help prevent catastrophic damage scenarios for substantial cost savings."

With interfaces available for all major open-pit equipment OEMs, the MineCare System provides real-time telemetry data across a fleet. Hardware on connected mobile equipment collects and processes operational data generated by onboard sensors. The hardware sends the processed data to an either on-site or cloudbased platform. The data is displayed for all system users. "From there, the data can be used to address immediate maintenance events or stored for historical trend analysis and reporting," Smith said.

The MineCare System features an equipment-tracking module that "enables users to view the current machine health across an entire fleet," he said. "MineCare 3, our Software-as-a-Service cloud-based version of the system, reduces costly on-site infrastructure, simplifies updates and upgrades, and helps reduce the total cost of ownership of the system," Smith said. The system can help users troubleshoot "and make proactive maintenance decisions without physically interacting with the equipment in the field," he said.

Audits Up Availability
FLSmidth reported its shovel service visit program helped a U.S. customer get more than 31,000 hours out of an undercarriage. "They were routinely achieving 18,000 machine hours on their undercarriages," said Aaron Henry, design engineer. "We partnered with them to understand what the limiting factors were."

The biggest factor was the machine was too heavy for the track shoes. "Our team worked to enhance the design of the undercarriage, resulting in more than 31,000 hours of performance," he said. "Once we achieved these hours, we began a deeper relationship where we coached them on the true costs of running our undercarriage versus the other players in the market." The comparison ended any doubts. "It really drove home the importance of having reliable quality product on site with known maintenance windows," Henry said.
MineCare users view graphically displayed real-time sensor data from the onboard telemetry systems of all
connected equipment units. (Photo: Modular Mining)

"Throughout our partnership, we have had scheduled routine windows where we audit our undercarriages and provide guidance and suggestions to keep unplanned downtime to a minimum," he said. "They have subsequently been a multiple repeat customer." The service visits offering is also referred to as shovel audits, and can be divided into two parts. The first is an analysis that dives deep into problem areas. "We offer new insights into the historical pain points end users face with shovel undercarriages at their site, and in their application," Henry said. The second part involves consulting or coaching "on best practices for achieving lowest cost per hour through design enhancements, material enhancements, and operational and maintenance practices."

The new insights delivered "allow us to innovate High Performance Part solutions that solve common, or uncommon, maintenance and operations personnel cost drivers," he said. "Ideally, these solutions remove the pain point entirely so that personnel focus can be shifted elsewhere." For example, roll path wear typically causes material flow off the end of the track shoes, eventually causing the track shoe to bind up, he said. That can create a hazardous fly metal situation, and can require the shovel to go down for hours. "We developed the Wide Path roll path, which lowers the stress on the roll path, eliminating material trimming."

Other pain-point mitigations address loose retention hardware on track shoes, usually discovered during inspection. "Loss of retention hardware can result in a broken track shoe pin, a broken track shoe and costly downtime," Henry said. Audits can catch leaking, oil-filled lower rollers, which are caused by overheating and long-tramming operations. An audit can detect lubrication loss in a grease-injected roller. "A loss of lubrication will cause the roller to fail catastrophically in a short time," he said.

It can discover missing rollers. "Missing rollers place extreme stress on the track shoes causing them to wear prematurely," Henry said. The list of benefits offered include reduced unexpected maintenance events, higher availability, lower expedition costs, higher performance, more hours between component changeouts, reduced total cost of operation, improved safety, and more sustainable mining, Henry said. "The lowest carbon part is the part you did not produce."

Remans Beat OEM Specs
Logan Industries International Corp. reported it completed a boom cylinder refurbishment on a Cat 6060FS, part of its first mining cylinder repair contract. As part of the contract, the supplier has also refurbished and staged a set of cylinders for Hitachi shovels. Logan said customer feedback has been positive. "They are quite appreciative of our attentive service and really like our quality system," said Dean Carey, engineer and technical director.

The supplier is relatively new to the mining space, and the contract made headlines in early H2 2021. It was Logan's third shovel reman program contract, and was for on-site repairs, service, support and engineering solutions. The site was remote, and the customer selected Logan after it submitted a written project experience report. Logan was selected because "we build cylinders that last," Carey said. "It is a combination of robust, common-sense engineering, meticulous workmanship, and unbending quality inspections," he said. "Shortcuts just don't cut it for us."

The company has a deep history in hydraulic repair work in the oil and gas offshore market. "It is part of our DNA," Carey said. "We have expanded our product offerings over the years, but repairs and refurbishments have always been, and will always be, a key aspect of our business. Of the 2,000 jobs we do each year, easily 50%-60% of them are repairs." While repair work may be the primary deliverable, actionable information is typically also offered first. "It is one of our specialties," Carey said. "We offer fresh, experienced insight on why things fail, and we offer no-nonsense, upfront evaluation on broken hydraulic equipment. Then we offer a solution. Those that take our solution rarely regret it."

Logan remans meet OEM specs, he said. "We can also make it better or more reliable by perhaps changing just a little bit." The remans and repairs offering is most advantageous for customers that are open to change, he said. "We are finding that the mining industry, like most other industries and people for that matter, are pretty set in their ways," Carey said. "Many of our potential customers have a path that has been successful for them and they want to continue to use it," he said. "It's the ones that don't have a good path or have met disappointment on their current path that find us attractive."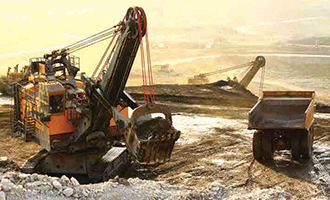 The AMS 6500 retrieves data without stopping the shovel (Photo: Emerson)

The ideal customer has high expectations and "a willingness to try a new supplier that has a proven track record of building large cylinders with an API/ISO/ ASME-qualified quality inspection system already in place," Carey said. The supplier can service remote operations, he said. "Even though we are in Hempstead, Texas, we can do your large cylinder refurbishment work," Carey said. "Location doesn't really matter when it's a critical component. What matters is who will do the job right."

Vibration Monitoring Adapts
Emerson Automation Solutions said that, with REACH and ROHs certification, the AMS 6500 is effectively a new offering that also has a proven track record spanning more than a decade. "The solution was updated with new components and as a result, it is at the beginning of its lifecycle again, meaning that this product will be supported for many years in the future," said Tom Francisco, business development manager, Emerson Automation Solutions.

The AMS 6500 is an online vibration monitoring solution that measures trends and detects anomalies with the hoist, crowd and swing of electric rope shovels. "It provides continuous updates for each channel as well as detailed information on a schedule you specify," Francisco said. The solution is part of the AMS Machine Manager system. "Ideally, the shovel would have a connection to the site's IT network, which allows the site team or even a remote corporate shovel or reliability expert access to the latest data recorded by the system," he said. "There is even a means to interface with a CMMS system for maintenance scheduling."

The AMS 6500 also integrates with other systems "for input and output to synchronize with specific actions or processes via adaptive monitoring," Francisco said. The solution adjusts based on changing machine conditions, such as load or speed. "When these conditions occur within a specific range, data is acquired and stored," he said. The AMS 6500 integrates with the shovel control system, which allows it to adapt to the action being executed. "When the operator tells the shovel to swing right, a signal is sent to the acquisition hardware to monitor those channels," Francisco said.

"The system records its optimized dataset and verifies that the proper conditions are still valid, still swinging right," he said. "If so, the data is stored in the database for comparison to other similar data." The same happens when the shovel swings left and uses the opposite side of the gearboxes and teeth. "A completely different condition may exist on the other side of the gear mesh," Francisco said. "Data is evaluated against the component templates and bearing information to trend known frequencies of concern, such as gear mesh or bearing inner and outer race," he said. "Any alarms are communicated to the site reliability team for monitoring or to the operator, if desired, for near-failure conditions."

With adaptive monitoring, faults that occur under abnormal operating conditions are also detected. Other features include PeakVue technology, "the best tool to use for diagnosing faults in rolling element bearings and gearboxes, both of which are crucial to electric rope shovel operations," Francisco said. PeakVue technology recognizes increasing stress waves during the monitoring process. "This provides earlier identification of fault development in mechanical equipment compared to standard vibration analysis techniques," Francisco said. "PeakVue technology detects, even at very low RPMs, anomalies that may go unnoticed with traditional methods."

Adaptive monitoring and PeakVue combined "delivers unprecedented insight into the operating condition of your most critical pit asset," Francisco said. "Analytical data is available onboard the shovel, and can be integrated with other systems for remote analysis," he said. "From both in the field and further away, you can easily identify and monitor developing faults and schedule for repairs during planned maintenance." Foremost of the benefits offered by the AMS 6500 and the AMS Management system is reduced downtime. "Everything on a shovel is subject to failure, and eventually you will experience a breakdown," Francisco said. "The impact of the failure can be significantly reduced by monitoring the condition of key shovel components: the crowd, hoist, and swing drives."

The solution and the system offers opportunities to improve safety by enabling remote monitoring. "Traditional periodic data collection methods are of some value, but they place personnel in harm's way as data must be collected on an operating shovel under special test conditions," Francisco said. Compared to traditional periodic data collection, the AMS 6500 is more accurate and effective. "Periodic methods can easily miss problems that can quickly unfold between collection times," he said.
---
As featured in Womp 2022 Vol 01 - www.womp-int.com