Truck Innovations Show Shape of Things to Come
Top suppliers offer futuristic solutions to help miners decarbonize, automate, boost efficiency and meet U.N. sustainability goals

By Jesse Morton, Technical Writer
---
Many miners are in a pincer hold. Supply line disruptions have created the need to
do more with existing equipment. And U.N. Agenda 2030 goals create the need to
electrify, digitize and automate. Trimble solutions speak to both. (Photo: Trimble)

The haul truck is iconic to mining. Its sheer size represents the disproportionate role mining plays in shaping not just industry or the global economy, but civilization itself. Naturally, as global governance organizations, like the United Nations (U.N.), and their Global Compact participants, seek to transform both civilization and mining, the haul truck has become a symbol of revolutionary decarbonization efforts. After all, as a major supplier told E&MJ, the majority of greenhouse gas emissions produced by mining comes "from diesel trucks in open-pit mines." A sampling of the latest news from some of the bigger suppliers in the space demonstrates their ability to innovate to meet the top needs of miners, which nowadays often speak to the sustainable development goals of the U.N. 2030 Agenda.

State-of-the-Art Truck Reduces Emissions
Liebherr spotlighted the new 305-metric- ton (mt) T 274 at MINExpo, showcasing the company's commitment to developing best-in-class equipment that also helps miners meet sustainability goals. "It is the Liebherr culture to continue to expend and renew its portfolio," said Derek Alband, general manager, international sales, Liebherr. "This will help our customers to further increase their productivity and reduce their CO2 emissions thanks to state-of-the-art equipment." The truck is expected to have the highest payload in its class. "With the best power-to-weight ratio in its class, production per hour will increase, particularly in deep-pit applications," he said. The truck also offers fast cycle times, low fuel consumption, and a low cost per ton.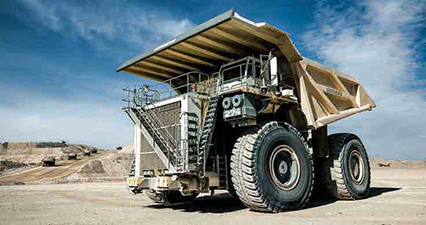 Liebherr's T 274 will help miners increase productivity and lower greenhouse gas (GHG) emissions.
(Photo: Liebherr

The T274 bridges the gap between the T 284 (363 mt) and the T 264 (265 mt). It is based on the former, which has 20 million operating hours in the field, Alband said. "As the frame and major components of the T 274 were originally designed for the T 284, this gives extra lifetime to the T 274," he said. "This gives our customers that run both models a huge advantage in relation to parts commonality, maintenance tools and training." The truck has a 2,720-kW engine with the Liebherr Litronic Plus AC Drive system. The system provides continuous uphill speed. The T 274 is equipped with 4,500-kW dynamic braking power for downhill hauls. The cab offers maximum visibility, tinted safety glass, and is certified for rollover and falling-object protection, Liebherr said. It provides comfort in extreme temperatures.

The truck features double A-arm suspension for optimal ground contact, comfort, safety and handling. Liebherr's Trolley Assist System is optional. "This solution is an effective first step on the road to the zero-emission mine sites of the future," Alband said. "The main advantage is a significant reduction of diesel fuel consumption and truck fleet CO2 emissions." The system is one of several "different packages that guarantee the T 274 will be fit for any working conditions," he said. "Specific solutions have been created to protect the components and help customers operate machinery in extreme temperatures," Alband said. "Liebherr also offers a solution to enable the trucks to be operated at altitudes between 3,500 and 5,000 m above sea level, and a sound-attenuation package to reduce truck noise emissions drastically."

The sound-attenuation package "gives customers the flexibility to run operations day or night, without disturbing nearby residential areas," he said. The release coincides with the launch of the new Mining Technology Product portfolio, which also speaks to the "pathway forward into low- and zero-emission mining," he said. "This portfolio, consisting of Liebherr's Assistance Systems, Machine Automation and Digital Service products, will provide customers with flexible scope of supply solutions to increase safety and asset operational effectiveness."

The portfolio demonstrates the "company's interoperable and scalable approach to their equipment, technology and service product offerings," Alband said. "Together, these products will support the operator's performance, optimize diagnostic processes, and automate machine functions, while integrating machine data and OEM expertise within the customer's chosen technology landscapes."

Greenhouse Gas Alliance Develops Trucks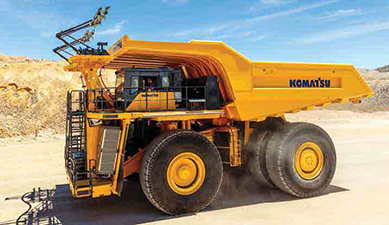 Komatsu launches the Greenhouse Gas Alliance with other U.N. Global Compact participants
to develop a fleet of energy-agnostic trucks, similar to the above, by 2030. (Photo: Komatsu)

Komatsu reported it plans to launch an entire portfolio of power-agnostic haul trucks by 2030. The trucks, and other next-generation, zero-emission equipment, will be co-developed by its Greenhouse Gas (GHG) Alliance partners, Komatsu said. "We are in different stages of R&D for different supporting technologies," said Don Lindell, product director, electric dump trucks, Komatsu. "There are multiple parallel programs running to deliver the final product to the market efficiently," he said. "The alliance provides additional development and timing details for alliance members as part of their participation in this collaborative effort to rapidly advance zero-emissions haulage solutions."

The other founding members of the alliance are Rio Tinto, BHP, Codelco and Boliden. All are U.N. Global Compact participants and thus share common sustainability goals, deadlines and obligations, such as participating in climate-related research and development and pilot projects. As 2030 nears, the alliance "will accelerate the development to meet market expectations and sustainable mining needs," Lindell said.

Currently, the alliance is developing technologies for truck models bigger than 240 tons. The resulting truck platform will be capable of supporting mine plans for "a natural progression from diesel to zero-emission batteries, trolley or hydrogen fuel cells," he said. "Komatsu has several parallel development programs under way for testing power sources and technologies required on the final truck platform," Lindell said. "An obvious example is the series of machines used for progressing lithium batteries on haul trucks."

The biggest challenge right now is improving the industry's level of preparedness for deployment of low- and zero-emissions equipment. "The underlying technologies are well understood, and some, like the electric trolley, have more than 100 years of successful deployments," he said. "Integrating them for today's modern mining tools, like AHS, requires some work from Komatsu, but ultimately success depends on planning and preparations by the mining industry over the next 10 years."

Those preparations could be significant in scope. "The regulatory, transportation, planning, and operational infrastructure for managing large batteries and battery-powered machines does not currently exist," Lindell said. "This is where the mining industry must partner with the OEMs and begin laying a foundation for the future." That foundation is adoption of intermediate, low-emissions, hybrid and other solutions, such as diesel-trolley, that prove the viability of the path to decarbonized mining. The ultimate goal, however, is "literally zero emissions of greenhouse gases," Lindell said.

"While the concept is in development and customers may not be able to go from current state to zero emissions in a single step, we are confident the path is shorter by working with others," he said. "Comprehensive solutions for the mining industry depend on other players in the technology of power distribution and transfer."

Each miner's path will be particular to their operations and business model. Which is why partnering with OEMs is critical, Lindell said. "We acknowledge that each customer will have to determine what works best for their site plans in the years ahead."

Charging Stations to Fast-track Electrification
ABB reported its eMine FastCharge solution, part of the ABB Ability eMine portfolio, "will fast-track the transition to all-electric mines." The system is "set to be the world's fastest and only fully automated charging system for electric mining trucks, offering up to 600 kW of power," ABB said in a report. "The flagship technology will constitute a significant step on the journey toward all-electric mines," said Nic Beutler, global product manager, power systems and charging solutions, ABB.

ABB's eMine FastCharge charging station system is modular, flexible and will help mines rapidly electrify.
(Photo: ABB)

Currently in pilot testing, the system is OEM agnostic and "offers maximum flexibility for operators." It is designed to ISO15118 and IEC61851 standards. It draws from "ABB's longstanding experience in charging vehicles in the car, bus and truck sectors," the supplier reported. eMine FastCharge consists of two modules. A powerhouse containing electrical components connects to the external power grid. And a connection terminal module houses the automated connection device that connects to the truck. "The latter can be relocated up to 130 m from the powerhouse to provide the optimal point of charge, and mates with the truck automatically without the driver having to step outside, thus removing them from potentially hazardous environments," ABB reported.

eMine FastCharge "integrates a pin connection device that is mated to a socket mounted on the vehicle, which follows the recommended practice for automated connection devices," ABB reported. "This means that eMine FastCharge will be able to charge all BEVs that comply with the standard and have the appropriate socket/ mechanical interface. These open standards will support interoperability and limit the need for different charging station types, lowering infrastructure requirements and costs."

The supplier estimates "that charging a 300-kWh vehicle battery using 600 kW would take just 30 minutes," presuming the battery was not at absolute zero charge when charging began. An underground truck charged with 150 kWh "would take just 15 minutes to power up" and "return to work, a game-changing figure compared with existing solutions," ABB said. That sort of speed will "keep vehicle downtime during charging to a minimum, thus maximizing the process productivity," ABB reported. It also "gives operators the opportunity to charge their fleet of haul trucks during existing working cycles, in addition to leveraging the natural, process-imposed downtime of the BEV, and charging off-cycle."

The system is mining-class and can "withstand the harsh conditions that typify mining projects," the supplier reported. "The pin that connects the charger to the vehicle is hidden from the weather and automatically appears only when the haul truck arrives at the charging station, protecting it from dust and water ingress." The modular design means the charging stations "can fit seamlessly into existing operations, regardless of size, and the charging infrastructure can easily be moved as the mine evolves," ABB reported. "It does not require heavy installation, thus lowering the infrastructure costs and optimizing CAPEX and OPEX."

The system connects to the ABB Ability process control and operation management solution. This gives "operators the option to monitor and supervise all the charging stations that are distributed across a mining site," the supplier said. ABB Ability will allow mines "to schedule charging events based on different parameters, such as energy or power supply capabilities, vehicle availability, and peaks and troughs in the energy from the supply grid."

The solution spent two years in development and will be the flagship offering of the new eMine portfolio of electrification technologies. Other solutions in the portfolio include the eMine Trolley System, which "can reduce diesel consumption by as much as 90% while on trolley, leading to both reduced energy costs and environmental impact, while electrified trucks are able to run at a higher speed and provide better speed on grade," ABB said. "The advantages of switching from diesel to electric power are already well documented," ABB said. "Innovations such as these represent an exciting milestone on the journey to making the all-electric mines of the future a reality from pit to port."

Air Cylinder Wheels Improve Efficiency
Global Air Cylinder Wheels reported recent field trials demonstrate the new Air Suspension Wheel (ASW) capable of redefining production limits while decreasing fuel consumption, waste and vehicle strain. "TKPH (metric ton kilometer per hour) limitations are thrown out the window and no longer apply," said Ross Wert, global projects manager, Global Air Cylinder Wheels.
Air Suspension Wheels used with electric wheel motors with regenerative braking greatly increase efficiency and
ability to charge. (Photo: Global Air Cylinder Wheels)

"Weight restrictions and GVW (gross vehicle weight) definitions based on component limitations become irrelevant," he said. "In fact, if OEMs were to use ASW instead of tires to define limitations, GVW could be significantly increased without any modifications necessary to equipment." An ASW is a mechanical wheel that replaces both tire and rim. "Made up of a two-piece rim-and-drum assembly connected by pneumatic cylinders, it acts as a torque coupler and introduces unique wheel dynamics that put it in a class of its own," Wert said.

Invented in 2011, ASWs have been designed for military vehicles, on- and off-highway trucks, drum crushers, loaders, and haul trucks. "The first mining ASWs went on loaders with trials in South Africa and Mexico in 2017 and 2018," he said. "The next generation for haul trucks underwent field testing and development in Nevada (U.S.) in 2019 and 2020 on Cat 777s." The three phases of field trials resulted in changes that are built into the wheels now offered in up to 63-in. sizes. The benefits offered are numerous. "The ASW can be lighter than a tireand- rim combination," Wert said. "It improves stability and traction and comes with replaceable tread sections in a variety of compounds and patterns to suit the mine application."

The wheel delivers "a value far exponential to our assumed basic advantages over a tire," he said. "Its unique dynamics open an entire world of possibilities." Perhaps the foremost benefit offered is improved safety. "The elimination of the inherent risks to personnel, operations and the environment associated with large mining tire explosions, fires, deflations and disposal is something the mining industry struggles with to this day," Wert said. ASW presents no such risks. "Next to safety is performance," he said. "The ASW allows the same truck to carry more weight faster, farther."

The ASW's rigid outer drum and off-center hub reduces rolling resistance by up to 65% while compacting roads, which improves rolling resistance for other vehicles, he said. "The application of the ASW for electric wheel motors with regenerative braking greatly increases their efficiency and ability to charge," Wert said. The downstream benefits could amount to an overall improvement in an operation's efficiency. For example, mine production limits are linked to tire ratings, and tire pressure, speed and heat limits. "Load limits, rolling resistance and tire performance all change with the pressure in the tires," Wert said. "These critical limits can be exceeded during operations and performance hindered with a simple loss of pressure in the tires," he said. "The ASW has no such limitations and can handle a dynamic load of approximately 1.5 times the static load with reduced impact to the vehicle, drive components, engine and frame."

The ASW can help miners meet sustainability goals in many ways. For example, they are fully recyclable. "The wheels eliminate the huge environmental problem of tire waste," Wert said. "While there are many creative ways to repurpose and recycle tires, there is no better solution than elimination," he said. "Being made of steel and aluminum the ASW is less subject to volatile markets for raw goods and manufacturing constraints."

The 2020 field trials proved the wheels can perform to expectations. "Though we encountered a few challenges, the wheels performed well with no critical or complex issues that could not easily be resolved," Wert said. "The biggest success and most valuable data came from working with mines to define the high levels of complexities involved in tire management, OEM payload definitions and production challenges," he said. "The field trials showed the ASW has almost none of these limitations or they far exceed the current limits."

The supplier is soliciting miners interested in participating in future field trials. "We are currently building versions of the ASW up to 63 in. and are actively looking for additional partner mines in North America who are interested in being the first to market with the ASW in their fleet and to benefit from priority production and pricing agreements," Wert said. "We are also seeking distributors and investors for the latest generation of ASWs currently available for 2021 production." Those interested will be participating in a noble cause, he said. "The mission is to reinvent the wheel to the benefit of society."

Trucks Give Efficiency in Rugged Environs
Scotland's Terex Trucks reported Russian mining contractor Sovremenniye Gorniye Tekhnologii (SGT) deployed 14 TA400 articulated haulers to haul overburden at the Malmyzh mine in eastern Russia. "Since June last year, the trucks have been delivering heavy-duty, efficient performance, working around the clock in two 12-hour shifts every day," the supplier said. "When operating in Siberia, equipment needs to be able to handle extreme conditions, which is what our haulers are built for."

The Terex TA400 has an updated transmission that extends time between service intervals to 6,000 hours,
increasing uptime. (Photo: Terex Trucks)

Terex Trucks said the trucks have a combined 63,710 hours with an average of 4,550 hours per unit. "The highest is 5,750 hours," said Kenny Price, regional sales manager. The trucks are ideal for the mine because of the clay soils, bad weather and the resulting soupy road conditions. "In the springtime, the roads are particularly challenging as they thaw from the cold winter," Price said.

Terex Trucks articulated haulers are designed to handle mucked up roads and weather extremes, he said. "The haulers handle downhill slopes smoothly and safely, and with the machine's exhaust brake, drivers don't even need to use the brakes when going down steep hills," Price said. "The TA400's modulating transmission retarder is coupled to the exhaust brake and fully enclosed oil-cooled multidisc brakes, which provides optimum control and increased safety."

Those "brakes on all six wheels, ensure safe, optimum control and stability," he said. "This allows the drivers in the mine to haul safely and feel confident even in the most adverse conditions." The unit's drivetrain features longitudinal and limited slip transverse differential locks that enable it to maintain traction on difficult terrain.

"In addition, the drivetrain is perfectly matched to the engine, using automatic adaptive shifting and a pre-selected twospeed transfer box (drop box), which ensures good performance and productivity for all haul conditions," Price said. "The transmission now features high-performance oil that extends time between service intervals to 6,000 hours, increasing the machine's uptime."
With a maximum payload of 38 metric tons (mt), the Terex TA400 is powered by a fuel-efficient Scania DC13 engine.
(Photo: Terex Trucks)

The trucks also feature the latest round of upgrades, which include new hydraulic hoses, electrical interfaces, transmission mountings and brake pipes. "Over the last few years, we've made a lot of investments to further improve durability and protection of hauler components," Price said. "Extended service intervals on major fluids mean less downtime, so the haulers are working longer, which is especially beneficial in the winter months as this maintains the operating temperature of the vehicle."

The trucks are easy to service, he said. "The axle, gears and engine are all easy to access, so service and maintenance work is straightforward, without needing special diagnostic equipment," Price said. "Ground-level test points and a fully tilting cab combined with an electronically raised hood further ensure ease of service and reduced downtime."

The TA400 has a maximum payload of 38 metric tons (mt), a heaped capacity of 23 m3, "and is powered by a fuel-efficient Scania DC13 engine that develops gross power of 331 kW and a maximum torque of 2,255 Nm," Terex reported. Operators love the cab, Price said. "The pressurized cab and upgraded HVAC system maintain the operator environment, while the layout of the controls allows them to operate the hauler with the minimum of fuss," he said. "Both these aspects lead to less operator fatigue, meaning a safer and more productive operator."

The mining contractor is a longstanding client of Mining Eurasia, a dealer for Terex Trucks. "In the past, they have used our articulated haulers on various projects across Eurasia," he said. SGT is one of the biggest mining contractors in Russia and has contracts in all types of mines there and throughout the commonwealth.

The articulated haulers will be based on the jobsite for several years. "Due to the size of the project, there will hopefully be opportunities to add to the fleet and also replace machines as required," Price said. "We will also welcome opportunities to be considered for other projects the customer is working on across Russia."

Autonomy Solutions Deliver Efficiency Gains
Trimble reported seeing growing demand for its new OEM-agnostic haul-cycle monitoring and autonomy solutions for mixed fleets that help operations discover and solve inefficiencies, cut costs and improve production. Converging factors, such as supply chain interruptions, are driving demand for solutions that help mines get the most out of the machines they already have, said Lars Madsen, product manager, Trimble. "At the moment, we are in an unprecedented situation," he said.

"In order to get the most out of an existing load-haul fleet, managers need to shift their focus toward maximizing efficiency in their operation," Madsen said. "Equipping your load-haul fleet with Trimble Smart Haul will provide automated tracking of machines and materials to ensure production is on target and a project is on track."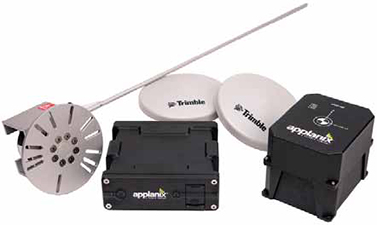 Hardware for the Trimble Applanix P.O.S. LV inertial navigation system includes IMU and
GNSS receivers; software includes an integrated post-processing suite. (Photo: Trimble)

Adopting entry-level Trimble Autonomy solutions for haulage will provide optimal real-time situational awareness for operators and fleet managers. That will help identify inefficiencies, and will put the customer on the path to full automation, said Louis Nastro, senior director, off-road autonomy, Trimble. "Autonomy can deliver tremendous improvements in productivity and safety."

Smart Haul was released last year. "It is basically a real-time load-haul production and process monitoring tool," Madsen said. "When coupled with Trimble Insight dashboard, it provides fleet managers, supervisors and operators with information to report on, monitor, and improve the process and handling of the whole fleet to drive production and limit costs."

The main components of the solution are the LOADRITE H2250 monitor system for the truck, the LOADRITE X2350 onboard scale for the backhoe excavator, and the Smart Haul software bundle that includes the dashboard and reporting program Trimble Insight. "We are totally mixed-fleet compatible," Madsen said. "We are OEM agnostic. You can have any make or model of off-highway truck in your fleet." Smart Haul does away with tally sheets by providing real-time tracking of tonnage hauled. "It provides accurate production figures automatically," he said. "It is data you can trust without operator interaction," Madsen said. "It removes the need for tally sheets and production estimates."

Trimble Insight offers "the ability to analyze the data, find inefficiencies, under- utilization, and bottlenecks, and allows for the implementation of process improvements in the load haul process," he said. "For instance, Smart Haul can break down the haul truck cycle to show queueing time, loading time, and traveling time, as well as help identify some of the bottlenecks associated with that whole cycle, allowing for process improvements."

In some cases, those process improvements can be implemented within minutes, Trimble reported. In one instance, a customer using Smart Haul quickly discovered its truck fleet was 20% larger than needed because the trucks were hauling less than their optimal loads. This led to rapid changes that saved millions of dollars, Trimble reported. The Trimble Insight dashboard presents information in a clear and concise format, Madsen said. "We are not asking our users to scroll through pages of data to get the insights that they actually need," he said. Instead, the dashboard "is made up of simple graphs and KPIs." To look at the stats on a single haul truck, "simply open one up, drag and drop, and it will tell you the number of cycles for that particular haul truck and the amount of tonnage that it has hauled that day," he said. "You can do it for one haul truck, or you can do it for your entire fleet."

Trimble Insight can also be used to drill down and identify the root cause of inefficiencies. "The information that we give isn't just cycle time and tonnage but is around your haul route, your haul road and machine interactions as well, in an animated replay," he said. "You can identify slow spots and identify speeding events, which gives better insight into optimizing your haul route and your road design." The solution's genealogy ultimately traces back to sensors developed for wheel loaders in 1979. Smart Haul was released at ConExpo in March 2020. "Especially now, we are getting a lot of interest globally," Madsen said. "Right now we are having a lot more conversations around improving existing haul fleets," he said. "A lot of fleet managers are looking to do better with what they have right now."

Oftentimes, those conversations plug to Trimble Autonomy, also released as a product offering last year. Trimble Autonomy is a collection of solutions that are typically adopted incrementally on the path to full haulage autonomy. The first step is adoption of the basic tools that provide unbeatable situational awareness for operators and fleet managers. "What we have is a very precise, very accurate, very repeatable position-orientation system (POS LV)," Nastro said. "That system uses sensor fusion, which is georeferencing all of your camera data, your Lidar data, your radar data and more."

Sensor fusion can then be "fused with machine control, of which Trimble has an outstanding history, and other ancillary technology that we can stack to present the most holistic and reliable positioning solution and autonomy environment," Nastro said. Deploying the core POS LV or BD OEM solutions requires adopting IMU and GNSS receivers, and an integrated post-processing software suite. Numerous receivers, ranging in expense and accuracy, can be used.

In near-real time, the software assimilates the sensor and georeferencing data to "perceive the environment" with exactitude and to "understand what is around" the machine. The autonomous vehicle "is essentially a mobile mapper," Nastro said. It maps everything for situational awareness, recording all data. "We can use that as a source of observables and then put on another layer of robustness, depending on their autonomy plan, whether it is incremental or going 100% autonomous."

For example, the observables can be used to develop a digital twin, which can then be used in tackling various specific challenges. "At the end of the day, we are not just looking at the vehicle, but the workflow, which is where automation really adds value," Nastro said. To that end, the supplier partners with potential clients for a "really big consultative phase up front," Nastro said. The goal is to identify the primary challenges the solution will address, the priorities, "the type of vehicle, the usage, even the weather before we even get to the stage of proposing something."

The offering evolved from a host of solutions that were developed and released over the course of three decades. "The defining contribution was a precision position and orientation solution, but about seven years ago, we started looking at all the requirements in the industries we serve and knew we had to fuse the map-based localization portion to the core POS LV," Nastro said.

Trimble Autonomy solutions are brand agnostic all the way down to the sensors used, which has helped it gain in popularity. "Our business recently has been nonstop, especially in the industrial and mining sectors," Nastro said. On the development side, "we have reached new milestones in terms of operational effi- ciency, in terms of system uptime, and in the ways we can modify our system to benefit more use cases."
---
As featured in Womp 2021 Vol 09 - www.womp-int.com