Ukraine to Close Coal Mines by 2030
---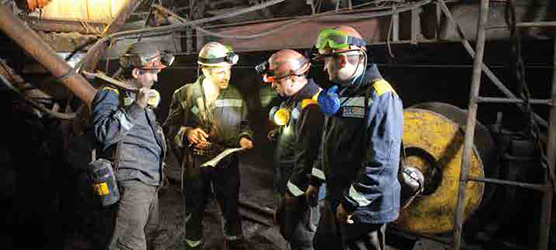 A shift superintendent holds a meeting with miners at DTEK's Blahodatna mine in Ukraine. (Photo: Euracoal)

In July, the Ukrainian government launched a pilot project of shutting down coal mines and establishing a carbon- neutral economy in Myrnograd in the Donetsk region, and Chervonograd in the Lviv region. The move is a part of the Ukraine-EU Green Deal and is partly funded by Germany, which allocated €35 million ($41.4 million) for the pilot project. Under the Green Deal, Ukraine intends to close up to 90% of coal mines in the country by 2030.

"The scale of the transformation program is broad, covering 60 areas in five regions, with the population of 1 million people," Denis Shmigal, Ukraine prime minister, said in July. Shmigal promised to establish new production facilities and develop infrastructure in the involved areas to replace coal mines and avoid unemployment. For example, the government hopes to turn Myrnograd into a popular tourist destination, rebuilding some coal mines into museums to attract visitors.

Ukraine produced 28.8 million metric tons (mt) of coal in 2020, down 7.7% compared to the previous year, the State Statistical Service estimated. In total, 148 coal mines were registered in the country, including 102 state-owned mines, of which 67 are located at the territories controlled by pro-Russian rebels and are not reflected in official statistics. The Energy Ministry estimated that of the 35 state-owned mines under Ukraine's control, four posted a profit, 29 lost money and two were idle.

The Ukrainian government has been gradually closing the unprofitable coal mines under its control during the past several years, decreasing production from 40.9 million mt in 2016 to 34.9 million mt in 2017, 33.3 million mt in 2018, and 31.2 million mt in 2019. Ukraine's total coal production is much higher.

$1B Venture
The cost of transition toward a carbon-neutral economy is expected to be covered by the Green Fund, established by a group of Western countries and private companies. "Germany and the United States will endeavor to promote and support investments of at least $1 billion in the Green Fund for Ukraine, including from third parties such as private-sector entities," the German Federal Foreign Office said in a statement on July 27.

Germany will provide an initial donation to the fund of at least $175 million and will work toward extending its commitments in the coming budget years. The fund will accelerate Ukraine's transition from coal, and foster carbon neutrality, among other things, the Foreign Office added. In February, the European Commission launched the secretariat of a new initiative to help coal regions in the Western Balkans and Ukraine to transition away from coal toward a carbon-neutral economy.

Unrealistic Plans
Ukraine produces 30% of its electricity from burning coal and would not be able to remove coal from its power generation mix for the foreseeable future, local analysts claimed. "It will not be possible to give up thermal generation. After all, the more green energy in the country, the more thermal power plants are needed for power maneuvering. Nuclear plants are not suitable for these purposes," said Mikhail Volynets, chairman of the Ukraine labor union of miners.

"We would need to buy imported coal or completely switch plants to gas, but the price for coal at the Rotterdam commodity exchange already exceeds $130/mt, gas stands at $450 per thousand cubic meters, while Ukrainians thermal plants buy coal for 800 hryvnias [$29/mt]," he said, adding that if the thermal plants are transferred to imported coal, electric power prices will skyrocket, prompting civil unrest.

Against this backdrop, at least some private mines are projected to survive the upcoming reform, especially since they have room for modernization. Gennady Ryabtsev, head of special projects at the Scientific and Technical Center Psyche, said that at Ukrainian mines, it is realistic to reach the production cost of $50/mt without state subsidies, one of the best in this part of the world.

DTEK Sells Russian Mines
In early August, the Russian Federal Antimonopoly Service allowed Ukraine power generation company DTEK to sell three mines in Rostov Oblast, Russia, to Valleyton Investments Ltd.

This may be a first step in a major sell off campaign, as DTEK is reportedly mulling plans to get rid of coal mines and thermal power plants, according to Maksym Timchenko. Timchenko told local press in July the Ukrainian mines may be put up for sale only if there were a clear economic rationale behind this move, "otherwise they would continue operation."

The DTEK's Russian division has been experiencing major problems in supplying coal to Ukraine due to tough political relations between two countries, said Sergey Grishunin, executive director of the Russian National Rating Agency. Inability to deliver coal to Ukraine makes owning those assets senseless for DTEK, he added.
---
As featured in Womp 2021 Vol 09 - www.womp-int.com