Kamoa Produces First Copper Concentrate
---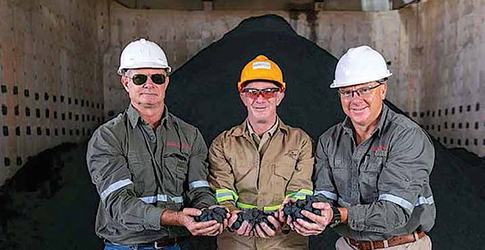 (L-R) Mark Farren, Kamoa Copper's CEO; Steve Amos, Kamoa Copper's head of projects; and Wimpie Steyn, risk
control manager, holding some of Kamoa Copper's first copper concentrate.


On May 20, the first ore was fed into the Kamoa Copper's Kamoa-Kakula mill to undertake preliminary "hot" commissioning tests on the mills and other equipment. Shortly after the mill startup, the first mill feed grade reached between 4% to 6% percent copper. The mine is expected to ramp up to 7.6 million metric tons per year (mt/) in the third quarter of 2022. Kamoa Copper S.A. is expected to be the world's highest-grade large copper mine. The Kamoa-Kakula Copper Project is a joint venture between Ivanhoe Mines (39.6%), Zijin Mining Group (39.6%), Crystal River Global Ltd. (0.8%) and the Government of the Democratic Republic of Congo (20%).

His Excellency Félix Tshisekedi, president of the Democratic Republic of the Congo, said, "The start of production of copper concentrate at the Kamoa-Kakula Mine indicates that the DRC is open for business and investment. We congratulate Ivanhoe Mines for having reached this milestone on this world-class discovery." Phase 1 is planned to generate 200,000 mt/y of copper, while Phases 1 and 2 combined are expected to generate 400,000 mt/y of copper. The second phase of the 3.8-million-mt/y concentrator is under construction.

"This is a historic moment for Ivanhoe Mines and the DRC," Ivanhoe Mines Co-Chair Robert Friedland said. "Discovering and delivering a copper province of this scale, grade and outstanding ESG credentials, ahead of schedule and on budget, is a unicorn in the copper mining business. This accomplishment reflects the outstanding cooperation of thousands of individuals, and all of our joint-venture partners at Kamoa-Kakula." Ivanhoe's guidance for contained copper in concentrate expected to be produced by the Kamoa-Kakula Project for the balance of 2021 assumes a ramp-up from first production in line with published technical disclosures, and includes contained copper in concentrate of 80,000 to 95,000 mt.

In April, the Kakula Mine mined 357,000 mt of ore grading 5.70% copper, including 121,000 mt grading 8.4% copper from the mine's high-grade center.
---
As featured in Womp 2021 Vol 06 - www.womp-int.com