Minera Alamos Selects Contractor to Build Santana Gold Mine in MexicoCanyon
---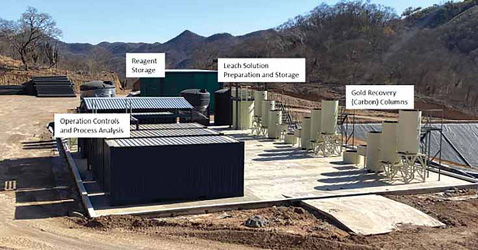 The construction activities related to the gold recovery plant (above) are now complete.


Minera Alamos Inc. selected Trigusa as the mining contractor for the Santana gold mine in Sonora, Mexico, based on its mining experience, which includes openpit mining, crushing, tailings dam construction and heap-leach pads and ponds at projects in multiple Mexican states.

"Our Mexican operations team has a long and positive history with Trigusa dating back to their involvement with the construction and operations at the El Castillo mine," Minera Alamos CEO Darren Koningen said. "Given the logistical challenges surrounding the construction of a new mine during the COVID-19 pandemic we have witnessed firsthand, and in the toughest of environments, the commitment and execution of Trigusa. We all look forward to a long-term relationship between the groups as Minera Alamos completes the transformation to a new and growing gold producer in Mexico."

Trigusa's team is currently active at the Santana gold project site and have recently completed all civil works related to the construction of the gold recovery (carbon) plant, solution ponds and heapleach pad. The newly finalized contract will cover all mining activities for the project from drilling/blasting to the transport and loading of gold ore onto pads for leaching operations. The agreement also covers all required support services for mining activities excluding mine planning, which will be performed by the Minera engineering team.

The major construction activities related to the gold recovery (carbon) plant are now complete and preparations are under way for testing. Final electrical and piping work will be finished in parallel with other site activities leading up to the start of mining operations. The initial heap-leach pad area has also been completed and will continue to be expanded concurrently with the commencement of mining activities. Solution ponds are ready and available for the final testing of the pumping system that will be utilized for the circulation of gold leaching and recovery solutions.
---
As featured in Womp 2021 Vol 04 - www.womp-int.com