Solutions to Boost Efficiency, Remote Work
Going digital, streamlining processes and facilitating remote work are among the benefits offered by the most recently released or updated blasting solutions

By Jesse Morton, Technical Writer
---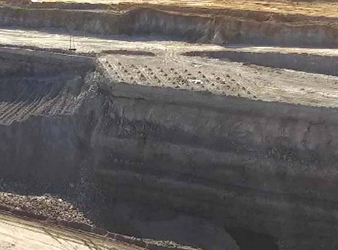 An Indiana mine uses Dyno42 and SignaShot to reverse a costly decision to deck
blasts. The software systems mandate use of electronic detonators, which provide
the required timing accuracy. (Photo: Dyno Nobel)

Lockdowns, travel restrictions and social distancing have inadvertently brought to the fore some powerful digital solutions for blasting. There has perhaps never been a better market for solutions that reduce the required number of people on site to plan and execute a blast.

The opportunity is not lost on the major suppliers. Even before news of a novel virus in Wuhan went global, their flagship offerings were being trumpeted as game changing at improving efficiency. Recent headlines from the space reveal that, since then, case studies, miner testimony, record-shattering blasts and accolades all but prove they can help miners best conform to the emergent brave new world.

Case Studies of Big Efficiency Gains
Dyno Nobel released a white paper showing how Dyno42 and SignaShot were used to generate big cost savings for a customer. The customer, a U.S. coal operator, had previously determined it would deck casting blasts to prevent vibrations from exceeding the max allowed for nearby pipeline and risers. The miner used Dyno Nobel's Dyno42 and SignaShot to vet that decision and draw up a better plan. Dyno42 analyzed data captured from seismographs on an exemplary single-hole blast, referred to as a signature hole blast.

The software provided a range of possible timing schemes in Excel that could then be sorted and ranked. SignaShot analyzed the range and provided statistical confi- dence for each possible scheme. The software solutions proved the miner's previous plans were too conservative. They helped the miner arrive at the optimal timing scheme to mitigate vibration. Blasting could then continue largely as normal, undecked. Multiple direct cost savings were identified. The ability to blast normally gave the miner a subtle advantage in subsequent negotiations with the pipeline owner over plans to move the pipeline and risers.

DynoConsult, a division of Dyno Nobel, said the case study revealed how the calculations typically used at mine sites to forecast vibrations tend to err on the side of conservatism, sometimes to the detriment of the miner. "The scale distance equations typically used to determine pounds per delay are usually conservative and their peak particle velocity predictions (PVP) may lack accuracy and precision when compared to a representative data set of actual vibration results," said Vincent Slone, senior consultant, DynoConsult. "The equation is typically weighed down, resulting in a conservative limitation to the pounds of explosives fired per 8 milliseconds," he said. As a result, "in an abundance of caution, as a responsible operator, coal mines will begin decking shots at the first sign of elevated PPVs."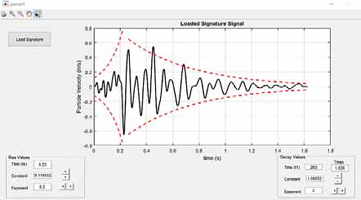 Dyno42 processes the signature hole signal to generate a range of possible timing
schemes in Excel. The range can then be analyzed by SignaShot. (Image: Dyno Nobel)

The case study also showed the importance of vetting timing schemes generated by signature hole analysis programs like Dyno42. "Signature hole analysis traditionally relied on a signature hole wave and the principle of superposition to determine optimum timings for lowering PPV," Slone said. "The timings derived from this approach can lower PPV, but the predicted PPV may lack accuracy due to the variability in the signature hole wave driven by the inherent variability of all the factors affecting the wave form from each blast hole."

To eliminate some of the uncertainty caused by that variability, SignaShot can create an "extremely accurate" statistical model of the expected PPV, he said. "SignaShot uses the Silva-Lusk equation to model the signature hole wave, and this along with a Monte Carlo simulation allows the program to provide representations of the variability in the signature wave forms leading to accurate PPV predictions," Slone said.

The case study proves it. "In this project, the average predicted PPV from SignaShot had a difference of 0.00974 in. per second versus the actual results of the shot," Slone said. "Additionally, the maximum SignaShot prediction was never exceeded. This was in strong contrast to the scale distance equation in use at the site, which had been exceeded in the past and was the reason the mine had begun decking ahead of the long-term mine plan schedule."

Dyno Nobel has been supplying the mine with products and services since 2017. The coal operator owns other sites in the Midwest and Powder River Basin that have historically used Dyno42 to lower blast PPV. "This site was the first to utilize SignaShot, and the results of this project have served as a validation of SignaShot for application at the company's other sites," Slone said. SignaShot was acquired by Dyno Nobel in 2019. It uses the Silva-Lusk equation of 2012 to deduce a signal from signature hole blast data. The program then assigns variability, within a range, to that signal. Based on the signal, "the prediction of the complete blast output is then found through simulation of the entire blast as designed with simulated variation in the wave travel time, initiation system used, and the timing design," Slone said.

The resulting simulated signals are then graphically superimposed. "Typically, a minimum of 100 Monte Carlo simulations lead to a normal distribution of PPV," Slone said. "A histogram of this data allows for the determination of maximum, minimum and average PPV." With that comes confidence, he said. "It is the sureness of knowing what the PPV will be in a blast that allows mine operators to make the decision to move forward with their blast designs as-is, which postpones vibration reduction measures that increase costs and decrease efficiency," Slone said. "It can provide the confidence needed to blast safely and responsibly without sacrificing money and efficiency."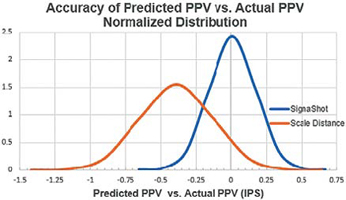 In accuracy, SignaShot predictions outperform scale distance equations-based predictions.
That accuracy inspires confidence and allowed the miner to continue with status quo
blasting. (Image: Dyno Nobel)

Both software packages effectively require use of electronic detonators. "Electronic detonators are proven to have sub-millisecond accuracy and precision values of 0.01% to 0.02%," Slone said. Pyrotechnic delays have varying accuracies, and are not recommended. "The pyrotechnic delays cannot be relied upon to consistently fire at the exact time necessary and therefore negate the modeling and predictions," he said.

The software can be purchased from DynoConsult and run on a Windows PC. Training is included in the price. "The software works best when used by someone with experience and understanding of the blast process," Slone said. "DynoConsult is often contracted to perform the entirety of the process starting with the collection of the signature hole blast data, the optimization of the timing, PPV prediction and results analysis."

Both programs can be built into routines to regularly audit blasting plans. "Given a representative signature hole, these software suites can be used to lower PPV and predict PPV, but there may still be a time when other mitigation steps such as changing hole diameter and decking are required," Slone said. "SignaShot is the best tool to determine when that point is, and once changes are made, a new signature hole can be fired and the process continued." For best results, SignaShot should be run on every blast, he said.

With signature hole wave data inputted, Dyno42 analysis can take up to an hour. "The SignaShot prediction process will require a 3- to 6-hour calibration, and 1 to 2 additional hours for each axis, per blast," Slone said. Training takes about a day for each program. "The learning curve for achieving ideal results depends on the quality of the data and the user's understanding of the variables," Slone said. If the data is bad, or the software is used incorrectly, the results will be less than ideal. DynoConsult hosts seminars on both the signature hole analysis process and on the software.

Separately, a case study on field trials at a mine shows the new DigiShot Plus 4G System (DGPS) tags blast holes with an unprecedented level of accuracy. "The sub-1-m accuracy that was achieved ensures the correct hole position is identified and tagged with the right information, eliminating the possibility of human error," Dyno Nobel reported. The offered accuracy and "ease of use" prompted the customer to trial the system, and attain the desired results, the report stated. "A 0% error/retag rate was obtained in the trials due to the accurate and automated hole-detection ability of the system." The system is comprised of the handheld CE4 Tagger, the compact Commander beacon, ViewShot 3D software, and ideally the new 4G Detonators.

With a built-in long-range antennae, the Commander is sited on the ground at a known surveyed location within 3,000 m of the planned blast. The Commander can be used as a remote unit, a repeater or a base commander, Dyno Nobel reported. The electronic Detonators are wired to the Commander. The Commander tests the connection and monitors the energy stored in the last Detonator, detecting and adjusting to leakage. ViewShot 3D and the Tagger programs the timing. The timing sequence is planned and simulated in ViewShot 3D, which uses GPS coordinates of holes obtained from drill rigs, drones or survey systems. The timing sequence is loaded into the Tagger by Wifior USB. The Commander and the Tagger triangulate with GPS to tag blast holes. Multiple Taggers can be used with a single Commander.

Upon approach, the Tagger automatically detects the hole. It "automatically identifies the hole position as the user walks toward the hole so that very little or no interaction is required, which was particularly helpful to the customer," Dyno Nobel reported. The Tagger writes the delay time and unique ID of the hole directly into the Detonator. The Detonator's memory can also store the downwire wire length and GPS coordinates. The Tagger can tag and test up to 400 Detonators per line, Dyno Nobel reported. The Tagger and Commander execute the blasts. Scanning a yellow card arms the Commander. Scanning a Red Card initiates the blast.

A button on the Tagger wirelessly signals the Commander to fire the blast. The system "is cable of supporting standard and custom coordinate system projections," the company reported. The benefits offered by the system include efficiency and safety gains. "The elimination of tag/log errors that the system provides will assist the customer with improved on-bench efficiency and associated downstream cost benefits," Dyno Nobel reported. "The prevention of incorrect timing will also mitigate against the safety concerns of a poor blast result due to tag/log errors."
The new DigiShot Plus 4G System includes the handheld CE4 Tagger (left), the compact Commander
beacon (right), ViewShot 3D software, and the new 4G Detonators. Benefits include improved
efficiency. (Photo: Dyno Nobel)

The representation of the hole layout generated by the system assists in the reconciliation process. "This semiautonomous system of tagging/ logging offers tremendous value to the customer," the report concluded. Dyno Nobel said some of the intangible benefits include reduced stress for the blaster, fast deployment and minimal infrastructure requirements. "We always wanted to build a system that was not dependent on the backbone of the mine," Mark Dorman, product manager, electronics, Dyno Nobel, said. "So, the system is fully independent of a backbone and can run anywhere in any mine."

Dorman said the case study shows the hole-tagging process supported by the System as almost foolproof. "With the DGPS Tagger, a 0% error/retag rate was obtained in the trials due to the accurate and automated hole-detection ability of the system," Dorman said. In contrast, at mines using competing systems, the retag rate can be as high as 51% due to the user incorrectly tagging holes on the first attempt, he said.

By eliminating those errors, "the system will assist the customer with improved on-bench efficiency and associated downstream cost benefits," he said. "The prevention of incorrect timing will also mitigate the safety concerns of a poor blast result due to tag/log errors." The development of the system was driven by customer feedback. "Our users are continuously asking for a simpler, easier electronic system from what was out in the market," Dorman said. "We then developed DigiShot Plus 4G with its tag-by-plan method. This method made it much easier and user friendly for our users," he said. "With this development, one of the features we added was GPS tracking to locate a hole after tagging the hole and it would get you in the general vicinity. This is when we realized the potential benefits of a system that could get within 1 m of a hole." That level of accuracy will prove to be disruptive, Dorman said.

"Dyno Nobel has introduced the world's first ever sub-1-m tagging and hole identification system using DGPS technology," he said. It "eliminates potential human error, ensures fast and accurate tagging that speeds up the blasting process, and delivers improved blast outcomes. With the invention of DGPS, we have once again changed the world of blasting."

Record Blasts Save Time, Resources
South Africa-based BME reported its BLASTMAP blast-planning software helped mines reduce paperwork, facilitate social distancing and support remote work amid the 2020 lockdowns. The lockdowns highlighted the capabilities of the software to streamline processes and improve efficiency, BME said. "Mines are often based in remote locations anyway, so BLASTMAP is frequently used by blast planners who are not physically on site," said Tinus Strauss, senior software engineer, BME.

"Mines already conduct much of their planning and operations monitoring through software tools, and COVID-19 has accelerated the pace at which digital technology is being adopted," he said. "The ability of BLASTMAP to share data with other software platforms, and to integrate wherever necessary, makes valuable contributions to the mining sector's quest for efficiency and productivity."
BME's AXXIS electronic detonation system offers tools for initiation timing design,
initiation sequence simulation, blast hole loading design, fragmentation distribution
predictions and vibration predictions. (Photo: BME)

The software integrates with BME's XPLOGLOG platform and the AXXIS electronic detonation system and can import and export a range of file formats. "Various reports can be generated also for digital and cloud-based sharing, helping mines to observe social distancing regulations and facilitate remote working," Strauss said. "Sharing data between platforms allows mines to streamline data analysis for quicker decision-making and continuous operational improvement, even with fewer people regularly meeting face-to-face." BLASTMAP can be customized to certain specifications, he said.

The software was first released in 1999. Development for the current generation launched 2012. It now offers tools for initiation timing design, initiation sequence simulation, blast hole loading design, fragmentation distribution predictions, vibration predictions and blasted rock range predictions. The software has evolved to support maximum collaboration, Strauss said. "BME believes the way forward in 21st century mining is through collaboration, so we are always open to partnerships with other providers if this can add value to our mining clients."

Currently, the company is developing BLASTMAP Underground to be released in 2021. "We are working on improving the underground design tools. In addition to standard tunnel designs, we are developing capacity for functionality in up-hole and ring designs," Strauss said. "We are also ensuring that BLASTMAP is fully integrated with the latest generation of AXXIS." BME reported the AXXIS blasting system has also served customers well amid the lockdowns. Its ease of use pays dividends at operations under restrictions that limit the number of personnel on site, the company said. "It can be operated by only one blaster on the block, so there is less proximity between people on the pattern itself," Tinus Brits, global product manager, AXXIS, BME, said.

"For the blast design, no contact is needed between the blasters in the field and the engineers doing the timing design in the office," he said. "The logging and testing can also be uploaded into a cloud database for further analysis by experts elsewhere." The lockdowns have helped usher in the end of analog blast timing, Brits said. Government restrictions increasingly are nudging miners to adopt digital solutions, like AXXIS. "The COVID-19 pandemic has encouraged greater use of software to design the blast patterns, which provides the timing automatically for download into the logger," he said. "Australia's mining sector, for instance, is already quite strict about this, requiring all designs to be done through software."

The trend coincides with AXXIS being used to repeatedly best records for largest number of detonators used in a single blast. "In the latest record, 3,780 detonators were initiated in a blast at a mine near Hotazel in South Africa's Northern Cape province," Brits said. "These large blasts offer considerable value because they reduce the number of blasts a mine must conduct, which in turn means less disruption from mine stoppages during blasting."

Such blasts help prove AXXIS is reliable and accurate. "Among the features of AXXIS that ensure this reliability is the easy fault-finding of missing or damaged detonators, and the identification of leakage in the system," Brits said. "The loggers can accommodate complex blast designs with multiple detonators in the same blast hole, as required in through-seam blasting," he said. "BME's robust AXXIS down-hole cable resists damage during charging and stemming operations and is regarded in the market as the strongest wire available; this also helps ensure reliable blasts."

The current AXXIS system available can initiate 10,000 detonators in one blast. The next generation, with BME's Titanium initiation system, is in trials through Q1 2021, Brits said. "The design principles remain safety, innovation, quality and functionality." Separately, BME released the Blasting Guide, an Android app that replaces traditional paper booklets carried and referenced by users, enabling users to quickly calculate and check blast designs in the field. It has a blast design calculator, quick calculators, prediction calculators, surface blast design rules of thumb, environmental guidelines, a table of common rock properties, and an expert contact directory.

The design calculator automatically generates results from formulas that would otherwise have to be done manually. It offers expedited decision-making, simplified planning, mobility and ease of use in the field, BME said. "The Blasting Guide app is a powerful means of verifying blast design outputs and making important blast planning decisions," said D. Scott Scovira, global manager, blasting service, BME. "It could be used, for example, to investigate potential blast patterns for a greenfield site where numerous scenarios may be quickly generated, and calculations checked."

The release is consistent with the company's history of developing Industry 4.0 solutions that cut paper usage, streamline processes, optimize value chains, and add value, Christiaan Liebenberg, product manager, software, BME said. "BME strives to enable integration and seamless reporting throughout the blasting and explosives value chain," he said. "Our software and technology development are an enabler of this integration with the ultimate objective of optimizing value for our customers."

Semiautonomous UG Delivery
Orica announced Avatel, a first-of-its-kind explosives delivery system for underground that allows an operator to execute the development cycle entirely from the safety of an enclosed cab of an Epiroc M2. Avatel is a twin-boom, semiautonomous and fully mechanized development charging solution. It combines the latest in technology from both Orica and Epiroc to deliver a self-contained unit designed specifically for lateral development applications.
The side perspective of Avatel at Epiroc's factory in Stockholm, Sweden. (Photo: Orica)

It uses Orica's WebGen Encoding System for wireless initiation. The LoadPlus intelligence platform drives the charging, inventory and tracking functions. SHOTPlus, for blast design, supports automated loading functions. Epiroc's M2 features the latest iteration of Rig Control System (RCS), and a dual diesel-electric plug-in power solution. The automation and efficiencies offered by those solutions result in a process that requires significantly fewer personnel than do predecessor solutions and processes, Orica said. "Prior to tramming to the face, explosives inventory is loaded onto the unit," John Cooper, vice president, explosives, services and automation, Orica, said. The HandiLoader emulsion process body is filled with Subtek Control Ammonium Nitrate Emulsion (ANE) and disassembled WebGen primers are loaded into the onboard WebGen magazine.

"Once Avatel is in position at the face, the operator clears process water and debris via in-cabin controls for the onboard pumping, compressed air and clearing hardware," Cooper said. An in-hole signal test is conducted by the LOADPlus smart control system to confirm the firing signal from the WebGen remote firing equipment. Charge plans and other important data can be communicated between RCS and LOADPlus, Orica reported.

For example, "at any point prior to the beginning of the charging cycle, asdrilled data or a drill design file can be transferred to RCS to enable precise hole navigation," Cooper said. A predesigned charge plan is loaded into the LOADPlus smart control system, specifying the energy characteristics and timing of each hole. "If drilling or charging plans are unavailable, or if blastholes have been drilled in addition to design, the operator has the option to navigate the face manually, add holes and assign the respective loading characteristics and timing," Cooper said. "When preparing to charge, the operator navigates the booms, guided by RCS and cameras positioned on each boom, to a blasthole," he said. The LOADPlus control system starts the charging, and the charging cycle progresses semiautonomously, with charge weight and timing automatically assigned according to the charge plan, or manually by the operator.

"Following up, WebGen magazine autonomously dispenses, assembles and encodes WebGen primers immediately prior to deployment into a blasthole before the remainder of the blasthole is loaded with Subtek Control bulk ANE," Cooper said. "Once the face is completely charged, a secure and unique code is assigned to the blast, and Avatel is trammed away from the face. The heading is set to be blasted by WebGen's remote firing system. The solution offers significant efficiency gains and optimized blast outcomes. It represents a step change in safety by removing people from the face, Cooper said. "A single operator can prepare and charge a development heading without ever leaving the safety of an enclosed, air-conditioned, ballistic-protected cabin," he said.

"A mechanized development charging solution has long been desired by the mining industry, but until the introduction of WebGen, the ability to deliver this has been constrained in part by the manual connections required between the various components of traditional initiating systems," he said. "To continue managing the risks to personnel, operators have been forced to use various control measures, ranging from the installation of additional ground support in the face to extended re-entry delays," Cooper said. "These controls are costly, time consuming, and at times ineffective, while having a negative impact on downstream activities."

Avatel will redefine work at the face and is a "significant step in the journey toward eliminating risks to personnel, while unlocking substantial value and opportunities for our customers," he said. Future iterations of the solution can be extended to other Epiroc carriers, including battery driveline-based machines, Orica reported. Extensive trials will take place throughout 2021.

Emulsion System for UG Offers Better Safety, Productivity
Getman Corp. announced the ProCharge Emulsion MAXX configuration for its 3000 and 4000 explosive charger units. "Our integrated emulsion system includes the emulsion, water, and gasser tanks, along with water and gasser pumps, hydraulic valves, and a hose handling system," Mario Tremblay, principal product line engineer, Getman Corp., said.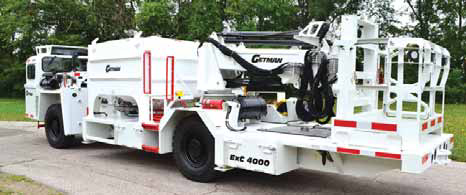 The ProCharge Emulsion MAXX Integrated Emulsion system for the ExC 4000 explosive charger includes the
emulsion, water, gasser tanks and a hose handling system. (Photo: Getman Corp.)

The optional hose handling system includes hose pushers, a hose reel, and hose guides for up or down holes. Space is also allocated for explosives supplier emulsion pumps and their process control system. "The system can accommodate all known explosives companies' components," Tremblay said. "Once the explosives supplier is identified, we are involved up front to ensure successful integration."

The system offers the maximum emulsion capacity available for each vehicle model, he said. It will reduce trips to the magazine, clutter on the ramps, and wear and tear on equipment. Fully operational vehicles can be put into service in weeks instead of months after delivery, he said. In the field, the system has yielded promising results, the company reported. "Using the largest of our designs for a facecharging application, our mine customer was able to sustain operations for three days without returning to the magazine for tank refills," Tremblay said. Since then, a second truck and a retrofit kit was sold.
---
As featured in Womp 2021 Vol 01 - www.womp-int.com