Drilling Trends Demand Tougher Bits
Suppliers are building more powerful rigs. Customers want more drillhole footage. The industry is moving toward autonomous drilling. Can new rock tools meet these challenges?

By Russell A. Carter, Contributing Editor
---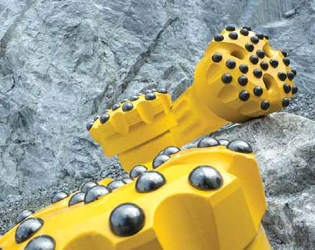 Reflecting an emerging trend among rock tool suppliers, Epiroc designs its
new COP M series DTH bits and hammers to be 25% more compact and 30%
lighter than previous versions.

The mining industry is renowned for the size of its operations and machines — rope shovels that load 120-ton bits of dirt and rock into haul trucks bigger than houses, bulldozers that can push mountains of material in a single pass, and crushers that break boulders into softball- sized chunks. So, it's ironic that the productivity of these giant machines often depends on the performance of relatively small components, For example, when it comes to exploration, development or production drilling with mining-class rigs, all of the machine's power, weight and intelligence is focused on a tool that, even in its largest configurations, is no bigger than a waste basket: the drill bit.

With the possible exception of ground-engaging parts such as shovel and loader bucket teeth, percussion and rotary drill bits have the toughest job of any mining tool — and they're designed for the task, cast from tough steel alloys and capped with some of the hardest materials available. But, however hard the job presently is for bits and drill rods, it's likely to get even tougher. New drill rigs offer higher rotational torque and pulldown force that can increase stress on drill string components. Financial strains could tempt some drilling contractors and mine operators to get longer life from consumables such as bits by running them until they're worn beyond the point of minimum efficiency. And customers are asking contractors to drill longer holes. A drilling contractor recently completed a 3,467-m-long, flat-angle diamond drill hole at Osisko Mining's Discovery 1 project earlier this year — claimed to be the longest hole of its type ever drilled in Canada.

Exploration drilling can cost more than $200 per meter, depending on a number of factors not the least of which is the expertise of the drill crew. However, disruptions in the mining workforce due to pandemic-related layoffs, furloughs or operational suspensions also bring the possibility that experienced drillers may never return to their jobs, either from failure to find suitable work or by simply walking away to find employment in another sector.

Denis Larocque, president and CEO of Major Drilling Group — the company that drilled the record-breaking long hole mentioned above — recently told S&P Global Market Intelligence that when pandemic-related problems recede and global exploration drilling rebounds, a key issue will be labor. "Rigs are really not the problem," he said, but crew training could be a concern as some job skills take years to develop. Over time, experienced drill operators learn to listen and assess what is happening down the hole in order to make adjustments for achieving optimal penetration rates while preserving machine health and steering clear of avoidable drill-string problems. Jimmy Barrieau, global EHS director at Boart Longyear, said, "These challenges are not new to the drilling industry, but the pandemic has intensified the problems.

"Several indicators and trends have identified the need to improve and make more efficient field and driller level training. Our safety statistics have shown that new hires and employees with less than one year of service have a disproportionately higher injury rate than more experienced employees. That creates challenges to delivering high quality, safe and productive drilling services to clients. "Our focus has been on developing an approach that will better transition employees into their role or job function and provide direction and insight on what's required to transition to the next level. Our Competency Training Program has been developed to do just that.

"There are several data points that provide a strong business case for integrating a comprehensive competency program — safety, productivity, efficiency, reduce attrition or employee turnover," he continued. "How we train plays a critical role in all those points. Providing additional organization and structure, in combination with our existing virtual and eLearning solutions, will greatly enhance our training efforts with usable tools that work well for our business."

He further explained that "the equipment challenge is to automate and create a drill site with 'no hands on steel.' Are we there yet? No, but the effort and engineering are catching up with the demands of industry. We are using Mag-Grip Rod Lifters to assist crews when moving drill tubing, casing and tubes. This is one small tool that can improve the ergonomics of drill site manual handling. Our LF160 and Freedom Loader rig package is an example of moving in the right direction. We are testing prototypes that fully automate an underground drill rig, with aspirations to have field trials completed in 2021. This technology would, to an extent, remove the human element in drilling and extracting a core sample." Other new products, such as Imdex's Xtracta system, help make core drilling safer for crews. With Xtracta, the driller can inspect and/or change the bit/reamer each time the core is pulled, without need to pull the rods to change bits. According to the company, risk of injury is significantly reduced as the requirement to pull rods is no longer influenced by downhole conditions or typical bit wear.

Meanwhile, rock-tool suppliers are fully cognizant that safety, reliability and longevity will be increasingly critical factors in market acceptance of their products, and they have been focusing on making bits that are lighter, more compact and long-lasting — with longer service life gaining even more importance as the industry moves toward semiautonomous or fully autonomous, unattended drilling operations. One indication of the direction in which the industry is heading is a recent announcement by Brisbane, Australia-based Universal Field Robots that it answered a call for help from the industry by designing an animated 3D model of an autonomous system to remove and replace heavy tricone blasting bits in the field. The concept was in response to a developer challenge issued by Chilean copper producer Antofagasta for eliminating manual changeouts of the hard-to-handle, 80-kg bits and thus reduce the risk of injury to workers.

UFR Managing Director Jeff Sterling explained: "[We build] robotic machines for various mine site tasks that can be operated remotely, with assisted automation and fully autonomously. The unit that would be suitable for this application is our E20C, based on a Caterpillar 2-ton excavator, upon which we integrate robotics. The unit is diesel powered with hydraulic controls and a quick hitch. The robotic features include a GUI interface, radio joystick control, emergency stop, a safety system with safety controller, mode indication lights, vision sensors, position sensors, remote video camera unit, radio communications and GPS positioning. "The E20C will be fitted with a tool attachment for breaking and handling the tricones. The purpose designed attachment for this application will allow the remote or autonomous handling of the bit, with no people needed to be near operations." The concept, according to the company, is currently being evaluated by Antofagasta, and other mining companies also have expressed interest in it.

At first glance, crew deficiencies might be seen as a problem mainly for drilling contractors and smaller mining companies that don't have the deep pockets needed to install and maintain semi- or fully autonomous systems throughout their rig fleets. But that doesn't appear to be the case. According to Epiroc, for example, most of the drills they're now delivering are immediately capable of autonomous operations if the customer desires, and overall, more than 600 of its machines currently at work around the world are similarly equipped, with not just major producers, but drilling contractors as well showing rising interest in the technology. Apart from order-book considerations, the trend is welcomed by drill OEMs for another reason. With a wider variety of applications to draw from, they can better refine their productivity models using the increased volume of data collected from autonomous-rig instrumentation.

However, whether based on computer- assisted modeling or years of experience in the field, a decision about when to replace a drill bit generally boils down to an assessment of performance (how quickly is it cutting the rock?) versus age (how much more service can we get out of this bit?) Leading industry suppliers such as Epiroc, Sandvik, Varel (which recently changed its name to Terelion), Boart Longyear, Brunner & Lay, Rockmore and Robit are in the business of developing products aimed at making that decision easier and less frequent for their customers.

What's New
Although 2019 was an up-and-down year for mining, producers and industry suppliers will likely look back upon it fondly in comparison with 2020, when the effects of a global pandemic turned what had been solid economic terra firma into quicksand for many companies and their employees. Always technically innovative, rock tool providers have had to become both logistically and digitally innovative as well in order to comply with regulations and adapt to business-related limitations imposed by public health policies around the world.

The new reality for suppliers encompasses everything from altered supply chains to delayed field-testing of future products, along with reduced business travel and increased reliance on virtual site visits, AR-enhanced diagnostic consultations and video-based training. However, suppliers still have the security of a robust product pipeline that was active in 2019, generated a few product introductions earlier this year and has some soon-to-be-announced solutions waiting in the wings for a 2021 appearance. Here's an update on the most recent developments.

Epiroc announced several bit-family introductions over the past year or so. The company's unveiling of their new Epsilon2 premium tricone bit was highlighted by the claim that this new product will allow users to possibly double the drilling distance they obtain from a bit before reaching the disposal point. The new bit's patented features, said Epiroc, will greatly improve productivity through extended bit life and a faster rate of penetration. The company said Epsilon2 air-bearing bits had been tested thoroughly in the field, with results indicating an average of more than 60% longer distance drilled before bit discard compared with the previous Epsilon generation.

"Bearing degradation was long a common cause of bit failure, forcing customers to accept a slower ROP and a shorter service life than necessary. Either the bearings would corrode due to moisture from water injection for dust suppression or overheat by friction," said Bahadir Ergener, product line manager, (PLM) Rotary. Two patented features included in the Epsilon2 bits are designed to solve the problem. One feature called Tornado provides a more effective way to provide cooling air to the bearing. The other, called Torrent AWS, removes 95% or more of the moisture from the cooling air and therefore reduces parts corrosion. The two features, according to Epiroc, combine to increase bearing air flow by 60% and reduce cone erosion by 59%, doubling bearing life.

Epiroc also noted that the Epsilon2 bits include NOPS, a patented feature licensed from Baker Hughes that optimizes the direction of the nozzles used for water injection. This helps to remove cuttings and clean the rock face more efficiently, thereby increasing the rate of penetration (ROP) and extending the life of the bit's cutting structure. The Epsilon2 line includes sizes ranging in diameter from 6-3/4 to 16 in. (171 to 406 mm), and with specific insert confi gurations for soft, medium, hard and very hard rock types.

Epiroc also expanded its Powerbit line to include versions for underground drilling. Powerbit Underground bits outperformed standard bits in comprehensive testing, registering an average 37% more drill meters before discard, according to Johan Thenór, product line manager, tophammer products at Epiroc. The first Powerbit Underground bits to enter the market are 45-mm-diameter versions, to be followed by 48 mm, 51 mm and additional sizes over time.

The Powerbit Underground line, according to Epiroc, is its answer to market demand for a bit that matches the high drilling speeds possible with new, stronger rigs and rock drills. The bit's design features optimized flushing capacity, tougher steel alloy and the innovative Trubbnos trapezoid-shaped button design that is claimed to increase penetration rate and service life compared with conventional buttons. Versions with conventional round buttons also are available.

Epiroc said it developed the new button shape to overcome the traditional compromise of bit design that dictates larger carbide buttons provide more bit wear life but reduce the penetration rate. Trubbnos buttons, according to the company, offer several benefits. They increase radial contact area with the hole wall, providing the bit with more carbide volume to wear down before reaching minimum allowable bit size. The increased contact area also allows the hole wall to push harder against the button, helping the button to withstand the bending moment created by the impact forces. And, they decrease frontal contact area with the hole bottom, reducing rock penetration resistance and increasing the drilling speed.

Epiroc also unveiled its new COP M-series DTH hammer lineup in 2019, comprising a family of bits that the company claims are faster, lighter, more service friendly and longer lasting. The new range of DTH bits feature a unique solid shank that further enhances penetration rate and durability.

According to the company, COP M-series hammers can be quickly and easily adjusted to different compressor air pressures and air volumes by simply exchanging a few parts. "The adjustable feature of the COP M-series hammers comes in handy when mining companies run different size rigs and operate mines at different altitudes. Our customers can stock fewer hammer variants, allowing reduced stocks and less capital employed," said Fredrik Gransell, product line manager, DTH Equipment. He noted that all of the COP M-series hammers — which are available in 6-, 7- and 8-in. sizes — show significant improvements in penetration rate and service life, but the M7 version has been particularly successful as it "bridges a known productivity gap between 6- and 8-in. hammers."

Epiroc pointed out that a new, patented air cycle design on the COP M-series models replaces one that has been dominant on the market for more than 40 years, enabling a considerably faster cycle and resulting in a shorter, lighter and faster hammer. According to the company, the new hammers are 25% more compact and 30% lighter than previous models, making them safer and easier to handle.

Sandvik's Innovation in Mining virtual event, held in late September, served as a showcase for the company's newest products, such as its PowerCarbide line, Alpha 360 tool system and Speedy bits, as well as an opportunity to remind the industry that it will introduce new products in 2021. Sandvik markets the PowerCarbide family as a platform that provides users a range of options for customizing bit characteristics to meet specific drilling conditions. Need a bit that will perform well in abrasive rock? PowerCarbide Gradient grades could provide a 20%-30% improvement, suggested Robert Grandin, product manager, Tophammer Tools, Underground Applications, while self-hardening PowerCarbide grades could offer significantly improved results in a variety of ground conditions.
Sandvik's line of PowerCarbide products now includes seven grades that offer unique combinations of strength, hardness, toughness
and wear resistance, the company says.

Xueying Hai, product manager, DTH Bits, said testing had confirmed that PowerCarbide bits could double previous bit life. She also pointed to a combination of corporate capabilities that, taken together, offer an attractive choice for drilling customers. Sandvik has in-house R&D resources for carbide development, and can easily coordinate that with its hammer and bit design efforts to produce highly effective products. In addition, it claims to be the only major supplier to offer more than just a standard line of carbide choices. Hai also noted that Sandvik can provide service advantages such as rebuild kits that give hammers second or third lives.

The company's PowerCarbide- equipped Speedy bits are claimed to provide 10% faster drilling speed compared to standard bits with ballistic buttons — saving users up to an hour per day per rig. Sandvik said the bits' patented, elevated front breaks rock at two levels and improves the flushing flow, while large sludge grooves enable quick removal of large cuttings. Speedy bits come in three sizes: 45, 48 and 51 mm.

Looking ahead, Sandvik plans to release several new products in the coming year: a new sealed-bearing rotary drill bit and shock absorber, and a new tophammer tool system. Few details are available for the new bit, to be labeled the Charger RR450, but Sandvik's Carsten Mijic, product line manager, Rotary Tools, commented that the company development efforts for its rotary bit future portfolio focus on the use of PowerCarbide for longer life and higher performance; attention to the ongoing need to improve steel performance as well as development of harder materials to protect the steel; and advanced computer design methods to improve flow and optimize carbide and steel arrangements — all intent on giving customers the longest possible interval between bit changes. Sandvik also said the innovative design of its new RP550 shock absorber will enable it to be maintenance free, while featuring an entirely new safety coupling that locks the thread connection and makes operation significantly safer.

In the digital realm, the company's My Rock Tools Track and My Rock Tools Drill join its Rock Tools Digital Services offerings. Historically, key customer data such as cost per meter, number of used tools and rock tool performance has been captured manually. Track makes this entire process digital, allowing for quick and easy data input and constant up to date monitoring of drilling operations. This capability, according to Sandvik, facilitates real-time analytics and problem solving, on-site or off. "Track helps us improve our service offering globally and is a powerful tool in all aspects of our contract support — productivity enhancements and logistics, for example," explained Rickard Andreasson, commercial manager, Rock Tools Division.

He also noted that Track could reduce the frequency of travel for on-site studies or consultations, an important consideration in a pandemic-constrained business climate. Track is initially being introduced in Australia, South Africa, Sweden, Canada and the United States. More than two dozen customers have started using it and have reported favorable results, according to the company.

My Rock Tools Drill is an interactive simulator that is aimed at helping Sandvik's customers achieve a deeper understanding of how correct settings impact both rock tool life and performance. It is available for tophammer, down-the-hole and rotary applications and demonstrates how to maximize productivity in different ground conditions.

Terelion says its Warrior DTH hammers benefit from comprehensive design simulation analysis that provides an
optimized air cycle with reduced air consumption.

Robit introduced a family of diamond button bits for tophammer drilling, making the bits available on the market late in 2019, initially in 89-mm and 102- mm sizes. The first customer to use the new bits was Agnico Eagle's Kittilä mine in Finland, said Kimmo Kangas, Robit's sales manager. "Traditionally, bits have had hard metal buttons, but on the new Robit Diamond Button Series bits the buttons have an industrial diamond coating, which lasts many times longer than a regular bit and does not need to be sharpened," said Robit R&D engineer and materials specialist Niko Ojala. The diamond coating "has several layers, which ensures adherence and enables the diamond bit to withstand the shocks and heat fluctuations of tophammer drilling," Ojala explained. The company had previously used the diamond coating with success on bits used in the oil and gas sector, and test results showed the new bits can stand up to drilling in hard rock as well.

"When drilling hard granite, you may have to remove a traditional hard metal button bit after 80 meters, for example, while with the diamond button bit you can drill nearly 1 kilometer. And as the diamond buttons do not, in practice, wear out, their penetrating ability does not deteriorate like regular hard metal buttons. Drilling speed therefore remains the same throughout the bit's tour of duty. "Similarly, the diameter of the borehole does not decrease as the bit ages, resulting in a more consistent and predictable end result in production drilling. The longer change interval offered by the bit saves time and is particularly important for remote-controlled drill rigs in fully automated mining environments," he said.

Bit manufacturer Varel Mining and Industrial, a wholly owned subsidiary of Sandvik Group, recently changed its name to Terelion. The newly branded entity will continue to design and manufacture drill bits and complementary products for blasthole drilling. The company's latest product offering is the line of Warrior DTH hammers and bits, initially available in 6-in. hammer size and corresponding bit combinations. The Warrior hammers, according to Terelion, feature an optimized air cycle that has lower air consumption, thus providing a lower cost of operation. Bits are available in three face configurations — concave, flat and convex — and standard, premium or ultra-premium carbide grades.
---
As featured in Womp 2020 Vol 11 - www.womp-int.com