Thiess Secures $79M Caval Ridge Extension
---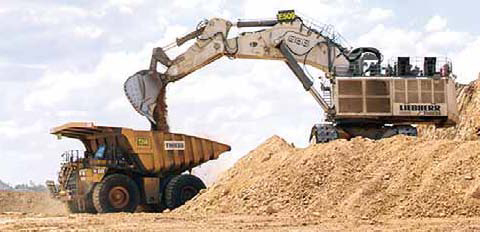 Thiess will continue to operate and maintain three 600-mt excavator fleets at the Caval Ridge mine to move additional
overburden. (Photo: BMA)

Mining contractor Thiess recently signed a 12-month contract extension with BHP Mitsubishi Alliance (BMA) to operate its Caval Ridge mine in Queensland, Australia. The contract, valued at A$110 million ($79 million), calls for Thiess to continue to operate and maintain three 600-metric- ton (mt) excavator fleets to move additional overburden for the Caval Ridge. "This contract extension builds on our relationship with BMA and reinforces our commitment to work with our clients to safely position their operations for optimal efficiency, productivity and cost performance," said CIMIC Group CEO Juan Santamaria.

CIMIC owns Thiess and is currently considering a sale of 50% of the mining contractor. BMA is Australia's largest coal producer and supplier of seaborne metallurgical coal. BMA is owned 50:50 by BHP and Mitsubishi Development. Caval Ridge achieved a record annual production of 4.35 million metric tons (mt) in fiscal year 2020, compared to 3.97 million mt in fiscal year 2019. The Thiess contract extension for overburden removal will commence in December.
---
As featured in Womp 2020 Vol 11 - www.womp-int.com