2020: A Show of Scandinavian Strength
Nordic METS companies not only survive, but thrive through challenging conditions

By Carly Leonida, European Editor
---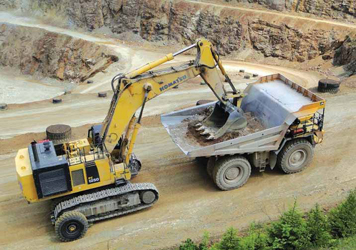 A Sleipner E120 transports a Komatsu PC1250 on site. (Photo: Sleipner)

The past 12 months have been almost unprecedented in the mining industry. From a pandemic that saw production slowed, even suspended at certain operations, to soaring commodity prices and mines racing to keep pace with metals demand, 2019 into 2020 has been a period of great extremes. However, contrary to the tumbling sales figures seen in some industries, the challenges of the past year have actually highlighted the need to create operational resilience through the use of advanced mining technologies and remote support — things at which Scandinavian mining equipment, technology and service (METS) companies excel in providing. Let's look at some key developments from the past year, with suppliers in alphabetical order…

Devico Delivers Despite COVID
E&MJ began by asking Frank Finseth, Devico's operations manager for the Nordic region, how the company has fared through 2020. "We have managed well despite the impact COVID-19 has had on the industry," he said. "We have developed some promising new products and systems and have invested in the development of our global agent network. During April and May, we also had more time to focus on internal training for our employees and generally preparing for the upswing in the market, and we introduced and enhanced some of our remote training sessions for clients, which has been a real value add.

"April and May were slow with regard to overseas business, but we remained fairly active in the Nordic region and, surprisingly, our business increased. Overall business picked up from early June, with higher activity levels overseas." "We have also noticed more interest in our directional core drilling (DCD) solution as clients are focusing on cost savings and placing higher emphasis on the level of experience of their subcontractors." The DCD solution offers the potential for significant cost savings in deep-hole exploration projects. It provides deviation control and the possibility to drill branch holes and hit multiple targets from one initial hole.

"By branching off a drillhole from the middle of an existing hole, the meters needed to drill to target are significantly reduced, saving both time and costs," said Finseth. "We've also been providing both directional drilling and borehole/collar surveying services all in one package using DCD, surveying and alignment products." Before the pandemic, Devico launched the DeviGyro continuous survey tool, which has a wide range of applications. "It provides continuous in-out surveying for exploration and production drilling," explained Finseth. "We've seen a lot of interest, both from mining and the civil construction market due to the small size and ease of operation.

"In April we also launched the Devi- Gyro Overshot Xpress (OX), an overshot surveying system for core drilling applications. This allows efficient surveying that is integrated into the drilling operation and causes no impact on drilling production." The DeviGyro OX offers continuous gyro surveying up to 100m/min while retrieving the core tube and, since field testing was completed, more than 50 OX units have been implemented at mining operations around the world. Of course, 2020 has brought challenges, too.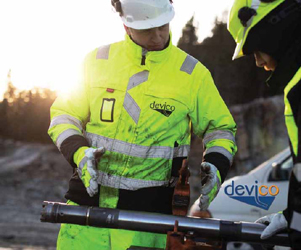 Devico operations manager, Frank Finseth, presents the company's
DeviDrill system to a client. (Photo: Devico)

Finseth explained, "A key challenge we've seen is where clients have a willingness to change to a leading Devico product but, due to the restrictions in place, our ability to go to site and conduct product training has all but ceased. The introduction of our remote training system has answered this challenge, and we are now well equipped to provide our products directly, paired with remote training, resulting in a competent, confident clients." Going forward, Finseth explained that the team will be focusing on further developing the DeviGyro product range and the DeviDrill directional drilling system.

"The DeviCloud online processing and reporting portal for Devico survey tools will soon be released as well," he said. "DeviCloud is a secure online portal offering instant and secure sharing of survey data within a private user group, along with an extensive range of processing, plotting, analysis and reporting functionalities. "We are also focused on developing our global agent network, specifically in Australia, Canada, Russia, USA, Chile, Peru and Colombia to name a few, and have a number of projects under way in the Lapland area (northern Sweden and Finland)."

Epiroc Advances Electrification and Automation Ambitions
Epiroc saw its 2019 revenues grow by 7% to 41 billion SEK, supported by interest in equipment and also aftermarket parts and services. Highlights for the company included progress on electrifi- cation, digitalization and automation of its product portfolio. "We have established ourselves as an industry leader in battery-powered underground mining equipment, and landed many orders for equipment and solutions with automation features that help customers be more productive and safer," Ann-Sofie Andersson, global manager of branding and communication, said. "Another highlight was in March 2020 when Helena Hedblom became our new president and CEO. With Helena as CEO we have, among other things, launched ambitious new sustainability goals for 2030, which include halving our CO2 emissions and doubling the number of women in operative roles."

How has COVID-19 impacted activities and orders? Have there been positive effects as well as negative? "Initially, we were negatively affected," Andersson said. "With many mining and construction companies halting equipment orders amid the global uncertainty and because many sites were closed down. The business started recovering in May and June, though it remains somewhat fragile. But there have definitely been some positive effects, too. It was a big priority for us to help customers keep their operations up and running during the pandemic. This has strengthened our relationship with them, and we have received lots of positive feedback."

Like many, Epiroc's mining customers are showing increasing interest in automation and remote-controlled equipment. "The interest in automation has been increasing fast the past couple of years as mining companies are starting to realize the benefits it brings in terms of safer working environments and higher productivity," Andersson said. "Now, with the pandemic, the interest in automation is increasing even more."

Epiroc currently sells to more than 150 countries globally and plans to continue developing that reach through 2021. "Specifically, we will focus heavily on Africa and South America, as those are big mining markets with huge growth potential and an increasing interest for safety and higher productivity," Andersson said. In late 2019, Epiroc announced it has entered into a partnership with explosives provider Orica to jointly develop a semiautomated explosives delivery system, for safer and more productive blasting operations in underground mines.
Epiroc's second-generation battery fleet is tested as part of the SIMS project at Agnico Eagle's Kittilä gold mine in
Lapland. (Photo: Epiroc)

The companies are leveraging their combined capabilities, including Epiroc's face drilling and production drill rigs, and Orica's charging systems and explosives know-how, to optimize the charging process for underground mining. The aim is to design and deliver the first prototype during 2020, with the first commercially available systems to enter service in 2021.

In February, Epiroc, in partnership with ASI Mining, also scooped the contract to convert Roy Hill's haul truck fleet from manned to autonomous use. The partners are delivering an interoperable solution to the Australian mine site, with the ability to expand to other mining vehicle types and manufacturers, and the capability to integrate with existing Roy Hill systems. Epiroc and ASI Mining will also be working closely with Roy Hill and its partners Hitachi and Wenco on truck conversion and integration of the Wenco fleet management system.

The project will see a phased implementation, with testing and production verifi cation of up to eight trucks undertaken in the initial phase prior to the second phase of full fleet expansion from mid-2021.

FLSmidth Flexes Supply Chain
Manfred Schaffer, president of FLSmidth's Mining division, said, while the mining industry has been affected by the pandemic, commodity prices have quickly rebounded, and the company expects activity to return to pre-pandemic levels relatively quickly. "Around 96% of sites were in operation at the end of Q2 up from 90% in Q1, even though some were operating at reduced capacity," he said. "This meant spare and wear parts demand was impacted due to reduced production rates. We also noticed less activity for technical services and project commissioning due to restricted access to sites. Customers are deferring non-critical investments. The largest impact was in South Africa and India with no significant mine closures in Australia and Europe due to COVID-19."

For FLSmidth, managing the COVID-19 outbreak over the last two quarters began with securing the safety and well-being of employees and managing the impact to the company's production and supply chain. "We increased our efforts to help our customers maintain their operations through more remote services and adapting our on-site service and maintenance schedules to operational needs," Schaffer said. "This first wave of initiatives was followed by a phase where we adjusted our activities and capacities to the new situation and the new activity levels."

In mining, the post-COVID world will look increasingly digitized. Rather than slow down the pace of digital adoption, COVID-19 shone a spotlight on just how these solutions and data analytics are for mining. "When logistics are severely challenged, when it becomes difficult or even impossible to be on site, suddenly all the value of digitalization becomes crystal clear," Schaffer said. "Areas such as remote monitoring and diagnosis, predictive maintenance, and process optimization are center stage and the benefits — from increased uptime and improved throughput to safety, cost and environmental gains — are evident.

"During COVID-19 times, this range of benefits is becoming even more apparent. Some, like safety, might not be the primary driver for adoption right now (it is still a big factor, however), but the value of digital in this area will still be seen. Given current priorities, it's the advantages of remote-controlled operations and predictive maintenance that will be most recognized and appreciated." Overall, FLSmidth has experienced few disruptions to its supply chain, and on-time delivery has been equal to 2019 levels.

Asger Lauritsen, chief procurement offi cer, said the company has implemented what it calls a "nano management" approach using local service engineers and regional service centers to minimize disruption to the customer wherever possible. "As we saw COVID-19 continue to spread outside China, especially in Europe, and North and South America as well as in India, we imposed this 'nano-management' of all customer and supplier orders, with the intent to show that we are also responsible for keeping the mines open and operational," he said. "We are an integrated part of the local and global society."

"With 80% of our suppliers being external, we are exceptionally agile. We are running an asset-light model and have not invested in expensive production facilities, because we have a trusted network of suppliers in the right locations with the right capabilities. It is a blended mix of make/buy and insourcing and outsourcing, shifting between different suppliers in different parts of the world. "Except for closedowns in India, and two weeks closure during the Chinese New Year in China, all our sites have been operating at 90%-100% capacity. Most people have been tested regularly and all local legislation and guidelines have been followed to make sure our employees and their families could stay safe."

COVID-19 has also put even more emphasis on the need to extract more ore with fewer resources and lower costs, and one of FLSmidth's core aims is to deliver sustainable productivity gains. "Last November, we launched a new core strategy — MissionZero — which, in mining, aims to enable our customers to move toward zero water and energy waste, as well as zero-emissions processes by 2030," Schaffer explained. "This has been well received by both mining customers globally and by investors. We definitely see environmentally sound practices and sustainability as key trends in mining, and we expect this to only gain in importance in the coming years."

License to operate and geopolitical developments are also key challenges for mining companies at present, and the increase in trade tensions means that miners need to be even more careful with the selection of their suppliers so they can ensure supply chain security. "We see this trend continuing and have adjusted our model accordingly," Schaffer said. "With our regional setup, we have personnel and warehouses close to our key markets and, with our highly flexible supply chain, we can react quickly to any restrictions."

Reflecting the market trend for investment in technologies that build operational resilience, FLSmidth recently commissioned an F-Series F3200-W high-pressure grinding roll (HPGR) at a gold project in Turkey. The model is equipped with ø2.2-m x 1.5-m wide rolls and 4,000-kW installed power making it the largest HPGR operating in gold heap leach in the world. The HPGR is a dry comminution tool, so there is no water involved that fits with the company's sustainability ambitions.

Other key deliveries include a new gold processing plant to JSC Pavlik in Russia's Magadan region, four production lines of grinding equipment with ancillaries to a copper mine in the Khabarovsk region of Russia, and the sale of three system packages to Gold Fields for the Salares Norte project in Chile.

Fluid-Bag Builds Presence in Mining
Fluid-Bag's business is steadily increasing in the mining industry. The company is not a direct supplier to mine sites, it provides packaging solutions to oil and grease suppliers that preserve and protect the quality of their product. Henrik Kass, sales manager for Lubricants at Fluid-Bag, said, "What we see is an increasing number of mine sites that are receiving their lubricants in Fluid-Bags. It is mainly the cleanliness aspect and residue benefits that lie behind this steady increase. Fluid-Bag is a packaging alternative to bins and drums, which means that as mining and oil companies are learning more about the advantages, the conversion to Fluid- Bags is spreading."

The flexible Fluid-Bag provides a closed packaging system for the lubricant. It does not need to be opened on top to let air in when the lubricant is discharged and, because of this, the bag collapses. This means that no contamination ever reaches the lubricant, even during the emptying process. This is important for mining operations where downtime and engine failure can be crushingly expensive.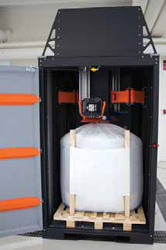 The Tau Xtractor with a Fluid-Bag
inside. (Photo: Fluid-Bag)

Another benefit is the low amount of lubricant residue after discharge. This can save a lot of money and makes waste disposal much easier. "These features are important but, strangely, it's not that common that mining companies come to us and ask for it," said Kass. "But they could, or should, ask their lubricant supplier about how their packaging contributes to lubricant cleanliness and less waste, be it an oil company or a distributor."

Fluid-Bag will continue its focus on the mining and steel lubricants market in 2021. "We have recently developed the Tau Xtractor for these industries, and we will focus on getting that marketed more extensively," Kass explained. "Tau Xtractor is a device for emptying Fluid-Bags, and it builds on the same cleanliness concept and further strengthens that." The company also has ongoing projects concerning the emptying of its bags, including a new easy-to-use device for discharging low-viscosity liquids, like oil. It is a spring-loaded winding device, which is placed on top of the bag, this makes sure all of the product is discharged. More sustainability-focused projects are in the pipeline for late 2020.

Metso Outotec: New Name, Wider Portfolio
The past 12 months have been exceptionally active for Metso Outotec. Aside from the merger of Metso and Outotec in July to create a unified face in mineral processing, other highlights include the company's 2020 Q2 financial results, which warranted issuing a positive profit warning. Saso Kitanoski, president for the Europe market area, spoke about the company's performance highlights.

"It has been a very active 12 months and, under difficult conditions with COVID-19, we did perform exceptionally well," he said. "Additionally, and despite COVID, both companies have managed to successfully launch a significant number of new products and solutions to the market, and customers have recognized those and invested in them." Kitanoski reported that the first few months of the company integration process has gone well.

"It's been quite smooth so far," he said. "We have a smaller number of market areas globally; we have only eight now. Whereas previously, both companies had more than 10 each. That gives a much better structure, much better efficiency, but also, it gives a stronger market presence for both companies. For the European market area, we are, in terms of organization and integration, quite well ahead. "We have already established strong sales and service regions in Europe; Nordics being the biggest. Additionally, we have established an organization called 'Technical Sales Support' that is directly embedded in the sales and service market organization and which centralizes our technical knowledge and experience in this field. A large part of that organization is based out of the Nordics, very close to our customers in the region.

"Moving forward in the integration process, one of the most important points is that we are working on our strategy. I expect we'll be able to share more details in Q4 this year. "COVID-19 has brought different types of challenges to us. However, we have used our strong global footprint to answer the needs of our customers. Meaning that, if our supply chain in a certain area, for example, India, was challenged, we have the possibility to deliver solutions from Europe, China or from any other location where we have a stronghold. This has provided our customers with stability. "We also have capabilities to predict maintenance needs, and to address those remotely with our customers and partners, wherever they are in the world. Again, the global footprint plays a critical role here, because all those solutions need to be adapted to the requirements of the particular customer that we are serving."

Metso Outotec has also been using its digital platforms and online presence to present new solutions to the market during times of restricted travel and to train customers. The company has seen almost 15,000 participants join its webinars this year. "We're very happy with that and will continue in that direction," Kitanoski said. Topics that are informing these webinars, as well as R&D, include mid-term to long-term challenges that mines are addressing such as energy efficiency, water consumption and performance optimization of the mine value chain. "For energy consumption, we are addressing the biggest consumer in minerals processing which is grinding. We have new solutions coming to market soon which are well ahead of what we have today," explained Kitanoski.

"On the filtration side, which addresses water consumption, in 2021-2022 we will be launching new solutions which will again lift the level of quality and enable our clients to take a new step. Of course, all of that comes with the additional aftermarket services. We are investing very seriously in that component. "And we are planning to launch a different set of tools, going forward for consumables, like mill linings. Because, again, this is an important component in reducing wear costs, energy consumption and improving equipment availability."

This ambition will be bolstered by the acquisition of [Australia-based fastener and wear monitoring technology provider] Davies Wear Plate Systems, which Metso Outotec announced in August. In June, Metso launched the My Plant Planner on-line configurator for designing efficient crushing and screening plants. This free digital tool, now available on the Metso Outotec website, uses 3D simulation to allow mining and aggregates operations to design their own crushing and screening plants.

Other important product launches include the Outotec HIGmill plant — a modular solution for fine grinding — which also came to the market in June, the MesoTHERM BIOX process for treatment of refractory gold ores, and the Pretium Water Advisor for accurate site water balance monitoring.

Normet Expands Service Reach, R&D
Normet CEO, Ed Santamaria, gave E&MJ a rundown on key developments for the company so far this year. "The past 12 months have been quite eventful, and exciting in many ways," he said. "For Normet, we have had multiple deliveries of our battery-electric vehicles and clearly see the demand. We have entered new markets, such as the Democratic Republic of Congo. The financial results for 2019 were strong in all dimensions. We have also spent a lot of time developing our portfolio and offering in all our businesses; construction chemicals, rock reinforcement, equipment and services."

How has COVID-19 impacted activities and orders? "Our immediate response at the outset of the pandemic was to look after our people and to support our customer's operations," Santamaria explained. "We managed to keep everyone safe and healthy and attend to customer's needs, be that in on-site support, delivery of new equipment and parts, tools and consumables. "Customers capital expenditure decision making has slowed down somewhat and, in places, has been deferred which has impacted the timing of new orders. But, on the positive side, we have seen people find new and effective ways to work and support each other remotely, to stay connected and functional in their roles whilst dealing with a great deal of uncertainty and insecurity."
Normet's new testing and delivery facility in Lisalmi, Finland. (Photo: Normet)

As for most companies in the industry, safety is the main priority for Normet. "We're also working to enable uninterrupted supply chains, availability of technical and application specialists and flexibility," Santamaria said. "Productivity is critical and combining that with innovation is a strong foundation for Normet." Sustainability is also high on customer's agenda, so Normet has expanded its SmartDrive battery electric vehicle (BEV) architecture to include the latest Li-ion battery technology with a fast charging capability. High-torque electric motors provide instant torque and efficient operation without any emissions. The fully reversible drive system ensures safe and sure movement in difficult underground conditions.

The company has also been working on complementary technologies to improve productivity, such as simulators to enhance operator skills, scanners for sprayed concrete and SmartScan for simplifying the operator's work. SmartScan combines sensor technology with sprayed concrete equipment. Using 3D laser scanning technology, it eliminates the need for manual calculations using probes and improves work site efficiency and safety. With SmartScan, the operator can automatically calculate and monitor applied sprayed concrete thickness and volumes for enhanced effi- ciency and less wastage. It uses advanced technology to remotely scan areas where repairs and concrete application may be needed, providing a perfect application.

To support customers in Chile, Normet opened a new service center in Santiago in late 2019. The facility offers equipment rebuilds as well as process training. "Additionally, we opened a dynamic rock bolt manufacturing facility in Luleå to support our Nordic customers with rock reinforcement products," Santamaria said. "And, in India, we have expanded service operations to support the business there. "For rebuilding and remanufacturing equipment, our service center in Lisalmi, Finland has been in full use to support our customers and recently we also opened a new modern testing and delivery facility in Lisalmi. This new facility supports many R&D and customer hand-over activities including functional testing and training."

New Products, Deliveries for Sandvik
Last year into 2020 has been busy for Sandvik despite COVID-19. As this issue went to press in late September, the company was preparing to present its latest solutions to customers and press at its Innovation in Mining virtual event. The lineup included the unveiling of the first Sandvik branded battery-electric loader, as well the DR410i rotary blast hole drill rig and a sneak peek of the forthcoming Top hammer XL system.

Earlier in the year, Sandvik teamed up with Exyn Technologies to create solutions for mapping and visioning underground mines. Sandvik's OptiMine combined with data collected by Exyn's aerial robots creates progressive visualization of the mine environment to increase overall transparency of the mining process. The collaboration will entail research on how to apply and generate 3D views and perceptions of underground spaces autonomously, while leveraging the full potential of Sandvik's AutoMine system.

July also saw the re-launch of the Toro family name for Sandvik's underground hard-rock loaders and trucks, starting later this year. The Toro name has been recognized by Sandvik customers for decades and now Sandvik is bringing back the bull starting with the Toro LH517i and Toro LH621i intelligent loaders. To pair with the loaders, Sandvik's 51- and 63-metric-ton (mt) underground trucks will also acquire the Toro name. Both models have recently received design upgrades, including a new transmission, heavy-duty cooler, AutoMine for Trucks with on-surface navigation possibility and an ongoing Stage V engine trial.

"Customer feedback on the i-series trucks indicates that overall maintenance costs have decreased compared to their predecessors, the Sandvik TH551 and Sandvik TH663. We have also received the same customer feedback on LH517i and LH621i loaders. Reducing costs in addition to the already-reported positive operator feedback clearly shows we are on the right track," said Wayne Scrivens, vice president for the load and haul product line.

Other noteworthy developments include the new DR410i, which joined the iSeries of rotary blast hole drills and, in March, Byrnecut and OZ Minerals successfully implemented an automation upgrade for a Sandvik DD422i development drill, despite the challenges of COVID-19. With travel restrictions preventing Sandvik staff from attending site, Byrnecut, OZ Minerals and Sandvik experts collaborated via phone, teleconference and email to complete remote commissioning of the rig. Byrnecut Australia became the first underground operator globally to successfully use the new automation and teleremote package for Sandvik development drills.

A little closer to home, in July, Nokia announced it was deploying a 5G standalone (SA) industrial-grade private wireless network for Sandvik's test mine in Tampere, Finland. Based on the Nokia Digital Automation Cloud (DAC), the 5G SA network will be used to enhance communications and connectivity at the facility where Sandvik Mining and Rock Technology tests, develops and prototypes mining solutions for its customers worldwide. The network will enable fast, reliable and secure voice and video communications in a mining setting, which presents highly challenging conditions. Its 5G capability will also be used for automated mining processes, enabling remote machine operations of more than 4K video links between deep underground and the surface control center.

Scania: Tough Trucks. Even Tougher People
2019 saw Scania team up with Navistar to provide vehicles and services for Canadian mining operations. The parties plan to bring a limited number of Scania heavy duty off-road trucks for trials by selected operators in late 2020. In a separate announcement, Scania Mining also revealed it developed a portable site assessment kit to help determine the efficiency of customer's mine sites.

Scania Site Optimisation uses a lean approach to map the customer's business in order to help maximize value through increased revenue, risk management or cost reductions. Analysis of the data gathered reveals waste in the operation, low equipment utilization, queuing, inappropriate service planning and excess fuel consumption, all of which can adversely affect revenue. The data can also be used by the sales and services team to analyze the right specifications and services for the operations.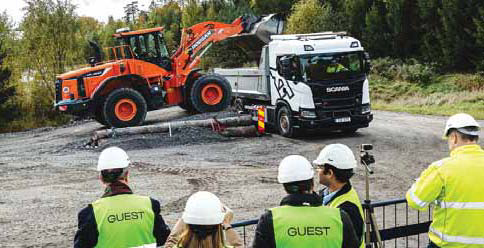 Scania Mining has established a permanent exhibition space at the company's Demo Centre in Södertälje, Sweden,
to demonstrate its approach. (Photo: Scania)

To support this, Scania Mining has established a permanent exhibition space at the company's Demo Centre in Södertälje, Sweden, to demonstrate this approach. "The program is currently suspended until January 2021," Mai Auapinyakul, business development manager at Scania Mining, explained. "But it gives customers an insight into what Scania do.

"Driver Training and Coaching has also played an important role in the mining segment recently, especially for customers with large rolling fleets. Our tailored coaching and training programs not only focus on the operational aspect of the equipment, but also how the whole fleet plays the part in the bigger operation. This is part of how we help the customers adapt the lean mindset in their operation."

For Scania, 2020 thus far has been dominated by the COVID-19 outbreak and its consequences in the form of lower demand and decreased production. "In the past 12 months, we had to deal with the temporary halt of our production, the reduction of staff hours, and the uncertainty and volatility of the market," Auapinyakul said. "We have seen our team dedicate their time and effort to keep our service network open and customers' trucks running. We have seen our customer relationship evolve from supplier to reliable partner as we work closely to have open dialogues and build trust to ensure the safety of the people and, at the same time, keep the operation running at an optimum."

Both sales and profitability were impacted negatively, but the company has taken necessary steps to mitigate this. "It has definitely been challenging, as we had to prioritize our activities," Auapinyakul added. "Many of our handson activities, such as Scania Site Mapping of our customers' operations and our Mining Program at the Scania Demo Centre had to be postponed indefinitely due to travel restrictions. "However, Eurasia and Asia saw an increase in order bookings, which is reassuring since our biggest mining markets are Russia and Indonesia. Our engines also saw an increase in order bookings also globally due to increase in demand."

Throughout this year, Scania has seen mining companies focusing heavily on parts, services and logistics in a bid to keep operations up and running. "Our markets have been working hard in cooperation with customers to ensure parts availability and productivity," Auapinyakul explained. "This has transformed the way we work with services, as we now have a more open dialogue with customers about their business, and how we can help them maximize and extend the life of their current rolling fleet as many customers are not buying new trucks. "For example, in India, our field service teams managed to maintain 90% of uptime of 1,000+ Scania Heavy Tippers running throughout the country, by dispatching technicians to the sites. Their effort has been heartily appreciated by the customers.

"In Indonesia, our field team also met with logistical challenge that forced our technicians to think outside the box and come up with a new solution to manage spare parts for customer operations as orders are now taking longer to arrive. Moreover, they have been discussing the business aspect of services with customers, like how using original parts could help ensure the life of the vehicle and how it will cost less over time." Sustainable transport solutions will be the main focus of Scania's work from 2020- 2025, harnessing electrification, automation, and connectivity solutions, as well as alternative fuels to answer demands.

Sleipner Solves Transport Dilemmas
Transport solutions specialist Sleipner has been working to expand its market reach over the past 12 months. CEO Jukka Koponen said, "We have now customers in over 50 countries. During the last 12 months Benin, New Caledonia and Portugal have been added as new user countries. "We have recently added a new sales manager to our group to be responsible for sales in the U.K. and Ireland. Our DB series offering has recently been expanded too, and we are actively working on new developments for the future."

Koponen said COVID-19 has been a driver for the company to start utilizing remote tools more actively. "We have started using a new tool to share our sales and technical materials internally and with our customers in remote meetings," he explained. "It is called Showell, which is from Finland. It's an easy-to-use, fast, and powerful sales enablement platform. With Showell, our sellers are always well-prepared to engage with customers in face-to-face meetings, virtual meetings, via email or in social media. The number of remote meetings has also increased. It has been possible to serve our customers despite the travel restrictions."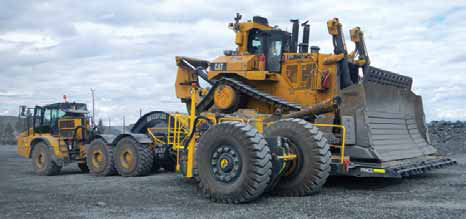 The Sleipner DB120PLUS offers more flexibility in daily production planning as drills and dozers can be delivered
quickly to where they are working. (Photo: Sleipner)

Product manager, Teijo Höylä, added, "COVID-19 has created challenges as well. Our customers have been forced to delay their investments, but there have been no cancellations so we strongly believe that we will be able to continue providing our solutions to our customers when the COVID situation starts to get better." Sleipner is seeing increasing demand for safely relocating equipment for blasting and scheduled workshop maintenance, as well as reducing undercarriage maintenance costs. "With the use of Sleipner, not only is there a potential for up to 50% savings on undercarriage maintenance costs, but also 85% travel time reduction and productivity increases of between 12% and 20%," said Conrad Caldwell, sales manager, U.K. and Ireland. "Sleipner aids in relocating equipment, for example, from the face to workshop. This can now be done safely, quickly and in the most cost-effective manner."

A recent highlight was the launch of the Sleipner DB120PLUS which improves the on-site mobility of tracked equipment. DB120PLUS offers more flexibility in daily production planning as drills and dozers can be picked-up and delivered quickly to where they are working. Höylä explained: "With Sleipner DB- 120PLUS, the drills' undercarriages last two to three times longer and the excessive undercarriage wear of bulldozers while traveling on tracks in third gear is diminished. Moreover, the ease of relocation from the pit enables maintenance to be performed preventively and in the better conditions, resulting in reductions in expensive and disruptive breakdowns."

The DB120PLUS bed can be hydraulically lowered for fast loading and once loaded, the bed is raised to a horizontal position for transport using hydraulics powered by the towing ADT. "According to a customer above the Arctic circle, it used to take 12 hours to move a blasthole drill into another location," Höylä said. "Nowadays, it takes one hour with our DB120PLUS. You can drill lot more meters with the equipment than in the past. Used daily it opens new potential in mine planning."

TOTAL Promotes Battery-electric Solutions
TOTAL's Nordic branches have not historically had a large presence in the mining sector. However, the last 12 months have opened up several business opportunities with major mining OEMs in Sweden, as well as at mines in Sweden and Finland. "A significant development in the field of open-gear solutions has demonstrated our capability to reduce the total cost of operations for our customers," said Martin Steinkamp, industry lubricants sales manager for TOTAL Sweden. "And the launch of a new generation of renewable greases for the underground mining industry proves that sustainable products are part of our solution for the industry.

"The pandemic has of course had an effect on our business this year. However, because we market a very broad portfolio of products aimed at different customer segments, the negative effect in the Nordic countries has not been as large as we feared." Steinkamp said there are two areas TOTAL is being asked to help with in the sector at present: reducing the environmental footprint of mines and optimizing productivity with non-stop operations. "To reduce the environmental footprint, we at TOTAL are investing heavily in multiple solutions, working in close cooperation with our customers," he said. "We have a full range of fuel economy lubricants with proven field records (1% to 5% fuel economy) both for engine oils in the pit and gear oils in the plant. We also have bio-based products across our ranges from hydraulics to greases. Finally, on the digital side, our Optimizer software is an innovative solution, allowing site managers to monitor all their energy consumption and identify areas for savings."

Through 2021, TOTAL Nordics will be focusing on presenting its complete product range to miners and OEMs, particularly those for artic conditions and electric vehicles. "Indeed, TOTAL is the first company to launch a dedicated range for enhanced battery cooling that will ensure safe and reliable battery charging," Steinkamp said. "We will also focus on open gear applications. We have outstanding field inspection services as well as the only product in the world that can clean the gears in operation without having to stop the mills."

To further broaden its range of special greases for open gear mining applications, TOTAL is strengthening its ties with French lubricant company Lubrilog. In the Nordics, TOTAL's range of Bioadhesive Plus greases has been well received for underground equipment and the company is now ramping up production to supply the market worldwide. "We are developing a dedicated offering to improve fire safety management," Steinkamp said. "HYDRANSAFE HFC-E is a new-generation fire resistant, water-based hydraulic fluid. Compared with standard products, this fluid has improved anti-wear properties and optimal fire resistant. No compromises are needed anymore. It will be launched during 2020."

Sandvik Pushes Boundaries for Mining Automation
Sandvik Mining and Rock Technology revealed their future vision and concept for autonomous mining equipment at the company's Innovation in Mining Virtual Event, which was held during late September. The company gave a glimpse of the next generation of intelligent technologies, which included the fully autonomous AutoMine Concept vehicle. Based on the latest technologies, it is equipped with completely new sensing capabilities and artificial intelligence to enhance mining operations.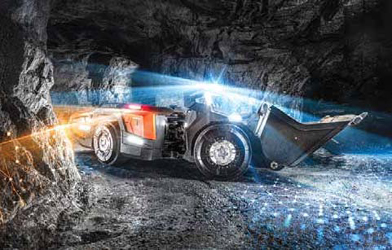 The AutoMine Concept vehicle, which has no cab, uses sensing capabilities and artificial
intelligence to enhance mining operations.

The AutoMine Concept perceives its surroundings and environment in 3D and reacts to it in real time. These technologies provide clear advantages by allowing vehicles to adapt and plan their own routes, and to find the most suitable paths even in continuously changing environments. The obstacle detection, collision avoidance, and 3D online mapping capabilities improve adaptability and increase flexibility. "The AutoMine Concept is unique, because it has been designed ground-up for autonomous use. It is the world's first fully autonomous underground mining machine built specifically for automation," said Riku Pulli, vice president, automation at Sandvik Mining and Rock Technology. "This technology raises ease-of-use, effectiveness of asset utilization and adaptability to a new level, resulting in higher productivity. These technologies will truly change the face and pace of autonomous mining."

This game-changing platform is a foundation for using AutoMine technology in various equipment and can be applied to any vehicle. The AutoMine Concept vehicle also has a completely new industrial design without a cabin, and with built-in components for high reliability and productivity. This autonomy platform allows for equipment design that is optimized for its primary production tasks without compromises. Furthermore, being fully battery- electric, it generates no emissions.

SIMS Project Comes to a Close… and Maybe a New Beginning
Collaborative innovation has been a big focus for the mining industry recently and April 2020 saw the completion of the Horizon 2020-funded Sustainable Intelligent Mining Systems (SIMS) project. While the program had a European-wide focus and participant base, many of its work packages involved Scandinavian suppliers and a good deal of solutions testing also took place in the region. Epiroc was the overall coordinator for SIMS and the company's Jan Gustafsson acted as project manager.

"It has been three fantastic years," Gustafsson said in his closing remarks, published on the SIMS website. "The vision for the project was to create a long-lasting impact on the way we test and demonstrate new technology and solutions for the mining industry, to be achieved with a consortium from mining companies, equipment and system suppliers and universities. "We have fulfilled that vision and we can see great opportunities with this type of collaboration. The interest has also been very high and that is also proof that what the project has achieved is very important and taking us closer to an even more sustainable industry. During this project, we have developed a great collaboration and 'team feeling' and that is something that very valuable for future collaborations, which we are looking into."

Among multiple achievements, SIMS successfully demonstrated the performance of fully electric mine production vehicles, a virtual reality environment for training and education of mine professionals, autonomous aerial mine inspections, the application of intelligent rock bolts, the 5G communication infrastructure, and overall control and process monitoring systems for the mining sector. As part of the electrification work package, Epiroc's second- generation battery fleet, including the Boomer E2 Battery, Minetruck MT42 Battery and Scooptram ST14 Battery, was tested at Agnico Eagle's Kittilä gold mine in Lapland. Agnico Eagle subsequently purchased two second-generation Boltec E Battery rigs, which soon will go into production at the mine.

As Gustafsson hinted, the NEXGEN SIMS proposal has successfully passed the first application phase and the team is now working toward the next step in the application process.
---
As featured in Womp 2020 Vol 10 - www.womp-int.com