Smart Mining Needs High IQ Monitoring Systems
Sound operational decision-making requires good input, preferably real-time information in an easily understandable format

By Russell A. Carter, Contributing Editor
---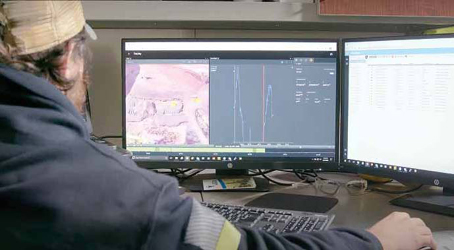 Caterpillar's MineStar Edge is a new cloud-based, subscription-managed platform that makes use of AI to
validate the accuracy of the information it provides to users for equipment tracking and production recording
purposes.

If current trends persist, future mines will be increasingly automated, mine sites less populated and operational control more centralized. Any of these outcomes will increase the industry's requirements for improved monitoring of typical mining activities such as worker tracking and safety, slope/shaft stability, or environmental compliance as well as emerging concerns like asset and energy management.

Technology is advancing at a rate that should help mines keep pace with their monitoring needs, but the industry's embrace of digitalization, like most choices involving disruptive technology, comes with upsides and downsides. An obvious upside: Deployment of IIoT networks and devices, software platforms that accommodate edge computing, and improved data analysis capabilities will bolster producers' ability to get more value out of existing assets and available resources.

On the other hand, choosing the most appropriate technology for a given application and finding ways to extract maximum benefit from that technology are not cheap, simple or guaranteed processes. And there's always the human factor to consider: As the industry moves toward a goal of shifting its shrinking workforce from on-site presence to remotely located monitoring and control roles, how do companies avoid the risk of personal disengagement by workers who find themselves dealing with digital-transformation issues instead of familiar physical on-the-job challenges, for example?

Artificial Intelligence (AI) can help. As AI development progresses, increasingly sophisticated deep neural networks will emerge. Software will become better at digesting ever-growing volumes of data and making predictions based on perceived patterns. At some point in the future, the ability to reliably perceive and predict will allow AI platforms to be granted authority to control many more routine mine functions and activities — freeing mine staff to focus on other matters.

However, prediction is only part of the decision-making process. Judgement is the vital other ingredient, and it's unlikely the need for human input will ever be completely eliminated from that process. A computer program can calculate the hard-dollar cost of a substantial workforce layoff, for example, but will fail if asked to accurately ascertain the social and political costs accompanying the layoff.

Good judgement requires access to information, and when it comes to mapping out a route leading to more intelligent monitoring through digitalization, companies lacking extensive IT/OT expertise generally need technical guidance on evaluating, selecting, managing and acting on the capabilities of modern monitoring systems. The usual first step in this process is to determine what kind of monitoring is needed. For example, does it involve a relatively narrow focus on a specific activity or process such as driver alertness or ore tracking, or does it require broader awareness of diverse-but-related events and activities such as those associated with EHS administration? There are specialized tools available designed to monitor tightly defined processes and parameters, but there's also a broad area of overlap in which data management and visualization features are as important to a product's value as its ability to detect and report real-time events.

If a company's staff can't efficiently use a monitoring system, the value of that system will be diminished. Accordingly, one way to ensure effectiveness is to deploy systems that don't require specialized knowledge of programming, networking and data science by the personnel who will be using them. Another is to identify systems and platforms with a demonstrated ability to painlessly turn data someone has into information they didn't have. And yet another is to understand how data from various software suites and platforms can be integrated to provide customized solutions that fit specific project, site or enterprise-wide needs. Suppliers also are expanding platform feature lists to accommodate special-case situations such as those associated with pandemic-related workforce and operational modifications.

As an asset-intensive industry, mining's digital transformation has attracted attention from tech vendors both large and small. IBM, for example, has been active in developing various applications using its Watson AI platform for clients ranging from Goldcorp to ABB, SAP has marketed its Leonardo AI platform in a similar direction for several years, and startup AI specialist companies have introduced solutions that allow enterprises to benefit from digitalization without need of extensive data-science expertise. Here are few examples.

SAP noted that Vale, a longtime customer, was able to develop a completely new maintenance spare-parts ordering process in just four weeks, using Leonardo. At the time, inventory represented about $1.6 billion of Vale's $11 billion annual spend, and the company decided to automate its purchasing processes to make them more efficient. Prior to this, maintenance workers had to ask an ERP user to create a purchase requisition before acquiring a new part for equipment repair. The completely manual process often overlooked parts already available, users frequently searched through multiple screens before finding the missing information, and the flawed process resulted in redundant effort and wasted time. In fact, 25% to 40% of purchase requisitions were ultimately canceled because a part turned out to be available on contract or in inventory. Vale put its procurement team through an SAP Design Thinking workshop to sort through the major challenges. They had a draft prototype in week one; by the following week, they had feedback — and were making adjustments, according to the company.

SensOre Ltd. and IBM announced a collaboration to bring AI to the full spectrum of mineral exploration activities. Richard Taylor, director at Melbourne, Australia-based SensOre, said a combination of IBM's and SensOre's platforms provides an interface that works for both resource and exploration geologists, making use of data that in many cases is underutilized. The companies said they will combine the "Exploration with IBM Watson" platform and SensOre's Data Cube and Discriminant Predictive Targeting (DPT) technology, while maintaining freedom of action for both parties to work with clients individually or join forces where it makes sense to do so.

IBM said its Exploration with Watson platform ingests a multitude of geological and geophysical data in its native format, establishes spatial relationships between elements and creates a predictive modeling framework for mineralization that is largely data driven. However, the tribal knowledge embedded in the data representation allows for domain knowledge to be represented in the model construction. This, according to the company, enables the creation of powerful predictive models at high resolution for varying grades and search radii that are continually retrained with the latest data from the core shack. IBM said the platform has proven to be 33 times faster than current methods in running complex geological queries, and has generated positive predictions, allowing geologists to get the answers they need faster.

SensOre's minerals targeting technology employs AI and machine learning technologies in its Discriminant Predictive Targeting (DPT) workflow. SensOre collects all available geological information in a terrane and places it in a multidimensional data array it calls a Data Cube. SensOre said its big data approach allows DPT predictive analytics to accurately predict known endowment and generate targets for further discovery. Queensland, Australia-based MineWare introduced a pair of solutions to a matching set of industry challenges: how to employ emerging technologies to automate drilling for optimum accuracy and consistency and how to ensure blasted and broken material ends up in the right location. To solve the first problem, MineWare released Phoenix AI, which Product Manager Curtis Stacy described as a platform employing AI to mitigate common drilling faults and improve performance. "Phoenix AI is an independent system that allows machine operators to automate their entire drill cycle at the push of a single button, without compromising the OEM control system," he said.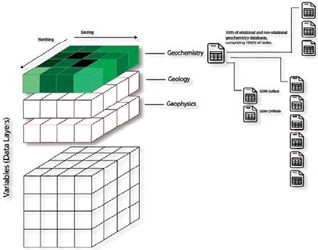 SensOre's Data Cube is a grid of 400 x 400-m samples with a multidimensional
feature vector for each cell.

By giving operators the ability to hand more control to the machine, Curtis said drill and blast teams can eliminate operator variability, one of the major causes of poor hole quality and machine stress, reducing maintenance costs and extending the life of their drills. "In autonomous mode, Phoenix determines the design hole depth based on the engineered drill plan and uses AI algorithms to automatically generate and adjust force on the drill bit and rotary RPM to match ground conditions. The AI-based decision engine continuously monitors and responds to geologic faults, taking action in a nearly predictive manner. Stacy said this ensures the highest quality blast hole.

"The AI is capable of testing new drilling parameters and determining positive or negative outcomes based upon that testing," he said. "This results in the highest production possible, within machine design parameters, and supports long-term continuous improvement." To help solve a common problem at the other end of the drill-and-blast cycle, MineWare now offers an advanced Material Classification module for its Argus Shovel Monitor, intended to reduce occurrences of lost or contaminated ore. The module integrates precise material information from each bucket — per the mine plan — with any fleet management system to give machine operators, haul truck drivers and processing personnel more accurate knowledge and feedback on the type of material being loaded and hauled.

MineWare Vice President of Strategy and Marketing Roy Pater said by knowing upfront what exactly is being loaded at the face, the module improves what material is being moved through the value chain from pit to plant. "Unlike traditional systems that just track material via machine position, Argus precisely monitors each bucket fill and position, classifying the material in real-time via a block model overlay on the Argus screen. Operators know exactly what they're digging, and where. Argus removes subjectivity when interpreting boundaries and reduces the risk of grade contamination at the dig face."

Information from the shovel is provided to the mine's fleet management system in real time. "The driver then knows where to take the material based on its type and concentration — whether that's a stockpile, waste point or straight to the crusher for processing," Pater added. "Poor stockpile management, ore loss, dilution and grade contamination are common challenges for mining operations, costing millions of dollars annually. Many of these downstream problems and efficiencies in mining are directly linked to upstream load and haul processes. The misallocation of even a single bucket of high-grade ore can lead to signifi cant monetary losses for mines, either in the pit or in the processing plant." Pater said the new technology meets the global mining industry's need for instant, on-demand access to information across a mine that can only be achieved by sharing data in real-time between the various mining systems. "By connecting more of the dots and closing the feedback loop between loading, hauling, dumping and crushing, Argus addresses these issues head on," he said.

According to MineWare, detailed material classification compliance reports also help geologists, surveyors and reconciliation engineers meet reporting obligations, with easier access to more accurate data on what and how material has been distributed on-site. Other recent product introductions, upgrades and enhancements that include improved monitoring capabilities include: • Hexagon's updated HxGN MineProtect Operator Alertness System (OAS) — a fatigue and distraction monitoring system that now can accommodate drivers wearing protective face masks. Hexagon included the improvement in both of the OAS versions it offers — one for haul truck drivers and another for operators of pickup trucks, buses and other non-off highway vehicles.

Immersive Technologies now offers a Remote Trainer Station, which allows companies to maintain socialdistancing
policies while conducting simulator-based training.

Josh Savit, OAS product manager, said face tracker systems have typically relied on limited data points, requiring the full face to be visible. The new OAS algorithm utilizes dynamic tracking, constantly readjusting and mapping the face with every movement, removing the data point requirement. "Removing the need for modeling enhances an already proven algorithm, making face-tracking more accurate even with a mask on. Combined with machine learning, this creates a faster, more accurate ability to track and capture the face and small changes that occur. The transition isn't noticeable to the operator, other than a decrease in false and non-events," Savit explained. • Caterpillar's MineStar Edge, a cloudbased, subscription-managed platform that makes use of AI to validate the accuracy of the information it provides users for equipment tracking and production recording tasks. According to Cat, through its equipment tracking features, Edge can help operations improve equipment availability, reliability and production by measuring, managing and ultimately reducing machine health events and making data easily accessible, as well as monitor equipment operator performance, measure and manage equipment downtime, and provide shift-playback capabilities for in vestigative or procedural purposes.

Production recording capabilities include monitoring and providing accurate data on load and dump counts, tons moved and Bank Cost Per Meter/ Bank Cost Per Yard; the ability to track progress against plan in real time throughout the shift; enabling users to drill down to see the performance of entities such as individual machines, areas, routes, materials and operators; calculating and visualizing the expected production at the end of the shift for the site and individual entities including site, load and dump areas, routes, loading tools and trucks, and material.

• System updates from simulator technology specialist Immersive Technologies, which said it has been actively supporting customers in formulating strategic workforce plans to prepare for rapid skills development and rising need for operator recertification. These plans help miners think through steps to digitize training and assessment methods and reduce risk exposure associated with close-contact training and in-cab coaching. The company said this focus reflects the relationship between operator skill and mining business continuity, especially as mines plan for production recovery and cost control, both of which are impacted by operator behavior.

To support physical distancing efforts while maintaining a quality outcome, Immersive launched Remote Trainer Station (RTS), which combines remote control and video conferencing functionality between the simulator cabin and a trainer desk located in a separate space. In addition to live video and audio, trainers are equipped with behavior monitoring visualizations and simulator controls, which allows them to continue coaching as if they were next to the trainee.

Room for Growth
Quite possibly the most familiar and visible icon of modern mine monitoring is the control room. In keeping with the increasing level of mechanization and automation of mines, the importance of control rooms in providing situational awareness and as the hub of operations management has proportionally increased. According to Tendayi V. Mwayi, Mobilaris MCE Sales and Business Development, Africa Epiroc Underground Rock Excavation, it's reasonable to argue that "...without appropriately designed control rooms, safe high-speed mechanized mining would neither be practical nor commercially viable." In a recent article, he outlined how a major mineral producer used Mobilaris' monitoring solutions for incorporating best practice in control room construction, configuration and processes.

In the West Rand gold district of South Africa's Witwatersrand Basin, Gold Fields is putting the finishing touches on a control center at the company's flagship South Deep mine. The company established the center to manage and monitor all operations at its Twin Shafts complex from a central point, according to Johan Sliep, head of Technical and Production Intelligence Systems for Gold Fields Group Services. After a year and a half of construction, the project is nearing completion. When finished, the control center will provide centralized visualization and control of all operations, including production, plant and logistics. Its scope of capabilities includes mine planning, production scheduling, fixed plant management, safety management, production monitoring and control, backfi ll management, breakdown and planned maintenance management, processing and remote operations and analytics.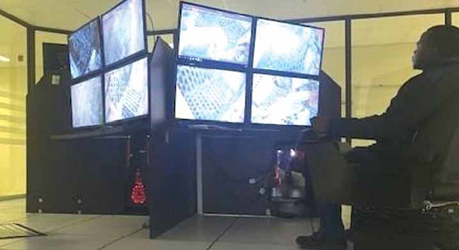 A new control center for Gold Fields' South Deep mine includes teleremote operator stations for
rockbreakers (shown here), loaders and hoist control as well as maintenance and production scheduling
and reporting systems.

These systems rely on optic fiber backbone down the shaft and a blend of standard Wi-Fi and proprietary wireless mesh for communication of operational data from various sources. Additionally, an expansive network of leaky feeder supports voice communication over two-way radio in all areas of the vast underground mine. Tagging and tracking systems enable effective safety management from a central control room through real time location tracking of personnel and equipment, which is often used to augment legacy clock-in, clock-out systems. Improved situational awareness from systems as Mobilaris Mining Intelligence can reduce operational delays during normal operations, allowing shafts to be cleared faster prior to blasting and speeding the execution of assistance efforts when accidents occur by providing vital decision support to control room operators.

Proximity Detection Systems (PDS) and vehicle-mounted Collision Avoidance Systems (CAS) warn mine operators and pedestrians of potential person-to-vehicle or vehicle-to-vehicle interactions within a radius of up to 100 m. However, the situational awareness from Mobilaris Mining Intelligence extends the range of traffic awareness for control room operators, equipment operators and pedestrians alike, providing the identity, location and direction of travel of people and vehicles in the entire mine. This is achieved through the high-precision positioning and decision support capabilities of Mobilaris Situational Awareness, which allows real-time location, tracking and monitoring of vehicles, personnel and equipment using a mixture of LTE, Wi-Fi, UWB, RFID and other proprietary technologies from various vendors, along with Mobilaris Onboard vehicle positioning and the Mobilaris Pocket Mine app. Asked about what his wish list would include for the South Deep control center, Johan Sliep mentioned that full operational control and management of operations would be the ideal end-state for the mine. Mobilaris now can offer a glimpse of what that would look like and how it could be achieved.

"Mobilaris Mining Intelligence is on the verge of launching a solution that would unlock the next level of control room capabilities in its innovative Mobilaris Event Automation platform, which gives additional functionality to its Mobilaris Mining Intelligence product family," said Hans Wahlquist, vice president of business development and strategic product management for Mobilaris MCE. Wahlquist said Mobilaris Event Automation is a tool to enable mine engineers to make full use of information coming from location data of machines, equipment, materials and personnel; the status of work tasks in the shift plan; sensor data from various monitoring systems; machine data from a mixed fleet and much more, by enabling them to create tailored automated actions themselves.

Event Automation, which has already deployed to some Mobilaris customers, would allow automated actions to be triggered when a defined set of causal events occur. For example, the activation of a ventilation fan when threshold limits of CO2 are detected, or dispatch of a work order to a loader operator when a bolting assignment is reported as completed. The platform, according to the company, provides mining personnel with the ability to create the commands defining the cause and effect actions themselves.

Tailings: The Need to Know More
Renewed global concern about the risks of tailings dam failure is accelerating a revolution in the use of automated sensors to generate big, real-time data to better monitor and manage these facilities, according to SRK Consulting. "The need for knowing more about tailings dam conditions — and in real time — has become a major focus within the mining sector, demanding a step change in the way we collect, process and interpret data," said Lyzandra Boshoff, principal engineering geologist at SRK Consulting. "As part of these efforts, SRK has been rolling out initiatives using automated vibrating wire piezometers (VWPs) on tailings facilities."

Boshoff highlighted the particular signifi cance of seepage and the associated pore pressure regime within a tailings facility as a vital aspect of the integrity and stability of the structure. This has conventionally been tracked by manual standpipe piezometers whose performance, while accurate, depends on the quality of installation and aftercare — and manual data collection is subject to human error. "This means expending considerable effort for relatively little data, which may often not exactly reflect the current situation by the time the information reaches the engineer for analysis," she said. "Even the automated sensors using vibrating wire technology tended to rely on manual data collection from the logging devices connected to the sensors."

This is now changing as many telemetry hardware developers have improved the wireless capability and cloud technology to upload and store data, allowing data to be immediately accessed by engineers and management. "This has changed the landscape of data flow and interpretation, as well as the potential size of the datasets that can be generated," she said. "SRK has been at the forefront of rolling out automated VWP networks, using logging systems that can send data wirelessly to cloud-based databases and then visualized and analyzed in real time."

Among the technological innovations the company is developing is a customized database and visualization platform specifi cally for VWP data. This includes builtin, automated validation and interpretive tools to automate some of the routine engineering interpretive work. It builds upon available software technologies to create a solution that is customized to the field of tailings dam management, while also presenting opportunities for applying the principles in a range of disciplines. The datasets generated by VWP networks can be significantly large, depending on the frequency at which data is collected. Conditions on site would determine the detail required for tracking where potentially adverse circumstances may develop.

"These VWP networks are also useful when needing to confirm whether the mitigation measures in place are having the desired effect," Boshoff said. Applying these technologies, SRK has been able to review the impact of construction process and other site activities and incidents on pore pressure responses, and analyze the impact of depositional patterns on the seepage flow regime within a facility. "For the first time, we can see and correlate in real time what we have always predicted using models and assumptions," she said. "Harnessing the power of big data, we can now test our assumptions and substantially raise the confidence of our observations. With the exponential growth in the application of technology in this field, more data is being generated and is available to be harnessed and interpreted."

The sheer quantity of data generated means that engineers must innovate, finding new and more efficient ways to validate, evaluate and interpret the large incoming datasets. She noted, however, that harnessing the full power of big datasets demands the appropriate database structures and validation processes to be in place — which is where SRK is investing considerable effort. "To support this need, we have recently put in place a data services department at SRK, pulling together some of our brightest minds and data analysts," she said. "This is helping champion our initiatives to harness these growing datasets into sound engineering information so they can contribute to making informed engineering decisions."

Staying Online With Solar Power
Keeping track of remote equipment and sensor arrays located in harsh environments is an ongoing challenge for the industry. Iridium Communications announced in mid-August it had selected six beta partners to test its latest out-of-thebox satellite IoT device, the Iridium Edge Solar, described as an intelligent, secure and maintenance-free solar-powered remote asset-management device with overthe- air configuration capabilities.

Iridium said Edge Solar is undergoing a multi-continent deployment that will push the device's limits for industrial applications including heavy equipment telematics data reporting. In addition, Bluetooth Low Energy (BLE)-enabled smart device applications are being tested to allow users to maintain remote asset management and monitoring from their smartphone and/or tablet. Iridium noted that Edge Solar enables real-time, twoway communication, over-the-air configuration changes and local wireless capabilities over BLE anywhere in the world.

Iridium said solar-powered asset tracking devices traditionally have faced challenges that would limit field life and result in questionable reliability, but through complete encapsulation of vital electronics, the Iridium Edge Solar overcomes problems such as water intrusion, limited operating temperature, long-term reliability or degraded battery capacity over time. Featuring military-grade ruggedized packaging and an innovative dual-power system, the Iridium Edge Solar combines solar rechargeable batteries with a separate high-capacity battery ensuring data delivery even in low-light conditions.

The company claims that when combined with Iridium's global coverage and services like its CloudConnect, which simplifies integration with Amazon Web Services, any organization will be able to rapidly scale and deploy a reliable, solar-powered asset-tracking device anywhere on the planet for up to 10 years without maintenance.

Controlling the Cost of Digitalization
With just about every road sign pointing the industry toward data-driven mining strategies, it's likely smaller companies with limited internal data-science expertise might develop performance anxiety over the prospect of falling behind in exploration, mining, processing and back-office efficiency. However, the stress of not having the ability to effectively use data already in hand — or developing new data sources that allow a producer to better monitor its operations — might be overshadowed by the financial and operational risks of innovation. Several startup tech companies have developed AI-based platforms that are designed to enable miners to take advantage of IIoT, edge computing and other data-science technologies to determine the actual value of data before investing in analytics and machine learning initiatives.

One of these is FogHorn Systems, a California- based developer of edge computing software for commercial and IIoT solutions. In 2019, Foghorn announced an upgrade to its Lightning Edge AI platform with new features that offered drag-and-drop analytic programming capabilities and data visualization dashboards designed to allow OT staff to derive insights more quickly from real-time data without the need for assistance from data science teams.

The company said its approach to AI utilization is enabled through built-in closed-loop edge-to-cloud machine learning, where FogHorn Lightning can detect drifts in model accuracies and automatically trigger cloud-based retraining with Google Cloud Platform (GCP) and now, Microsoft Azure IoT, and republish new models to the edge in an iterative fashion until the expected accuracy is reached.

According to Foghorn, its visual programming tool, VEL Studio, creates simple to sophisticated analytic expressions that derive actionable insights from streaming control and sensor data. A newly introduced drag-and-drop library of more than 100 built-in code blocks lets OT professionals perform traditional data science tasks without the need for any programming skills. This new functionality allows users to drag blocks to the workspace, fill in required parameters and connect the code blocks. These code blocks perform analytic functions, including data cleansing and filtering, data collection and type conversion, event/pattern detection, signal processing and mathematical and statistical analysis. FogHorn now provides OT-centric blocks for specific use cases to make it even easier to create advanced analytics.

Mineral producers concerned about the costs of physically upgrading their underground communications systems might benefit from Strata Worldwide's DigitalBRIDGE Plus+ bidirectional VHF line amplifi ers, which are claimed to allow mines to boost the performance of their current leaky-feeder system and gain higher-quality voice comms without changing anything else. DigitalBRIDGE was introduced in early 2018 through a partnership with Sydney, Australia-based partner RFI Technology Solutions. The Power-over-Ethernet (PoE) network solution is a high-speed, open-standard data network that carries both power and data in a single coaxial cable.

The company said DigitalBRIDGE Plus+ line amps are fully compatible with third-party amplifiers, and can be used in conjunction with them or in place of them. The amps feature Ethernet capability, including two Power-over-Ethernet (PoE) ports for uplink to the fiber switch. All DigitalBRIDGE Plus+ line amps will pass Ethernet signals; Ethernet-enabled line amps can be placed anywhere along leaky-feeder cabling to facilitate the direct connection of Ethernet-compatible equipment that has a local power source, such as pump and fan starter panels, environmental sensors, electrical switchgear, gas monitors and more. Optionally, a DigitalBRIDGE QuadPort can be tapped into the leaky feeder and provide four PoE ports to connect and power the mine's choice of end-point devices. For additional entryways and remote or isolated areas, mines can branch off the main leaky feeder backbone and carry connectivity and power into these areas for remote access and control of various monitoring devices.

A Bigger Picture
Initiatives aimed at improving mine monitoring capabilities aren't restricted to just the commercial sector; academic, consulting and governmental organizations are actively forming coalitions focused on using a macro approach to widen the scope of monitoring capabilities. For example, the European Commission in August awarded €8.4 million ($9.9 million) to a three-year H2020 project aimed at developing an artificial intelligence platform for the monitoring and analysis of mine sites across Europe. The project, called Goldeneye, is focused on developing solutions that improve safety, reduce environmental impact and support profitability of the European mining industry by creating a platform that combines Earth observation technologies with on-site sensing. Goldeneye will integrate information from satellite-produced Earth Observation Data (EOD), drone overflight sensors and on-site recorded data.

As explained by VTT, the Goldeneye project will implement a unique combination of remote sensing and positioning technologies with data analytics and machine- learning algorithms. The platform will allow satellites, drones and in-situ sensors to collect high-resolution data of an entire mine, which can then be processed and converted into actionable intelligence that allows more efficient exploration, extraction and closure. "With Goldeneye, we are not solving just one problem," VTT Project Coordinator Marko Paavola said. "Our goal is to bring together different technologies in a platform that can offer innovative solutions to both businesses and governments and have a positive effect on the mining industry as a whole."

The project will also improve analysis of mine-site mineralogy using drone-integrated geophysical sensors as well as innovative proximity sensors including active hyperspectral sensing and time-resolved Raman spectroscopy. The platform integrates this information with satellite-sourced data. Use cases for the Goldeneye platform will address various phases of a mine's life cycle from exploration to closure and post-closure. The platform will be pilot-tested at five mining sites across Europe. Two sites, Pyhäsalmi mine in Finland and the Trepca mines complex in Kosovo, will focus on the environmental impact and stability of the mines. The Pyhäsalmi mine will also be used as a test site for indoor GNSS location positioning and turn-by-turn navigation trials.

Two other sites, the Erzberg district in Germany and Panagyurishte district in Bulgaria, will focus on mineralogical mapping. Geophysical and proximity sensors will be used to calibrate satellite information and teach AI algorithms. The aim is to develop mineral exploration with higher resolution imaging and improved mapping of valuable mineral deposits. The fifth site, in the Rosia Poieni district in Romania, will be aimed at improving mineral predictions with combined satellite imagery and drone-produced data.

The project also will develop a mineralogical sensor solution for ore drilling, integrating Sandvik drill rigs with time-gated Raman sensors. Project consortium partners include AKG sh.p.k, Beak Consultants, Cuprumin, Dares Technologies, Earth Observing System, Galileo Satellite Navigation, OPT/NET, Radai, Sandvik Mining and Construction, Sinergise, Sitemark, Technical University of Cluj Napoca, Timegate Instruments, University of Oulu and University of Sofia.
---
As featured in Womp 2020 Vol 09 - www.womp-int.com