New Century Declares Commercial Production at Queensland Operations
---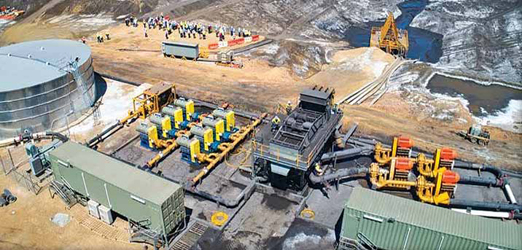 The Century zinc mine (above) delivers record production, 34,500 mt, in the June quarter. (Photo: New Century)


New Century Resources declared commercial production in early July for its Century zinc mine operations in northwest Queensland. The declaration followed record production in the June quarter, when the mine delivered an approximate 22% increase in production of zinc metal in concentrate to about 34,500 metric tons (mt) and an estimated 17% decrease in C1 costs to about $0.79/lb of payable metal on an unreconciled basis.

During the quarter, New Century also completed a successful transition from contractor services to full owner-operator of both the hydraulic mining and processing plant operations. Current operations are based on reprocessing tailings from the previously mined Century zinc mine. New Century Resources Managing Director Patrick Walta said, "Despite the COVID-19 pandemic, operations at Century continue to ramp up and have again delivered record production in the June quarter. Century has now achieved seven consecutive quarters of increasing production and lowering costs, and the company remains focused on continuing this trend.

"We are pleased to declare commercial production at the operation, with the Century mine now re-established as a top 10 zinc producer just three years since being shut down for closure. "From a market perspective, despite the zinc price remaining near four-year lows, a strong decline in spot treatment charges in the quarter has improved conditions for zinc miners. The company also sees potential for a price rebound due to additional metal demand from increased global infrastructure development linked to COVID-19 government stimulus."

The cessation of processing operations at the Century mine by MMG in early 2016 following depletion of the ore reserves presented an opportunity for New Century to monetize valuable remaining mineral assets. These included more than 2.2 million mt of JORC-compliant zinc metal equivalent resources contained within mineralized tailings and more than 1 million mt of JORC-compliant zinc and lead resources in the Silver King, South Block, and East Fault Block base metal deposits. In addition, Century hosts several substantial phosphate deposits that are yet to be developed.
---
As featured in Womp 2020 Vol 09 - www.womp-int.com