Codelco Maintains Production Despite COVID Disruptions
---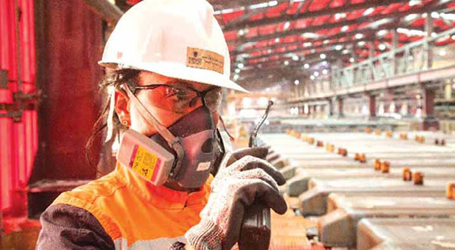 Citing improved processes and better grades, Codelco increases copper production by 34,000 mt during
the first half of 2020.


Reporting its production figures for the first half of 2020, Chile's copper mining company, Codelco said it produced 744,000 metric tons (mt) of fine copper, 4.7% more than the same period of 2019, and generated surpluses of $380 million, a figure that is almost 20% higher than the first six months of last year.

The company said early measures taken to protect the health of its miners allowed it to maintain operational continuity. Along with this, Codelco attributed the increase of 34,000 mt in production to greater treatment in the plants and the better grades. "Strict protocols were implemented that, as a first priority, prevented workers from COVID-19 exposure, and provided them with the sanitary conditions to protect their health and that of their families," Executive President Octavio Araneda said. "The second objective was to maintain operational continuity to generate a cash surplus for Chile. Because we know that in order to get out of the economic crisis this pandemic is causing, Codelco's resources will be required."

Direct costs, fell 9% to 129.9 cents per pound (c/lb), down 12.4 c/lb from 142.3 c/lb last year. This figure is explained by the greater operational continuity of the smelters, which improved the state's product portfolio; the highest production; the increase in the sale of byproducts, such as molybdenum; and the positive effect of a higher dollar. The net cost to cathode, meanwhile, had a significant decrease of 17% compared to the same period of the previous year, reaching 207.7 c/lb, which is explained by the same reasons of direct cost, which add to the lower non-operating expenses. In addition, last year's C3 costs included costs related to collective bargaining for the period.

The good operational and cost management performance allowed Codelco to reach surpluses of $380 million, almost 20% over the $318 million of the previous year, despite a greater burden due to the depreciation of the company's assets. That was a remarkable achievement considering average copper prices were 11.4% lower than the same period last year. During the first half of 2020, copper prices averaged $2.48/lb, compared to $2.80/lb in the first half of 2019, a $0.32/lb difference.

Codelco also reported that the projected start dates for its main development projects have not been affected, despite the temporary suspensions to minimize the risk of contagion on site. Among those announced, Chuquicamata Subterránea, which reached a state of progress of 99% in the first of its three underground levels, and Nuevo Nivel Mina (Andes Norte, Diamante and Andesita), which advanced 61%. Meanwhile, the construction of Traspaso Andina, which completed 87%, had a total stoppage in April and was reactivated, with the gradual entry of provisions, between May and June.
---
As featured in Womp 2020 Vol 09 - www.womp-int.com