Ivanhoe, CNMC Sign Partnership Agreement
---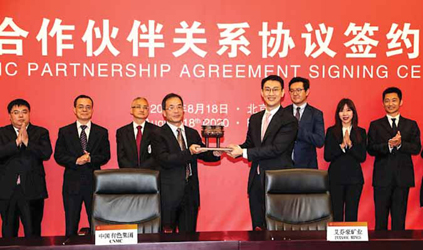 Zhang Jinjun, CNMC vice president (center left), and Peter Zhou, executive vice president and chief
representative China of Ivanhoe Mines (center right), exchange a gift after signing the strategic
partnership agreement.


Premier Robert Friedland and Yufeng "Miles" Sun, co-chairmen of Ivanhoe Mines, announced the company has entered into a strategic partnership agreement with China Nonferrous Metal Mining (Group) Co. Ltd. (CNMC), one of China's leading mining companies, to jointly examine exploration, development and acquisition of mineral projects, as well as production, smelting and logistics opportunities, on the African continent.

CNMC, headquartered in Beijing, China, is a world leader in the development of nonferrous metal projects, with exploration, construction and engineering, mining, smelting and logistical operations spanning more than 80 countries and covering more than 40 nonferrous metals. More than 20 years ago, China Nonferrous Metal Industry's Foreign Engineering and Construction Corp., the predecessor of CNMC, made the fi rst international acquisition by a Chinese mining company with the purchase of the Chambishi copper mine in Zambia; an investment that was facilitated by Friedland. CNMC's continued development of the project led to the commencement of operations at the Chambishi Copper Smelter in 2009. Copper production from the Chambishi South East Ore Body began in 2018.

Among CNMC's diverse portfolio of projects is the Lualaba copper smelter near Kolwezi in the Democratic Republic of Congo (DRC), which began commercial operations earlier this year. Lualaba is the fi rst modern, large, pyrometallurgical copper smelter built in DRC, and is approximately 45 km from Ivanhoe's Kamoa- Kakula copper joint venture. A new, dedicated highway directly connects Kamoa- Kakula and Kolwezi. CNMC also recently began operations at the Deziwa copper-cobalt mine, a joint-venture with Gécamines — the DRC's state mining company. Deziwa is approximately 35 km east of Kolwezi.

"Our long-standing relationship with CNMC goes back decades to when Wu Jianchang was the general manager of CNMC — a pioneer industrial group specializing in the mining and metallurgy sector," Friedland said. "[CNMC is] aware of the enormous challenges of discovering and building a new world-scale [mine]. They also appreciate that 'grade is king' and that the DRC, and indeed all of Africa, has by far and away this planet's best potential for major, new, high-grade mineral discoveries."

"The time to act to address the looming shortfall in key, 'green' metals, is now," Friedland said. "The strategic partnership with CNMC will provide signifi cant opportunities for collaboration on mineral exploration, mine planning, development and acquisition of mineral projects, logistics and smelting — beginning with examining the synergies between the operations currently owned by our two companies." CNMC Chairman Wang Tongzhou said, "CNMC is striving to become a world-class mining company, and Ivanhoe — one of the world's best and fastest-growing mining companies — is an excellent role model for us to learn from. I strongly believe that cooperation is the best way to achieving the goals of both companies."
---
As featured in Womp 2020 Vol 09 - www.womp-int.com