Premier Purchases Getchell Project
---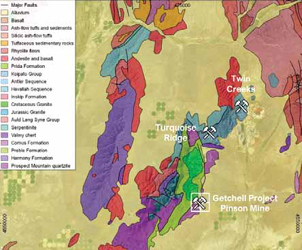 The Getchell Project is located at the intersection of the Getchell gold belt
and the Battle Mountain-Eureka trend, south of Nevada Gold Mines'
Turquoise Ridge mine.


Premier Gold Mines USA has entered into a purchase agreement to acquire all of the outstanding membership interests of Osgood Mining Co. from Waterton Global Resource Management. Osgood owns the Getchell project in the Getchell gold belt near Winnemucca, Nevada. Waterton will receive a consideration consisting of $50 million in cash and common shares, plus contingent value rights and warrants. Upon completion of the transaction, Getchell will be 100% owned by Premier Gold Mines and become one of its core Nevada assets.

The Getchell project is located at the intersection of the Getchell gold belt and the Battle Mountain-Eureka trend south of Nevada Gold Mines' Turquoise Ridge mine. Open-pit mining occurred on the property between 1980 and 1999 and underground test mining, known as the Pinson mine, was conducted in the early 2010s. The mine was placed on care and maintenance in 2015. "We are very excited to add the Getchell project to our already strong base of Nevada assets," Premier President and CEO Ewan Downie said. "The property has a long track record of successful gold production and we believe that the open-pit and underground gold historical resources at Getchell were amongst the highest-grade in North America based on historical work completed on the property and the property will form an integral part of our U.S.-based activities."

Under the transaction, the consideration to Waterton will consist of $23 million in cash on closing, 13.78 million common shares of Premier, warrants to purchase 12.76 million common shares of Premier, with an exercise price C$3.67 per warrant, for a period of 36 months following the closing date, and contingent value rights pursuant to which Waterton will be entitled to receive an additional $5 million upon the public announcement of a positive production decision related to the Getchell project (underground or open pit), and another $5 million upon production of the fi rst ounce of gold following a 60-consecutive-day period where gold prices have exceeded $2,000/oz.

A week before the Getchell announcement was made, Premier announced it was contemplating a spin-out of Premier Gold Mines USA to its shareholders. If Premier decides to proceed with a spinout, and it is completed prior to the completion of the Getchell transaction, the consideration package will be modifi ed in accordance with the terms of the defi nitive agreement to provide for Waterton's equity and contingent value exposure to continue with Premier Gold USA.

If the spinout is completed, Premier Gold USA is expected to be a stand-alone, U.S.-domiciled, publicly listed gold company that will include the South Arturo and McCoy-Cove properties. "We are exploring the attractiveness of creating two companies that would benefi t from streamlined property portfolios and a simplifi ed domestic investment thesis," Downie said at the time. "Premier has assembled a high-quality portfolio of assets spanning exploration to mining operations and we believe the market is not fully valuing the sum of the parts. This is one option we are considering to change that." Located in the heart of the Carlin Trend in Nevada, South Arturo is operated by Premier's joint venture partner Nevada Gold Mines. The El Nino underground mine was brought into production during the second half of 2019 and the partners said they are currently assessing additional developments on the property, including the Phase 1 and Phase 3 open-pit projects and a potential on-site heap-leach facility.

Premier is currently completing an updated technical report for South Arturo and is drill-testing the down-dip extension of the El Nino mine and upper targets within and proximal to the proposed Phase 1 and Phase 3 pits. The McCoy-Cove property, which is also located in Nevada, hosts a high-grade undeveloped gold deposit. In 2018, Premier announced a Preliminary Economic Assessment for the project that highlighted indicated mineral resources of more than 1 million tons at 0.327 ounces per ton (oz/t) of gold (or 342,000 oz) and inferred mineral resources of more than 4 million tons at 0.327 oz/t of gold (or more than 1.3 million oz). Nominal amounts of silver are also credited in the resources.

Premier is currently completing a hydrological modeling study and additional metallurgical work in advance of beginning construction of a ramp to complete delineation drilling, bulk sampling and a feasibility study. In addition to the mines and projects in the U.S., Premier also operates the Mercedes gold mine in Mexico and holds a 50% interest in the Greenstone gold property, formerly the Trans-Canada Property, in northwestern Ontario.
---
As featured in Womp 2020 Vol 09 - www.womp-int.com