Mineral Processing Titans Merge
Stephan Kirsch, president of Metso Outotec's new Minerals Business Area, discusses the next steps for the business and new opportunities

By Carly Leonida, European Editor
---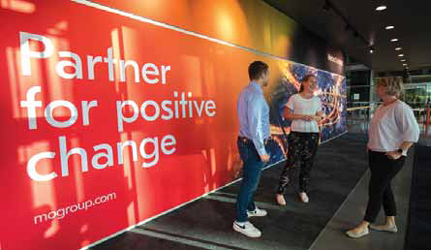 The new combined company — Metso Outotec — was presented to investors and the press on July 1, 2020.

On June 30, nearly a year after the deal was first announced, the combination of mineral processing firms, Metso and Outotec, was completed. Mining is now Metso Outotec's largest market ahead of aggregates and metals recycling, accounting for 61% of its illustrative combined sales of EUR 4.19 billion ($4.95 billion) in 2019. CEO Pekka Vauramo and CFO Eeva Sipilä formally presented the combined company and its management team to investors and global media on July 1.

Stephan Kirsch, former Head of Mining Equipment at Metso, has stepped up to lead the new Minerals Business Area (one of six across the company; metals has its own dedicated unit) and he outlined plans for the division, both short and long term. "I feel humbled to be selected for the role," he said. "At Metso Outotec, we are fortunate to have a very knowledgeable, powerful and highly experienced team of mineral processing experts. With this team, we will support the industry with engineering, equipment and aftermarket services, from run-of-mine ore to production of metal. This is quite a comprehensive scope and I am proud that we can deliver this to the industry.

"The main benefit for our customers is that single-sourced key processing equipment within the mineral processing plant can be balanced to ensure the highest recovery rates and the most economic and efficient operation of the plant. "The comprehensive line offering will also provide our customers with much stronger development support, competitive supply packages and drive for our innovations."

Cutting-edge Innovation
Kirsch mentioned that, as a leading player in the mineral processing sector, Metso Outotec is aiming high with its plans (and budget) for R&D. In his presentation on July 1, Vauramo announced that, in its first year, Metso Outotec would allocate EUR 100 million ($118 million) — approximately 2.5% of its sales — to R&D, adding that he would not hesitate to increase that number to 3% if the right opportunities presented themselves.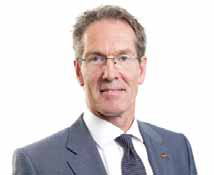 Stephan Kirsch, president of Metso Outotec's new
Minerals Business Area.

E&MJ asked how the budget of €100 million will be split across the six business units and how much funding will be dedicated to the Minerals division? "It is a significant R&D budget, and we committed to this because we want to ensure that we meet our aim to be the industry leader for innovation," Kirsch said. "And you have to spend money to achieve that objective." "Now that we have brought both companies together, we committed to keeping both R&D budgets stemming from Metso and Outotec. The combined number — EUR 100 million — makes us, on the spending side, a front runner in R&D." Kirsch was keen to point out though that it's one thing to spend money, it's another thing to achieve results.

"This is something we have to be very mindful of," he said. "That's why with our R&D, we are not working with a centralized R&D department. Each of the business areas has its own R&D function that is very specific to its capital equipment. "The idea behind this is that we own our R&D projects, and that the bringing to market strategy will work. We are not doing R&D for the sake of doing R&D, but for the sake of developing something that will be applied and operated. "We will analyze product lines and spend our money wisely wherever we see it can be applied most economically for the benefit of our customers, but also, for ourselves. Obviously, when you spend R&D money, you're also looking at return on investment. For now, the main focus is on product innovations, digitalization and sustainability."

In the Minerals business area, R&D activities are broken down into product groups like crushing and screening, and flotation rather than by commodity. Kirsch explained: "The reason for that is quite simply because when you look at a crusher or a mill, the challenges for R&D are in the design of the products. The same crusher, for instance, can be used across gold, copper, iron ore, or base metal applications. It's only further downstream that the technologies become more ore specific. "In the Metals business area, they are more focused on commodities; the old Outotec had R&D facilities dedicated to iron ore or copper for example. So, that's where we differentiate by commodity."

More Services, More Equipment
Announcing the combination of two leading companies is, of course, exciting. But before the teams can properly get down to business, there are discussions to be had and plans to be advanced. Up until July 1, Metso and Outotec were officially competitors and, while the companies were able to plan for the integration to some extent via external consultants, according to the antitrust process, the teams were not allowed to communicate directly.

"There is no textbook for the merger of two industry heavyweights," Kirsch said. "We are writing that textbook and every day we learn new things. Obviously, there are challenges, but I think they are outweighed by the opportunities. There are a lot of synergies where we can bring locations and people together, which will benefi t everyone. It will benefit the company, our customers and also our employees." Speaking of opportunities, Metso Outotec now has an extended reach across the mining value chain from orebody to metal. This puts the company in a unique position to help customers that are looking to optimize their processes holistically in line with megatrends such as circularity, decarbonization and zero emissions.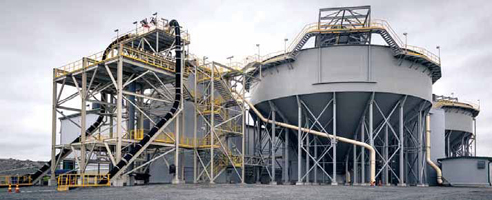 Metso Outotec now has an extended reach across the mining value chain from orebody to metal.

"I see significant opportunities, particularly in the provision of our services," Kirsch said. "Metso has got a very strong service background. When I talked to customers and they often said 'this is great, Outotec has got such a good high level of processing technology. And if we add to this the really superior Metso services, then it's a powerful combination.'" It is worth noting that services accounted for 56% of Metso Outotec's illustrative combined sales during 2019 — more than capital equipment — and around a third of the company's workforce (5,000 people) will be engaged in services going forward at 140 service locations worldwide.

A larger installed base requires a larger service team, but with that comes the opportunity for increased learning and access to knowledge. Customers will be able to benefit from increased sales and support capabilities, particularly, on the data analytics side of things. And they now have access to both companies' subject- matter experts. "As individual companies, but also as the new combined company, we are well represented in all major mining markets," Kirsch said. "I see further growth potential in all of those markets because of the new full line offering and our combined technical expertise. "But particularly, I see Africa and Southeast Asia as regions that have good growth potential."

Moving Forward as One
During his presentation, Vauramo also explained a little about Metso Outotec's branding strategy. In essence, existing Metso product lines will continue to keep the Metso name, existing Outotec lines will keep the Outotec name, and new jointly developed products as well as services and consumables will carry the combined name.

"It is important for us to ensure continuity for our customers and, as such, we will keep the brand names as they were established over decades," Kirsch explained further. "But, obviously, when it comes to new products generated from Metso Outotec, from the new company, then we will look into this case by case and see whether they should actually be branded as Metso Outotec. It is likely to happen like this, but those are one of these detailed areas where we need to dive deep and see how we do it in the future."

The scope of Metso Outotec's capability going forward is not just exciting for customers; from an employee perspective, it must be amazing to join forces with one of your biggest competitors and gain access to their experts and technologies. Together, the possibilities must be almost limitless? "The whole process is very exciting, I must say," enthused Kirsch. "To bring two companies like this together... you don't do that often in your lifetime. "I've been in this industry for around 30 years. I've gotten to know many members of the Outotec team in that time, and it's good that we are now part of one family."loaders."
---
As featured in Womp 2020 Vol 08 - www.womp-int.com