Adani Begins Overburden Removal at Australia's Carmichael Mine
---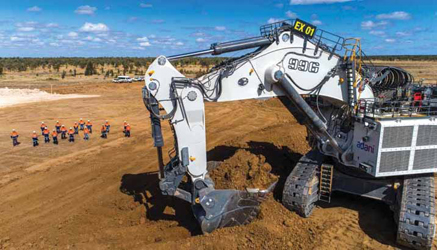 A shovel breaks ground at the Carmichael mine as overburden removal operations begin


Adani Mining's excavator and mine trucks have begun work at the Carmichael opencut mine in Queensland's Galilee Basin to remove overburden and expose coal seams. Adani Mining CEO David Boshoff said the box-cut was a significant milestone to mark off on the construction schedule.

"We are on track to export first coal in 2021," Boshoff said. "It's great to see our big new gear, the Liebherr R 996B excavator and the Cat 796 haul trucks, hard at work. In time, they will reach the coal seam, then we will be excavating coal as we need to remove around 4 m3 of rock for every ton of coal we mine." Boshoff said there are more than 700 people working on the mine and rail project construction and numbers continue to increase as contractors arrive to build the coal handling plant and work on the railway.

"The expansion of our mine accommodation to 400 beds is complete to cater for the additional workforce and we will soon be able to accommodate another 1,200 people in our temporary rail accommodation villages," Boshoff said. "We remain on track to deliver 1,500 direct and 6,750 indirect jobs." The mine's first five mining trucks and excavator have arrived on site and are operational. The assembly of the second excavator will commence in the coming weeks.

Adani will add more than a dozen mining trucks to its fleet over the coming months. The trucks will be assembled in Mackay, with each taking a team of about 40 men and women up to 10 weeks to put together before they are transported more than 300 km to site. The Carmichael Mine will produce 10 million metric tons per year (mtpy) of high-quality thermal coal, which will be used to generate electricity for communities in India and southeast Asia.
---
As featured in Womp 2020 Vol 08 - www.womp-int.com