NQ Minerals Acquires Beaconsfield
---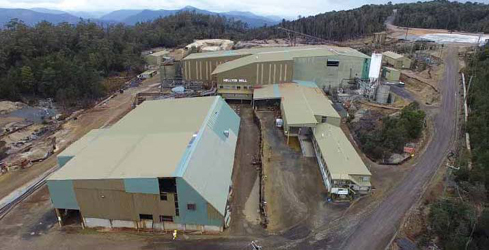 The Hellyer plant (above) upgrade exercise has been successfully completed six months ahead of expectation.


NQ Minerals Plc purchased the historic Beaconsfield gold mine in Tasmania, Australia. The mine has historic recorded production of 1.8 million ounces (oz) of gold averaging 15 grams per metric ton (g/mt) and was closed in 2012 due to the low gold price at that time, the company said. The gold price has since increased substantially and the company said it plans to reopen the mine as soon as practicably possible.

NQ has started the recommissioning the gold processing plant, which was under care and maintenance. At the same time, they are reopening the mine by developing a new decline accessing the Beaconsfield mine from the surface to reconnect into the existing mine workings at the lower section of the orebody. NQ is currently increasing production at its flagship Hellyer gold mine in Tasmania, Australia, by 44% to more than 1.3 million mt/y, compared to 2019's fullyear plant production numbers. The new production rate of 150 mt/ is now being achieved after a June plant upgrade and circuit optimization exercise. This new rate compares to 2019 Hellyer Full Year plant throughput totaling 835,877 mt (average 103 mt/h at 92% plant availability).

Process optimization works are now under way to ensure the plant achieves maximum recoveries and concentrate specifications at these new higher production rates. Engineering assessments will continue to plan for further production rate increases later in the year, should higher production rates be required. Chairman of NQ Minerals Plc David Lenigas said, "This Hellyer plant upgrade exercise has been successfully brought in some six months ahead of expectation. The increase in saleable mine product will have a very positive affect on the company's top and bottom line revenues going forward, and will assist NQ greatly with its ability to service ongoing debt obligations and strongly position the mine for increased profitability as commodity prices improve with the world emerging from the COVID-19 pandemic." The world-class Hellyer underground mine, on the West Coast of Tasmania, in Australia, began production in 1989 under the ownership of Aberfoyle Ltd. The Hellyer deposit had a published pre-mining mineral resource of 16.9 million mt grading 13.8% zinc, 7.2% lead, 0.4% copper, 167 g/mt silver and 2.5g/mt gold.
---
As featured in Womp 2020 Vol 08 - www.womp-int.com