Alamos Announces Phase III Expansion for Island Mine
---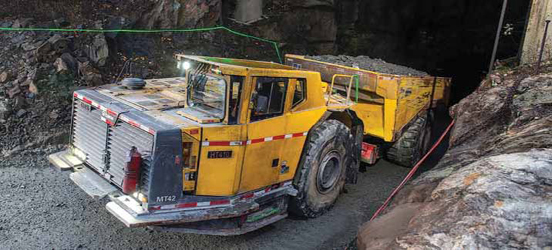 With shaft haulage, the Island gold mine will increase production and reduce the number of trucks needed to reach the goal.


Alamos Gold reported results of the positive Phase III Expansion Study conducted on the Island gold mine, located in Ontario, Canada. Based on the results, it is proceeding with its Shaft Expansion project, which will increase production to 2,000 metric tons per day (mt/d) from 1,200 mt/d. A detailed evaluation of several scenarios demonstrated the shaft expansion as the best option to grow mineral reserves and resources, according to the company.

Upon completion, production from the Island gold mine should be able to average 236,000 ounces per year (oz/y) starting in 2025, a 72% increase. The company believes the move would lower average allin sustaining costs to $534/oz starting in 2025, a 30% decrease. It would double the current eight-year mineral reserve life, based on a mineable mineral resource of 9.6 million mt grading 10.45 g/mt of gold, which equates to 3.2 million oz.

"Island Gold has been a tremendous acquisition," Alamos Gold President and CEO John A. McCluskey said. "We acquired it in 2017 at a cost of $600 million when it had 1.8 million oz of mineral reserves and resources. The deposit has more than doubled to 3.7 million oz and we expect further growth yet." He added that the mine is one of the most profitable in Canada and the expansion will increase production and reduce costs, making it even more profitable. The Phase III Expansion envisions the installation of a shaft, paste plant, and an expansion of the mill and tailings facility. Total capital expense for the project is estimated at $514 million over five years. The operation will transition from trucking ore and waste to skipping ore and waste to surface through the new shaft infrastructure.

The total construction capital for the shaft installation including all supporting infrastructure is $232 million. A 5-m-dia. concrete lined shaft will be constructed with a steel head frame. The shaft will house two 12-mt skips in dedicated compartments for ore and waste movement, and a double-deck service cage for the transport of personnel and materials. The shaft will be sunk to an initial depth of 1,373 m. The hoisting plant is designed for an ultimate depth of 2,000 m providing flexibility to accommodate future exploration success. At the initial depth of 1,373 m, the shaft has a capacity of 4,500 mt/d, more than sufficient to accommodate the peak mining rates of 3,300 mt/d (ore and waste).

The increased mining will be supported by a significantly smaller mobile fleet than required under ramp-mining scenarios. A total of five haul trucks will be required to support a mining rate of 2,000 mt/d. This compares to a peak of 18 haul trucks required to sustain ramp haulage at 1,200 mt/d. This also lowers ventilation requirements, and electricity and diesel consumption. The expansion will also include mill upgrades totaling $40 million. Mill recoveries are expected to average 96.5% over the life of mine.
---
As featured in Womp 2020 Vol 08 - www.womp-int.com