Answering the Call
The latest advances in mine rescue solutions reveal which suppliers have become the zealots of the digital revolutions

By Jesse Morton, Technical Writer
---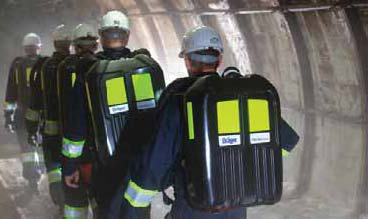 With a deep history, Dräger's PSS BG 4 closed-circuit breathing apparatus features the
Sentinel II electronic monitoring unit that can capture critical data on users.
(Photo: Dräger)

There is a quiet revolution under way in mine rescue. Players that have been in the discipline for decades describe it as the biggest step change in a generation. "I've been involved in mine rescue for 20 years and this leap into digital data communications is the greatest advancement during that time," said Chris Whitt, who leads the official mine rescue team for the state of Virginia (U.S.).

"Since 2000, the most significant advancements in mine rescue technology have been in sensors and monitoring solutions, like gas detection, and the move from the old sound-powered communication cable to the wireless systems," he said. "We are also experimenting with ways to use these new tools in several different scenarios facing other emergency teams we support." The list of benefits of the digital revolution is topped by optimal outcomes in safety and in responses to emergencies, Whitt said.

"I've seen big improvements in safety since 1985," he said. "Efficient communications solutions is a big piece of that picture and critical in any emergency situation for the best possible outcome." Best possible outcomes is one of the foremost goals of the top suppliers in the mine rescue solutions space. Another is meeting the changing needs of the mines as the industry evolves. The top suppliers in the space describe their pursuit of both goals as a "higher calling." The latest news from the space suggests they are answering the call.

Set Offers Reliability, Data
Dräger, one of the oldest and most trusted brands in the mine rescue solutions space, told E&MJ that current trends in mining will, in the near future, mandate substantial changes in safety and rescue protocols, processes, refuges and gear. "The drivers for the marketplace are the customers, their mine designs, and how they are going after their orebodies," Kent Armstrong, global business development manager, mining, Dräger, said. "And they're expanding in distance underground all over the world." As mines grow and run deeper, the number and magnitude of the challenges faced by mine rescue teams will grow apace. Armstrong said that means those teams will have to adapt their processes and maximize usage of available technologies. "We are going to have to change the method in which we do things," Armstrong said. "We've got to work with the specifics of the mines. That plays into shelters and refuges, both portable and fixed. It plays into self-rescue and early detection of emergencies underground so that miners can properly get to fresh air."

Plans will have to be revised regularly to meet the new realities underground, he said. "What will be the procedures and requirements for the 13,000-ft level?" Armstrong said. "What are the expectations, options and challenges at that level, and, from a risk assessment angle, how do we solve them?" Answers will likely prompt disruptive step changes in the mine rescue solutions space. Such could unfold similarly to the evolution of Dräger's flagship breathing apparatus, the BG 4, which has been on the market in North America for more two decades. BG stands for Bergbaugerät, which loosely translates to mining device. Early models date back more than a century. From the early 1900s until near-mid-century, a two-hour breathing apparatus was required.

As the mines went deeper, "no longer were two hours good enough," Armstrong said. "There were major changes in the approval regulations." For the next few decades, up until the early 1990s, the BG 174 set the standard in the field. "The 174 means 1.7 liters of oxygen for 4 hours," Helge Trabert, product manager, closed circuit breathing apparatuses, Dräger said.

In 1993, after the approval organizations required a higher safety factor, the BG 4 launched and soon dominated the market. Currently, the approval organizations continue to dictate the pace of change. "Right now, they do not require a BG 6 or a BG 8," Armstrong said. Until they do, the company is focused on meeting the more pressing demands of customers. "It is getting more digital," Armstrong said. "That is what the feedback suggests. People are looking for more digital information provided by the set. That is the driver for us." The latest iteration of the set, the Dräger PSS BG 4, released in 2009, speaks to the need for digitization. The set is equipped with a Sentinel II electronic monitoring unit that captures data on optical and acoustic warning signals, such as the residual pressure warning, two selectable electronic alarm thresholds, an alarm for lack of movement, and a manual emergency call alarm.

"The PSS BG 4 is basically a facelift of the original BG 4," Trabert said. "It is a positive pressure set and offers a higher safety factor or protection level. It has an integrated cooling system, which wasn't on the earlier models." Also featuring improvements in robustness and serviceability, the set is ideal for extended use, the company reported. "The slight positive pressure breathing circuit protects the wearer by preventing hazardous substances from entering the sealed breathing system," Dräger reported. It offers a duration of four hours. A CO2 absorber filters the exhaled air. "At the same time, the breathing air is enriched from the oxygen cylinder," the company reported. "Before the regenerated breathing air is inhaled again, it flows through the breathing air cooler."

As complex as the set sounds, after some training the use and maintenance of it can quickly become routine, Trabert said. "It is a lot easier to manage than you might think," he said. It is as user-friendly as a common breathing apparatus, Trabert said. With practice, its use can become second nature, he said. "Miners have a lot of stuff to think about, and the apparatus is something they really shouldn't be worried about." The foremost benefit of the set is rock-solid reliability, Armstrong said. The set is proven technology, he said. "We did a lot of field testing on this unit," Armstrong said. "We took it to some of the leading players around the world and it went through months of surface testing and underground testing. We reviewed checklists and comments, and looked for where to make changes both to the operational design and to the functionality or durability of the unit."

That process was supplemented by the experience the company gained in supporting mine rescue teams and in responding to underground emergencies around the world. It was spurred on by an R&D policy that values a big-picture understanding of the challenges of mine rescue today, Kathryn Kasper, marketing manager, mining, Dräger, said. "We tend not to look exclusively at one individual product because they all work really closely together," she said. The company supports the International Mines Rescue Body, which in turn supplies information on the latest trends. "It really helps us to understand what challenges the mines rescue communities are facing, where they are looking for solutions, how we can support them, and what they are trying to accomplish," Kasper said. "That has really assisted us, in the last 20 years, to know what we should be changing or adapting on the technology that we provide to really put our customer in a good position."

As a result, the BG 4 is one part of a broader solution offering that includes service, support, information and access to other critical technologies. "We are not single solution," Armstrong said. "We look at all facets. Mines are going deeper, going farther, and mining faster. All these things play into our approach." They will continue to play into the development of the BG 4 and other related Dräger solutions, he said. "We can't stand still," Armstrong said. "We have to move forward to meet the demands of the market, and we will."

Adaptable Refuge Offers Connectivity
Strata Worldwide recently announced the release of the new Strata Emergency Refuge Chamber, the ERCX, a customizable, connected chamber that can be easily modified when conditions or regulations require it. "We've developed from the ground up a new chamber for the metal and nonmetal mining markets, that can also be configured for coal and tunneling," Dave Maust, general manager, refuge chambers, Americas, Strata, said. "We've taken advantage of some new CNC machining technology, which makes for more simple fabrication, competitive design, and local manufacturing, so the refuge chambers are tailorable to standards around the world."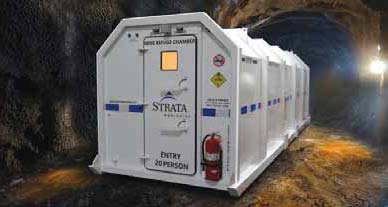 Strata's new ERCX refuge chamber is designed for connectivity and gives miners the option
of remotely monitoring battery charge levels, the air conditioning system, oxygen levels and
other sensors. (Photo: Strata Worldwide).

The new chamber is the evolutionary successor of one of the company's first chambers introduced more than a decade ago. It is described by the company as a highly flexible and truly global design. "We've had years of experience with refuge design and we know what customers have experienced in the past," Maust said. "We've taken the things that we've learned over the years, along with customer comments and suggestions, and looked at a new construction technology that makes it a little easier to build the chamber they want." That experience and feedback also led to selecting more robust components, from batteries to door bearings. "We have changed from just using steel door shafts to stainless steel, with oil-impregnated bronze bearings for less maintenance," he said.

Better fasteners are used. "The old way of doing things was using zinc fasteners or steel fasteners with paint," Maust said. "Now we use stainless steel fasteners throughout." Better scrubber technology is used. Predecessor chambers used loose soda lime in-tray scrubbers. The lime has a shelf-life of two years. "Now with this new global design, all chambers will use sealed soda lime cartridges with a far more extended shelflife," Maust said. Described by the company as highly adaptable, the ERCX can be easily modified for greater duration capability, and increased blast resistance.

"In many cases, there is no specific requirement for overpressure, however, in some locations, there is a minimum requirement for 15 psi overpressure, for blast resistance," Maust said. "The new design and manufacturing process allows the miner to adjust the design of the standard chamber to meet the higher regulations." CNC manufacturing makes it easier for Strata's global manufacturing facilities to build the shell to exact specifications. "For example, there is a demand in Russia for our chambers and our partner facility can build the shell locally," Maust said. "With CNC machinery, it is considerably easier for them as compared to our original design."

Strata has also made it possible to remotely monitor the status and health of the chambers. The chambers come ready for the inclusions of a DigitalBRIDGE QuadPort, which supports Power-over-Ethernet (POE) devices. DigitalBRIDGE, Strata's underground data-over-coax communications offering, "then connects the chamber to the mine's existing communications network," Maust said. Devices that can connect to the QuadPort include, but are not limited to, wireless access points for voice and data, gas sensors, atmospheric monitors and even the chamber's batteries and air conditioning unit, Rob Albinger, general manager, safety electronics, Strata, said.

"You can use IP cameras for live viewing of the occupants, which also helps to identify personnel who have entered the chamber," Albinger said. "Typically, gas monitoring is installed and used to monitor the oxygen and carbon dioxide levels inside the main compartment and sampling pumps can be used to evaluate the atmosphere outside the chamber." Other conditions within the chamber can be remotely monitored too. "It provides the ability to see the internal parameters of the chamber such as, relative humidity, pressures and temperatures," Albinger said. "The monitoring capabilities of this network are limitless." With Wi-fiaccess in the refuge, Voice-over-IP devices can be used to communicate to the surface.

On a routine, day-to-day basis, operators on the surface can monitor, among other things, the chamber battery charge levels. "Mines can get a live battery reading and a charge status from the chamber system without physically going to the location," Albinger said. "Only if the batteries don't seem to be charging, or there are other issues noted, will maintenance need to schedule a visit to the chamber." The system also allows for remote monitoring of air conditioners. "With DigitalBRIDGE, mine operators can monitor the status of the air conditioning units from the surface and verify if any preventative or routine maintenance is required," Albinger said. "This is imperative to ensure that the chambers remain operationally ready at all times."

Maust said DigitalBRIDGE can be easily added to legacy systems. "We can connect not only to a fiber network but also a leaky feeder system, which is something that is very unique. Many mines have leaky feeder systems for radio communications," he said. "And with the DigitalBRIDGE Plus+ system, Strata's PoE leaky feeder offering, mines are able to backhaul digital information over an existing leaky feeder cable." Strata also introduced new automated controls in the new chamber. "For example, rather than manually monitoring and adjusting the oxygen levels in the chamber, the chamber will automatically keep the oxygen levels within the proper range," Maust said. "It doesn't depend on somebody regularly monitoring the levels and making manual adjustments anymore." The new design could be optimal for customers with multiple operations that share sections, or ones that expect to relocate chambers at some point.

It is also ideal for customers in areas of the world that can expect to see refuge regulations change in the future. "Russia is currently looking at their refuge chamber regulations," Maust said. Maust stated that the new global chamber is supported by local distributer partners around the world. "We have representation in each region to support the customers locally and configure the chambers to meet the applicable regulations."

Innovative UG Comms Gets Award
During the annual meeting of the Society for Mining, Metallurgy and Exploration in February, Innovative Wireless Technology (IWT) received the Robert E. Murray Innovation Award. IWT CEO Eric Hansen accepted the award and said it is recognition that the team serves a higher calling. "The reason we are doing this is greater than selling products," he said. "Our hope is that we continue to work with our customers and our partners in the mining and mine rescue community to keep making better products that make mining safer and that make our customers profitable and successful. If they are successful, we are successful." The award was given for IWT's line of SENTINEL underground networking, communications and tracking solutions, used on a day-to-day basis for safety and operations and also for mine rescue responses.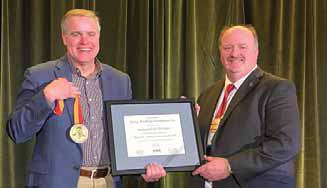 IWT CEO Eric Hansen, right, says the company received the innovation award
for answering a higher calling. (Photo: IWT)

Modular and scalable, SENTINEL is comprised of a series of small nodes that are deployed in a working section or throughout a mine that, combined, create a wireless communications network. It can support wireless voice, text, tracking, atmospheric monitoring, performance metrics, and more, the company reported. The mine rescue solution is specifically tailored to rapid and fast deployment, for when seconds count. Over the years, SENTINEL evolved from a mobile safety system to a comprehensive, enterprise-level network for underground mining operations. "It started almost as an afterthought," Hansen said. "We had this capability we'd developed for warfighting. After the Sago and Upper Big Branch disasters, we saw applicability to support the mining industry." The solution evolved from military technology to underground mining technology.

In underground mines, it proved popular, and feedback showed it could be used for applications beyond just safety and compliance. "The customers wanted a battery-powered solution in their working sections, so, fairly quickly, we put out the SENTINEL Battery Mesh Node, and it was really well received," Hansen said. "More and more our customers started to use this product in a different way, really in a way it wasn't initially designed to be used," he said. "What piqued our interest is that they wanted mobility." Ideal was a node that did not require power but had the same capabilities. "Mobility was a big drive as well as a focus on the SWaP (Size, Weight and Power) of the Solution," Hansen said. Cabled nodes gave rise to mobile battery-powered nodes, and as SENTINEL evolved so did the ways it could be used, Hansen said.

History shows one way is in mine rescue. During his acceptance speech at SME, Hansen spoke about a mine that had deployed SENTINEL and used it after a roof fall crushed the limb of a miner. "The roof fall caused an amputation of the limb, and he was at high risk of bleeding out right there in the working section," Hansen said. The SENTINEL infrastructure survived the fall and "continued to operate, monitor, and provide communications, tracking and situational awareness to the dispatcher post-incident," he said. A fellow miner at the site of the roof fall made a private, secure call and relayed HIPPA and personal medical information to the dispatcher. "The dispatcher was able to look at the situational awareness display of his screen and immediately start dispatching first aid resources and EMTs based on which ones were closest," Hansen said. "In parallel, as the EMTs approached the location where the miner was down, the dispatcher was calling 911 and summoning above-ground resources and first responders."

The SENTINEL-based system gave the dispatcher the visibility needed to order equipment movements to clear the exit path. "He was able to free the travel way to quickly get this injured miner out of the mine as soon as possible," Hansen said. Within six minutes, the miner was loaded onto a truck and being transported out of the mine. "The EMTs on the truck "were calling in vital life signs during the exit from the mine," Hansen said. "For over 10 minutes, those EMTs were on their networking gear, communicating blood pressure, oxygen level, and heart rate," he said. "They had uninterrupted communications." It took 11 minutes to get topside. "As the paramedics flew in, they were amazed," Hansen said. "They had all the information on this injured miner before they even landed," he said. "They were shocked that the mine was able to provide all this information so they could bring all the first response gear they needed."

The story illustrates the importance of innovation in underground communication systems, Hansen told E&MJ. "If they had run a legacy system with a wired backhaul and it got knocked out with the roof fall, they may not have been able to respond to the event at the pace that they were," he said. Instead, "they had mobile nodes in their working sections. Nothing was interrupted in their service, which was a game changer for their response." The story also speaks to the higher calling of the company. "These types of events don't just affect the mine operation, they affect families, they affect kids and spouses," Hansen said. "It still to this day chokes me up when I think about it. Positively impacting lives, families, kids, grandkids and spouses, that makes it all worthwhile."
---
As featured in Womp 2020 Vol 06 - www.womp-int.com