Dominion Sells Diamond Mines to Washington Companies
---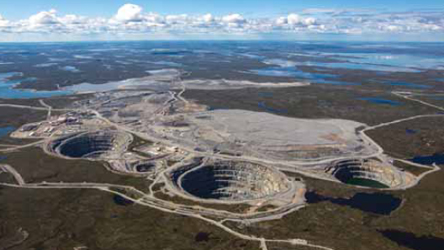 An aerial view of the Ekati mine, which is included in the proposed transaction. (Photo: Dominion Diamond)


On May 22, Dominion Diamond Mines announced it signed a letter of intent (LOI) with an affiliate of The Washington Cos. for the purchase of all of Dominionís assets for approximately $126 million in cash and the assumption of nearly all its operating liabilities. Washington also agreed to provide Dominion up to $60 million in short-term debtor-in-possession financing. Dominion filed for insolvency protection on April 22.

Dominion said it believes the proposed sale ensures it will be able to resume mining operations at the Ekati diamond mine in the Northwest Territories and recall its furloughed workers as the spread of COVID-19 subsides and diamond markets reopen. It also provides assurance that Ekati will continue to operate into the future, Dominion said. Dominion will also be able to pay or meet obligations owed to employees, including pension obligations. Dominion said it expects to emerge from the Companiesí Creditor Arrangement Act process stronger and better able to deliver value to all stakeholders, including the government and citizens of the Northwest Territories.

An entity managed by Washington will serve as the ďstalking horseĒ bidder for Dominionís assets, and its bid will be subject to a court-supervised bidding process. Accordingly, Dominion intends to file a motion with the court seeking approval of the proposed asset sale, which would be subject to termination if Dominion determines it has received one or more higher and better offers; the proposed DIP financing; and bidding procedures for the solicitation of competing offers, either to purchase part or all of the companyís assets or to make an investment in the company. Dominion said it expects the sale process to move quickly and close in the 90 to 120 days.

The transaction will be subject to certain conditions, including Dominion reaching a separate agreement with Rio Tinto regarding the Dominion/Rio Tinto joint venture at the Diavik diamond mine on terms that are acceptable to Washington. If an agreement with Rio Tinto is not reached, then the sale would not include Dominionís interest in, or any liabilities relating to, the Diavik mine. It would only include the sale of Dominionís other assets, including its interests in Ekati and the Lac de Gras Diamond Project, its diamond inventory and other assets.
---
As featured in Womp 2020 Vol 06 - www.womp-int.com