Shandong Gold Will Purchase TMAC Resources
---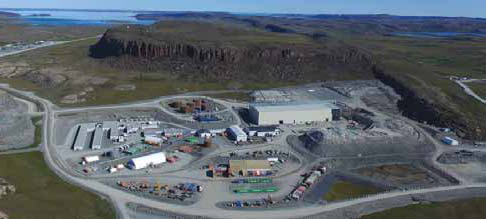 TMAC began producing gold from the Doris mine in 2017. (Photo: TMAC Resources)


Shandong Gold Mining Co. Ltd. (SD Gold) has entered into an agreement with TMAC Resources to acquire all of the outstanding shares of TMAC at a price of C$1.75 per share in cash. The transaction is valued at approximately $149 million and the offer represents a 52% premium to TMAC's 20- day volume-weighted average price as of May 6, according to the company.

TMAC operates the Hope Bay property located in Nunavut, Canada. The property and operations are remote but not isolated, serviced by both a port and airstrip. TMAC began producing gold in early 2017 from Doris, its first mine at Hope Bay, and processed gold at the Doris Plant, which originally had nameplate capacity of 1,000 metric tons per day (mt/d) and expanded to 2,000 mt/d midway through 2018. "Hope Bay is a highly prospective high-grade gold camp, which requires substantial investment to optimize production and extend mine life and maximize the value of the camp to the benefit of all stakeholders," Chairman of SD Gold Yumin Chen said. "We look forward to completion of the transaction and the opportunity to invest in the project for years to come as the generational potential of the camp is unlocked."

Resource Capital Funds, Newmont and directors and officers of TMAC collectively holding approximately 58.6% of the current outstanding TMAC common shares are expected to support the transaction. "The transaction is the culmination of the strategic review process we announced earlier this year," TMAC President and CEO Jason Neal said. "Over the past several months, SD GOLD has completed a significant due diligence review of TMAC, including a site visit to Hope Bay earlier this year. SD GOLD, as one of the world's largest gold producers, has the financial strength, technical capability and long-term vision to maximize the value of the Hope Bay camp."

The transaction will be subject to the approval of at least 66-2/3% of the votes cast by shareholders at a special meeting of TMAC shareholders expected to be held in June. It is also subject to the receipt of applicable regulatory approvals including TSX approval, approval under the Investment Canada Act (Canada), the Competition Act (Canada) and approval by relevant authorities in China.
---
As featured in Womp 2020 Vol 06 - www.womp-int.com