New Shovels Offer Efficiency, Sustainability
The latest releases have comfy cabs, preprogrammed work modes, and the ability to go green

By Jesse Morton, Technical Writer
---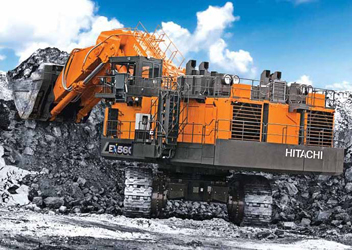 The largest model in Hitachi's new EX-7 Series, the EX5600-7 offers a maximum
bucket capacity of almost 45 yd3.
(Photo: Hitachi)

A number of new Tier 4 Final excavators were introduced recently, including a couple big ones. They offer preprogrammed work modes that target lower emissions, higher efficiency or optimal production. Mechanical upgrades mean better reliability, higher uptime and a longer life. That they launch now could suggest demand is strong. It could also suggest that the suppliers of this highly competitive niche market have to track and mirror each other so tightly that a new release from one almost guarantees the same from others.

Either as an indicator of current market strength, or in spite of the lack thereof, the latest releases speak to the most basic need of operators, higher productivity. No doubt, these machines can move some rock. They also address environmental concerns with a smaller carbon footprint. A glance at the latest headlines from the around space illustrates.

Better Reliability, Durability
Hitachi's new EX-7 Series of hydraulic excavators have several features designed to optimize fuel burn, increase productivity and ensure operator comfort, company engineers explained. "With an array of new technology, they get the job done," Hitachi Mining Engineer Jim Plourde said. Manufactured in Japan and available in the U.S., Canada, Latin America and Brazil, the EX1200-7, EX2600-7, EX3600-7 and EX5600-7 all "feature technologies that reduce fuel consumption costs while achieving superior productivity and enhancing sustainability," Hitachi Mining Engineer Jordan Popp said. The EX2600-7, EX3600-7 and EX5600-7 each come with either a Cummins or an MTU Environmental Protection Agency (EPA) Final Tier 4 (FT4) engine option. For deployment to sites in non-regulated countries, those units come with an engine option that features Fuel Consumption Optimization (FCO).

"For example, on the EX3600-7, the FT4 engine, which also has FCO technologies but uses Diesel Exhaust Fluid (DEF), contributes toward 4% net fluid savings," Plourde said, "while the FCO engine without DEF features a 7% net fluid savings as compared to the EX3600-6." The series offers improved reliability and durability over the EX-6 Series.

Contributing to increased uptime, "contamination sensors in each main pump help reduce the risk of machine faults by detecting excessive contamination and alerting the operator when needed," Plourde said. Popp said the EX3600-7 is "loaded with intelligent features" to maximize uptime. "Machine pins and bushing life is extended with the help of the new auto- lubrication system with a large-capacity grease tank, a new grease pump, an in-line grease filter with breather, and a grease level indicator in the cab help reduce downtime." On each unit, the hydraulic hoses were switched from an arched to an underslung configuration, reducing hose deflection.

Other features were designed to target increased productivity and efficiency. "We packed in so much new technology, like main pump electric regulators on each individually controlled hydraulic pump, that enhance engine power, lower fuel consumption and increase productivity to lower the total cost of ownership," Popp said. Such illustrates that the company "knows the importance of strong productivity and increased uptime." Accordingly, the cab was designed to ensure maximum operator comfort. It has a "best-in-class operation station that offers increased visibility and comfort with ergonomic controls to help increase productivity," Plourde said. "An advanced multidisplay monitor also helps improve the machine's performance and uptime by providing more accurate operating status information."

Optional is the Aerial Angle, which is described by the company as a 360° vision system that helps contribute to jobsite safety. "This customer-favorite system assists with noting equipment surroundings through a display monitor that combines a set of images captured by cameras positioned at different locations around the machine," Popp said. The smallest in the series, the EX1200-7, has an operating weight of roughly 130 tons, a maximum bucket capacity of roughly 9 yd3, a gross power rating of 760 hp, an overall width of almost 18 ft, and a rear-end swing radius of about 16 ft.

As a backhoe and with a 9-m boom, it has a maximum digging reach of roughly 50 ft and a maximum digging depth of roughly 30 ft. As a loading shovel with a 6.5-yd3 bucket, it has a maximum digging reach of close to 38 ft and a maximum digging depth of close to 16 ft. The company describes the EX1200-7 as one of the more versatile units in the series and as an operator-friendly machine. The biggest in the series, the EX5600-7, has an operating weight of 600 tons, a maximum bucket capacity of almost 45 yd3, a gross power rating of 1,540 hp, an overall width of 34 ft, and a rear swing radius of roughly 26 ft. With a bottom-dump-type 38-yd3 bucket, it has a maximum digging reach of roughly 66 ft and a maximum digging depth of almost 16 ft. With a backhoe-type 44.5-yd3 bucket on a 33-ft boom, it has a maximum digging reach of 55 ft and a maximum digging depth of roughly 29 ft.

Company literature describes the EX5600-7 as delivering performance and reliability that is unrivaled in its class. By investing in an EX-7 series excavator, a customer is subscribing to services provided by the Hitachi Mining Applications Group, which focuses on maximizing efficiency, reliability and durability of the equipment sold. "This team supports customers with technical knowledge, jobsite visits and more to optimize their operation," Plourde said. "For example, we've performed operational efficiency studies to identify areas for operational improvement.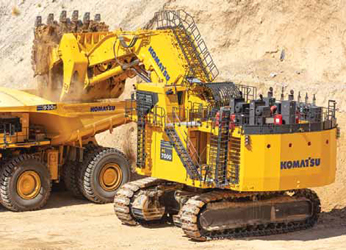 Komatsu's upgraded PC7000-11 features a simplified electrical system that may hint
of the coming changes across the entire range of Komatsu mining product lines.
(Photo: Komatsu)

Hitachi launched the series in April 2019 with the introduction of the EX2600-7 and EX5600-7. The EX12007 was introduced in May, and the EX3600- 7 was introduced in August. The research and development behind the series was driven by customer feedback, Popp said. "Innovation is a collaborative effort, and includes listening to our customers and their needs," he added. Plourde said the series speaks to the company mission of supplying reliable solutions through equipment with bestin- class efficiency, reliability and durability. "We know our customers' bottom line is affected by those key areas, so we focus on continuously improving and developing new technology that will take our machines to the next level."

Bigger Bucket, Lower Emissions
Komatsu reported the new PC7000-11, with a bigger bucket size than earlier models in the series, meets all EPA Tier 4 Final regulations. "We've improved the efficiency and reduced the emissions," Marvin Bistram, marketing manager, excavators, Komatsu, said. Compared to earlier models, the excavator, one of the biggest on the market, offers greater bucket volume, machine health monitoring capabilities, and new safety features. Company literature puts the shovel capacity at 36 m3. "The increase in bucket size for backhoe, as well as for the front-shovel application, is the new standard for the PC7000- 11," Bistram said.

Komatsu offers a range of buckets and wear package options, which means customers can match bucket specs to material density and other properties. The shovel comes equipped with KOMTRAX Plus 2, which provides real-time information on the machine on a color display, the company reported. Data can be stored, or downloaded to an external device for analysis. Wi-fior Orbcomm satellite transmission is optional. "KOMTRAX Plus 2 allows a simplified maintenance process and easier troubleshooting," Bistram said. "The technician is able to precisely monitor the condition of the excavator," he said. "Thanks to the possibility of automated reports, mine management can analyze the operation data for improved fleet planning."

Primary safety features include a design, influenced by EMESRT recommendations, that allows for needed access, includes a 45° ladder, offers optimal visibility, and uses working and service lights to communicate alerts, the company reported. A 360° camera system, KomVision, comes standard. "We have added intelligent safety features to help alert to dangers," Bistram said. "In the event of an impending incident, the operator will receive a warning immediately." The shovel features a simplified electrohydraulic system, the company reported. The number of controllers and relays is half that of previous models. It has a third less circuit breakers, which are now integrated in one spot, Komatsu reported. "We have significantly redesigned the electrical system of the PC7000-11," Bistram said.

An integrated payload meter is optional. "The meter identifies the bucket payload, which increases the productivity of each operator," Bistram said. The cabin is sound insulated, has automatic pressurization and climate control, and features a penetration-proof front window, the company reported. The operator seat is air suspended and heated. Windows are tinted and the joystick controls are electrohydraulic. The unit comes equipped with two SSDA16V159E-2 engines, each with a rated power of 1,250 kW. It has an operating weight of roughly 700 metric tons (mt). The shovel was developed to fill a gap in the PC7000 line, Bistram explained.

"Since 2016, the market has been growing and changing rapidly. An upcoming trend is a rising awareness of sustainability and ecologically friendly solutions," he said. "Thanks to our flexibility and flat hierarchies, we can react almost immediately to customer requirements. Therefore, we launched the PC7000-11. Unrivaled flexibility to market requirements is our daily drive." That flexibility allows the company to also provide crucial support timely. Bistram said this is best illustrated in a case where a customer in the U.S. had to quickly replace a slew ring. "The slew ring significantly exceeded its lifetime and it failed," he said. "The bang occurred on an older model of the current PC5500 machine, and the required version of the slew ring was not available in stock in the U.S."

It would have to come from Germany. "But regular sea transport would have taken up to five weeks," Bistram said. "Regular air support was not an option either." The ring, at 4 m in diameter, was too large for a 747 cargo plane. "We arranged a special air transport by chartering the super-large Antonov cargo aircraft," Bistram said. The unit was unpacked and then repacked to lower overall dimensions. Packing and transport to the Antonov took less than a day. "The flight was rather uneventful, and the plane landed safely in the U.S., where the cargo was eagerly awaited," Bistram said. "After unloading and customs clearance, we transported it to the mine site, and the customer started installation." The effort revealed the company's ability to quickly adapt to circumstances and to take any necessary steps to support the customer, he said. "We exist to support our customers and we take great pride in our performance," Bistram said. That motto will soon be expressed in changes to offerings across the company's product lines. Those changes, Bistram said, would be revolutionary, and can be described as simplifications. "People will recognize the new solutions not as essential steps, like the first fully hydraulic excavator or the most extensive mining excavator, but rather as a preparatory steps to revolutionize daily mining operations," Bistram said. "We promise that, going forward, we will do our utmost to engineer the most technically advanced mining excavators with the same zeal as we do now."

Efficient Production
Volvo Construction Equipment released the EC950F, a 100-ton-class Tier 4 Final excavator best matched with the company's 60-ton A60H articulated hauler. Initial field tests show the unit can load an A60H in four passes with an average cycle time of roughly 25 seconds, explained Ray Gallant, vice president, sales support, North America, Volvo Construction Equipment. "Efficient production is the main benefit of the EC950F," Gallant said.
Volvo's new 100-ton-class Tier 4 Final EC950F features an attachment
management system that can store settings for up to 20 different
attachments. (Photo: Volvo)

Such is made possible by optimized hydraulics, which "deliver constant pressures across each phase of the digging and lifting cycle," he said. "The hydraulic system increases pump power for fast and smooth operation, while the Posicom hydraulic system controls on-demand flow and reduces internal losses in the hydraulic circuit." Features include a boom swing priority valve that adjusts the flow between the boom-up and swing so that truck loading cycle times can be set to working conditions. "This machine also gives flexibility for using different boom configurations and bucket sizes," Gallant said. "Using a short boom and short arm can allow for up to a 10-yd3 bucket, which is five times bigger than an average 20-ton machine."

The attachment management system can store settings for up to 20 different attachments, enabling the operator to preset hydraulic flow and pressure, he said. The unit has preprogrammed work modes that help the operator minimize fuel burn or maximize productivity. ECO mode, for example, comes standard and offers optimized fuel efficiency. "The integrated work modes allow operators to choose the best work mode for the task at hand," Gallant said. The operator can select from Idle, Fine, General and Heavy work mode. "Operator settings allow them to lift quickly and swing slowly to get over a truck, or if they are on a pile or hill to swing more quickly when already above the truck." Uptime is maximized by certain design features to include "the heavy-duty boom and arm," the "strong frame structure, heavy-duty underside plate and floating pins on the bucket connection," and the "optional full-length track guard," Volvo reported. The unit comes with a "low-noise and spacious cab," the company reported. It has "high-visibility handrails, conveniently positioned steps" and anti-slip plates. "For added visibility, it comes fitted with a rearview camera." Options include Dig Assist, and 360° Volvo Smart View; and a Falling Object Guard or a Falling Object Protective Structure.

Company literature states the unit has an operating weight of roughly 100 tons, breakout force of 77,000 poundfeet (lbf-ft), breakout force of 79,000 lb-ft, lifting capacity of 50,000 lbs, bucket capacity of 9 yd3, a maximum dig depth of 29 ft, and a maximum dig reach of 46 ft. Gross power rating is 600 hp. It is roughly 15 ft wide and has a tail swing radius of under 16 ft. The excavator is eligible for ActiveCare Direct, a telematics system, free for a year on new purchases, Volvo reported. The system provides "24/7/365 active machine monitoring and fleet utilization reporting directly from Volvo," the company reported. "If a machine requires attention, Volvo communicates directly with your local dealer so they can respond quickly." Further, "customers receive a report to identify areas to improve worksite efficiency, avoid unplanned downtime, and catch problems before they occur."

ActiveCare Direct "simplifies fault codes and alerts to make the customer's and dealer's jobs easier in terms of maintenance and care resolution," Gallant said. The excavator comes with a limited frame and structure warranty. Gallant said the unit is the evolutionary successor to the EC950E, a Tier 3 unit released in 2016 to Africa, Asia, the Middle East, Russia and former Soviet states. "It proved to be a very capable machine," he said. The EC950F is expected to build on that success, he said. "The goal of every mine is to get the highest production at the lowest cost per ton," Gallant said. "That is what the EC950F is designed to do, particularly when paired with the A60H."

Increased Performance, Durability
Caterpillar announced its updated 6060 hydraulic mining shovel offers improved machine performance, durability, serviceability and operator comfort over previous models. Cat said the upgrades to the popular shovel were in response to market demands. "The 6060 is the leading seller in the 600-mt size class," Dan Harms, product manager, hydraulic mining shovels, Caterpillar, said. "That's supported by the fact that the 6060 and its predecessor models have worked more than 6.3 million hours in mines around the world," he said. "The next-generation 6060 that we are now introducing features improved structures for extended service life. Today's 6060 lasts longer than ever and requires less maintenance."
The updated Cat 6060 offers optimized hydraulics that give 10% better
fuel efficiency over previous models.
(Photo: Caterpillar)

The unit, one of the biggest on the market, has two updated Cat 3512 E engines, optimized hydraulics, heavy-duty structures and undercarriage, and Cat electronics. New engine design boosts reliability, extending the time between overhauls by 10%, the company reported. Engine oil and filter change intervals are doubled to 1,000 hours. The optimized hydraulics give 10% better fuel efficiency over the previous face shovel model. Structural and design upgrades include heavy duty rollers, idlers and track. The frame and shovel structures were redesigned for greater reliability, Cat reported. Slew ring design, with a triple-race roller bearing and sealed internal gearing, extends component life.

The cab, with three seats, offers unrestricted lines of sight and sound suppression, the company reported. The operator seat is pneumatically cushioned, heated and ventilated. Enhanced Motion Control, which improves loading effi- ciency, comes standard. The five-circuit hydraulics design gives control over two cylinder motions, two travel motions, and swing to boost digging and loading efficiency, the company reported. The 6060 has a bucket payload of 61 mt per pass in both face shovel and backhoe configurations. The unit has a gross power rating of 2,256 kW; and offers maximum tearout force of 300,000 lbf-ft, maximum crowd force of 500,000 lbf-ft, and maximum breakout force of almost 400,000 lbf-ft in face shovel configuration. It is a five-pass match with the 794 AC truck.
---
As featured in Womp 2020 Vol 05 - www.womp-int.com