PNG Denies Mining Lease Extension for Porgera
---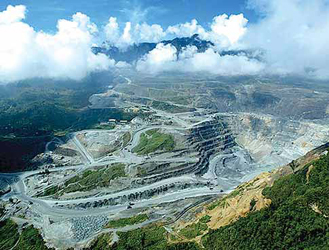 Barrick views statements to the press and decisions regarding the lease for the
Porgera mine as nationalization.


The government of Papua New Guinea (PNG) decided not to extend the special mining lease for the Porgera gold mine. Barrick Niugini Ltd. (BNL), majority owner and operator of the mine, said the decision was tantamount to nationalization without due process and in violation of the government's legal obligations to BNL. Located at an altitude of 2,200 meters (m) to 2,600 m in PNG's Enga Province about 600 kilometers (km) northwest of Port Moresby, Porgera has both open-pit and underground operations. Barrick and Zijin Mining each own 47.5% of the operation, with the remaining 5% interest held by Mineral Resources Enga.

Reuters reported that the PNG government refused to extend the lease citing environmental concerns, and said it will take control of the Porgera gold mine. "The state has every right to refuse the lease, or to extend the lease, and in this instance, because of the environmental issues, resettlement issues and many, many other legacy issues... the state has now refused the lease to Porgera," PNG Prime Minister James Marape said.

BNL said it remained willing to discuss the issue with government officials in the hope of averting what it described as a catastrophic situation for the communities at Porgera and in Enga, and for the country as a whole. The company also said it will pursue all legal avenues to challenge the decision and to recover any damages that BNL may suffer as a result of the decision. It also said it had no interest in discussing the government's proposed transitional arrangements for the management of the mine. BNL's right to the renewal was confirmed by the PNG National Court in August 2019.

BNL applied for the extension of the SML in June 2017 and has been engaging with the government on this matter since then. In 2019, in response to a request from Prime Minister Marape, the company proposed a benefit-sharing arrangement that would deliver more than half the economic benefits to PNG stakeholders including the government for 20 years.

Barrick President and Chief Executive Mark Bristow met with Marape four times to discuss the extension issue and to reaffirm BNL's commitment to a longterm partnership with PNG. Those efforts now appear to have been unsuccessful.
---
As featured in Womp 2020 Vol 05 - www.womp-int.com