Silvercorp Will Buy Guyana Goldfields
---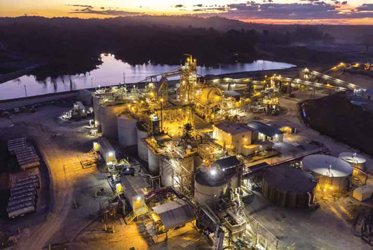 The Aurora mill averages 7,300 mt/d for 2019, up 4.3% from 7,000 mt/d in 2018.


Silvercorp Metals plans to acquire Guyana Goldfields in a cash and share transaction valued at C$105 million (US$75.48 million). Silvercorp said the move would further diversify the company, which already has two profitable underground silver mining operations in China, by adding a gold mining operation in Guyana, the Aurora gold mine.

At the same time, Silvercorp and Guyana Goldfields have also entered into a loan agreement, whereby Silvercorp will lend Guyana Goldfields up to US$15 million. The funds from the interim loan were designated for ongoing operations at the Aurora gold mine.

"With the addition of Aurora to our growing asset portfolio, we believe this is a rare opportunity to leverage our underground mining expertise and strong balance sheet to unlock value for all shareholders through the development of the Aurora Underground Project as well as aggressive exploration programs in a proven gold district," Silvercorp Chairman and CEO Rui Feng said.

Last year, the Aurora operation produced 124,200 ounces (oz) of gold, a 17% decrease from 150,400 oz in 2018. The Aurora mill's throughput for 2019 averaged 7,300 metric tons per day (mt/d), up 4.3% from 7,000 mt/d in 2018. They processed more rock to produce less gold. The Aurora open-pit mine fell behind on waste stripping. Guyana Gold tried to use smaller mining benches and implement a pushback in two phases, one directly above the other. The plan didn't work and the company temporarily suspended waste stripping in favor of ore production from the bottom of the pit.

Guyana Gold knew ore production would be interrupted for four and six months in 2020. Toward the end of 2019, it became clear it would need additional funding to cover the cost of the waste stripping for the open-pit mine and development of the underground mine. They began to explore alternatives.

The deal has been unanimously approved by the Guyana Board of Directors, who recommends that Guyana shareholders vote in favor of the transaction. The combined entity will continue to be headquartered in Vancouver and detailed integration plans will be finalized over the next few months.
---
As featured in Womp 2020 Vol 05 - www.womp-int.com