Miners Fight to Stop Spread of COVID-19
---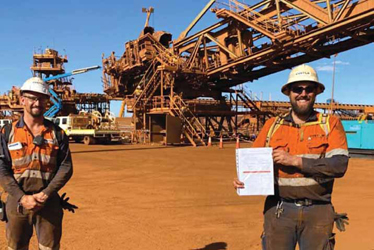 From Moranbah to Newman to Escondida, BHP miners, its contractors and suppliers are
adapting the way they work.


As the first quarter drew to a close, many mining companies were reporting their results and the coronavirus (COVID-19) and its effect on markets and operations were at the forefront of those discussions.

"We have operated safely for the quarter and have achieved another strong operational performance," BHP CEO Mike Henry said. "We have implemented extensive measures across our operations to keep our people and communities safe from COVID-19. Working closely with relevant authorities and medical experts, strict travel and working practice arrangements have been established, including deferral of non-critical activity on our operating sites to support social distancing, revised rosters to reduce people travelling to site, more intensive site cleaning and health checks. I am encouraged to know that the small number of colleagues from our 72,000-strong global workforce who have tested positive for the virus have recovered or are recovering well."

Henry said BHP delivered strong performance across its portfolio despite COVID-19, the impacts of planned maintenance and wet weather in Australia. He said Western Australia Iron Ore achieved record year-to-date production, while Escondida production also increased supported by record concentrator throughput.

"While demand in China has strengthened in recent weeks, we expect other major economies, including the U.S., Europe and India, to contract sharply in the June 2020 quarter," Henry said.

Similarly, Anglo American Chief Executive Mark Cutifani said that most of Anglo's sites around the world are continuing to operate, with an emphasis on safety reflected through appropriate health, hygiene and distancing measures. "We are taking all necessary steps to ensure the security and integrity of our assets for the long term, preserving our ability to swiftly return affected operations to normal levels of production when appropriate," Cutifani said.

The South African lockdown has signifi- cantly impacted diamond production at De Beers, production will likely be 7 million carats less than expected. At the company's copper operations in Chile, Los Bronces and Collahuasi, production is at normal levels despite the workforce being reduced, by 50% and 40%, respectively, to ensure adequate de-densification and health screening measures. Overall performance for platinum group metals is improving and Anglo expects to achieve full production by year-end. Kumba iron ore in South Africa is operating at 50% capacity. The company's metallurgical coal operations in Australia are continuing at normal levels despite revised rotations to manage social distancing and the impact of interstate travel restrictions. Thermal coal exports in South Africa continue with half the workforce. Production expected to progressively increase through May and June. El Cerrejón in Colombia has been placed on temporary care and maintenance. The Barro Alto nickel operation in Brazil is continuing at normal levels with appropriate protocols in place to ensure social distancing.

Anglo has implemented an extensive health awareness and support program called "WeCare," specifically to protect the health and wellbeing of its employees and full-time contractors, and also measures in support of host communities. As part of this program, they are helping colleagues better understand how to protect themselves and others from catching the virus, monitoring their health to pick up early symptoms, and to manage their health if they test positive for COVID-19.

Russia's biggest metal and mining company Norilsk Nickel recently donated $143 million to combat the spread of COVID-19 and to protect the health of its workers. The funds will provide medical equipment, medicine and personal protective gear for local healthcare facilities, the company's operating sites and employees, as well as extend additional support to employees and to small- and medium-sized enterprises (SMEs) in Nornickel's regions of operation.

"Norilsk Nickel is dealing with this crisis with a sufficient safety margin to ensure the maximum possible protection for our workers and all residents of the cities hosting our enterprises," said Vladimir Potanin, Norilsk Nickel president and Russia's wealthiest businessman. "Viruses, no matter how dangerous, come and pass, but we must never lose sight of our main asset: our talented people. I have ordered additional measures to support our workers and residents in our cities. I am certain that together with our employees, the residents of our cities, as well as with the whole country, we will overcome this challenge successfully."
---
As featured in Womp 2020 Vol 05 - www.womp-int.com