Abrasion-resistant Materials Protect High-wear Zones
New kit allows miners to prolong replacement times and increase availability

By Steve Fiscor, Editor-in-Chief
---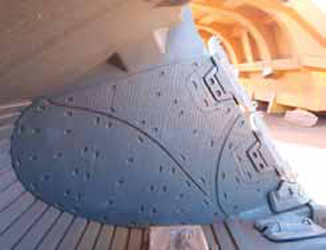 This shovel bucket has been rebuilt with CQMS Razer's PACplate.

Nyrstar's Mining is a constant battle that pits steel against rock. Whether it's the dipper on the shovel crowding the face or the tray of the haul truck receiving the load, the rock slowly grinds the steel surface. Ultimately, steel loses the battle in its sacrificial role and will need to be replaced, which can be kind of tricky depending on the location of the high-wear area. Obviously, the ground engaging tools (GET) that surround the mouth of the dipper see the most action in the pit. Over the years, GET have improved as engineers and metallurgists sought to improve performance. In addition to the teeth, the "cheeks" of the dipper see a fair amount of wear as well. A failure in this area could lead to additional downtime for those that are unprepared.

More recently, the trays on the haul trucks have attracted attention. Readers might recall the rubber liners announced last year at bauma. This year, the steel industry is responding with solutions that extend equipment life and increase the payload by a few percentage points. The problems, however, don't end in the pit. High wear areas can be found anywhere along the process stream from the dump point through the crushers. Finding those areas and applying properly engineered products could save an operation from prolonged hours of downtime.

Australian Solutions Applied in Canada
Across commodities, CQMS Razer (CR) agrees, seeing a great need for wear protection on capital equipment exposed to high abrasion and high impact applications. This include chutes, crushers, truck bodies and buckets. The most varied use of its plate, block and wear products occurs on excavator buckets. Miners choose CR's PACplate solutions and Laminate wear buttons and bars for their buckets and equipment because it extends the service life of the floors and walls, protecting and reducing wear on the primary capital equipment. All of the CR's plate, block and wear solutions are specifically designed and strategically placed across the assets to ensure the life expectancy of equipment is met.

When it comes to wear, it's not one size fits all. CR, for example, offers custom- wear package options, based on the mine's needs and requirements. These can include CR PACplate products as well as high wearing consumables such as Laminite Chocky Bars, Buttons and Skid Bars for additional protection. With the recent acquisition of Berkeley Forge, CR customers now also have access to the field-proven Saberlock Wear Protection solutions including the Saberlock pads, which can be used as an entire wear package for buckets. Recently at an iron ore mine in Western Australia, CR commissioned a PACplate wear package solution on a haul truck tray. The result was an extended tray life that now matches the life of the truck itself. The data gathered on this solution showed a life expectancy of 13 years.

CR recently entered into a collaboration with an independent materials consultancy group based in Vancouver, Canada, to develop a solution for breaker screens at a site in Fort McMurray. This collaboration saw solutions created in Newcastle, Australia, and fitted on a site in Canada. The CR Laminite product was at the core of their breaker screens. Previously, the site had experienced on average 30-days-per-year downtime through maintenance and repairs due to their screens. After the installation of the Laminite breaker screens, the site was able to reduce the downtime to five days per year. The Laminite screens lasted 24 months without the need for any major repairs.

CQMS Razer has also helped customers reduce weight in their buckets from switching their wear packages from a thicker Q&T plate to a harder wearing, thinner overlay plate (PAC Plate), reducing their maintenance and downtime on site, while keeping the structural integrity of the bucket intact. Combining its knowledge and industry experience with Berkeley Forge has delivered fantastic benefits for miners, according to CR. The engineers have worked together to improve the stabilization of the adapter design to reduce lip maintenance. A bucket repair shop recently confirmed that the CR-Berkeley lip required two weeks less maintenance work when compared to other similar products.

CR has been at the forefront of recent developments and digital technology integration in the mining industry including RazerOptics, which enables mine sites to measure wear rates of plate, block and wear on their equipment in real-time. The innovation highlights potential problem areas before they arise and reduces risks of underlying capital equipment being unprotected and damaged. With RazerOptics, operators can use real-time data to predict and schedule replacement of wear products during scheduled downtimes rather than waiting for it to fail and cause unscheduled shutdowns. This innovation has given a new lease of life on wear products and allows us to measure and quantify the value wear products bring to the solution.

Smarter, Lighter Solutions
Using Hardox wear plate and Strenx performance steel from SSAB, Australia's Taurus Mining Solutions has managed to lower the weight of its mining buckets, increasing the capacity of the buckets by up to 10% while still keeping their durability. "It's a good mix because our idea of coming up with innovative products was to have lighter and stronger parts that are hard-wearing," said Oliver Sabu, one of Taurus's owners. The result is a mining bucket that weighs 1 ton less compared to the previous model. This helps the mines achieve four-pass loading in truck-shovel applications. It also means improved bucket life and decreased downtime. As an example, a mine site in northern Queensland, Australia, is currently using a bucket and tray combination that improves productivity by 10%-18%.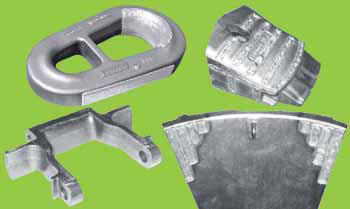 Columbia Steel offers many of its replacement parts with Xtend Process high
hardness carbide facing.

The Taurus buckets are mainly used for loading and transporting coal and overburden. The company's biggest bucket is for its Hitachi 5600 excavators, which have a 36-m3 capacity. For the bucket's wearing areas, Taurus mainly uses Hardox 450 steel. The sheet sizes vary. Sidewalls are usually around the 25-mm range and the cheeks around 80 mm to 100 mm. "Inside the bucket, we use Hardox wear plate on the floor and sidewalls," said Travis Van Rooy, fabrication and workshop leading hand at Taurus. "On the outside, we use them on the floor as well, and if it's required, on the external of sidewalls and cheeks."

Some Strenx performance steel is also used in the bucket, at high-stress points such as the hitch and the torque tube areas, to withstand the weight of the bucket and the operational forces of the machine. The use of Hardox and Strenx steels also benefits Taurus's production process by improved fabrication times and less pre-heating. "When designed right, and processed right, and all the parameters are maintained, the weldability of Hardox is excellent," Sabu said. "The strength of the material is without comparison, and it's always consistent, which are the reason we use SSAB steel in our buckets."

SSAB reported that a couple of mines are planning to rebuild haul truck bodies with a new, tailored Hardox truck bed liner kit in 2020. The kits consist of high-end, high-hardness Hardox grades, including Hardox 450, Hardox 500, Hardox 550 and Hardox 600. Using wear-resistant steel grades in the 550 and 600 Brinell hardness range, such as Hardox 550 and 600, would be a first for the mining business. Using a harder, more consistent steel could reduce the weight of the trays by as much as 5,000 lb. In addition to increasing the payload by 2.5 tons, SSAB believes new kits will extend the service life by 30%-50% (1.5 years) compared to an AR450 liner kit.

Modified Replacement Parts
After extensive development and use in the field, Columbia Steel offers many of its replacement parts with Xtend Process high hardness carbide facing. The company said its field studies confirmed that Xtend bi-metallic parts offer significant advantages in many applications, which include: • Increased total wear life; • Reduction of localized wear; • Longer maintenance of original profiles; • Superior performance and production; • Better metal utilization; • Reduced downtime of changeouts; and • Lower cost per ton of material processed.

When its H series martensitic high strength steels are used as the basis for the Xtend process, Columbia said the base casting alloys may range from 286 to 512 Brinell Hardness, with surface hardness up to 700 Brinell Hardness in the high-chromium white iron overlay. When applied to Columbia L and R series of manganese steels, the base alloy will retain its toughness and ductility in the 200 Brinell Hardness area, while the Xtend overlay can be delivered at up to 575 Brinell Hardness with the potential to work harden to an even higher hardness. When the manganese steel is eventually exposed due to wear, it can work harden up to 500 Brinell Hardness depending on the application.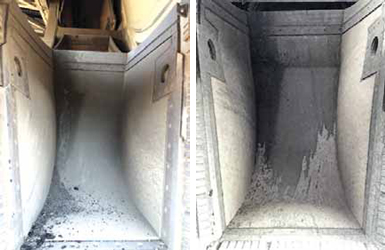 The images above show two mining shovel buckets: one lined with newGEN's PureGRAPH
enhanced rubber — known as Armour-GRAPH — and the other with a standard rubber wear
liner. The latter shows clear signs of wear at the rear of the bucket.

In controlled, every-other-tooth tests against other brands of dragline, dipper and loader teeth, Columbia Xtend points have demonstrated 50% to 100% longer wear life, yielding a net cost-effective advantage of 25% to 50%. Depending on the application, Xtend overlays may cover only a small area of the tooth point, or the entire tooth surface.

Graphene Wear Liners
After 12 weeks of full-scale trials, a new wear lining material, developed by First Graphene and its partner newGen Group, is demonstrating how graphene is transforming the properties of conventional rubber products. The graphene-enhanced rubber wear liners are being tested in mining shovel buckets at a major iron ore mine in Australia, where they are being used alongside standard wear lining materials to demonstrate the advantages of graphene additives. The results after 12 weeks have been impressive, as Craig McGuckin, managing director of First Graphene, explained, "Although the trials are continuing, the initial results at the half-way stage indicate that there will be a considerable reduction in wear rates; we're estimating an improvement of at least 100%, which will result in major cost savings for mine operators." The addition of graphene to elastomers can have a dramatic impact on their mechanical and physical properties. This can include, for example, an improvement of up to 500% in abrasion resistance, an increase in tensile strength by 40% and tear strength by around 50%. These enhancements can be achieved with just a 1% blend of graphene by volume, to the rubber compound.

Impact Wear Panels
In March 2019, India's Hindustan Zinc Ltd. (HZL) confirmed that its installation of FerroCer liners had completed about 16 months in operation and has withstood nearly 2.5 million mt of lead-zinc ore conveyed through the U-13 tripper chute after the primary crusher at HZL's Rampura Agucha mine. In other words, the mine had experienced precisely zero wear-panel related downtime in 16 months. That is a significant improvement on the previous 40-mm-thick manganese steel liners, which had a life span of only 23 to 25 days. Before FLSmidth suggested FerroCer, one of the challenges HZL faced was the high wear in the material transfer chutes. The material handling system needed to be frequently shutdown so the worn-out liners could be replaced with new manganese steel liners, which weighed about 50 kg each. Because of the elevated location of several chutes, replacement of the liners required days of safety preparations to allow workers inside the chutes to handle the liners.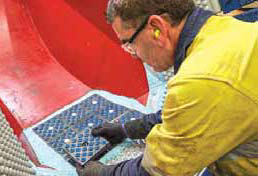 A technician installs FerroCer wear panels. Each panel has a
set of abrasion-resistant ceramic inserts enclosed in a matrix
of malleable steel.

FLSmidth inspected the chutes at Rampura Agucha in June 2017 and recommended FerroCer wear panels to address the high wear issues in the material handling chutes. Each panel has a set of abrasion-resistant ceramic inserts enclosed in a matrix of malleable steel, which ensures only the top surface of the insert is exposed to material impact. The sides of the inserts are tapered within the matrix, keeping them in place and preventing material particles and fluids from damaging the panels. "FerroCer has reduced maintenance time due to the much-longer replacement cycle, eliminated possible damage to the mother plate and spillage of material due to the highly abrasive nature of ore, and significantly reduced safety hazards," said Praveen Bhardwaj, assistant general manager (mechanical), for HZL Rampura Agucha. HZL now intends to install FerroCer impact wear panels in all the high impact wear locations.

Ceramic Hose Extends Wear Life
Weir Minerals recently launched its newest offering in the slurry transportation space: Linatex ceramic hose. The ceramic hose combines Linacure rubber with high-quality, 92% alumina ceramic tiles, providing a robust option for operators dealing with abrasive minerals. Linatex ceramic hose is suitable for sites handling hard. "It's the quality of our rubber that really sets us apart from the competition, providing superior penetration of the tile layer and preventing tiles from dislodging during operation. To maximize resistance, Linatex ceramic hose also utilizes hexagonal tiles, which are more resistant to dislodgment and wear than traditional square patterns," said Rod Dawson, regional rubber applications manager for Weir Minerals Australia.

"For a new product to be able to fall under the Linatex brand, it must provide the very best in performance. We've put a lot of energy and resources into developing a hose that meets the demands facing miners around the world, and I can't wait for more customers to see the results for themselves." Through exhaustive testing, the tile size has been optimized, ensuring they're large enough to withstand severe abrasion but small enough to reduce cracking.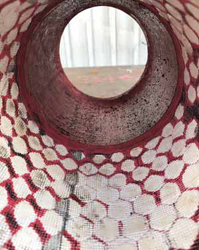 An inside view of the Linatex ceramic hose
shows an optimized tile pattern

The tiles are available in 3-, 6- and 12-mm-thick configurations to suit a wide variety of applications, with half-tile options to ensure optimal resistance in high-wear areas around the flange. Both Linacure 40 and Linacure 60 rubber can be used with the new ceramic lining, which can be deployed to reinforce the high-wear outer edge of a bend. The Linatex ceramic hose also supports the Linatex Wear Indicator System, which can be connected wired or wirelessly, where it can transmit hose data up to 1.5 km by radio. "We've been making hoses for 40 years. Over that time, the Linatex range of hoses has grown to include a variety of solutions that meet the most demanding slurry transport applications. Linatex ceramic hose complements our industry-leading range of slurry hose liners, such as Linatex, Linagard OSR and bromobutyl," said Mark Doyle, global product manager-rubber, spool and hose for Weir Minerals.
---
As featured in Womp 2020 Vol 03 - www.womp-int.com