Donlin Gold Receives Key Natural Gas Pipeline Permit
---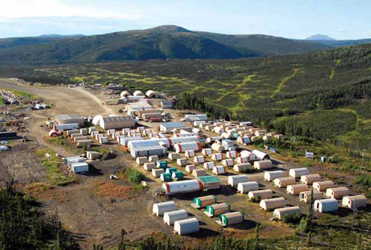 Alaska's Donlin gold camp (above) is one of the largest, high-grade, open-pit gold
projects currently under development. (photo: NovaGold)


Newmont The Donlin gold project in southwest Alaska has received the final state right-of-way authorization for a buried, 316-mile-long, natural gas pipeline to support power generation at the project site. The proposed pipeline would be 14 inches in diameter and typically buried 3 to 6 feet deep, providing a reliable natural gas supply regardless of weather or season.

Donlin Gold LLC, the operating company for the Donlin project, is an Alaska-based company owned equally by NovaGold Resources and Barrick. The project is located near the Kuskokwim River about 280 meters (m) west of Anchorage and is one of the largest, high-grade, open-pit gold mine projects currently under development anywhere in the world. The project has approximately 541 million metric tons (mt) in measured and indicated mineral resources, inclusive of proven and probable mineral reserves, at an average grade of 2.24 grams/mt gold, for a total of approximately 39 million ounces (oz) of contained gold. Once in production, the Donlin mine is expected to produce an average of more than 1 million oz per year (oz/y) of gold over a 27-year mine life.

The Donlin property has substantial exploration potential beyond the designed footprint, which currently covers 1.9 miles of an approximately 5-milelong gold-bearing trend. Current activities are focused on state permitting, optimization work, community outreach, and workforce development in preparation for construction and operation of the project. The Alaska Department of Natural Resources issued the Donlin pipeline permit on January 17, 2020. Three days later, on January 20, the department also issued final authorization of the easement, land leases, land use permits, and material site authorizations for the proposed transportation facilities and easement for a fiber optic cable on state lands.

NovaGold President and CEO Greg Lang said, "We are very pleased to see the issuance of key transportation and energy infrastructure approvals for Donlin Gold … These achievements would not have been possible without the dedication of the professionals at the Alaska Department of Natural Resources to advance permits and approvals for the project in a transparent as well as environmentally and socially responsible manner with strong adherence to governance best practices. "We are proud of the work supporting the issuance of these permits carried out by the teams at Donlin Gold, Barrick and NovaGold, and appreciate the support and contributions from our Native Corp. partners, Calista Corp. and the Kuskokwim Corp," Lang said.
---
As featured in Womp 2020 Vol 03 - www.womp-int.com