Goncalves: Cliffs Finishes 2019 on Exciting Note
---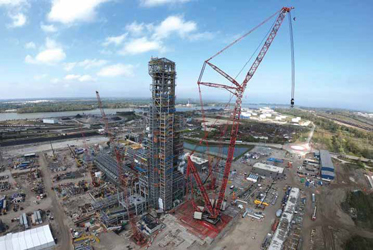 Cleveland-Cliffs Inc. makes signifi cant progress at advancing the Toledo HBI project to
an ahead-ofschedule completion.


Full-year 2019 consolidated revenues were $2 billion, compared to the prior year's revenues of $2.3 billion. Cost of goods sold were $1.4 billion, compared to $1.5 billion reported in 2018. For the full-year 2019, the company recorded net income of $293 million. This compares to net income of $1.1 billion recorded in said. "With this transformational acquisition, we will become a leading supplier of the most sophisticated carbon and stainless- steel products to high-end clients, including engineered parts to the automotive industry as a Tier 1 supplier to several different models of cars, SUVs and trucks. On top of that, we will be totally self-suffi cient in pellets and rely only on ourselves to get our iron ore feedstock, while preserving our ability to supply customized pellets to other steel mills, as we have been doing so successfully for a long time. The performance of the new Cleveland-Cliffs will be less subject to the volatility of commodity indices and more reliant on fi xed-price contracts, which will provide us with much more predictable free cash fl ow generation."

In 2019, Cliffs also made incredible progress in advancing its Toledo HBI project to an ahead-of-schedule completion, Goncalves explained. "We remain on track to start producing and selling this highly sought-after product to the marketplace in the fi rst half of this year," Goncalves said. "With both the upcoming completion of the acquisition of AK Steel and the Toledo HBI plant coming online, 2020 will be a transformational year for us, and we can't wait to deliver on all of the potential Cleveland-Cliffs has in store."

Pellet sales volume in the fourth quarter of 2019 was 5.8 million metric tons (mt), a 10% decrease when compared to the fourth quarter of 2018. The decrease was a result of reduced customer demand, partially offset by intercompany sales to the Toledo HBI plant. Realized revenues were $91/mt in the fourth quarter of 2019. "The quarter's results were negatively impacted by an unfavorable true-up of previously sold volumes due to lower pellet premiums and HRC prices, as well as unfavorable customer mix," Goncalves said. Fourth-quarter cash cost of goods sold rate of $64/mt decreased 3% compared to the prior-year quarter, as a result of lower royalties and employee-related expenses.
---
As featured in Womp 2020 Vol 03 - www.womp-int.com