Newmont Reports Largest Gold Mineral Reserves in Company History
---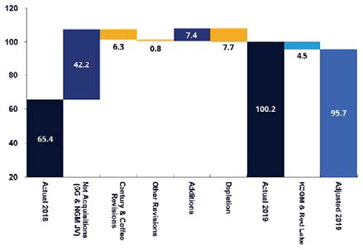 The above chart shows where Newmont saw gains and losses in reserves for 2019.
(Image: Newmont)


Newmont Corp. reported a 53% increase in gold mineral reserves for 2019. Reserves stood at 100.2 million attributable ounces (oz) for 2019 compared to 65.4 million oz at the end of 2018. The company attributed this to the acquisition of Goldcorp and creation of the Nevada Gold Mines joint venture, as well as "ongoing exploration success."

President and CEO Tom Palmer said, "Our reserve and resource base will support stable production of more than 6 million oz per year for decades to come." Most (88%) of the company's gold reserves are located in the Americas and Australia. The reserve base has an operating reserve life of more than 10 years and average reserve grade of 1.05 grams per metric ton (mt), the company said.

Newmont re-adjusted the year-end reserve figure below the 100 million oz mark to 95.7 million oz after accounting for the KCGM and Red Lake divestments. Newmont completed the sale of KCGM in January and said it expects to close on the divestment of Red Lake in the first quarter of 2020. Combined, these sites represented approximately 4.5 million oz of gold reserves and 2.6 million oz of measured and indicated gold mineral resources.

The company added 42.2 million net oz of gold reserves through its acquisition of Goldcorp and formation of the Nevada Gold Mines (NGM) joint venture. The Coffee project and Dome pit as part of the Century project were reclassified from mineral reserves to mineral resources, due to feasibility study requirements, the company said. The project revisions were 1.7 million oz and 4.4 million oz, respectively.

Notable reserve additions for the year included 2.5 million equity oz from NGM, 1.5 million oz at Tanami, 70,000 equity oz at NuevaUnión, 500,000 oz at Merian and 400,000 oz at Ahafo underground.
---
As featured in Womp 2020 Vol 03 - www.womp-int.com