Nystar Rises to Constellation of Champs
In 2019, a mine rescue team from a Tennessee zinc operation went from 'getting killed to killing it' at the biggest competitions in the U.S.

By Jesse Morton, Technical Writer
---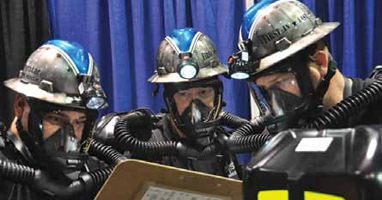 With their game faces on, from left, Nyrstar's Philip May, Wayne Vineyard and Adam Whittaker
work through a problem. The Nyrstar team won the field at three regional competitions in 2019.
(Photo: Nyrstar)

The next investment Nyrstar may have to make in its east Tennessee mine rescue team could be a new trophy cabinet. The old one, filling a corner in the small company office building in Strawberry Plains, Tennessee, USA, is at maximum capacity. And it has yet to gather dust. That's because the trophies and plaques filling the display are almost exclusively from within the last couple of years. The big ones are from 2019. The mine rescue program, the baby of Bill Hart, manager of Coy mine, continues to gain steam and attention. "We've come out of nowhere and we've been noticed," Hart said.

The success has made the team a center of gravity of sorts, drawing attention from a range of operators and organizations within the mine rescue space. The Mine Safety and Health Administration (MSHA) now regularly extend invites to attend events and compete. Academics reach out for opportunities to meet, discuss the latest and "pay it forward and provide a service," Hart said. "We've seen a bit of that lately, those sorts of things coming our way." Therefore, it was only fitting for Hart and his A-Team to host E&MJ to talk about the parabolic rise of the program. In the interview, sports movie clichés were bandied about flippantly. And duly so, for the tale is, after all, about an underdog. It wasn't so long ago that the program didn't even exist. Instead, their team was barely MSHA compliant.

Origins
Five years ago, joining Nyrstar's East Tennessee Mine Rescue team meant little more than a free lunch and some on-theclock downtime. The purpose of the team was to maintain compliance with federal standards. Typically, it would compete in the nearest regional competition, but otherwise it was basically invisible. In early 2015, Hart started with the company as the east Tennessee operation's health and safety manager. Hart had a background in coal. In 2006 and 2007, he worked on the mine rescue program under safety expert and mine rescue hall-of-famer Darren Blankenship at the Pinnacle mine in Pineville, West Virginia. The program there was viable, the team was competitive, and the experience was formative, Hart said.

"I saw how mine rescue was run in the coal industry, which was at a totally different level than what I was exposed to here initially," Hart said. "At Pinnacle, I was exposed to what good looked like." Hart said he seized the opportunity at Nyrstar to build a program, set higher expectations and raise standards. He stayed in touch with and sought advice from Blankenship. Hart also worked to gain the full support of the operation's general manager, Archie Eksteen, who had a background in mine safety. "I took full advantage of that," Hart said.

Embracing the change, Eksteen launched a safety initiative. With it, the operation would seek to become "the safest, most productive underground zinc mine in the world," Eksteen told E&MJ. "To reach this goal, we have to be the best in many areas and that includes mine rescue," he said. "Think about it. Where would you rather work? At an operation where you have to fend for yourself in an emergency, or at a mine where you know someone's got your back, no matter what type of emergency it is?" Eventually, Eksteen would set the goal "that we would win first place in a mine rescue contest before December 2019," Hart said.

It was an ambitious initiative. Team morale was down. The talent pool drew from three mines and a mill, and team members would have to take on responsibility above and beyond that of their normal jobs. That additional responsibility would include classes, workshops, practice and study that oftentimes would occur on personal time. "There was a need not only for more in-depth mine rescue training but technical rescue as well," Hart said. "We had no rope rescue, advanced medical training or vehicle extrication capabilities," he said. "We didn't have confined space capability or firefighting experience. We had to start focusing on all that."

In 2016, the mine rescue coordinator resigned. Hart hired Brian Millington, who, though young for the position, had worked his way up in the company and had a range of applicable experiences, to include training as a civilian emergency medical technician. The hire was propitious. Blankenship told E&MJ Millington became "the glue that holds the group together." To improve team morale, Hart began looking at ways to make team membership more appealing to personnel, to retain the talent, and to incentivize growth. Previously, "the mine rescue guys were given a little bit of hourly monetary compensation, an additional $0.33 per hour," Hart said. "I thought they needed to see the benefits of being in a program. We restructured the financial aspects of the program and did two annual payouts, around July 4 and Christmas."

With the Millington at the helm and a bigger kitty came a competitive selection process, which included interviews and testing. "They go through a formal process to actually be accepted on to the team," Hart said. Membership brought expectations and standards. "There is an expectation that you are the cream of the crop, and you have to act like it at your job and you have to lead the way in safety and do things that people are normally reserved in doing," Hart said. "You have to take the lead."

Hart said the selection process and expectations "weeded out" team members who were only in it for the downtime. "Some people found that it was a little more than they bargained for and they ended up turning over and becoming a former mine rescue team member." Philip May, trainer, mobile equipment, said the selection process "trimmed the fat." The team captain, Wayne Vineyard, described membership on the old team as a "revolving door. But everybody on it now seems to be dedicated."

Training
Nyrstar provided Hart with funds to buy new gear and to field up to three teams instead of just one. The program had the support of management, who would find cover for personnel who would sometimes be away at training and competitions. In Q4 2016, a new training regime launched. It started with a week with Blankenship at the National Mine Health and Safety Academy in Beaver, West Virginia. "That was something that the rescue team had never done," Hart said. "We took advantage of the academy to get our guys some higher-level training than what they had been exposed to here previously." That set the tone, and the team has been back annually for similar training.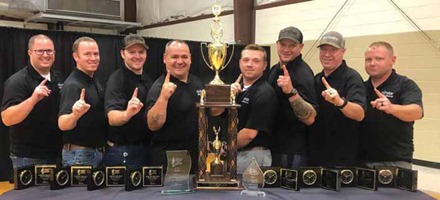 Nyrstar's 2019 win streak included three regional competitions. Prior to 2019, the team had not won a
regional contest. Consultant Darren Blankenship attributes the success to hard work, team cohesion and
leadership. (Photo: Nyrstar)

In Q1 2017, at the behest of Millington, the team underwent emergency medical responder training, a six-week course with classes often occurring on what would previously be considered personal time. That culminated with state and national tests and certifications. The training, in its intensity and advanced subject matter, was a radical departure from what the previous team underwent, Anthony Calk, mine engineer, Coy mine, Nyrstar, said. "That was the first paradigm shift."

Once certified, the team was on par with local responders, Michael Robb, exploration geologist, Nyrstar, said. "That way, beyond responding to mine emergencies, we can help out in the greater community as well." Advanced certifications became possible and a goal for some, Evan Gulling, senior mine geologist, Nyrstar, said. "Some of us are specializing," he said. "Some are naturally becoming more advanced in particular areas."

Next up was rope rescue training, which entailed 40 hours over the course of two weekends. Team members became certified technical rope rescue technicians. "We did low-angle and high-angle training with that," Calk said. "We wanted to have enough rope to get down to the bottom of our deepest shaft." High angle references rappelling. "We have the ability to do 2,000 ft," May said. "We can tie two ropes together and we can do 4,000 ft."

Hart said the certification is important "because we do shaft mining at all three of our operations where you have potential for a guy to be trapped or suspended from a harness." Previously, "we didn't have a good way to get to somebody in the event of an emergency," Hart said. "Now, I am 100% confident if we had someone get into a bad spot that within 15 minutes we could get there, rappel down and save his life." Low angle refers to steep slopes and embankments. The program has gear and personnel for three rope rescue teams. With the certification, the team can help out in nonmine emergencies. In 2018, the team used the rope rescue gear and skills to pull someone out of a sinkhole in a neighboring county. The team also responded to a call about teens trapped in a cave.

Since receiving the certification, team members have taken additional courses and been recertified. The team plans to send three people per year to get advanced certifications. At the same time, hands-on mine rescue training with Blankenship accelerated and intensified. Gulling said Blankenship was instrumental in shaping thought and discipline. "He brought a lot of experience from coal and changed the way we thought about things and how we go about things," he said. "That is one of the reasons we are more successful compared to other teams." Blankenship mentored Millington who could then work with the teams. "I thought I knew a lot about mine rescue, but when I first met Darren I found out I didn't know anything," Millington said. "With Darren, I could see really quick I had a long way to go."

Blankenship would come into town quarterly and work with the team, sometimes for a couple days, sometimes for a week. In Q3 2017, Millington brought in the 16 mine rescue team members and gave a written test based on the written exams he had seen previously in contests. "The seven that scored the highest would be on the first team," Millington said. "The next seven would be on the second team." From that process, a "brand new team" emerged, which "was predictable," Millington said. The partition "didn't go over well with some that were put on the second team," Hart said.

Some harbored beliefs that seniority would be of elevated value, Millington said. "I wasn't looking at seniority," he said. "I was looking at who are the best possible people to be successful." Vineyard said that a few took it personally. They soon got over it, he said. "Everything is good now." Those who made the first team, dubbed the A-Team, felt "honored, but knew they were going to have to start performing," Vineyard said. May said on the day he was offered the position, he felt elated but had concerns. "I knew the commitment it was going to take," he said. "I'm not the type of person that is going to do anything halfway. It is all or none."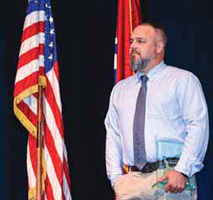 Mine manager Bill Hart receives a plaque at the
Southeast regionals in Franklin, Tennessee, in 2018.
Nyrstar helped fund the contest, where the team
'got smoked,' Hart says. (Photo: Nyrstar)

Making the team, the attention it brought, and the competitions that followed, brought about a personal change of focus, May said. "You've got a lot of eyes on you every single day, not only from management but from coworkers," he said. "Aspects of my life and job that I didn't pay attention to were amplified." Hart said the A-Team was the best "we had to offer. There was no buddy system, no friends. It is what it is." He also said that, going forward, A-Team members could be cut for work site safety infractions. "I'm not going to have any negativity associated with this program."

Millington said nobody aced the test and that the scores revealed that team members would have to study more on personal time. "The training that we do, we do it here," he said. "We don't have time here to study or to read the books. They have to do that on their own time." And then, Millington said, "In 2017 and 2018, we started venturing out and doing contests."

The Contests
Prior to 2017, Nyrstar East Tennessee had only competed regionally. Gulling suggested the team attempt the Missouri Mine Rescue Contest, in Rolla, Missouri, in September 2017, where, he said, previously the competition had been intense. In the contest, the wheels came off, and the team finished in the bottom 25%. "We got smoked," Hart said. "It was a wakeup call."

May described the contest as "outside of our norm." The team was reliant on a communication system, based on radios tethered to a cable, that failed. "It failed quite miserably. I almost had a nervous breakdown," he said. "I took it personal, getting beat down, and lost my cool." Millington said the event laid bare "all of our weak areas." Identified weaknesses included teamwork, mapping and communications. Subsequently, three members of the team were cut and replaced with people May referred to as "the college kids," aces at problem solving and test taking. Feeling the heat, Hart told corporate it was "still early" in a "three-to-five-year plan" and pushed for continued support and funds.

More training with Blankenship followed. Blankenship and Millington sought to bring team members out of their comfort zone to inspire different thinking patterns. Blankenship said the training Nyrstar requested and underwent was diverse. "On several occasions, they would train for competitions, working several competition scenarios, then participate in other mine rescue trainings not related to competitions." Vineyard said that with 20 years of experience in mine rescue, he was "reluctant to change." May said such resistance was quickly broken down by leadership. "Blankenship forced his will," May said. Roles changed. Swim lanes were defined for efficiency. Equipment was upgraded.

The next competition was the Mine Rescue Skills Contest, hosted by Blankenship and the West Virginia Mine Rescue Alliance, at the academy in Q2 2018. Described as invitational, it drew a handful of teams, predominantly from coal mines. The team rolled out the new system, May said, and zeroed the field. "We swept it, all divisions." Hart said the level of teamwork reached the level he had previously seen at Pinnacle. "That was really cool."

The development was a major milestone and achieved the company goal to win a mine rescue contest. For Eksteen, the goal itself was a "leap of faith," Hart said. Attaining it brought relief, but more importantly validation, he said. "We started believing that we had a good team." For corporate, expectations then rose. "It changed everything," Hart said. At company meetings with the big bosses from around the globe, "we weren't talking about production tons. We weren't talking about keeping everybody safe. We were talking about winning mine rescue contests," Hart said. "That had not been a major topic of discussion with the corporate leadership team up until that point. It created a whole new level of expectation."

And about that time, the east Tennessee ops won the company's safety award for 2017. "It came together at the same time," Hart said. "We became No. 1 at Nyrstar in every aspect of the business: profitability, cost management, mine rescue performance, health and safety." It was a peak moment, Hart said. However, even with the result, he would be challenged to maintain uncontested buy-in from corporate and management. "I had to keep pushing to make sure it stayed on the map." Ultimately, though, the win was a headrush that couldn't be sustained, Millington said. "It overexcited everyone."

At the Southeast Regional Mine Rescue Contest, in Franklin, Tennessee, in May 2018, expectations were high. At Hart's urging, Nyrstar shelled out and co-sponsored the contest. Eksteen took time from the office and drove 3.5 hours to watch. The pressure was real, and Hart wanted a top-three finish. Fifteen teams competed, including "all your big players," Hart said. "It was the same level of competition that we saw in Missouri." The team competed well, but things "ended badly," May said.

Robb said the result was in part self-inflicted. Gulling said the inexperience of some of the newer team members surfaced to sabotage efforts. While the team worked swiftly through the problems, "the speed ended up biting us," May said. The result grounded team morale and drew renewed commitment to training, Hart said. "Of course, I had to come back and explain to my boss how we got smoked after ponying up a bunch of cash to have a mine rescue contest."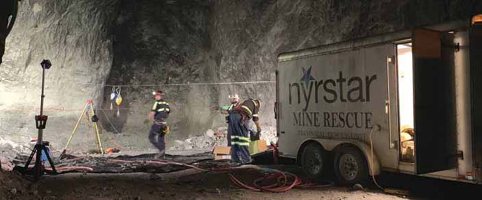 Consultant Darren Blankenship says the Nyrstar team requests and undertakes varied training exercises, many of
which aren't centered on contest-style problems. (Photo: Nyrstar)

Next, was the National Mine Rescue Competition 2018, in late July in Lexington, Kentucky. "It was the first time that Nyrstar had ever sent a team to nationals," Millington said. More than 40 teams competed. Vineyard said the new system proved viable in the contest. May compared it to a hot rod. "You've upgraded it, street raced it a couple times and now you're on the track," he said. "We let it rip."

Nyrstar placed ninth on the field and 19th overall. "For me," Hart said, "that was a win, to go from having never competed at the national level to placing in the top 10." It proved "we would be able to continue the efforts of the program into the next year." May said the team felt they were in over their heads and left thinking they could have won it. The result nixed any self-doubts the team may have harbored and ensured buy-in from the top going forward, Millington said. It also fed the belief that training pays off. "Seeing those beliefs manifest results was exciting for everybody," Hart said.

Gulling said the team was, at that point, determined to max out. During nationals, the team observed the others to note what worked well and what failed. Other teams, Gulling said, were more effi- cient at the start. Also, other teams knew and pushed the rule boundaries. Afterward, what formerly would have canceled training no longer would, May said. "We worked problems in the snow. We worked problems in the rain." Millington went to the coal nationals to observe, and brought back insights that he put into action. He was recruited for and joined the national mine rescue competition rulemaking committees. "Doors started opening up," Hart said.

Hart and Millington mapped the course for 2019. "We had a very robust training plan and competition schedule, and we had the funds to do it," Hart said. On the calendar were the southern regionals and the southeastern regionals. In Q4 2018 and Q1 2019, team members all went through the fire academy with the New Market Volunteer Fire Department and became certified firefighters with the state. The training spanned 360 hours. "Not only that," Robb said, "we all went through hazardous materials awareness and hazardous materials operations training." The team learned about securing a scene, the dangers associated with different chemicals, assessing the risks, how to respond, and the incident command system. "The main part was they got to do live fire scenarios and get certified on live fire," Millington said. "And 90% of mine rescue calls are fires." Going forward, the team would do live burns twice a year, he said.

In February 2019, Hart and Millington were invited by MSHA to compete in the Surface Mining Emergency Response Competition at the Florida Public Safety Institute near Tallahassee, Florida. The event was unscheduled and not in the budget. To make it work, the two decided to set the focus for training for the the year on first aid and emergency response "and close that gap," Millington said. Eksteen signed off on it, and "we only took the first aid guys down," he said.

More than a dozen teams competed. Nyrstar placed third and "was heavily featured in their promotional material," Hart said. "It is like a Nyrstar commercial." Back in Tennessee, training under Blankenship became a monthly event. In April 2019, the team competed in the Southern Regional Mine Rescue Contest in New Iberia, Louisiana, a 12-hour drive away. Almost 20 teams competed, including a handful of former national championship teams. "I knew going into that one we would get a gauge of how far we had come," Hart said.

To prep, the team spent three days going over problems from previous contests going back as far as three years, Millington said. "We worked problem after problem after problem." The strategy worked. On day one, Nyrstar zeroed the field with minor discounts. Day two was a repeat performance, but this time onlookers gathered to watch. As the event wound down on day three, fellow competitors and even some of the judges were treating them differently. It was becoming obvious. "We knew we did well, but we didn't know how well, until they called our name." Millington said.

Nyrstar won it, and won big. And Millington won the award for best team trainer. Hart said he "thought they were lying to me when they called and told me the result." He described the experience as surreal. "I thought they were messing with me," he said. "But that result was proof that when you have a vision and develop a strategy and surround yourself with great people, great things can happen." Vineyard said it was a day he thought would never come. "It was something to relish for a minute," he said. "But it raised the bar."

Gulling said the result pulled the team from obscurity into the limelight. "We went from going to a competition and getting killed to going to a competition and killing it," he said. "I think everybody at that competition was tired of hearing about Nyrstar." With the trophy on his desk, Eksteen received congratulations from the company CEO in Zurich, Switzerland. "We had arrived," Hart said. "Typically, you can only go down from here. But we can't peak. We've got to keep this going. This is just the start." Robb said that the result elevated expectations. "Previously, we expected to go in and do well," he said. "After that, though, we were trying to beat that performance every time."

The next opportunity was the Southeast Regional Mine Rescue Contest in Maysville, Kentucky, in June 2019. Nyrstar had regularly competed in it, and Millington described it as a must-win situation. "This year was different because they turned the lights out," he said. "It was in the dark." The team prepped by working a mix of problems that included some from coal provided by Blankenship. "He would change them to fit the rules," Millington said. Once in Maysville, the team was on lockdown, spending any free time studying. "That is a crucial difference for us," Robb said. "Once we are at the location of the competition, from day one, all of our conversations and thoughts are focused on the competition."

Nyrstar won first on the field and third in first aid. "We got knocked out from winning the overall championship due to the tech team's performance," Millington said. "That is when we knew that we had yet to close that gap." Hart said that even though the team didn't sweep, the fact that it zeroed the field "tells me that in the U.S. we have one of the top groups that would be called in to save lives," which "is why you do this." The team was called in twice in 2019. The first incident was an underground fire at Nyrstar's Immel mine, up the road from Coy. "We didn't have to save anybody, but we had to clear the mine," Hart said. The team also responded to Nyrstar's Gordonsville, Tennessee, zinc operations for a similar incident.

The team was still within budget and, after gaining the backing of Eksteen, calendared the Colorado Regional Mine Rescue, First Aid and Team Technician Contest, in Loveland. "We didn't want to stop the momentum," Millington said. One of the main goals, he said, was to get a feel for the judges in the western region. To prep, the team reviewed problems and questions from previous contests. In the competition, things "didn't start out well," Millington said. The rules would be enforced differently than previously. "I was ready to appeal processes before the team even came out."

May said the judges judged differently than previous judges had. "Their shade of gray was different from the shade of gray that we were used to." Which is "exactly why we went out there," Millington said, "to see how they judge." No longer the dark horse, the team was watched by the competition. "There were teams asking us about our methods, how we were doing things," Robb said. "Obviously, you don't want to share all your secrets." It was a reversal of roles, Gulling said. "It used to be us asking them," he said. "Now it is them asking us."

Nyrstar won it. It placed first overall, ranking first on both field problems. The run had been epic, but was not without blowback. Due to his ties to Nyrstar, Blankenship was asked to step down from the rule- and problem-making committee for the international mine rescue competition. "He said we cost him a job," Vineyard said.

Hart said the move, which Blankenship shrugged off, spoke to the work ethic and success of the Nyrstar team. Blankenship said he is still involved with the international competition in other capacities. Henceforth, preparations targeted nationals.

Nationals and Beyond
In December, the team took a self-contained breathing apparatus class and a get-out-alive class, both of which were tied to firefighting certifications. Millington said the team would up its use of Blankenship in the runup to nationals. Blankenship told E&MJ the team has likely lost the element of surprise at competitions. Going forward the team can expect to be known by the judges and imitated by the competition. "Other teams will probably implement some of the things that Nyrstar does to give them a competitive edge," he said. But "I really don't think the element of surprise is a real factor in Nyrstar's success."

For example, other programs may be able to get a similar level of funding, support, and equipment, but they will be challenged to get the same level of team cohesion, leadership and passion, Blankenship said. They will also be hard pressed to duplicate Nyrstar's work ethic. "Unless you have been a member of a mine rescue team, it would be difficult to understand how hard the Nyrstar team has worked to achieve the level of success that they have enjoyed in such a short time." Hart said that in the runup to nationals, the A-Team will be used to help prep and train the B-Team. The goal is to build what he called a feeder system, creating a deep bench, and entrenching and stabilizing the program. "The big thing now is to give back to the program." Implied in the plan is a new goal: to build a dynasty.

Getting there represents a new level of challenge seemingly far removed from those of yesteryear. "Not that long ago, I was scrambling around trying to find people just to be on a mine rescue team capable of minimal compliance with MSHA standards," Hart said. "Now we've got two or three guys waiting for a chance to step up. That is really cool," he said. "That tells you, you have a program and not a team." It also suggests Nyrstar may be ascendant for some time to come.
---
As featured in Womp 2020 Vol 02 - www.womp-int.com