Minding the Grind: Maintenance Options to Keep SAG Mills Turning
When the largest machine in the plant stops working, the silence that follows typically isn't golden – just expensive

By Russell A. Carter, Contributing Editor
---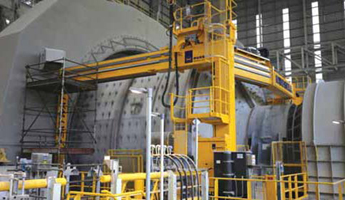 Purpose-built structures such as the Skyway system from Russell Mineral
Equipment can provide a stable, safe and efficient platform for mill liner bolt
removal when compared with the common approach of hanging jackhammers
and impact wrenches from a chain hoist.

Modern, large SAG mills are major capital- cost items with price tags reaching well into the eight-figure dollar range. They stand at the entry point to a variety of comminution circuit setups and when they stop for whatever reason, the revenue losses per circuit mount quickly. The hours, days or weeks needed to get a mill back on line are often filled with tense periods of trouble-shooting and scrambling to locate and acquire needed parts, and the characteristics that make SAG mills such robust performers — powerful drives, massive components and capacity to carry a thousand tons or more of ore and grinding balls — also make them difficult and occasionally dangerous for workers to service and repair.

Balancing the vast array of electrical, mechanical and environmental problems that can potentially cause an unplanned shutdown of a mill is an equally substantial assortment of maintenance resources available to mill operators. Typically, large OEMs offer lifecycle management services, site maintenance on demand, spare parts services, remote diagnostics and training programs and more, and any or all of these can be combined into a multiyear maintenance service agreement linked to predictive and preventive maintenance tools to help curb the frequency of reactive maintenance events — in other words, to prevent unplanned downtime.

Improvements in SAG mill components such as bearings, liners and even nuts and bolts also help operators achieve higher availability levels by extending the intervals between stoppages for routine repairs and replacement. The effectiveness of design improvements to mill components can be reinforced by software tools that help keep a mill operating efficiently, such as FLSmidth's SAGwise system, which uses an array of sensors to listen to the sounds of a rotating mill for indications of over- or underloading; or Outotec's MillMapper, which gives operators a quick virtual look inside the mill to assess liner wear without stopping production.

Multiphysics engineering simulation also offers a path toward solving equipment and operational problems, often more quickly and at a lower cost than other approaches, according to Silvia Firmino, marketing manager for the Brazilian company ESSS, which markets Rocky, a discrete element modeling (DEM) program. DEM can be a valuable tool in ensuring that milling energy goes into producing particles within the desired size range without damaging equipment. By taking into account all the forces acting on each particle in a bulk system, DEM provides insight into how these materials would perform within a given component over a range of process conditions — a vital capability when operators aren't able to directly see what's happening inside the machine. Of particular interest is that Rocky DEM (named for its origins in rock breakage studies) has multi-GPU processing capabilities that can handle large particle counts for quick, accurate prediction of process or equipment performance.

Also, according to Firmino, the program's post-processing tools are designed specifically for engineers, refined over years of close collaboration with mining clients. As a result, users can efficiently extract needed information such as predicted wear profile, power draw or mill grinding performance. Mining organizations that leverage Rocky, said Firmino, have been able to reduce operational expenses by adjusting repair interval timing, cut capital expenses through optimal operational mode selection, detect potential problems before they can hamper production and extend equipment life.

Designing for Durability
The ultimate goal for design improvements to production equipment that typically has to operate at 90% or better availability is to provide a feature that reduces both planned and unplanned downtime. Outotec, for example, said its new, low-maintenance Polymer HSB mill bearings can do both. The company simultaneously announced the bearing line and introduction of its new MH Series grinding mill product line in December.

The Polymer HSB system will be standard on all its new grinding mills and is designed to maximize grinding mill availability and simplify maintenance. Outotec claims the system significantly improves the reliability and longevity of both radial and axial pads compared to bronze or white-metal pad-bearing systems, eliminating failures associated with surfaceto- surface contact caused by journal defects, lock-charge starts or hydraulic system failures. Its self-aligning capability ensures that the pads are always precisely aligned with the mill journal, helping to protect the longevity of the mill by distributing stresses more evenly across the support structure and mill body.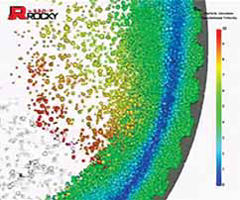 Rocky DEM, a software tool developed by Brazilian
company Engineering Simulation and Scientific Software
(ESSS), predicts SAG mill liner wear over time and helps
engineers adjust conditions for mill operations by easily
assessing change-of-process variables such as speed and
fill level.

The self-lubricating characteristics of the Polymer HSB arrangement eliminate the need for an emergency accumulator system connected to the mill's hydraulic circuit. Although disconnection of the existing accumulator system is not mandatory, Outotec said doing so can signifi- cantly reduce the operational and maintenance costs associated with the servicing of pressure vessels and complex hydraulic systems. According to the company, accumulators are also a substantial source of downtime. Their removal improves grinding mill availability in addition to the improvement achieved due to the robustness of the Polymer HSB.

Component wear, regardless of whether it involves bearings, lifters or other parts of the machine, is a constant concern for SAG mill operators. Industry suppliers have developed a wide variety of liner shapes, composite-material combinations and fastener systems to make liner replacement safer, quicker and more cost-effective in the long run. Given the impact that SAG mill performance has on overall plant performance, operators also have to pay attention to the design and construction of ancillary equipment, such as trommels, to avoid stoppages or loss of throughput from breakage, unexpected wear or loss of processing capacity.

Multotec, a South-Africa based supplier of mineral processing equipment, recently highlighted the capabilities of its SAG mill trommel screen line, describing it as a viable alternative to vibrating screens in SAG mill scalping applications, with features that offer high throughput and extended wear life. The company said it has supplied trommel screens for almost four decades and has the capability to size SAG mill trommel screens with diameters up to 5.5 m. It designs the trommel screens to suit each customer's unique requirements, with capacities ranging up to more than 3,500 tons per hour (t/h) solids. It employs Finite Element Analysis in the design phase to reduce fatigue stresses and ensure structural integrity and covers all frame surfaces exposed to the milled product with wear-resistant materials, usually rubber. Multotec also can supply a range of rubber shell plates and lifter bars to protect SAG mill trunnions against wear.

New Twists on Bolting Tech
When SAG mill liner bolts loosen, break or stretch beyond limits, liner impairment and degraded performance are generally next on the agenda, followed by mill stoppage for repair or replacement. Bolts and nuts — among the smallest mechanical components used in grinding mills — play a big role in ensuring whether a mill can be efficiently serviced at scheduled intervals or on a haphazard basis necessitated by unplanned events. Improvements in bolt-related materials, tools and techniques warrant the attention of maintenance departments concerned about meeting mill performance objectives. Experts in the field of boltedjoint integrity, however, see evidence that not all maintenance organizations are using, or might not even be aware of, all the data that can be accessed and applied to ensure a secure bolted connection.

E&MJ spoke with Trevor Robinson, managing director of Boltstress, an Australian company specializing in ultrasonic bolt-tension measurement, who explained that among some the company's mining clients, "There is generally an acceptance that applying the required torque is adequate — it isn't — and then being at a loss to why liner bolts fail so regularly."

Boltstress provides services and equipment to measure bolt tension, bolt stress, elongation or strain — the information needed to ensure bolted joint integrity, according to Robinson, because it gives insight into true joint performance. Robinson noted that damage or degradation of mill liners is at the root of most problems his team encounters in grinding-mill service calls. On liners, he explained that there can be rough surfaces where cast and forged items interact. This leads to high stress points that in turn can result in high [bolt] tension losses. Additionally, he pointed out that "Lubrication, slurry ingress and hole surface damage are almost impossible to cater for, as they get gradually worse as the mill ages. Direct tension measurement and adjustment is the only solution.

"In most cases, we are called in after repeated failures. However, most sites carry out a re-torque 24 to 48 hours after a reline shutdown has ended. This costs 8 to 12 hours of lost production, but is standard practice as it minimizes failures and unplanned shutdowns. We eliminate this by using much more accurate systems and analyzing real data — not assumed values from torque figures. The payback for the latter is huge, at least $100,000 but often more than $1 million."

Some recent innovations in industrial fasteners and bolting tools can make the job of removing and replacing mill bolts safer and quicker, while others are aimed at ensuring that new bolts are tightened correctly for optimum holding power. • Valley Forge & Bolt, an Arizona, USAbased supplier of hot-forged industrial fasteners, has developed a bolt design that it claims will improve the reliability of mill liners and liner bolts. The company said it came up with the Sealing Mill Ridgeback bolt out of concern voiced by mill operators about liner breakages triggered by stress concentrations found at the base of the liner pocket where contact is typically made with the bolt head. Additionally, liner bolt customers also reported problems due to leakage of slurry between liner pocket and bolt head, leading to wear and premature failure.

The Sealing Mill Ridgeback liner bolt was designed and evaluated to prevent problems related to load distribution or slurry leakage. According to the supplier, this bolt produces effective sealing of the bolt to liner pocket throughout the full range of bolt capacity, including very low loading conditions. Its polymer bushing is designed to transfer a predetermined amount of bolt load while remaining load is distributed higher up on the head.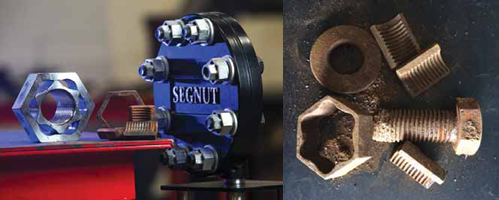 SegNuts comprise an inner set of threaded segments held in place by an outer sleeve. They replace standard hex nuts
and are designed to release instantly when loosened with a wrench.

Another innovative fastener – the Seg- Nut – may offer potential mill-service application benefits as well. The device, as shown in the accompanying photos, comprises an inner segmented, threaded cylindrical section and an outer "shell" that holds the segments in place. In practice, it replaces standard hex nuts and can be installed and torqued using standard bolting equipment. When a Seg- Nut-equipped bolt needs to be replaced, the nut's outer section is turned counterclockwise with a wrench and the threaded segments of the inner section immediately separate from the bolt shank, allowing the Segnut to be removed without need of hammering, splitting, angle grinding or oxy-acetylene torch cutting that is often required to remove frozen, corroded or jammed conventional nuts.

E&MJ spoke with Tom Baskovich, product development director for Perth, Australia-based SegNut, who explained that although the company is focusing its main efforts on other resourceindustry sectors such as oil and gas, it collaborated with a provider of mineral processing equipment that validated that the SegNut design can be used in bolt sizes up to M48 (2 in.).

Kaltech has developed two versions of an "intelligent" bolt — the iBolt and the eBolt — both of which provide progressive indications of liner wear. The iBolt directly monitors liner wear inside a running mill, and when wear reaches predetermined stages, an LED light on the end of the bolt shank flashes in various colors to indicate degree of wear level. With the eBolt, an email alert is sent when the predetermined wear stages are detected. The company said it assumes that the primary use of iBolts is to confirm the liner wear prediction that the maintenance team currently has in place, and because the iBolt is intended for placement in high-wear spots, this can be accomplished with the installation of only a few strategically placed bolts in a mill.

Columbus McKinnon Corp. manufactures made-to-order high-strength Lister liner bolts for mining applications. After electric induction heating, bolt heads are forged from a selection of more than 200 forging dies. Forged flashings are removed and bolts are heat treated in a controlled-atmosphere furnace to meet precise through-hardening specifications. Bolts are then tested for consistent quality before packing and shipping.

California-based Poly-Tek makes replacement rubber seals for Lister and other types of liner bolts, offering different seal configurations for specific mill conditions and problems. For enlarged or elongated bolt holes, the company markets cone repair seals in diameters up to 2 in. A repair seal includes a cone that extends through the grinding mill shell, whereas a regular seal does not have a cone. The cone can vary in length. For example, the repair seal cones come in lengths of 2, 2-¼ and 3 in. The length and diameter of the cone will depend upon the size of the bolt and the surrounding metal cup washer. The seals are available in a variety durometers and base polymers, for example, natural rubber durometer, EPDM rubber, or silicon for use in corrosive or high temperature applications.

There are also plenty of equipment choices available for removing stubborn mill liner bolts. McLellan Industries, for example, offers the Bolt Buster, a two-part tool comprising a barrel assembly and a remote-control pendant. It can deliver a 3,200-lb-ft blow — 28 times more powerful than a sledgehammer swing — every two seconds. An overhead crane or optional gantry system is required, while a pitch attitude adjustment on the unit enables it to be positioned with the head of the Bolt Buster impactor against the target.

Russell Mineral Equipment has developed the Thunderbolt 1500 Special Performance Recoilless Hammer, designed to replace heavy manual sledgehammers, hydraulic rock breakers, jack hammers and heavy battering rams by delivering a 1,100-ft-lb blow strike every second. This tool, according to RME, is suitable for larger mills. Each unit requires a Thunderbolt Power Pack to supply the electrical and hydraulic needs of the hammer and powered suspension options. The hammer can operate with any standard three-phase supply (380, 415, 480, 525, 575 or 600 volts at 50 or 60 Hz). Each unit weighs 449 kg (988 lb).

RME also introduced a hammer guidance and suspension system called Skyway, which it describes as advanced technology aimed at drastically reducing risk by relocating mill relining activity from inside the mill to the safer area outside the mill. Skyway is a purpose-built structure external to the grinding mill that supports and positions Thunderbolt recoilless hammers and operator work platforms. The Skyway system, according to RME, offers precise hydraulic control of Thunderbolt hammers, allowing for faster movement between bolts and faster alignment, along with increased hammer preloading compared with conventional methods. First Quantum Minerals installed the first commercial Skyway package at its Cobre Panama mine to expedite relining of the three SAG mills on site.

The Skyway system joins the ranks of other multi-axis liner manipulator systems and handlers from mill builders Metso and Outotec, third-party suppliers like Kaltech and McLellan Industries, and specialized systems such as the robotic bolt/nut removal/replacement machine developed by the Chilean company MIRS.

Inspect to Detect
Even in the unlikely possibility that someone eventually invents a service-free SAG mill, "maintenance-free" will never mean "inspection-free." As Metso's Moris Fresko pointed out in a blog post, often-invisible defects represent a notorious group of usual suspects linked to unexpected mill shutdowns. Fresko, who is director of Global Engineering–Grinding Services at Metso, lists three of these problems, all of which are usually detectable by nondestructive testing methods:
• Cracks in gears and pinions. "Small cracks can appear in the gears and pinions. If not detected early enough, cracks can progressively become worse until tooth breakage occurs."
• Slurry wash under the liner. "In wet grinding mill applications, slurry can seep underneath trunnion or shell liners and start washing the mill components, particularly when the liner rubber backing is missing or damaged. Often, this goes undetected for long periods of time causing excessive wear to the mill rotating components.
• Structural failure of mill components. "A grinding mill goes through considerable rotations in one year and fatigue cracks can develop over time. If undetected, these cracks will grow until the components fail (crack through). Evaluating the causes of these cracks are as important as detecting them."

Both cracked gears/pinions and structural failures are typically detected using Magnetic Particle Inspection, a non-destructive procedure for discovering surface and shallow discontinuities in ferromagnetic materials. Finding and fixing issues early will avoid undesired wear, broken teeth or even complete failure of the gear and pinion.

MPI is typically used to find cracks, while Ultrasonic Testing is used to find and locate wear or wash in rotating components. UT can indicate the thickness of a mill structural component such as a head, trunnion or the shell, enabling operators to determine the location and extent of the thinning areas. UT testing has the benefit of detecting wash inside the mill without removing the liners, which minimizes downtime required for the inspection as it is performed from outside the mill.
Kaltech's iBolt is designed to flash an externally visible
LED warning light when predetermined liner wear levels are
reached in a SAG mill.

If inspection indicates a structural failure, further evaluation can be done using Finite Element Analysis, an engineering tool used to calculate stresses and deflections within a structure where a complex geometry is broken into smaller simple elements and results are then combined to give a complete picture. In most cases, and especially on newer mills, said Fresko, causes of structural failures are not due to a weak design, but rather mill abuse, mill overload or wash. An FEA evaluation determines if a worn component is too thin and should be repaired before further damage occurs. Similarly, mill loading may be excessive and should be reduced. FEA can also help to determine what options could work as a temporary fix while waiting for a replacement part.

Maintenance-related events such as insurance and warranty inspections, alignment checks, lubrication system troubleshooting and many service and repair tasks require a clean gear set. When a large, conventionally geared SAG mill is involved, cleaning can require several hours of messy, mostly manual labor during a crucial period of mill downtime. Services such as the Traxol EP3 solution from Canada's Guardian Chemicals, for example, offer products for gear cleaning and degreasing that can be purchased directly and applied by a customer or as part of a cleaning job performed by an onsite team from Guardian.

Greg Pecharsky, vice-president sales, Canada for Guardian, told E&MJ that Guardian's innovative combination of specialized extreme pressure lubricants with thixotropic organic chemical technology is featured in its Traxol EP3 low-downtime, rapid "clean on the fly" process. The products, according to Pecharsky, come ready to apply without preheating. He estimates that since their introduction to the marketplace, Guardian's Traxol EP, EP3 and Detrax have been used to clean more than 5,000 grinding mills, rotary kilns and other types of large geared equipment in 15 countries.

He noted that one of the company's Canadian gold mine customers recently cleaned the gears of two very large ball and SAG mills — including setup, rinsing and takedown — in just three hours per mill. In the North American market, Guardian/ Traxol provides both product and technical support, as well as application and cleaning teams that perform mine gear cleaning on site within Canada. In the U.S., distributors in Minnesota and Arizona offer both product sales and onsite gear cleaning services. The company's newest innovation, which will be launched at MINExpo 2020, is an organic, hybrid gear degreaser with an unlimited flashpoint and unique application characteristics.
---
As featured in Womp 2020 Vol 02 - www.womp-int.com