Giving Operators a Helping Hand
E&MJ looks at the various steps toward autonomy for loaders and dozers, and how operations around the globe are taking advantage of these technologies

By Carly Leonida, European Editor
---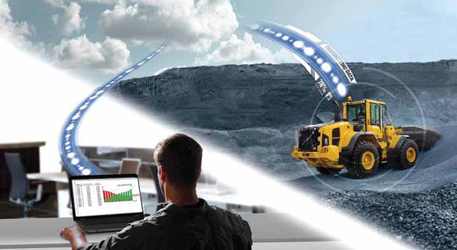 There are many benefits to remote and autonomous control of loaders and dozers including safety, precision
and consistent performance. (Photo: Volvo)

When it comes to open-pit mines and autonomy, haul trucks are usually the first machines that spring to mind. However, for the purposes of this article lets concentrate on dozers and loaders; the unsung heroes of the mine site. While they may not be the stars of the load and haul fleet, loaders and dozers are vital to keeping a mine running efficiently, from cleaning up around conveyors and crushers, to keeping stockpiles in check, creating pads and maintaining roads and benches. Their work is varied, highly mobile and often requires a high degree of precision. This is where machine guidance and operator assist features can help. Let's take a look at the different options available.

Line-of-sight
The first step on the journey toward autonomy for loaders and dozers is line-ofsight control. With this feature, operators stand at a safe distance from their machine and control it using an over-theshoulder unit. The controls are integrated with machine electronics to provide the same control and response as if operating from the cab, allowing the operator to maintain productivity from a distance. They judge the work by eye, as they would in manual operation, so a good vantage point is essential.

Line-of-sight control is useful for occasional duties, which would otherwise be too hazardous for the operator to perform while sitting in the cab. For example, Cat dozers equipped with line-of-sight remote control systems were drafted into Kennecott Utah Copper's Bingham Canyon mine following the 2013 Manefay landslide to help with the cleanup operation.

Australian technology vendor RCT, with the help of local dealer Wheeler Machinery, designed and manufactured three dozer remote interfaces and four remote kits to suit the Caterpillar D8T dozers used at the mine site. These allowed the landslide to be cleared quickly and safely so that operations could return to normal as quickly as possible.

Teleremote Operation
The next step up is teleremote operation where the loader or dozer operator is relocated to a secure, protected location from where they can control the machine remotely with the help of cameras and sensors. This is better for long-term duties, or those that must be performed regularly, as it provides the operator with a comfortable, permanent space to work from — usually a self-contained cabin or mobile trailer with a dedicated chair and controls.

A good example of this also comes from RCT. The company worked with Hexagon Mining to supply teleremote loader technology to Codelco's Andina mine site in Chile a few years back. The mine is located at high altitude and suffers extreme temperature and climatic conditions throughout the year. Codelco was confronted by the outcome of a risk assessment, which determined that either autonomous or teleremote controlled mining had to be implemented, so RCT and Hexagon Mining collaborated to create a customized solution.

RCT's ATX2200 (teleremote control system) and Muirhead Speed Ltd. were combined with Hexagon Mining's Jmineops Geofencing functionality and SAFEmine CAS and TrackingRadar Object Detection systems. The technologies were integrated and installed on to a Komatsu WD600 wheel dozer and a new communication network was added at the mine.

Now, the dozer can be operated from a safe location — a stationary, insulated cabin within the site — and a line-ofsight, portable remote was also included to provide flexibility for operating the machine in multiple applications across the site if the network goes down. The project was so successful that Codelco ordered the conversion of a second loader shortly after.

Automation
At the top of the ladder is semi- or full automation. Here, the operator sits at a dedicated control desk or center from where they can supervise multiple machines. The machines work independently, completing their tasks according to preprogrammed plans using sensors and machine guidance technologies. The operator can intervene at any time if necessary and the machines are programmed to halt work if a potential safety violation occurs.

Arch Coal's Black Thunder mine in Wyoming uses the Cat MineStar Command for dozing system. The mine installed the system on its first dozer in 2011 and it now has four Cat D11T dozers enabled. Command for dozing includes a semiautonomous solution that enables one operator to operate up to four dozers from an office environment. Caterpillar said this reduces the risk of injury from mounting and dismounting the equipment and from ergonomic challenges presented during ripping applications. In addition to working more efficiently, operators also experience less physical fatigue thanks to their comfortable office environment.

All dozer push functions are automated through the use of satellite positioning via Cat Terrain with Blade Control, Automatic Blade Assist and Auto Carry. When operating autonomously, the dozer cuts to plan using best practices, and it optimizes reverse speed. The remote operator takes control when moving the dozer to a new area. Black Thunder first used the system for reclamation work and has expanded this capability to production for overburden removal in advance of dragline operations.

Morgan Malkowski, autonomous equipment Supervisor at Black Thunder, spoke about his experience of the system in an interview for Caterpillar's Viewpoint magazine. "The biggest value that we see from the Command for dozing is that we have one operator running three machines, so you see increased efficiency from that operator and increased consistency from those machines; we know how these machines are going to perform consistently 24h a day. The material may change, and we may have to make some adjustments to how the machine handles that, but they're going to run consistently."

Jason Cole, one of Black Thunder's autonomous dozer operators, backed this up. "The main thing is that the dozer will find grade on its own when it's in autonomous mode," he explained. "That's a big load off the operator rather than constantly having to chase the grade. "It also builds a better pad. All the dozers have the same plan and the GPS tells them where the base grade is. All the machines go right to that grade and they won't cut any further. When you're done, your pad is pretty close to being completed."

Wolff Group, a mining contractor in Australia, is also operating seven Cat D11 dozers in semiautonomous mode and has measured a 15% increase in productivity since their introduction. The company has constructed a mobile command center for ease of movement between locations on a mine or between mines, and has identified Command for dozing as a means to diversify operator recruiting.

The Advantage of Assistance
Fleet management expert, Wenco International Mining Systems, offers machine guidance technology as part of its suite of solutions. Senior product manager, Ken Williams, explained some of the benefits of this technology. "In a modern mine, machine guidance is essential for using dozers and loaders with the precision necessary to execute most mining activities," he said. "High-precision systems enable operators to shape benches, roads and ramps in accordance with engineers' designs — a task that proves difficult and time-consuming without such technology.
Cat Command for loading also enables line-of-sight remote control of Cat 988K wheel loaders.
(Photo: Caterpillar)

"Maintaining flat benches and safe, stable ramps leads to significant cost improvements at a mine by exacting less wear and tear on equipment traveling across those surfaces and by raising the efficiency of hauling. Machine guidance also allows loaders to cut with precision, which lowers contamination of ore with waste material."

Automation, to whatever degree, also helps to relieve the skills pressure on mines in remote areas or in markets where labor is particularly expensive. By using machine guidance technologies, newer operators or those with less experience can still execute tasks to the same standard as veterans. Mines that operate autonomous loaders and dozers can capitalize upon the efficiency and experience of their operators by assigning multiple machines to one supervisor. And, of course, autonomous machines never get tired or need breaks. They perform consistently around the clock.

Another piece of the puzzle is safety. By allowing operators to complete certain tasks at a safe distance from the machines, mine managers have peace of mind that their entire workforce will get home safely that night. The job also becomes more attractive to new recruits and, open up the doors for better diversity and inclusivity in mine workforces.

For example, during an early phase of implementation for Caterpillar's Command for dozing system at a mine in South America, the operation had on its roster an experienced D10T dozer operator who was working in administrative roles due to a mild injury to his cervical spine. The operator was still able to work in roles where there was no exposure to vibration. When Command for dozing was installed, he was proud to return to work as a professional operator without interfering with his recovery.

"Mining is one of the most dangerous industries in the world, so if we can remove humans entirely from these sorts of operations then that will have a huge impact on safety," Ulrich Fass, manager for Emerging Technologies Europe, at Volvo Construction Equipment, told E&MJ. "Having one operator in charge of several remote machines will ensure far greater site productivity — and with no humans on site there is no reason why you couldn't provide 24/7 operation with someone controlling the machines from another part of the world?"

Fass said it is repetitive work cycles that benefit most from automated and teleremote operation. "Which is why mining offers the perfect playground to explore this," he enthused. "A particular challenge for the mining industry is that the site conditions vary so widely, so providing an autonomous solution that works under all environments is a tough undertaking."

Volvo Explores New Remote Concepts
Volvo has been researching and developing autonomous solutions for years. The company's first showcase of its solutions in action was at its groundbreaking Electric Site in Sweden in 2018. "This was a project we carried out together with our customer Skanska," Fass explained. "Here we proved it was possible to provide for a 98% reduction in carbon emissions, a 70% reduction in energy cost and a 40% reduction in operator cost in a quarry operation — all through the use of eight HX02 autonomous battery- electric load carriers, the LX01 prototype electric-hybrid wheel loader and the EX01 dual-powered cable-connected excavator prototype.

"These machines may just be concepts, but they have helped us develop solutions that may one day soon be commercialized." Another ongoing project for Volvo is an industry-first with Telia and Ericsson to test the potential for a faster, more reliable 5G network in an industrial application.

"From our base in Eskilstuna, we have set up a 25-hectare test site to trial a remote- controlled L180 wheel loader powered by a 5G network," Fass said. "The test track itself has a number of physical barriers, uphill and downhill tracks and rough terrain — all designed to mimic the real conditions of a construction site — so we can see what benefits a faster network brings. "For us here at Volvo CE, our aim with all these initiative is to see if, by minimizing the potential safety risks and downtime associated with sectors such as mining, we can get closer to our goal of zero emissions, zero accidents and zero unplanned stops."

Volvo has a number of systems that support operators with guidance or control primary functions in repetitive mining tasks. For example, Volvo Co- Pilot and its range of intelligent-assist functionalities. "Before full automation is available, these autonomous functions are going a long way to help operators deliver higher quality outcomes, in less time and with less effort," said Fass. "The challenge we will face over the coming years will be how we bring automation out of the confined and stable production sites and into varying applications. And how we make our machines interact safely with humans around."

Wenco Heads Toward Autonomy
Wenco has recently installed machine guidance systems at Golden Queen's Soledad Mountain project, Mesquite mine in California, and Conuma Coal's sites in British Columbia, Canada, to raise the precision of their earthmoving activities. Williams said the company has defi- nitely noticed a pique in interest for solutions as mine operators continue their journey toward zero-harm operations.

"We're seeing plenty of interest in safety solutions," he said. "Our machine guidance systems contribute to improved operator situational awareness and include alerts for proximal hazards and other exclusion zones." Williams said coal mines have historically used machine-guided dozers more extensively than other mine sites. This is likely due to the nature of coal mining — depending on the thickness of the seams, these operations are often more conducive to material movement with dozers than other sites.

"Wenco's machine guidance solutions assist operators in creating benches, roads, and other physical features that match their design plans. Using high-precision GNSS, our technology enables operators to position their loader buckets and dozer blades with centimeter-level accuracy," Williams explained. "Users load their design files into our system and simply follow the onscreen guidelines to create contours at the exact location and elevation required without the painstaking process of surveying and grade staking. Ultimately, this process allows operators to create smooth haul roads, flat benches, and even ramps that produce less wear and tear on equipment, and to do so with much greater efficiency than traditional surveying processes."

Williams said automation is next on the cards for Wenco's R&D efforts. "It is a priority focus for Wenco, and such capabilities are likely to appear on our product roadmap in coming years," he told E&MJ.

Hexagon Ensures High Precision
Autonomy is also a growing focus for Hexagon Mining. "Our machine control technologies mean we can begin to automate blade control on many dozers and graders," explained Andrew Crose, Hexagon Mining's managing director, EMEA. "Teleremote is an area of active development, especially with Hexagon's commitment to safety." The company's current solution — HxGN MineOperate OP Pro HP — is a high-precision guidance solution for dozers, drills and loading equipment. It enables loading equipment to improve bench elevations, reduce dilution and decrease rework. Dozer operators receive easy-to-visualize design plans, which minimizes costs by eliminating the need for grade staking and survey crews.

The system is OEM-agnostic and can be installed on almost any make and model of loader, shovel, dozer or grader. Crose said Hexagon is seeing increased interest from mining companies. "Particularly on loading units where there is a more directly visible alignment to production with reduced loading times," he said. "We're also seeing some interest in dozers, too, as mines see the benefits of better grade control to improve mine efficiency."
---
As featured in Womp 2020 Vol 02 - www.womp-int.com