Freeport Outlines Growth Plans
---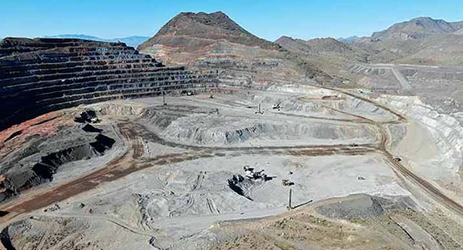 The Lone Star copper project in eastern Arizona is being developed to become a major new mine in North America


Last year, Freeport-McMoRan (FCX) sold 3.3 billion lb of copper, 991,000 ounces (oz) of gold and 90 million lb of molybdenum. According to the company's recently released earnings report, it intends to produce approximately 3.5 billion lb of copper, 800,000 oz of gold and 88 million lb of molybdenum in 2020.

During 2020, it plans to invest $2.8 billion in capital projects, including $1.8 billion for major projects primarily associated with underground development activities at the Grasberg operation in Indonesia and completion of the Lone Star copper leach project in Arizona, USA. This excludes estimates associated with the new smelter in Indonesia, according to the company. FCX said it expects capital expenditures for the development of the new smelter in Indonesia to be $500 million in 2020, of which approximately 49% will be attributable to FCX's equity interest.

"During 2019, we progressed three major initiatives to enhance future cash flows and value for our shareholders," said Richard C. Adkerson, president and CEO, FCX. "We are on schedule to establish large-scale production from our highgrade, low-cost and long-lived underground ore bodies at Grasberg; the Lone Star project in Arizona is nearing completion; and early results from our innovation initiatives to enhance productivity at our operations in the Americas are positive."

Adkerson said plans are designed to increase copper and gold sales by more than 30%, reduce unit net cash costs by approximately 25% and more than double operating cash flows in 2021 from 2019 levels. Sales are expected to increase to 4.3 billion lb of copper and 1.4 million oz of gold in 2021.

A pilot program initiated at the Bagdad mine in northwest Arizona in late 2018 was highly successful in using data science, machine learning, and integrated functional teams to address bottlenecks, provide cost benefits and drive improved overall performance. That innovation initiative is now being implemented across the North America and South America operations. FCX has incorporated higher mining and milling rates in its future plans, resulting in estimated incremental production of approximately 100 million lb of copper in 2021 and approximately 200 million lb in 2022.

In South America, the company reported that debottlenecking projects and additional initiatives to enhance operating rates continue to advance. Cerro Verde's concentrating operations in Peru averaged 396,800 metric tons per day (mt/d) of ore in the fourth quarter, approximately 10% above design capacity. Ongoing productivity and innovation initiatives are targeting the opportunity to increase production to 420,000 mt/d in 2021.

FCX said undercutting, drawbell construction and ore extraction activities in the Grasberg Block Cave continue to track as expected. Ore extraction averaged 11,200 mt/d of ore in the fourth quarter, including a planned three-week outage for the installation of ore-flow infrastructure. Following completion of the maintenance program in mid-December, ore extraction from the Grasberg Block Cave averaged 17,000 mt/d of ore. As production advance, the company is currently projecting 30,000 mt/d of ore in 2020 and more than 60,000 mt/d of ore in 2021 before growing to 130,000 mt/d of ore in 2023 from five production blocks spanning 335,000 m2.

The Deep Mill Level Zone (DMLZ) underground mine, located east of the Grasberg ore body, continues its ramp up of production. Ore extraction continues to exceed FCX's expectations, averaging 14,900 mt/d of ore in the fourth quarter. Ongoing hydraulic fracturing operations combined with continued undercutting and drawbell openings in the two currently active production blocks are expected to expand the cave, supporting higher production rates that are expected to average 29,000 mt/d of ore in 2020 and approach 60,000 mt/d of ore in 2021.

In connection with the extension of the company's mining rights from 2031 to 2041, it committed to construct a new smelter in Indonesia by December 21, 2023. A site for the new smelter has been selected, and ground preparation is advancing. Engineering and front-end engineering and design for the selected process technology are advancing and expected to be completed in 2020. The preliminary capital cost estimate for the project is estimated at $3 billion, pending completion of final engineering.
---
As featured in Womp 2020 Vol 02 - www.womp-int.com