Screening Solutions
Miners make novel use of screens and media to solve problems

By Carly Leonida, European Editor
---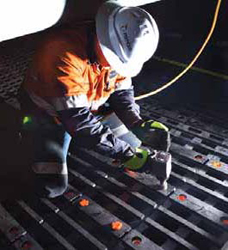 Fixing new screen media panels into place.
(Photo: Metso)

Screening machines serve a dual purpose: they sort materials by size and they can be used for dewatering applications. Considering the various parameters involved in the design, the size of the screening machine, angle of the deck(s), the frequency of the vibration, the media on the deck itself (polyurethane vs. woven wire), etc., the systems can be configured for many different applications.

Greater awareness of the possibility that screens can offer in process optimization, particularly in preconcentration, is driving interest from mine operators. And interest in digital technologies, as well as features that improve uptime and lower operating costs are strongly influencing R&D. The results are starting to take shape. Miners have been using screening machines in some rather novel applications with a great degree of success. E&MJ reviews two of those applications as well as some of the new products, developments and deliveries announced over the past 12 months.

Customized Media for Bell Creek
Polydeck recently helped Tahoe Resources' Bell Creek gold mine in Ontario tackle severe blinding on its trash circuit screens. Fibrous blasting material residue was increasing the amount of time crews needed to manually clean the screens. Furthermore, poor dewatering was reducing throughput and increasing energy consumption. Polydeck screening experts John Griffith and Perry Miller visited the plant several times in order to understand the problem and formulate a solution. The company began testing some panels that were modified to add flexibility and installed them on the carbon safety screen. The modified panels had some success; however, even more flexibility was needed, so Griffith and Miller decided to create a custom solution.

The new panels would need to meet a wide range of criteria. They needed to be durable enough to last for six months, but flexible enough to impart some secondary motion. The secondary motion was needed to resist particles of trash from plugging the apertures, while simultaneously preventing the build-up of calcium carbonate on the underside of the panels; a trend that had been observed on virtually every trash and carbon safety screen used at this site. Typically, panels in this application would require daily cleaning, which is inefficient and expensive. Another criterion was compatibility of fastening, as the panels needed to fit on existing machines with other manufacturer's modular panels. Above all else, the panel needed to provide adequate dewatering.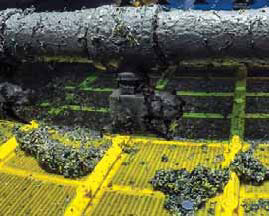 Bell Creek was experiencing severe blinding on its trash circuit
screens. (Photo: Polydeck)

Griffith and Miller commissioned two custom Polydex panel designs to address the issues. The modular polyurethane panels have proven themselves in a variety of screening circuits and are well suited for wet applications. Polyurethane offers the most options, not only in terms of screen openings, but also in the integration of performance enhancing features like dams, restricted flow bars, skid bars and deflectors.

In October 2018, the new Polydex 1- x 1-ft slotted panels with pin fastenings were installed at Bell Creek in rows one through four, and new 1- x 1-ft VR screen panels were installed in rows five and six. The remaining six rows of the screen contained panels manufactured by competitors to draw a comparison in performance. "The panel's performance exceeded our best expectations, both in drainage rate and durability. This innovation provides a cost-effective alternative solution to more costly vibrating screen machines and specialty media solutions," Griffith said.

The Polydex panels exhibited excellent dewatering results with little water proceeding past the last row of Polydeck panels. They allowed for more efficient rinsing of material and increased throughput by 32%. The drain rate increased by more than 2.5 times, screen capacity more than doubled, and the panels eliminated the need for a secondary screen altogether. While the competitor panels still exhibited blinding, the Polydex panels resisted it, reducing the labor costs associated with maintenance and boosting availability. Polydeck said that, upon hearing the results, other gold producers have now reached out in a bid to improve their trash screen operations.

Martabe Solves Problems With Screens in Sumatra
FLSmidth's Ludowici team recently completed a project at PT Agincourt Resources' Martabe gold mine in Northern Sumatra to improve the life of the mine's screen media. Every seven weeks, a shutdown of the SAG mill was scheduled to assess and maintain the steel mill liners and screen media. Yet the metallurgy team at the mine observed that the feed-end blank panel's mean time to failure was a maximum of four weeks. Depending on the mill discharge grate wear, sometimes only three weeks wear life was achieved.

This meant, even with the original seven-week shutdown frequency, the mill faced unplanned downtime and production loss to allow the feed-end blank panels to be changed. However, the mine's ultimate goal was to extend the shutdown to 16 weeks. Therefore, changes needed to be made, and the team turned to FLSmidth for help. At Martabe, the mill discharge is fed on to an FLSmidth BRU 3 x 7.3 horizontal screen. The screen media installed was the FLSmidth LUDODECK P2 modular system and the feed-end had three rows of blank panels for the mill discharge chute to feed onto. The performance of the aperture panels did not need attention. There was no pegging of apertures and wear on the panels, which meant the feed-end screen decks only required changing twice a year and the discharge screen decks just once a year.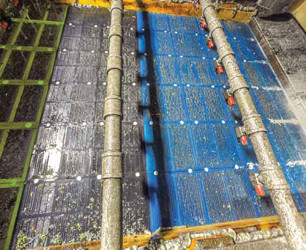 Looking down at the Bell Creek trash screen. The new Polydex panels
can be seen in blue, competitor panels in green. (Photo: Polydeck)

The solution was delivered in two stages and involved trials and discussions that spanned several months. Media wear was reduced by combining a section of the already installed LUDODECK P2 modular screen panels with removable rubber wear plates. This process involved increasing the panel thickness from 1.8 in. to 2.36 in. (46 mm to 60 mm). Then, steel-backed rubber wear pads were bolted to the panels. This increased the overall thickness to 3.39 in. and meant the blank screen panel did not see any wear, allowing for reuse after every shutdown.

The installation of the new solution did not change the original fixing method. Therefore, the panels were fitted by the mine crew on time and without any reported injuries. In addition, future replacements can be assembled offline and fitted quickly when required. The metallurgy team inspected the feed-end blank panels after two weeks of use and found the panels in very good condition. The panels were inspected again at seven weeks of use and the wear was considered very satisfactory.

JOEST Updates Flip-Flow OSCILLA
JOEST celebrated its 100th anniversary in 2019 and, to mark the occasion, the company released an update to its popular Flip-Flow OSCILLA screen. The OSCILLA is suited to classifying hard-to-screen bulk materials, as well as wet or inhomogeneous materials. The 2019 generation has been optimized even further to minimize maintenance requirements and maximize throughput. The OSCILLA technology is based on that of a resonant system in which the dynamic screen frame is excited relative to the body of the screen.

The body of the screen is brought into motion by a standard, unbalanced motor, or a single or double drive shaft. As a consequence, the frame moves in a linear motion relative to the screen body. The clamped screen mats are attached to the frame and screen body via crossbars. The relative motion of the two systems causes the mats to stress and relax, similar to the movement of a trampoline. This accelerates the particles by up to 50 G and prevents the mats from clogging. JOEST said that a big advantage of the OSCILLA is the high flexibility offered through stroke control. The stroke is measured, and a frequency converter applied to enable the relative motion between the frame and screen body to be held at a set value.

The updated OSCILLA has been fitted with what JOEST calls "Vibroblocks." These are located between the frame and body to absorb the system's resonant forces. The feature was added at a client's requests. The company said the Vibroblocks are long lasting, quick to change and minimally sensitive to temperature variations. The OSCILLA cross members have also been redesigned. These are no longer manufactured individually for each machine type. Instead, they consist of specially developed profiles, which are cut to length and fitted with a standard end-plate. The attachment points for the screen mats are also integrated to eliminate labor intensive alignment and bolting of the individual parts to the cross members. The new OSCILLA is available in widths from 23.6 in to 94.5 in (600 mm to 2,400 mm) and lengths up to 362 in (9,200 mm), with the option of a single or multiple deck configuration. The modular design means that numerous inlets and outlets can be attached without changing the base construction.

Metso Eyes Market Trends
The team at Metso has been keeping a close eye on market trends and using these to inform their R&D projects. Andreas Kanter, product manager, mining screens and feeders, told E&MJ: "Condition monitoring has become a common feature as part of the scope of many tenders. In some markets, there's also a tendency toward larger screens; 4.2-m or 4.3-m-wide screens for instance are standard in Australian mining operations. We don't see this in many other markets. "It seems to be a philosophy in Australia based on using less equipment but larger models. Skilled labor is hard to find and many operations are fly-in fly-out, so having less equipment helps reduce maintenance requirements."

Kanter and his team have also noticed increased interest in the optimization of screening operations. Rather than adding more equipment to boost capacity, many mines are looking to enhance the performance of the machines they already have. This has the dual benefit of keeping capital costs low as well as minimizing the screening footprint within concentrators. Michael Gyberg, vice president of products for Metso's Screening Business, explained: "Going back a few years, that wasn't the main focus. The quickest and easiest way to increase capacity when the market was booming was to add more machines. Now, that capital investment isn't so readily available, there is more willingness to optimize."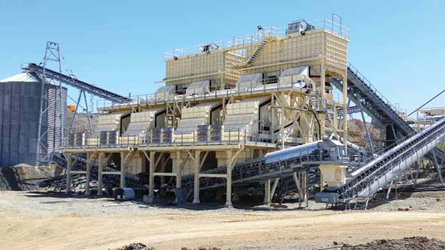 Four Metso MF3085-2 screens with diverging feeders. (Photo: Metso)

One way to do this is by using Metso Metrics. This package combines digital monitoring technologies with a customer interface that connects the team to Metso's performance experts who can help maximize plant operational efficiency. Kanter explained: "It [Metso Metrics] speeds up first response in case of events, and aids in inspection and shutdown of screens. It enhances the ability of customers to access Metso support. "We see this in many tenders nowadays. Many customers expect it with the equipment. And for sure, our plans are also to install it on existing installations, too."

He added: "Screening often becomes a bottleneck when it comes to plant upgrades. Installing a high-performance cone crusher with increased capacity is, in many cases, possible with only little modifications at the foundations. "But for screens, it's more challenging, because they demand a lot of space, so we have to optimize. We see many cases where the impact that screening has on crushing circuits has been underestimated."

New Screen and Updated Media
In the past 12 months, Metso has released a new ultrafine screen that can screen wet products down to 50 microns. "We achieve that by using up to 10 decks," explained Kanter. "This screen can be used in grinding circuits, instead of cyclones. The advantage is the sharper cut point compared to cyclones in some grinding circuits." And how about media? Gyberg explained: "We are on the verge of launching an updated version of our flagship media product groups. We have developed internally a manufacturing process, which gives us very precise control over aperture design and high panel production capacity.

"We are bringing in high open-area type designs, which haven't been that common in some markets globally. It's more a trend in aggregates. This is something which will be coming in the next coming six months." Gyberg added that the company also has an important development concerning the North American market.

"In the first quarter of 2020, we will be a full line manufacturer for screening media in North America," he told E&MJ. "In the past, we have imported a lot, but we have done quite a bit of investment there in our plants to enable us to better supply that market. "In other areas of the world, we already have strong capabilities, and going forward, we'll be able to make everything from polyurethane to wire-type products on American soil."

Derrick Ups SuperStack's Decks
In November, Derrick introduced the 8-Deck High-Capacity SuperStack vibratory screen. The company said this offers two to three times the capacity of its predecessor, the 5-deck Stack Sizer. The eight decks operate in parallel and this, combined with a 30%-35% increase in screening width per deck, delivers a significantly higher production capacity with only a modest increase in footprint. While the 5-Deck Stack Sizer is equivalent to a 5-m x 1.5-m screen, the 1.42-m-wide SuperStack is equivalent to an 11-m x 1.5-m screen.

"The SuperStack is a highly efficient means of achieving major production increases within a comparatively small footprint," said Todd Burchett, vice president of Derrick's Mining and Industrial Division. "Consequently, we expect the SuperStack to fill the need for higher productivity in facilities where space is limited." Derrick said the more effective use of screen area and increased capacity results from the front-to-back screen tensioning system that tensions the panel in the direction of flow rather than side to side. In addition to increasing productivity, the system reduces screen panel changing time by 80%-90% compared to side-to-side tensioning.

Derrick's Polyweb urethane screen panels with 150- or 180-micron slotted openings are available for the SuperStack, and an optional re-pulp spray system introduces free water into replaceable rubber wash troughs to help undersize material pass through screen openings. All screen frames are coated with abrasion-resistant urethane for extended service. Dual oversize launders (one per side) and a single undersize launder eliminate the need for a large hopper, minimizing height requirements. Each feeder has a removable front cover to facilitate maintenance and debris removal. Custom designed inlet pipe configurations are available if required to meet equipment layout requirements.

The Flo-Divider, which equalizes flow from the feed source to each deck, is also available in a number of discharge outlet configurations, from two-way to 16-way. Dual vibratory motors are positioned directly over the upper screen frame to deliver linear vibratory motion to all eight screen decks. The motors have an internal oil lubrication system that removes the need for a separate lubrication system, while providing long-term, maintenance- free operation and less noise.

SuperStack Boosts Russian Iron-ore Production
Derrick also announced the delivery of SuperStack equipment, including an 8-Deck SuperStack, to Metalloinvest's Mikhailovsky GOK iron-ore beneficiation plant in the Kursk region of Russia in October. The agreement was signed with Thrane Teknikk in September to supply Derrick equipment for the second stage of the project. The companies have been working together since 2005 when Derrick technology was introduced at four sections of the old beneficiation plant. The design, supply and installation of the equipment, adjustments and commissioning took place in just one year.

As a result of the successful first stage implementation, the fine screening section is projected to produce more than 3.7 million metric tons (mt) of iron-ore concentrate, with iron content increasing to 67% compared to the previous 65.1%. The second stage of the project will see construction of a new building for benefi- ciation, and the plant is expected to produce 16.9 million mt of concentrate with an iron content of 68.7% by 2022.

Nazim Efendiev, First Deputy CEO and sales director at Metalloinvest, commented on the deal: "The introduction of Derrick fine screening technology is an important part of the comprehensive program to improve iron-ore products at Mikhailovsky GOK. "Improvements in the quality of concentrate will enable the enterprise to produce premium-quality pellets in line with international standards. The enterprise will also reduce its impact on the environment and will increase production efficiency."

Haver & Boecker Niagara: New Name and New Products
Haver & Boecker announced a big change in April at the bauma 2019 tradeshow in Germany. The company has established a new brand called Haver & Boecker Niagara, which combines the engineering expertise and product portfolios of its three mineral processing locations in Brazil, Canada and Germany. In the past, the three locations acted individually for their respective regions and territories, but the company said the new brand will allow customers across the globe to benefit from shared innovations, more in-depth consultations, greater parts availability and better delivery times.

"Niagara now stands for a new, global drive in processing technology," said Adrian Gamburgo, director of corporate business development at Haver & Boecker OHG. "These three Niagara locations will join forces and, together, focus on developing innovations in screening, washing and pelletizing technology, as well as increasing their regional service reach." At the event, the company also launched a number of new products including the Ty-Max screen media. This polyurethane media is suitable for wet or dry screening applications and is created using open-cast technology. The media permanently hardens when cured allowing it to maintain its chemical properties and resist wear and tear.

Haver & Boecker Niagara said the polyurethane lasts much longer than wire cloth and handles direct feed better, maximizing productivity by reducing changeouts. Ty-Max features an internal wire grid as thick as 3/8-in. (9.5 mm) to reinforce the screen — something modular polyurethane products do not offer. Tensionable hooks come standard with Ty-Max sections, eliminating the need for deck conversions, which can cost thousands of dollars. Typically, a switch from a woven wire cloth, which requires a cambered deck, to a polyurethane modular product requires a deck conversion costing anywhere from $5,000 to $15,000. However, Ty-Max is hooked for a cambered deck to eliminate the need for conversion.

Ty-Max features square or slotted tapered openings to release near-sized material. The top of each opening is narrower than the bottom, helping prevent pegging. Several Ty-Max options are available to fit different applications. Standard Ty- Max sections have bar rail spacing up to 12 in. (304.8 mm), while heavy-duty Ty- Max handles higher impact applications and deep bed depths on vibrating screens with bar rail spacing up to 16 in. (406.4 mm). The heavy-duty sections feature thicker wire reinforcements for withstanding large top sizes and heavy material. Finally, Dual Durometer Ty-Max features a top layer that is softer than the bottom to alleviate pegging.

Haver & Boecker Niagara also launched the N-Class vibrating screen, which can handle up to 5,000 mt/h of material scalping and classifying duties, and various other mining applications. The N-Class features one to three screen decks and a single-eccentric shaft design that's supported by four high-performance, double-spherical roller bearings. It is balanced to minimize dynamic loads transferred into the structure, allowing multiple screens to be placed side by side in the same building.

Haver & Boecker Niagara said the N-Class maximizes screening efficiency and virtually eliminates blinding and pegging by providing consistent G-force in all operational modes, regardless of load consistency. A heavy-duty body handles heavy loads in applications with extreme material sizes up to 80 x 40 x 40 in. (2,032 x 1,016 x 1,016 mm). The screens also offer a self-cleaning action to minimize common problems encountered with traditional grizzly feeders. And each N-Class comes equipped with the aforementioned Ty-Rail System.
---
As featured in Womp 2020 Vol 01 - www.womp-int.com