Hecla Ramping Up Lucky Friday Mine to Full Production
---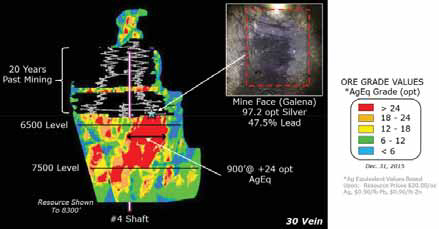 The Lucky Friday mine's grade increases with depth and Hecla expects 60%
more annual silver production over historic levels.


On Monday, December 16, union members of the United Steelworkers (USW) Local No. 5114 voted down an option to ratify a tentative agreement between the USW and Hecla Mining Co.'s negotiating committees. The union has been on strike at the Lucky Friday mine in Mullan, Idaho, since March 2017. Following the vote, Hecla said it was committed to bringing the mine back to full production and will be hiring more employees and contractors.

"For much of 2019, we have employed a number of hourly workers who, combined with our salaried workforce, have operated the Lucky Friday on a limited basis," said Phillips S. Baker Jr., president and CEO, Hecla Mining. "We will now accelerate hiring and utilizing contractors with the goal of reaching full production by year-end 2020.

"While we would have preferred ratifi- cation of the agreement reached by the two negotiating committees, after three years of negotiating we believe the best interests of the company and community is the Lucky Friday in full operation. The mine has operated for 75 years, and we believe its best days with projected higher grades and more cash flow, are in front of it."

Baker acknowledged the salaried and hourly staff at Lucky Friday, who kept the mine operating during the strike. "They have operated in a very safe manner, and were recently recognized with a Sentinels of Safety Award from the National Mining Association," Baker said.

Lucky Friday is a deep underground silver, lead, and zinc mine located in the Coeur d'Alene Mining District in northern Idaho. The mine began operating in 1942 and celebrated its 75th anniversary in 2017. In 2018, the mine produced 169,041 ounces (oz) of silver and it is expected to have another 20-30 years of mine life. In 2016, Lucky Friday produced 3.6 million oz of silver.
---
As featured in Womp 2020 Vol 01 - www.womp-int.com