Versatile, Specialized Machines
Purpose-engineered utility equipment gets upgrades that target safety, productivity and a better work environment

By Jesse Morton, Technical Writer
---
Gradall's scalers feature a boom purpose built for the task. The latest updates to the series include weldments
that push machine life out beyond 10,000 hours. (Photo: Gradall)

When asked, three utility equipment suppliers offered E&MJ three similar visions of the future of underground mining. Where they disagreed is on the fine details. One envisions a world where smalland midsized ops opt for a more expensive but purpose-designed machine to pry lose rock from the ceiling or the face. Another sees a sector where versatile elevated work platforms increasingly replace the traditional tool carriers at large-heading mines. The third sees an uptick in demand for battery-powered shotcrete machines capable of outperforming the diesel competition.

However, they agreed on the big picture. Each said that in the perfect future world, the top priority compelling the head office to drop money on new equipment is improving the underground work environment. While each solution reviewed below is designed for unique applications, each is also pitched as targeting exactly that.

Increased Reliability
Gradall reported that smaller units from its popular line of scalers could be ideal for some smaller underground hard or soft rock operations. Designed to meet Mine Safety and Health Administration (MSHA) standards and for optimal safety, the Tier 4F-certified scalers can be disassembled aboveground, brought into the mine piece by piece, reassembled, and then will operate 10,000 hours without a major weldment failure, Gradall told E&MJ.

"If this is an underground shaft mine, it is hard to get big pieces of equipment in there and then you've got MSHA inspectors looking for every little thing," Mike Popovich, vice president, excavator products, Gradall, said. "It has got to comply from a safety standpoint, and they view cracks in the weldments as unsafe." With the latest round of upgrades to the series, the company focused on ensuring "the weldments would hold up," Popovich said. "And they have. The weldments have been extremely reliable compared to anything we've built in the past."

Which is no small feat considering the abuse the machines take. "From a durability standpoint, when you are going in and picking away rocks and they fall, they could weigh up to four or five tons," Popovich said. "They are falling off the wall and hitting your machine," he said. "It says a lot about the weldments and about the design behind them that they last 10,000 plus hours." Another key feature is the boom, which "naturally lends itself to scaling," Popovich said.

To save money, some miners use a machine with a knuckle boom, like an excavator, for the task. "What they end up doing is buying a relatively inexpensive machine and then the boom breaks and falls off," he said. "Then they have all kinds of liability issues with the crawler because it vibrates into pieces." When a rock falls on a knuckle boom fully extended, "it is like taking your knee and bending it backward," Popovich said. "It breaks the boom. It cracks it in two pieces because when they designed the booms they don't FEA (finite element analysis) them for that kind of stress."

The Gradall scaler has a telescopic boom with an attachment on the end. "Our telescopic boom is naturally more efficient and better at scaling than just about anything else out there," Popovich said. "That is the original reason people went to us for scaling." Other features include a powerful undercarriage, mining-grade axles, a ZF gearbox, and a tilting cab. "If you are scaling on the back or scaling high up the face or ribs, you can tilt back and look directly down the boom to see what you are scaling," Popovich said. "That is a nice feature."

In 2016, the biggest, the 7320, popular in salt and limestone mines, was upgraded from a 173-horsepower (hp) engine to a 215-hp turbo-charged Volvo Penta engine. "More importantly, the torque went way up to 671 ft-pounds (ftlb)," Popovich said. At roughly 13 ft 6 in. tall and wide, with a wheelbase of 12 ft 6 in., and weighing in at 77,500 lb, it offers a maximum boom reach of 52 ft.

The smaller 5320 features a Volvo TAD571 VE engine rated at 173 hp with 590 ft-lb torque. At roughly 9 ft wide and 11 ft tall, with a wheelbase of 8 ft 9 in., and weighing it at 56,000 lb, it offers a maximum boom reach of 26 ft 9 in. The scalers come standard with a single pick. They can be equipped with rotary grinding heads, which have seen some demand lately, Popovich said. "These guys are trying to get more and more out of the mine quicker. The quicker you can scale, the quicker you can get on to the next blast and more material out of the mine," he said.

Which is where the new engine on the 7320 comes into play. "With our previous engine, we weren't able to support a very big grinding head. The 170-hp just didn't have it," Popovich said. "The new Volvo Penta has plenty of power and lots of torque and we are able to run up to 4-ft-wide grinding heads on the end of the boom." A rotary grinding pick offers increased speed, efficiency and higher volumes. "The theory behind it is that they can increase the strike rate," he said. The increased strike rate dislodges more rock faster. "That is one of the reasons people were asking for it."

Popovich said there is a point of diminishing returns there. After all, the main benefit of the Gradall scalers is safety. For that, they are technically most effective using a single pick. "The guys that use the grinding head actually do get through the heading faster, but what we find ends up happening is they tend to smooth the rock face off and there are still hidden pieces of scale," he said. "They kind of mask some areas of scale, which could later come back to be a safety issue." Safety is what the scalers were designed to deliver. "The primary purpose of a scaler isn't production," Popovich said. "It is safety."

Early iterations of the mechanical scaler were trialed in the 1950s. In the early 1990s, the company released a purpose-designed scaler with a dedicated undercarriage, a heavy-duty upper structure and cab, and features designed for the mining space. Units were added to the series, which culminated in 2011 with the 7320 model, featuring a new rough terrain undercarriage. "That machine was very popular," Popovich said. "We sold a lot of them." Underplayed in the hard rock mining space are the smaller units in the series, such as the 5320, which is on a different chassis. "We are able to supply mine scalers for smaller mines," Popovich said. "I would say that is the area of the biggest opportunities for us."

Those opportunities come with challenges. "Our machines are not inexpensive," Popovich said. "The mine sees the expense of the machine and they consider alternatives that are hard to find." That's because the task is highly specialized, which is why the 7320 has been widely adopted. "Generally speaking, from an application standpoint, we make the strongest, most efficient machine for the job," Popovich said. "The numbers generally reflect that."

Swiss Army Knife of Carriers
MacLean Engineering reported the LR3 stands alone in the field of integrated tool carriers as the only available certified elevated work platform (EWP) with the offered rated loads at the rated heights. "Other machines cannot provide those offerings," Stuart Lister, vice president, marketing and communications, MacLean, said. Released in 2017, the vehicle was originally designed for deployment to underground ops in Australia, specifically for the high-reach, heavy-load task of installing large ventilation fans. "Since its release, the unit has been adapted with a variety of quick-change deck configurations and attachments, to provide a wide range of underground production support applications," Lister said.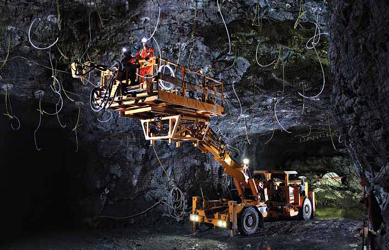 MacLean Engineering's LR3 was built for ventilation fan repair and replacement work, but has
graduated to a multipurpose elevated work platform. (Photo: MacLean Engineering)

Featuring the company's Remote Drive System, it offers a 20-ft-high, 8-by-12- ft work platform that can support up to 12,000 lb. It has four stabilizing jacks and an emergency lowering system. At 8 ft wide, 35 ft 3 in. long and 8 ft 4 in. in height, and weighing in at 42,000 lb, the unit has an inside turning radius of 15 ft 6 in. and an outside turning radius of approximately 27 ft. The LR3 is compatible with MacLean's fan handler, pipe handler, cable reel and cable pusher attachments. It features a long-life power train using industry proven components, a fuel-efficient engine, four-wheel drive, and a powershift transmission, the company reported.

Lister said a common misconception is the LR3 is a "one-trick-pony." Instead, it is "the Swiss Army knife of tool carriers for construction and service crews," he said. "Here is a unit that, with its versatile options in basket arrangements and attachments, can be a multipurpose tool for your mine, a proven solution that reduces the job complexity, as well as the quantity of people and equipment to get the job done." The main benefit offered, according to MacLean, is safety. "It offers mines a safe way to install services and can serve as a replacement to integrated tool carriers attempting to do this work," Lister said. "We are a mining vehicle company founded on the human imperative to make the underground work environment safer and more productive."

Safety and productivity benefits go hand in hand, Lister said. The machine is designed to "increase productivity for specialized, technically demanding applications, such as the installation of large ventilation fans." The LR3 is ideal for "large-heading mines looking to replace their current approach to high-reach, heavy load services installation with a purpose-build, certified elevated work platform," Lister said. Adoption may require reviewing the op's existing policies as well as any regulations governing working at heights, he said.

Going forward, the company will seek to evolve the solution's application range with new attachment and deck configurations, Lister said. Additionally, "we have started to deploy specialist LR3 operator trainers to bring new knowledge to the operations of how to fully capitalize on the capabilities of the MacLean LR3 Boom Lift."

Meeting Demand for Quality
Normet's battery electric spraying equipment Spraymec 8100 VC SD has been deployed to an underground tunneling operation in Espoo, Finland. The unit is spraying permanent concrete lining to strengthen the tunnels for a major underground wastewater treatment facility, company leadership reported. "There will be 19 kilometers of tunnels excavated for water logistics around the treatment facility," Mark Ryan, vice president of equipment offering and R&D, Normet, said. "The geology is mostly fennoscandian shield granite, and the primary tunneling method is drill and blast." The unit is equipped with Normet's latest SmartDrive (SD) battery electric architecture, which was introduced at bauma 2019, and is described by the company as more efficient than its diesel equivalents. According to Normet, the SD system offers extensive tramming range, fast charging capability, lowered noise level, lower overall total process cost (TPC) and no diesel particulate emissions.

The Spraymec 8100 VC SD is also equipped with SmartSpray technology, which increases the automation level of the concrete spraying process, and SmartScan, which measures and confirms concrete layer thickness. According to Ryan, SmartSpray technology makes the operator's work easier and less physically tiring by automating most of the spray boom movements, resulting in a stronger and more consistent concrete layering result with a significant reduction in rebound. SmartScan makes the quality control, minimum required sprayed concrete thickness safety inspections, and reporting faster and much easier, he said.
At the 1,000-m level in the Pyhäsalmi mine in Finland, a Normet
Spraymec 8100 VC SD is tested. (Photo: Normet)

Ryan described the machine as the most productive choice for the job. "Safety, quality, performance and availability or uptime demands are extremely high in tunneling, and the Spraymec 8100 VC SD needs to surpass all those expectations," he said. With eight weeks logged; the unit has garnered positive feedback from the customer. "The spraying operations have gone according to the contractor's planned targets," Ryan said. This deployment is providing Normet an opportunity to field test and demonstrate the capabilities of the SD equipment line, demand for which is expected to increase substantially in the near future, Normet reported. "We have seen interest and demand from multiple markets on multiple continents," Ryan said.

"Customers are truly interested in the possible EHS benefits, improved productivity and overall TPC cost savings, for example via decreased need for additional ventilation to dilute heat and diesel particulate emissions, normally associated with engine driven machines," he said. "In addition, mining and tunneling activities are been carried out in increasingly more challenging environments, deeper down and in higher altitudes than ever before, which makes it generally more expensive and extremely challenging to operate with diesel powered equipment."

To answer the increased demand, Normet is expanding its Iisalmi, Finland, facility. With a factory floor space of roughly 22,000 m², the facility employs 400 personnel and manufactures more than 80% of the company's equipment. "The factory is capable of manufacturing the whole portfolio of Normet products," Heikki Ojala, vice president, global production, Normet, said. "Additionally, R&D prototype development is done at the Iisalmi facility as well." As part of a longtime initiative to up production at the facility, the expansion, scheduled for completion in 2020, will double the production capacity from the current baseline, Normet reported.

The expansion includes the addition of a digital testing center where software and automation solutions will be developed and tested. "The center will also enable automation of the testing procedures," Ojala said. "Automated test processes will help to improve testing quality further and the throughput time of testing." The expansion will allow extension of line production, which will improve throughput times. "Additionally, the equipment planning targets making all equipment simple to assemble," Ojala said. "This helps both with quality and production costs."

With manufacturing facilities in Chile, India and China, the company chose to invest in the Iisalmi facility due to the resources and expertise at the location. "We have significant accumulated knowledge there, as we have manufactured concrete spraying machines in Iisalmi for almost 40 years," Ojala said. That the area is home to critical subcontractors is a factor as well.
---
As featured in Womp 2019 Vol 12 - www.womp-int.com