Over, Under, Sideways, Down
Drones now can fly complex missions almost anywhere – with or without human guidance – and provide the big data streams needed for up-to-the-minute operational planning

By Russell A. Carter, Contributing Editor
---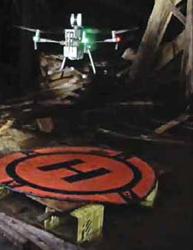 An Exyn A3R drone equipped with a navigational
package that allows it to safely avoid obstacles
takes off for an underground mine mapping mission.

It's hard to pinpoint exactly when UAVs — unmanned aerial vehicles, commonly referred to as drones — gained a solid foothold in the mining industry. Prior to 2010, drone usage was just a minor blip on the industry radar screen, with a few producers such as Barrick Gold and Freeport-Mc- MoRan, some exploration companies and, in the U.S., a government agency or two engaged in early-stage experimentation with simple drone-based surveys. Commercial drone usefulness was hindered by technological and regulatory hurdles: available UAV models fell into the hobbyist category at one end of the spectrum, with limited durability, flight time and payload capability; or conversely were high-end models that were expensive and required extensive operator experience. Regulations pertaining to commercial drone operations were restrictive or vague in Australia, Canada and the United States.

That all changed in 2015-2016 when both the U.S. and Australia relaxed and clarified their regulatory frameworks for commercial drone operations. Canada revised its drone rules in 2019. Meanwhile, drone technology has advanced in terms of physical performance, operational flexibility and sensor efficiency. UAVs are now flying longer, higher and even deeper than mining-industry early adopters would have imagined. Companies currently active or interested in UAV operations can choose their level of participation, from do-ityourself, in-house efforts carried out on a limited scale, to comprehensive turnkey drone-service packages. At least one company, Israel-based Airobotics, markets a completely automated setup that employs a "drone in a box" concept using self-deploying UAVs operating from self-contained on-site stations from which they take off, land and repower themselves with little need for human interaction.

Software solutions providers quickly recognized the vast data-management and analysis opportunities offered by the cheaper, quicker and highly targeted mission options offered by drone operations, with companies such as Hexagon jumping on the bandwagon and incorporating tools for handling large volumes of point-cloud data in its 2015 License to Explore package. Maptek, focused on 3D laser scanning and surveying products, hedged its bets in 2014 by investing in DroneMetrix, an Australian technology startup that developed innovative aerial photogrammetry mapping solutions. In recent years, the push to make drones smarter in pursuit of autonomous operation under various site conditions has fueled a nascent startup boom focused on development of AI capabilities that allow drones to accurately perceive their environment, enabling them to navigate and map while analyzing information in real time. In short, allowing them to fly in uncharted spaces and make efficient use of the massive data sets that they collect without need of human interpretation or input at every step.

Today, advances in drone performance, combined with expanded drone-service packages that include flexible, scalable options, make the decision to embrace drone usage less uncertain than it was just a half-decade ago. As might be expected, larger miners with broader needs for drone capabilities are leading the way. A study conducted recently by the market-intelligence group GlobalData indicated that 60% of 200 mine sites contacted during a survey had invested in drone technology, but within that group of respondents, the results skewed heavily toward major mining companies (70% had invested) versus small- to midsized companies (37% invested).

At least one large equipment OEM also has invested materially in drone-based solutions for worksite aerial surveying and other visual data-based tasks. In March, Komatsu Australia and Skycatch, an industrial data collection and analysis company, announced a partnership to boost Komatsu's "Everyday Drone Solution," which comprises Skycatch's Explore1 high precision UAV, Edge1 integrated GNSS base station and edge compute module, and the Viewer, an online data visualization and analysis tool, packaged into a commercial-grade kit.
Komatsu has teamed with Skycatch, which specializes in data collection and analysis, to offer an 'Everyday Drone' solution for customers
interested in performing 3D site surveys. The system is based on Skycatch's Explore 1 high precision UAV, shown here.

The announcement followed a purchase of 1,000 DJI-built drones by Komatsu in 2018 as part of its Smart Construction platform development. Although that solution is primarily focused on construction-project equipment monitoring applications, Komatsu also offers the Everyday Drone service for companies more interested in its 3D site surveying capability and has seen this service expand to include mine-site surveying in Australia. Komatsu also has participated, along with Freeport and several other industry partners, in developing a list of AI-related projects focused on preparing the mining workforce of the future to understand and manage mining's big-data requirements and benefits, including drone-related operations, as part of a $1.25 million grant awarded to the University of Nevada– Reno from the U.S. National Institute for Occupational Safety and Health.

Prospective users looking for an optimum in-house drone strategy need to decide how much they can afford to invest in equipment and personnel costs, determine the best approach for the size of the site(s), identify accuracy requirements and establish optimal data collection and turnaround time goals for delivery of final survey products. As an alternative to what can be a lengthy process, drone-service providers are adjusting their pricing models and service options to give current or potential customers a broader range of choices. Kespry, for instance, now offers customers several drone options to choose from to fit multiple use cases, company standardization goals and flexible scheduling needs. Customers have the option of using Kespry-managed drones, their own DJI drones, or hiring a DroneBase pilot to collect their site data. DroneBase is a California-based company that provides experienced UAV pilots who execute specific missions according to the customer's package purchase, and also offers a variety of data management solutions based on customer needs.

In September, DJI and Delair, a French company, announced a partnership to collaborate on enhanced and integrated solutions for UAV-based visual data collection and analysis. According to the two companies, the relationship will strengthen Delair's ability to serve key industry sectors that are increasingly relying on visual data, including mining. Customers will have access to one-stop shopping and freedom of choice in utilizing Delair's cloud-based solutions to help derive insights from drone data, including industry-specific analytics tools optimized for specific use cases such as creating digital twins, field inventory calculations, vegetation encroachment, automatic defect detection, automatic stockpile detection and volume measurements, along with any application which is based on AI object detection for asset management.

Delair, established in 2011, has expanded through its acquisitions of former competitor Airware in 2018 and Gatewing from Trimble in 2016. Intel invested an eight-figure sum in Delair in 2017 to help it further develop its analytic tools.

Carry More, Do More
In the past, a crucial part of the decision- making process to implement UAV usage has been whether to use multirotor or fixed-wing drones. Multirotor drones offer the advantages of lower initial hardware costs, higher accuracy in some applications, and generally more operational flexibility, while fixed-wing UAVs can cover more ground per flight, have a less-complex design and can be configured to carry a heavier payload. Conversely, fixed-wing units are usually more expensive, can't provide the hover capabilities provided by multirotor UAVs for special survey requirements, and traditionally need level terrain for takeoff and landing, although the latter problem has been eased by development of vertical- and short-take-off-and-landing (VTOL/ STOL) UAVs such as the Fusion model from the French drone builder Hélicéo. The hybrid Fusion UAV, according to the company, can scan up to 725 hectares (1,800 acres) during a single flight and can take off and land vertically and automatically. It provides maximum payload capability of 1.6 kg (3.5 lb) and features carbon fiber, Kevlar and composite construction with removable wings for convenient transportation.
Fusion is a winged drone designed for long-distance
photogrammetric surveying. Its innovative vertical
takeoff system (VTOL) allows for takeoff and
landing at all types of sites.

Polish drone builder FlyTech introduced a VTOL module for its fixed-wing BIRDIE model earlier this year, allowing users to operate the drone in its original configuration or add autonomous vertical takeoff and landing capability as required according to mission or terrain characteristics.

Arizona, USA-based Krossblade Aeronautics released the second version of its Skyprowler 2, which uses an innovative "switchblade" design to function either as an aerodynamically-smooth fixed wing or versatile VTOL vehicle during flight according to mission needs. It also can operate as a conventional multirotor UAV by removing the wings before flight.

A steady flow of technological advances has expanded remote sensing functions for UAVs in general, allowing drone-based survey and mapping operations to benefit from improved modularity, miniaturization and intelligence, while non-imaging sensor technology improvements have increased UAV control capabilities while in flight. And as UAV models proliferate, changes to their physical measurements are moving in two directions: Smaller but increasingly capable UAVs are ideal for carrying out inspections inside structures or confined spaces, and as we'll see later, in underground workings. Meanwhile, larger UAV models are more stable in rough air and can carry larger sensor arrays.

As an example, Microdrones GmbH, a German supplier of aerial mapping solutions, just announced the release of several integrated UAV systems based on the company's md4-3000 heavy-lift multirotor platform, as well as a new software package for efficient processing of geospatial data. The mdMapper3000DuoG VHR integrates a 100-megapixel camera and a vibration-free quick connect mount for direct georeferencing capabilities with one-pixel mapping accuracy from a 1,000-ft drone altitude.

Dr. Mohamed Mostafa, director of md- Solutions at Microdrones, commented: "This system is a game-changer for Microdrones as now we can compete in some of the same arenas that photogrammetry professionals relied on manned aircraft for. You can fly the mdMapper3000DuoG VHR at a height of 1,000 ft and achieve triple the image quality and double the Direct Georeferencing in just half the time without all of the traditional manned aircraft expenses."

Other new models include the mdMapper3000DuoG, featuring a 42.4-megapixel camera paired with a nadir mount. Its Direct Georeferencing system, according to the company, acquires high-density, high-accuracy data faster than PPK (Post Processing Kinematic)-based mapping systems. It can be upgraded to VHR or LiDAR capabilities with the additional payloads, firmware and software. According to Microdrones, Direct Georeferencing is a highly efficient method for connecting aerial images to their geographic positioning on the Earth's surface. By measuring the true 3D coordinates and orientation angles of any sensor (with the use of a GNSS receiver and an Inertial Measuring Unit) DG allows for direct map production. DG surpasses the accuracy of traditional methods such as traditional aerial triangulation, RTK and PPK.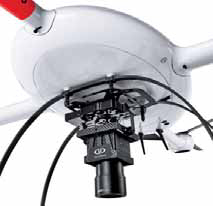 Microdrones' mdMapper3000DµoG VHR is the
company's flagship mdMapper system, featuring a
100-megapixel digital camera

Microdrones' mdMapper3000 PPK can acquire dense and accurate data with just one to three ground control points. Also featuring a 42.4-megapixel camera and nadir mount, the system is upgradeable via firmware to Direct Georeferencing.

It's also possible to go smaller — much smaller — when payload capacity takes a back seat to convenience and immediacy of need. For example, drone maker DJI recently announced the launch of the Mavic Mini, a folding drone that weighs only 249 g (8.7 oz) and features a built-in camera for capturing high-definition photos and video. With a flight time of up to 30 minutes, Mavic Mini builds on the technological innovations developed in DJI's range of folding Mavic drones, from the original Mavic Pro through Mavic Air and Mavic 2. Mavic Mini's camera, incorporating a 1/2.3-in. sensor and mounted on a threeaxis motorized gimbal, captures 2.7K video at 30 fps, 1080p at 60 frames per second, or 12-megapixel photographs. An HD live feed is delivered to the dedicated remote controller via Wi-fi. Its ease of use and simplicity combine to make it a handy tool for quick inspection and evaluation flights when convenience and time, rather than technological sophistication, are crucial.

The Mini will automatically return to the launch point if it loses connection to the controller or reaches critically low battery level. It can be used with DJI's new DJI Fly app, which provides a simplified interface for flying and features pilot tutorials and preset editing templates. QuickShot pre-programmed flight maneuvers provide an easy way to capture video from a variety of heights, angles and directional maneuvers.

Recent developments from sensor suppliers also point to a future bonanza of drone-based data collection made possible by smaller, more efficient imaging components and advanced position sensors that are necessary for precise UAV flight control. For instance, Atmos UAV, a Dutch drone manufacturer, announced availability of its new MicaSense Altum sensor, which integrates a radiometric thermal camera with five high-resolution narrow bands, producing thermal, multispectral and high-resolution imagery from just one flight. According to the company, its Marlyn fixed-wing VTOL surveying platform is currently the only drone in its class capable of carrying the new high-end sensor.

Trimble introduced the UAS1, a compact, high-precision Global Navigation Satellite System (GNSS) board specifically designed for unmanned aerial systems. The UAS1 is designed to allow system integrators to easily add satellite-based positioning with potential for upgrades. The 336-channel GNSS solution provides centimeter-level, real-time kinematic (RTK) positioning, tracking L1/L2 frequencies from the GPS, GLONASS, Galileo and BeiDou constellations. Trimble Center- Point RTX GNSS corrections are also supported, which enable precise positioning without the use of a base station via a subscription service. CenterPoint RTX allows users to achieve better than 2-cm horizontal and 5-cm vertical accuracy.

A Piece of the Puzzle
UAVs fit perfectly into the mosaic of technologies that the industry eventually will piece together to achieve its long-term safety and productivity goals, including: 1) Removing workers from hazardous environments, and eventually from most active mining sites; 2) Increased use of Artificial Intelligence in exploration and other phases of mineral discovery and development; and 3) Totally autonomous operations.
At less than 250 g, Mavic Mini is exceptionally
portable and is in the lowest weight class of drones,
which in many countries may exempt it from certain
regulations

UAVs have been used for years to conduct tasks such as stockpile measurement and remote mapping — allowing companies to eliminate the need for humans to enter risky areas — and new applications continue to emerge. Blast Movement Technologies (BMT), an Australian company, recently announced the availability of its Flight Enabled Detector (FED), a UAV that can fly over a blast muck pile and detect BMM (Blast Movement Monitor) locations post-blast. BMMs are small, brightly colored balls sold by BMT that are positioned in a blast pattern before a blast and move with the blasted rock. A built-in transmitter can be activated to transmit a depth and location signal that is received by the FED-mounted detector, providing data that can be used with BMT's Explorer software to define ore polygons after blasting.

The FED is based on the DJI Matrice M600Pro platform, fitted with a unique BMM detector and GPS to find and report the position of BMMs. It serves as an alternative detector for mines that either do not allow or prefer not to use mine personnel to walk the post-blast muck pile. According to BMT, FED usage to retrieve blast movement data resolves a variety of safety and environmental considerations and in many cases allows for faster access and a broader range of data acquisition following the blast stand-off period.

Exyn Technologies, which develops autonomous aerial and terrestrial robot systems for complex, GPS-denied industrial environments, recently reported a successful mission to map previously inaccessible areas in a historic underground gold mine. The data collected during the mission provides precise locations of 70-plus-year-old underground workings and stopes, as well as structural geological information, which would likely have been unobtainable due to area-access risks. U.S.-based Exyn was brought in on the project to help Ascot Resources, a Canadian junior exploration company, gather hard-to-access data from long-inactive mine workings dating back to the 1940s. Certain parts of the mine's layout, particularly old stopes, were unsafe to access by mine personnel.

"At Ascot we are looking to use the facilities available at a former producing mine to extract new resources that we are currently drilling. Exyn came to our site to show us the autonomous capabilities of their drone technology, and we were very impressed with the timeliness and quality of the data acquired," said John Kiernan, COO of Ascot Resources. "Looking forward, we think this technology will be used to safely explore and evaluate the condition of underground mines, while also potentially providing cost savings in mine surveying and ventilation monitoring." Exyn's autonomous A3R drones were able to create a comprehensive map of the mine's workings using LIDAR mapping technology. The map, when cross-referenced against existing mine layouts and core drilling data, will enable Ascot Resources' teams to determine where additional gold and silver resources might be inferred.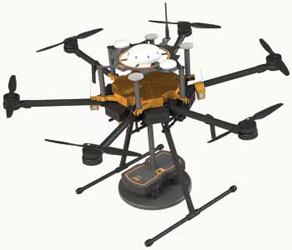 BMT's FED (Flight Enabled Detector) comprises a multirotor drone
fitted with the company's Blast Movement Monitor detector.

Exyn said its multi-sensor data fusion pipeline allows each robot UAV to optimally assimilate measurements from a variety of onboard sensors, including 3D LiDAR, cameras and inertial sensors to generate a robust state estimate of itself and surrounding environments. When combined with the company's real-time navigation software stack, the UAVs can safely avoid collisions with both stationary and moving obstacles during missions. Moreover, said the company, its UAVs are also able to do real-time Simultaneous Localization and Mapping (SLAM) to enable highly accurate map generation.

The company's exynAI package is available for license and can be integrated other drones or robotic platform. Exyn's branded A3R drones comprise a commercially available off-the-shelf drone airframe outfitted with its autonomous flight and mapping payload. The company explained that it specifically designed exynAI as a flexible solution capable of extending robotic automation to any number of platforms. For drone applications, it provides a sliding scale of control that ranges from fully autonomous, pilotless flight with collision avoidance to pilot-assisted flight with sense-and-avoid technology. Exyn offers a subscription model that includes the robots, software and updates, and also sells directly to customers.

Emesent, a Queensland, Australia- based drone autonomy and data analytics startup, also offers an autonomous payload package for underground survey and mapping. The system, called Hovermap, is built around a Velodyne VLP-16 Puck Lite LiDAR sensor. This scanner uses 16 channels and gathers 300,000 points per second. Hovermap's implementation of the sensor also rotates it in order to achieve a full 360° x 360° field of view. Emesent said Hovermap's SLAM technology and autonomy technologies were hatched from five years of R&D at CSIRO, the Australian national research organization. Emesent was spun off from CSIRO as a venture-funded company in late 2018.

For use as a mapping-only payload, the Hovermap system can be mounted on any vertical take-off and landing (VTOL) drone that can lift the 1.8-kg payload. However, if full autonomy is required, it's necessary to mount Hovermap on a DJI A3 autopilot- enabled drone. The company claims that its SLAM processes data up to four times faster than other implementations and can include GPS when available to assist with SLAM calculations.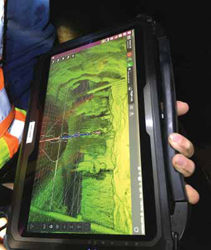 Exyn says its AI solution can be adapted to achieve
robotic automation on a number of platforms,
including fully autonomous flight with collision
avoidance for drones.

A Changing Picture
Just as it's hard to idenfity the exact point in time that drones gained a foothold in mining, it's equally hard to predict what their ultimate role will be. Right now, they're indeed a game-changer when it comes to conducting frequent, limited-area surveys and inspections and eliminating the need to have workers enter risky environments. With further gains in sensing, maneuverability, payload capacity and autonomous capabilities supported by advanced AI platforms that work for both airborne and surface vehicles, the typical mine site of the future may present a very different picture from what we see today — and it's likely that picture will be taken by a drone.
---
As featured in Womp 2019 Vol 12 - www.womp-int.com