Safer, Simpler, Speedier Rock Bolting
We examine some recent advances in rock bolting technology

By Carly Leonida, European Editor
---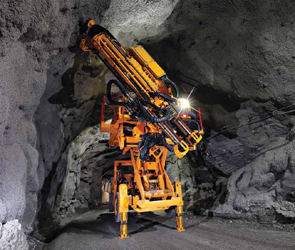 MacLean's flagship product, the battery-powered 975 Omnia scissor
bolter. (Photo: MacLean Engineering)

As hard-rock mines delve deeper, one of the primary challenges they face is that of increased rock stress. In a bid to improve safety and extend the life of their operations, some miners and research groups are developing new mining methods and techniques for managing and mitigating rock stress. However, these will never replace the need for a well-designed and robust ground support system. It is a combination of the two that will enable companies to create a sustainable future for their assets.

In recent years, there are two clear trends that have arisen in the development of rock bolts and machines for their installation: first, the need to speed up and simplify the bolting process while still delivering the best possible support for strata. And secondly, the need for greater safety, not just for those working in the mine, but also for the bolters themselves.

The Battery Revolution
Stuart Lister, vice president for marketing and communications at MacLean Engineering, spoke to E&MJ about the challenges operators are facing. "In the short term, it's increasing the practice of bolting the face as a standard part of the mine development cycle," he said. "Longer term, it's the challenge of introducing full automation into ground support installation as part of the mining cycle, while also maintaining productivity." To help address these, Canada-based MacLean has fixed its sights on the battery- electric vehicle (BEV) market. As the capability of battery-powered bolters has improved, mines are seizing the chance to decrease their dependence on diesel and improve working conditions for employees; a win-win scenario.

"The first BEV that we introduced was a MacLean 975 Omnia scissor bolter, back in 2016, when we launched our Full-Fleet Electrification Program at MINExpo," explained Lister. "Since that time, we have manufactured and sold more than 30 BEVs into Canada.

"The key to connecting the battery cycle to the underground mining cycle is understanding both the technology and the application. Our EV drive integrates long cycle life, data-rich lithium batteries and high efficiency, high-torque electric motors, along with onboard chargers so that our entire fleet of BEV units is able to charge during a shift from mines' existing electrical grids. "Plus, when we sell a BEV, we also have the field service expertise, and operator and maintenance training to support it."

As far as jurisdictions go, Ontario is currently at the forefront of the BEV revolution. The province boasts some of the world's deepest mines and, with a number of significant new projects in development, electric fleets are a natural choice for mining companies looking to prove their green credentials. MacLean has a 15-unit fleet of BEV production support units currently working underground at Newmont Goldcorp's all-electric Borden gold mine, including six rock bolters.

"The MacLean bolters at Borden have logged thousands of working hours since 2017, as the project moved through development to production," Lister said. "They perform exactly like a diesel-powered MacLean bolter, except they bring a zero-emissions, low-noise, and low-heat operating environment. "As with any pioneering mining project, there have been operational and maintenance issues that have arisen over the years, but these have been addressed by strong two-way communication and a frontline innovation partnering philosophy that we share with Newmont Goldcorp. This approach has been supported by having a MacLean service technician onsite, seven days a week, and by our account management, product management and engineering teams working closely with management at the site, to respond quickly to issues and share learnings and best practices from this pioneering project.

"Everyone is aware that the world is watching, so there is a shared responsibility with regard to working as a team to see it succeed." Lister added that, as mining companies chase orebodies deeper and encounter increased rock stresses and ambient temperatures, the option of a battery-electric face bolter, which reduces diesel exposure is increasingly of interest to the company's customer base. "We have recently sold face bolters outside of Canada, which is a first for us," he said. "It's a sign that the need to reduce operator risk due to pressure bursts, is universally shared across the underground mining community."

Reducing Danger and Dilution
Fellow bolting specialist, JH Fletcher & Co., has also noted increased interest from hard-rock miners that are looking to head deeper while still maintaining safe and economic operations. The company cited rock bolt installation in conjunction with wire mesh and the use of quick-set pumpable grout in place of resin cartridges, as a key trend.
Installing mesh as part of a ground support system. (Photo: MacLean Engineering)

Marketing Coordinator Katey Matney explained: "As mines go deeper, there is an increased interest in mesh handling systems. Fletcher offers a mesh handling system on all remote metal/non-metal roof bolters. The system is composed of an independent boom designed specifi- cally for mesh handling. This is a swinging, extending, articulating boom with a tilting, rotating mesh gripper. The boom is mounted adjacent to the bolting boom with pilot operated mesh handler boom controls mounted in the cab."

In metallic mines, it is essential to reduce dilution, and because many operations are forced to use large-sized, standard mining equipment, they must deal with high rates of dilution. To combat this, Fletcher has developed a range of bolters to accommodate narrow-vein operations along with customized equipment to fit customer specific needs. "Customers are able to dictate the specific needs for their operation, in turn reducing dilution," Matney explained. One of the largest safety concerns is the use of jackleg drills for roof bolting. Operators are exposed to hazards such as rock falling from the roof, rib, and face; tripping hazards; bending, twisting, and lifting hazards, high noise levels and exhaust fumes. The continual operation of handheld equipment can also adversely affect the long-term health of operators and result in higher personnel turnover rates for mining companies.

Using purpose-built mechanized equipment with adequate flexibility has the potential to improve workplace safety, reduce operator exposure to danger and improve the health of underground workers. Fletcher's focus with its narrow vein product line is on improving safety for workers installing ground support in narrow vein operations, and also in confined areas such as along belt conveyors, in single entry development, or in tailgate areas where existing supplemental support may prevent use of a wider machine.

"Our narrow vein product line is continuing to grow as we encounter new operations and challenges, creating a diverse selection of equipment designed to accommodate restrictive work areas. These products have found great success in many narrow-vein Canadian operations and continue to be a key focus of development for Fletcher," added Matney.

Steps Toward Automation
Digitalization is also helping to streamline and speed up the bolting process, but the path toward full automation will not be straightforward for this segment. "The ground support part of the mining cycle will arguably be the hardest part to make fully autonomous," said Lister. "Our philosophy is to take incremental steps toward this end goal, with each step laying the foundation for further advancements. We think a first, key step is harnessing actionable data from the application end of a bolter, which is what we can currently do on the MacLean bolter equipped with the IntelliOp machine monitoring system.

"The experienced bolter operator's ability to interpret visual cues along with drill and rock noises so that the unit is always being operated safely and productively, is something that won't be replaced at least for the foreseeable future by a computer. But real-time data to support operators' decision making — we're already there." Interoperability is a key requirement of IntelliOp and, as such, Maclean has designed the system to function either on a standalone basis or to tie into a mine-wide system encompassing equipment and software from other OEMs and third parties.
JH Fletcher recently supplies a customized 3023-AD rock bolter to a hard-rock mining customer. (Photo: JH Fletcher & Co)

"We have a sizable contingent of engineers and technicians solely dedicated to automation and digitalization initiatives, so this allows us to continually adapt the system and work with our customers to ensure that they get the benefits of IntelliOp, no matter what other systems they use in their mine," added Lister. Bolter training is another area that has received a digital makeover. While it may never be possible to replace the value that an experienced bolter operator can bring to introductory or refresher training courses for a mine's workforce, it is possible to add new teaching tools to a trainer's toolkit.

"That's how we've approached the development of our first virtual reality training tool," Lister told E&MJ. "It began as a way to introduce the basic components and operation of a MacLean bolter to operators who have never experienced one before, and it has evolved to become a versatile training tool that allows even experienced operators to fine-tune their skills and prepare for situations such as fires and machine breakdowns in ways they never could with traditional training. "We like that it's ultra-portable, easy to take to remote mine sites as required, and adds a new element to the classroom portion of training, especially to reinforce our 'safety first' message."

MacLean's focus in the immediate term is on making continuous improvements to its flagship bolting product, the 975 Omnia scissor bolter, an example being the recent addition of face bolting as an option. "We are already looking at options for the introduction of automation to the bolting process within the mining cycle," said Lister. "This will be a major product development focus to support the coming generation of increasingly autonomous underground mining."

Getting Rid of Guess Work
Fletcher meanwhile has developed a roof mapping system to help take guess work out of the roof bolting process. The system works as a communication tool between the machine and its operator. It consists of sensors located on the boom and drill head of any standard remote bolter. These sensors extract and analyze data and express that to the operator as a graph. The operator can then see the roof conditions (including voids) and adjust bolt types and lengths according to the needs of the specific area.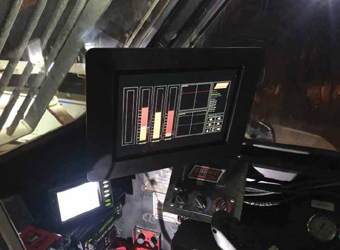 Fletcher's roof mapping system uses sensors located on the boom and drill head
to detect ground conditions and help determine optimal bolt placement. Results are
presented to the operator as a graph. (Photo: JH Fletcher & Co.

"The presets for this system can be programmed specific to customer requirements," explained Matney. "The roof mapping system has proven to establish more consistent roof-bolt installation as well as aid in reducing operator fatigue." Fletcher also offers a data collection system as an optional feature for its range of roof bolters. This allows the operator to collect data while the machine is in use. Data logged from individual equipment can be uploaded to a shared remote storage and used to assist mine managers by providing insight into machine performance issues. The ease of access to diagnostics and machine performance helps reduce downtime and minimize service costs.

Fletcher recently completed delivery of a 3023-AD rock bolter equipped with a boom engineered to perform multiple installations from one chassis position. The bolt module can rotate 180° to the left of vertical to drill the floor and the left rib, as well as rotate 90° to drill the right rib. This range of movement allows the operator to drill the roof, rib, and floor.

Matney told E&MJ: "The system uses a compact KRM module designed to allow the operator to drill and install bolts remotely from the operator's cab. The system consists of two drill masts (one to drill and one to bolt) mounted on a lifting boom with an automatic leveling system. "The remote operation is made possible through a bolt rack, which is designed to hold 12 bolts with 6- x 6-in. plates. Front and rear stabilizers secure the machine's position during drilling and bolt installation. A rotary drill head with hydraulic drill feed and rotation control is standard. Resin cartridges are pneumatically inserted from the cab. Standard mast configuration accommodates 8-ft (2.4 m) length bolts. Bolt-on equipment allows the carousel to extend and retract, allowing the machine to accommodate different bolt lengths. This remote design alleviates some of the material handling burdens imposed on a roof bolter."

The 3023-AD also has a system that allows the operator to collect dust samples without exiting the cab. This helps the operator to determine the ground conditions, and allows them to remain safely in the cab while this process takes place. "In the metal/non-metal segment, we are also seeing growth in our bolt module exchange program," Matney said. "This can be a new or rebuilt module. Rebuilt modules are always designed with the latest safety features and backed by our new warranty. To minimize downtime, we ship the module to the customer for installation and allow them to send their used module back to Fletcher post-install."

Speeding Up Cycle Times
Other vendors that have hit the news this year with new products for the bolting marketing include Sandvik, Epiroc and Minova. In September, Sandvik Mining and Rock Technology launched the RDX5 rock drill for face and long-hole drilling, as well as rock bolting. The RDX5 replaces the HLX5 rock drill and is completely interchangeable in all applications where its predecessor is used. The RDX5 rock drill has an increased minimum service interval. Its design follows that of the HLX5, with a minimal number of moving parts and pressurized seams. Improvements have been made to several components, such as the flushing head, the gear housing and body cylinder, to deliver better durability for internal items. The RDX5 also has a new percussion package and patented piston design which enables improved energy efficiency.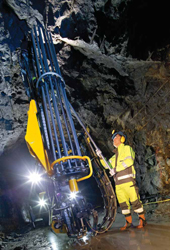 Operator loading the carousel with rock
bolts on a Boltec E rig. (Photo: Epiroc).

Sandvik recently worked with underground contractor Barminco to improve cycle times and exceed development targets at MMG's Dugald River zinc mine in Queensland. Barminco won a contract in 2012 to advance two exploration declines and establish production levels at the project. That contract was extended to include trial stoping and additional development, with all headings supported by shotcrete and encapsulated resin bolts. In 2016, Barminco scooped a further five-year contract covering development and production. This included a monthly development target of more than 900 m using two Sandvik jumbos. At the same time, MMG decided to transition from shotcrete to mesh support in 90% of the mine's headings in an effort to cut costs while maintaining efficiency. Most of the support profiles included mesh, resin bolts and split set bolts and, due to the change, the team saw bolting cycle times increase substantially.

Following its success with Sandvik's Mechanical Dynamic (MD) bolts at MMG's Rosebery mine in Tasmania, Barminco looked to implement the single- pass solution at Dugald River, too. The MD is a 47-mm diameter friction bolt, reinforced with a 20-mm bar with a wedge arrangement at the top end. Once the bolt is fully driven into a hole, similar to a friction bolt, the bolt nut at the collar is rotated to activate the wedge to firmly anchor the bolt. The MD bolt can replace ground support systems such as resin bolts, stiff split sets and even cable bolts. They are rated to hold up to 30 metric tons (mt), and around 30 to 45 bolt installations can be performed per hour. Thanks to the reduction in cycle times, Barminco was able to increase development rates at Dugald River by more than 50%. Sandvik said that since implementing the MD bolt, Barminco has developed up to 950 m in a month using two Sandvik jumbos and consistently achieves 800 m.

Barminco and Sandvik have also collaborated to develop a new meshing clamp solution that the mining services provider expects will improve ground support cycle times even further.

One-step Bolting
Minova has also been working on a onestep bolting technology to make rock bolting safer, faster and more efficient. The company has combined the advantages of its self-drilling anchor (SDA) bolts and injectable, two component bulk resin grouts to create what it calls "a unique offering for the hard-rock mining environment."

This technology reduces manual material handling and improves overall installation efficiency. The immediate bonding of the resin makes it possible to load the bolts without leaving the borehole and, after several years of development, the system was successfully trialed at LKAB's Malmberget mine in Sweden as part of the Sustainable Intelligent Mining Systems (SIMS) project. SIMS is part of Horizon 2020, the European Union's most extensive research and innovation program. The WP7 work package, which includes cooperation from Minova, Epiroc and other members, aims to demonstrate state-of-the-art ground support methodology, ground control techniques and monitoring technology for in use in a mining environment.

"This technology will enable fast and safe ground control throughout the demonstration mines and will seek to improve control of underground seismic vibrations and seismic damage. The package will improve the safety and stability of entries through improved ground-control methods," the group said on its website. In combination with other work packages, WP7 is also working toward the creation of a fully integrated and automated ground support process. Material recognition technology is being advanced to enhance mine planning, and improvements are being made in roof crack detection systems to boost mine safety through the detection of potential rock falls.

LKAB research engineer, Tristan Jones, spoke about the project in a recent interview for SIMS. "We're trying to create a one-step bolting process. Typically, the way bolting is done is you have a drill that creates a hole in the rock, then you remove that, put a bolt in and then drill the bolt into the hole and then that is filled with concrete. "We're trying to minimize that process, remove some of the steps and automate it to remove some of the people from the equation and get rid of some of the opportunities for people to get hurt," he explained.

"The high-performance system uses a two-part resin system to anchor the bolts, as opposed to the cement or grout bolters that we have in operation currently," said Jones. "One of the biggest changes is that instead of having a drill steel drill the hole and also a bolt that is put in after, we have changed it so that the bolt itself acts as a drill steel. Every single bolt has a drill bit on the end. It's used to drill the hole and then the bolt is held in place while the machine switches tools and couples up with a resin injection system. "The two parts of the resin are brought from the back of the machine to the front through hoses. They are then mixed in a mixer before the resin is injected into the bolt, and the resin goes out from the end of the drill bit and encapsulates the entire bolt. That's how it anchors instead of being placed in a cement filled hole."

Tackling Difficult Ground Conditions
The one-step system was successfully tested using a Boltec rock bolting rig from Epiroc. Epiroc is a project coordinator for SIMS, and the company worked with Minova to make the system available to its mining customers in August this year. In its press release, Epiroc said the system is particularly beneficial for installing long-term rock bolts in poor ground conditions. Blocky or friable ground can leave drilled bolt holes partially blocked and this slows down or prevents the introduction of bonding agents such as cement grout or resin cartridges into the bolt hole. The new solution provides a faster, more reliable bolting alternative.

The integrated, pumpable two-component resin system can be used with a SDA-style bolt in tougher ground conditions or with a two-step hollow bolt in more moderate ground conditions. When supplied by Epiroc, the system is designed to be used on the Boltec M and Boltec E mechanized bolting machines. BEVs are another key focus for Epiroc. Fellow SIMS partner, Agnico Eagle booked an order for a Boltec E Battery rig in the third quarter of 2019 for use at the Kittilä gold mine in Finland. The mine has tested several Epiroc battery-powered machines as part of SIMS, including a battery powered Boomer, an MT42 Minetruck and a Scooptram ST14.

Epiroc reported that several orders from other mining companies were booked earlier this year for battery-electric versions of the Boltec rock bolting rig and Boomer face drilling rig. The company hopes to offer battery electric versions of its complete underground mining fleet by 2025.
---
As featured in Womp 2019 Vol 11 - www.womp-int.com