Newmont Goldcorp Moves Ahead With Second Expansion at Tanami in Australia
---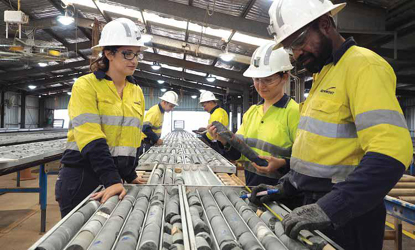 Newmont Goldcorp geologists inspect core samples at Tanami. (Photo: Newmont Goldcorp)


Newmont Goldcorp's Board of Directors unanimously approved advancing the Tanami Expansion 2 project in Australia into the execution phase. The project is expected to exceed the company's required internal rate of return with profitable production and mine life extending beyond 2040.

"Building on the success of the first expansion completed in 2017, Tanami Expansion 2 will provide a platform to further explore the area's prolific mineral endowment and potentially extend the operation's mine life beyond 2040," said Tom Palmer, president and CEO.

The Tanami expansion project is anchored on the Auron deposit, which was discovered in 2008, and is located beneath the original Callie orebody and, more recently, the follow-up discoveries of Federation and Liberator. Tanami's prolific orebodies are hosted by reactive stratigraphic units where high-grade gold mineralization is found at intersections with structural corridors. These predictable geologic features, combined with recent drilling results, provide a high degree of confidence in their continuity at depth, according to the company.

The expansion includes construction of a 1,460-meter (m) shaft, additional capacity in the processing plant, and supporting infrastructure to enable profitable recovery of ore at depth to 2,140 m below surface.

Since mining commenced in 1986, Tanami has produced more than 10 million ounces (oz) of gold and, in 2018, the operation achieved record production of 505,000 oz. Tanami is located 590 miles southwest of Darwin and 350 miles northwest of Alice Springs in Australia's Northern Territory.
---
As featured in Womp 2019 Vol 11 - www.womp-int.com